Bravo's Dance Company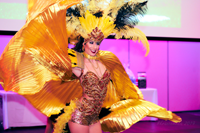 Bravo's Dance Company offers professional, enthralling and custom choreographed entertainment for all special occasions. From trained performers to uniquely arranged dance numbers to impressive customer relations, this business provides everything you need to create a perfectly enjoyable and memorable experience for your guests. Bravo's Dance Company is located in Toronto and offers its services all across the city.
Services offered
The artists at Bravo's Dance Company are proficient in a variety of dance styles, like:
-Brazilian Samba
-Salsa Latin
-Belly Dance
-Bollywood
-Disco
-Gatsby
-Burlesque
-Line Dance
-Vegas Showgirls
-Ballet Performers
-1st Dance Choreography
-Backup Dancers
-The famous Hora Loca
Bravo's Dance Company also offers Circus Performers, including:
-Fire performers
-Aerialists
-Contortionists
-Hoop Performers
-Acro Dancers
And many more alternativies
-M.C - English and Spanish speakers
-Stilt Walkers
-Hosts
-Live drummers
-Dj, and more!!
Custom dance performances can be included in the package, where you can perform along with the talented dancers of the company. You can choose the song or the choreographer will select a perfect song for your performance according to your chosen dance style. Different options are available for all types of event demands and personal styles.
**There are special requests for small events with less than 50 guests where Bravo's Dance Company can provide a Special Dance Performance with 1 Dancer for 20 min show at $250+Hst.
Contact us today for more information!
Infinity Group staff want to thank you for the amazing night you were amazing every one loved it ❤️❤️❤️
I cannot thank the Bravo team enough for the amazing job they did this weekend for my wedding. I have gotten non stop compliments and the show they put and how it was the best wedding they've been to! They got absolutely everyone on the dance floor! Thank you so much Elizabeth my mom is already finding another excuse to hire you lol.
I would like to congratulate Elizabeth Bravo for the brilliant team who performed the Hawaiian and samba shows on the etc&tal magazine boat cruise last Saturday, September 21st. Beautiful professional dancers with beautiful costumes, having a flawless and breathtaking performance. All my guests loved them. Thank you for making my celebration so special. I truly recommend your shows.
Best Choice Express
January 2019
Elizabeth and Carlos are amazing people to work with! Very professional and entertaining! Highly recommended! All of our guests loved their show!!! Thank you Bravo's Dance Company!!
Thanks to Bravo's Dance Company, I had a truly wonderful and unforgettable day, the most amazing MC and a beautiful and distinguished dance choreography. All my guests, my husband and I had a blast. Better impossible. Thank you. 1000% recommended.
Bravo's Dance Company has been mentioned inside these other vendor profiles: