Emilio Leone, Accordionist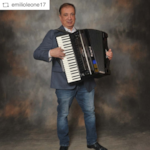 Stationed Accordionist
high Qualty sound system equivalent to a full band sound
very little space needed / chair is sufficient
or
simply accordionist strolling / greeting people at the door or table/ or both stationed and strolling
Emilio brings such great life and energy to the party. Super talented at the accordion and will leave all your guests smiling . Thanks for a great night as always Emilio- cheers 😃
Have had the pleasure to see Emilio at several events - extremely talented musician and life of the party!
In the words of the Jersey Boys…"Oh What A night!" Thank you Emilio for making our party better than ever; we all had a blast.
Neil
I was at an event where Emilio was the entertainment. He was so personable and engaging. It's impossible to not have a good time at an event he is at.
Emilio is the life of the party so talented made my party such a delight everyone was enjoying his music and dancing the night away ., thank you for an amazing night
Emilio Leone, Accordionist has been mentioned inside these other vendor profiles:
Company Overview
Company Overview