Reviews
Blayne Simons
October 2019
We hired the Marc Joseph Band play at our wedding and they put on an amazing show. Every compliment we received from guests about the night included comments about how great the band was. We highly recommend them for any special event.
Mr. & Mrs. Camilleri
October 2019
MJB performed at our wedding this past September and performed exceptionally well. Following the wedding I received incredible feedback about how amazing "the band" performed and how much fun they (my guests) had. Unlike many wedding bands that I've heard before MJB doesn't have a "Poppy" sound to them. Although the band can still perform top 40 songs really well their exceptional guitar and singing skills allow them to play classic rock and Spanish songs amazing well! My guests were completely surprised by how talented the band is. We asked them to play "Harvest Moon" by Neil Young as our first song and Marc sang it perfectly. They surprised us by learning Roy Orbison's "You Got It" and they did a phenomenal job. Honestly, we couldn't be happier.
On the business side of things MJB was very supportive throughout the whole process. From getting the quote, to planning the night and right up to the last minutes prior to celebrating David and Kim were great. I really appreciate their professionalism and support.
Sarah and I are so pleased that we hired MJB and we look forward to seeing them perform again at a venue near us soon!
Thanks MJB!

Mr & Mrs Adams
September 2019
MJB, simply brilliant!!!

Living currently in Dublin Ireland and getting married was always going to be a logistical nightmare. When it came to working out the entertainment for the day and evening, we did't have the luxury of seeing lots of bands live before the big day.

My wife and I thankfully came across MJB through word of mouth, we met with Marc (Lead singer and all round hero) and Kim (Manager - lovely lovely person) November 2018 before the big day this year Aug 2019. Firstly, music aside, these guys are simply wonderful caring people, even before hearing a note, finding out more about the MJB story the passion they all have, I knew MJB were going to be incredible. Roll that on 10 months and MJB played an incredible acoustic set during our ceremony and the evening party, from the first song to the last around 1am, the marquee (tent) was absolutely hopping!!! The talent all the band have is amazing. Having other professional musicians in the crowd who play across Europe to say "wow, that band can seriously seriously play" I think says it all. Hearing MJB live blew us all away, i knew they would be great but they took it to a different level! The level of engagement also they all drive individually with the crowd and the variety in the set was superb. Thank you MJB and when we are next in Canada we will be wherever you guys are playing.

MJB will be one of our favorite memories of getting married.

Thank you
Mr and Mrs Adams
MJB played at our wedding, and they completely knocked it out of the park! They had all our guests on the dance floor, and played a plethora of wedding classics, party songs, and anything we asked for. Their rendition of Kenny Loggins' Always, in All Ways for the father-daughter dance brought out all the emotions in the room. Our entire experience leading up to the wedding with them was seamless, and we wouldn't change a thing! Looking forward to seeing them again soon.
Robert boyce
December 2018
To start with my wife and I see Marc & the boys quite often when they come to stir nightclub at seneca Niagara casino in Niagara falls. They are an awesome band very tight with their music will not play a song unless it's near perfection. Well what I'm getting at is while my wife and Michele were in Hawaii for our anniversary I contacted the band and their manager with out my wife knowing to play our first dance song for us during their gig at the casino. They with there very busy schedule did learn the song and in our eyes knocked it out of the park. We would like to thank Marc and their manager Kim sojurner for gratiously doing that for us. Great band awesome people. Robert Boyce and Michele kuzara
The Marc Joseph Band has been mentioned inside these other vendor profiles:
Company Overview
Company Overview
Name: Marc Joseph

Title:Owner
Email:Send an Email
ACS Productions Sound and Lighting Inc
Deals & Packages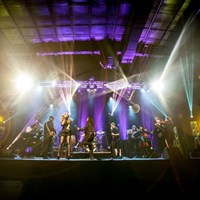 Standard base package
Price $4,600
---
---
What services are included with this Package:
4 piece band drums, lead guitar, rhythm guitar, bass guitar & sound technician
Add additional musician +$600 (keys, female vocals, sax, percussion, string & horn sections)
Add standard A/V +$260 (up to 150 ppl)
Add deluxe A/V +$1000 (up to 300 ppl)
Add custom A/V *contact us to discuss your requirements
---
Here's the Fine Print:
Package includes 3 sets of 50 min
Playing times are completely customizable
DJ, MC, cocktail music, dinner music, ceremony music and more are available upon request
Complimentary learned song if provided 3 months in advance
Complimentary hora if applicable
This package is exclusive to EventSource.ca visitors. To redeem, you must mention you found this package on EventSource.ca.
Map
4335 Steeles Ave W, North York, ON M3N 1V7