Music plays such an integral role in creating the perfect ambiance for your wedding. Hiring a wedding band is one of those things that sounds easy before you actually delve in; unfortunately, it's not the sort of thing you get to "try before you buy" so a little bit of wedding band research goes a long way before booking a band! To help you out, we went straight to seven of the industry's top wedding bands to compile their expert opinions on the key things you need to think about before hiring your Toronto wedding band. Here are their responses!
---
How do we know how large of a band we should hire?
"Much of this depends on the type of music, the demographic of those in attendance, the size of the venue (a 10 piece band takes up a lot more space than a 4 piece), and budget.
If Motown is your thing, you may want a horn section for that traditional Motown sound. Great bands can add musicians or reduce and simplify without losing too much of the vibe that you're after.
Big bands can be a lot of fun to watch, and suit some styles better than others; like jazz for example. Great bands with only 4 members can do an amazing job by restructuring songs. This is why seeing a live performance of the band you're considering hiring is always highly recommended!
As for budget, expect to spend about 3 times as much hiring a 10 piece versus a 4 piece band. Bigger isn't always better in this case. Look at Rush or Muse; granted they are both from the rock genre, but both are 3 piece acts yet their sound/entertainment value is massive.
My parting thought is this: if strings, keys, or horns are vital to you, it never hurts to ask your prospective band if they're willing/able to add or subtract musicians and what the price difference would be."
– Dave Ongena, The Marc Joseph Band
Vendors Featured in this Article
---
How involved should a wedding band be with the entire execution of the day?
The wedding band should be involved in the execution of the wedding insofar as delivering the expectations for the day and providing the entertainment desired. It is a very special day and so it is important that every aspect of the event is addressed.
The entertainment is probably at the top of the list so it must be planned in advance. We would want to meet with the bride and groom ahead of time to make sure that we are playing the songs they want to hear and create the mood that they are looking for. If they have any special requests, we would want to know them and we will do whatever possible to make them happen.
Song list and image will set the tone for the wedding and cannot be overlooked. We would build a playlist that makes the newlyweds excited and keeps the guests on their feet. If there is a DJ spinning that day, we would exchange set lists to make sure we are not performing the same songs thus keeping things fresh and original.
We always strive to promote a professional attitude throughout our performance but mostly we want everybody to enjoy themselves and have fun. The wedding band should not be the focus on the wedding day of course, but it is a vibrant part of the celebration and should complement the event making it one to remember.
– Darren Merenda, Nine Times
---
How far in advance should a couple book their wedding band?
"Without wanting to put you in a hot panic, the answer to this question is as soon as possible. Good wedding bands are like good venues, they usually can only cater to one couple at a time, and the popular dates fill up fast. If you happen to be lucky enough to have chosen an off-night like a Friday or a winter/spring wedding, you can be more confident in taking your time. But if you are planning on getting married on a Saturday in the summer, you'll want to aim book all of your vendors well in advance. There's a good chance that your favourite funk band might be booked or even on tour that day.
At the very least, have a conversation with your dream band and let them know your intended date. You never know, with enough notice they may be able to rearrange their schedule around your wedding date. Get the planning right and you and your lucky guests will be shouting along to "Get Up Offa That Thing" making legendary dance memories together. Now all you will have left to worry about is destroying those questionable dancing photos…"
– Brent Miller, Brent Miller LIVE
---

---
What are the red flags couples should avoid before signing on the dotted line?
"Professionalism is the most important trait for any wedding vendor. This may seem strikingly obvious, but I've heard some pretty surprising stories from clients in the past. If your band doesn't get back to you within a reasonable time frame, or shows up late for meetings, that's red flag #1 – they don't take things seriously and they're not professionals. You don't want the band showing up late for your wedding, right?
If they don't have a contract for you to sign or don't require a deposit, that's red flag #2. Contracts don't exist solely to protect the vendor; they're also there to protect you, the client. Also, keep an eye out for bands who insist on getting paid in cash.
And finally, if you catch your band live and it's a completely different lineup than the videos you've seen online, that's red flag #3. A high turnover amongst band members says a lot about the solidarity of the group. You don't want to risk having a substitute player or two when it comes time for your special day."
– Matt Humphreys, Saturday Night Superstars
---
What are some of the most important questions a couple could ask themselves before hiring a band for their wedding?
"There are many things to consider when hiring a band for your wedding. The most common questions are things like styles of music, cost/packages, availability, references etc. Those are all good and important questions, however, two of the less common yet extremely important questions are:
Do you have liability insurance? Many venues now require bands and all vendors to provide an insurance certificate. The tricky part is that they often ask for this the week of the wedding. If your band doesn't have this in place, they may not be allowed in the venue.
Do you accept more than one booking a day and do you have an "A" and "B" band (meaning a main band and a secondary band under the same name)? Some companies have multiple bands that go under the same name. Ensure that you are getting the band that you have seen and booked and not the secondary band (even though it has the same name, the "B" band is often a spin-off and not as good as the "A" band)."
– Arthur K., Fusion Events
---
What sorts of things should couples be aware of prior to signing a contract?
"Before deciding on which band you'd like to hire, it's really important that you know the policies of the venue with whom you are working. Occasionally, venues require that you use an exclusive Audio Visual Supplier, which could affect the overall cost of having a band. This supplier will need to know the band's AV rider (an AV Rider includes a variety of info and requirements from the band to the AV supplier; it helps ensure a seamless presentation) in order to give you a sound quote, and given that another supplier might be providing sound and lighting, this could affect the quote the band is giving you. You'll also want to see if the venue has any noise restrictions. If it's outside and close to a residential area, it could limit how long your band is able to play into the evening.
Room layout is also extremely important – you need to ensure you have enough stage or set up space required by your band in the room where your reception will be held. An 8 piece band just can't fit on an 8'x12′ stage and a trio might look silly on a massive riser. Talk to your venue and your wedding band about the optimal configuration they'd suggest.
Some bands have very inclusive packages and others charge you a la carte. Find out what it may cost you additionally to have a DJ, to have the band learn special requests, or to have the band provide an additional sound system or sound technician for speeches over dinner. Don't assume that because the band has a technician, it means that he or she will be there for your entire wedding day. Labour costs add up and so do rental costs for sound systems in multiple locations.
Lastly, look into a band's repertoire before signing on the dotted line. Most bands have master song lists that you can browse in advance of booking that will give you a sense of their strengths. Every band is totally different and you'll want to gravitate toward a band that plays to your musical taste. If you love a band, but wish they played a little more Top 40 (or any other genre you feel is missing) ask if they can provide a DJ for in between band sets who might cover this genre, or ask if they take requests."
– Lynzie Kent, Electric Blonde
---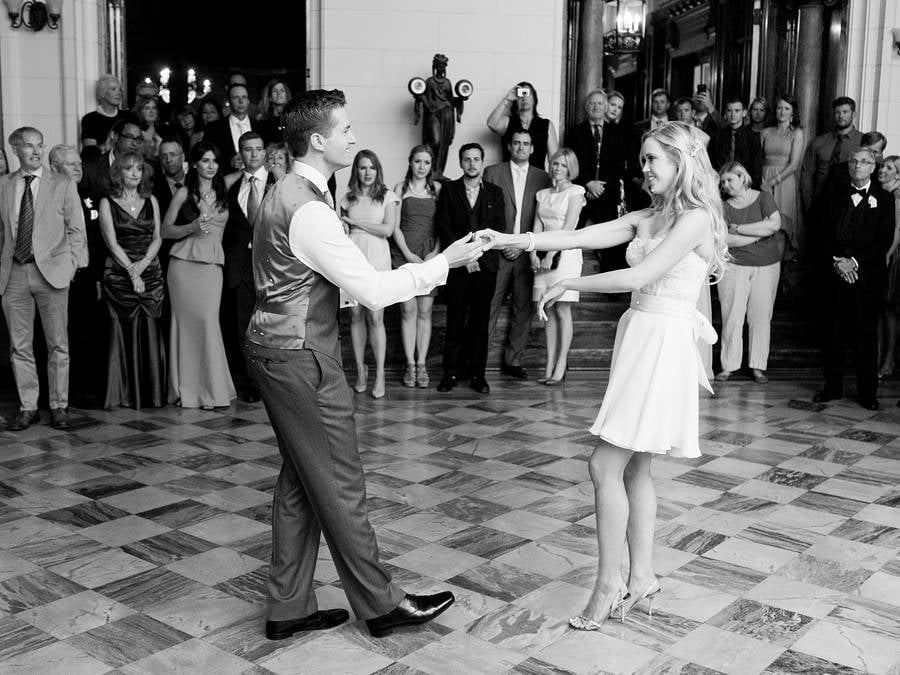 Image Courtesy of 515 Photo Co.
---
How to decide which music band is the right fit for your wedding?
"The best way to decide is to ask yourself: which band is going to keep the party going strong for the longest amount of time and what genres of music is going to appeal to my friends and family?  What do my parents like? What does the bridal party like? And so on.
Most bands play for about 3-4 hours with DJ breaks after dinner service, so you want a range of music that's going to keep everyone engaged, dancing, and enjoying themselves for that duration. Bands that specialize in one genre are great, provided everyone at the wedding really loves that one genre." 
– David Barnes, Parkside Drive
---
Do you have any other questions or comments for your favourite Toronto wedding bands? Post below and have all your questions answered!