One of the most exciting things about Toronto's food scene stems from our tremendous pool of culinary talent, resulting in an industry of culinary indulgences that is second to none! With this in mind, the team at EventSource.ca created the Toronto Catering Showcase – a premium, once-a-year opportunity for guests to come experience taste creations from 12 of Toronto's top caterers!
Held in the stunning The Globe and Mail Centre guests arrive in style thanks to the complimentary valet service provided by Adagio Valet. Attendees make their way to the top floor where remarkable panoramic views of the city are visible at every turn! A delicious and eclectic spread of food and drink await guests as soon as they enter the room. With a gentle cool breeze and sunbeams peeking through the clouds, the weather was in full cooperation for tasty and memorable day ahead.
The ultra talented team at Images Life Media captures all the excitement of the day in the video below.
Vendors Featured in this Article
The team at Bliss Toronto helped coordinate all the moving parts of this completely sold out event, recruiting help from some of the best event vendors in the biz: first class staffing was provided by DGS Events while Event Rental Group provided all the event rentals including glassware, plateware, and so forth. Guests were dazzled with exquisite floral and décor by Jackie O Florists, and all furnishings from Luxe Rentals tied the room together perfectly.
A big thanks to August Media for capturing all the fun and excitement of this tremendous day.
Event Circle's roaming photo booth gives guests the opportunity to capture and share a more candid experience.
Without further adieu, let's delve into all the fabulous culinary creations from the caterers.
elle cuisine's chefs love playing on the tastes of the seasons, and incorporating fall-inspired flavoured donuts speaks to this perfectly. But before I get to the donuts, let's talk Carpaccio. The team offered up two options for guests: Beef and Beet. The beef was thinly sliced and encrusted with a gentle dusting of espresso, then topped with a light dollop of black garlic aioli, truffle salt, chives, Jerusalem artichoke chips, then finished with micro arugula and Parmigiano-Reggiano. The Beet Carpaccio, which were thin slices of roasted rainbow beets, had a lemon herb vinaigrette, zaatar, toasted pistachio crumble and sat on a bed of whipped labneh and feta.
Now, back to the donuts. Four flavours and I had to try each one: chai, sugar, cinnamon bun, and butter pecan – it was hard to choose a fave but when I asked Chef Lauren which seemed to be most popular, chai and butter pecan were the top contenders. Can't argue with that.
One of Toronto's premiere catering services, en Ville Event Design and Catering served Porchetta. Enough said. This was a fall inspired dish, flavoured to perfection and accompanied with roasted pumpkin, apple and grilled sweet potato. Heirloom carrot puree added a creamy touch to the dish while the parsnip chips provided a satisfying crunch. Their next dish, Ragu Ai Funghi, was ultra luxurious as the mushroom ragu was poured on top of soft polenta that was mixed with thyme, Parmigiano-Reggiano and wilted bitter greens. These two dishes definitely embraced the heartiness of fall. I also didn't forget to take my mini jar of Chef Rene's classic pickles to enjoy at home.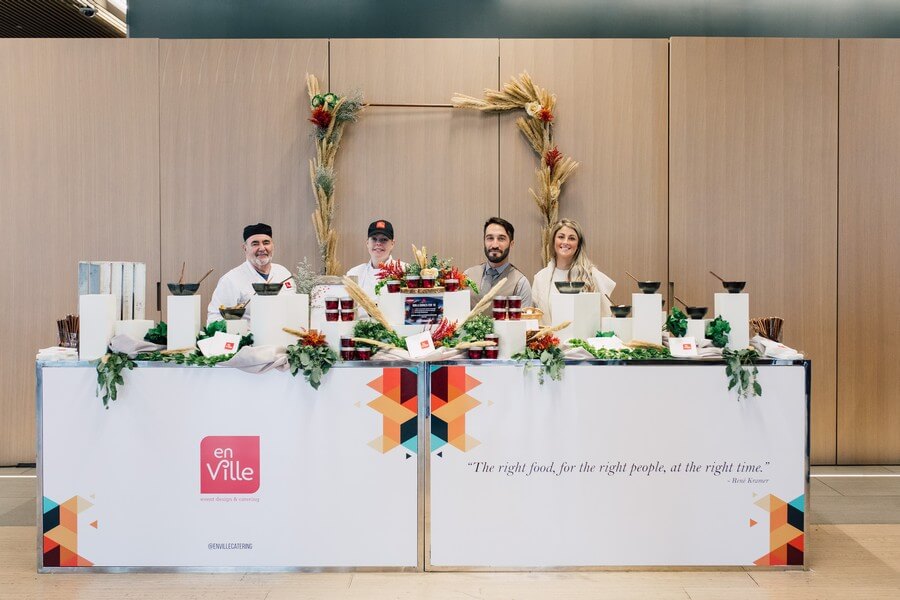 All event signage and vinyl's provided the good folks at Event Graffiti
Whether its a corporate event, private event, or a wedding, the revered team at Toben Food by Design always delivers. Their first offering was an artisan flatbread that came loaded with flavour. Topped with figs poached in cabernet, crispy lamb sausage, caramelized onion, basil pesto, balsamic reduction, mozzarella, gorgonzola and finished with peppery arugula. Next up, was the the Bhel Poori "Slaw" with torched tandoori salmon and an array of ingredients: carrot, cucumber, tomato, mango, cabbage, crispy shallots, crispy chickpeas, peanuts, rice noodles, puffed wild rice, coriander, mint, edible flowers, sesame seeds, toasted coconut and tamarind-chili vinaigrette rounded out this dish with the torched tandoori salmon atop. An enviable list lot of ingredients no doubt, but all combined perfectly in to a glorious symphony of flavour.
To round things off, Toben's mini chocolate hazelnut tartlets were a sure-hit for any attendee who stopped by: a chocolate sable with milk chocolate, hazelnut ganache, dark chocolate mousse and topped with crunchy honeycomb that added lovely texture.
As one of Canada's leading restaurant and event groups, you know Oliver & Bonacini Catering is going to bring professionalism, elegance and superior taste to any event. Showcasing charred mini Eggplant with a tomato fennel confit placed atop fluffy quinoa that was substantially good. The team also brought along sliced S&P-crusted Hanger Steak – chimichurri, smashed fingerlings and crunchy bits lending that extra textural crunch. For dessert? Profiteroles. Each pillowy choux pastry was filled with apple and spiced cream – a unique and delicious take on apple pie.
The Food Dudes scored huge with their Insta-worthy stand-out station and exceptional culinary indulgences. Their Steak Tartare Bites had a spicy sambal mustard, caramelized shallots, pho aioli and a cured egg yolk, gently placed atop a nori chip, lending that perfect textural balance. Topped with cilantro sprouts and chives to give that extra kick of freshness. Second was their Truffle Sunchoke Agnolotti, squash puree and smoked chicken jus. Topped with pickled squash, sunchoke chips and an herb salad for freshness. Oh! Can't forget the shavings of black truffle to round it all out. Dessert was a twist on Chocolate Molten Cake – a liquid nitrogen banana miso ice cream was the surprise inside and was topped with sesame coconut brittle and spearmint leaves – what a rich and satisfying treat!
Newcomer to this year's show was Pusateri's Fine Foods, a company who has been offering premium, gourmet fare for years in Toronto. The cheerful team delighted guests with luxuriously warm, whipped Ricotta that paired perfectly with fall flavours such as roasted and pickled squash, crunchy maple pecans, aged balsamic and drizzled with extra virgin olive oil. Each bowl was accompanied with a crispy sage flatbread that double as a spoon! Red wine braised Short Rib was up next. With one perfect spoonful you had a smooth and fluffy parsnip puree, pickled red onion, apple gastrique and the braised short rib that simply melted in your mouth – what a treat! Last was a Jumbo Shrimp Cocktail featuring two taste sensations: one with a sweet and spicy mayo and one with yuzu mayo. Both were topped with apple gastrique, lending a citrusy-acidic flavour to your palette.
The man behind McEwan Catering is none other than Mark McEwan – one of Canada's most recognizable and respected chefs. His catering team certainly lived up to the hype at the show. The team featured a Crispy Koi Rice with a spicy aioli and seared ahi tuna with jalapeno soy. The flavours were so fresh and satisfying on your palette. Seared Duck Ravioli was next. Each ravioli was filled with shredded duck and paired with sautéed grapes and duck confit ragu that added richness to the dish. The flavour of the grapes added a nice sweetness to the ravioli that had many coming back for multiple helpings.
I immediately noticed Kiss the Cook Catering's oh-so-colourful display as I walked up to see what they'd be featuring at the show. The theme was Mexican, and Chile Relleno was first on the list. Stuffed with sweet corn, nopales (cactus), lime crema and plenty of cotija cheese. This dish had intense flavour that was a treat to eat. Oaxan Chochoyotes was also being offered. This delicious dish had corn masa dumplings, braised short rib enrobed in luscious mole, sweet potato, green garlic broth, pickled poblano and a refreshing watermelon radish slaw to bring it all together. They also added some fun to their table with different types of chips including yucca, jicama, cucumber and taro chips that you were able to pair with a variety of delicious house made dips and salsas.
The team at Daniel et Daniel Catering & Events greeted guests with a Smoked Masala Carrot Dog that had me intrigued. This vegan treat was topped with creamy chana masala, pickled onions, raita and crunchy chickpeas all between a soft turmeric bun. It was the perfect comfort-inspired bite. Second was a bright and cheery Mango Lassi Pana Cotta. Every spoonful was delivered with that sweet mango lassi flavour and topped with fresh pomegranate seeds and pistachios dusted with gold leaf to add a rich and elegant touch. The team also gave guests takeaway bags filled with coconut curry cashews tossed in spiced curry butter and rolled in crunchy coconut chips. I may (or may not) have taken a few extra bags, as they were delicious.
Stylish, sophisticated, fun and delicious. Presidential Gourmet brought two dishes that were Instagram-worthy and tasted divine! Fire and Ice Sashimi featured thin slices of salmon cooked on a block of liquid nitrogen and then seared on a hot stone for char. The salmon rested on a round saffron confit potato surrounded by leek nage and a charcoal tuile, and then finished with pink peppercorn to add some floral notes to the overall dish. Next up was the Vietnamese Popsicle Latte. A glass full of nitro brew Vietnamese coffee accompanied by a coconut popsicle that had a spiced ginger cookie awaiting beneath – a definite treat for guests!
The team at Encore Catering definitely brings it to the table! Every. Single. Time. Their Sous Vide Lamb Striploin was perfectly cooked and melted in your mouth. Three pieces of thinly sliced lamb on top of Parmesan polenta, red eye gravy and mint cotton candy. You read that right, mint cotton candy. When served, the chef poured the red eye gravy over the cotton candy, which melted and gave that classic pairing of mint and lamb with an innovative take. I left Encore with a Cherry Bomb. This delectable dessert resembled a cherry, sitting on top of a crunchy dark chocolate feuilletine, filled with white chocolate mousse that coated the palette right before you got hints of sour cherry confit. I may have had three of them.
I love Indian cuisine and The Host Fine Indian Cuisine offered plenty of appetizing options. The Chicken Seeekh Kabobs had me going back for more. These flavourful morsels were filled with spiced lamb meat and then grilled to perfection. Chicken Tikka Bites were also on the menu served either with a tamarind or mint chili sauce. Additionally, the team served up Pani Puri. Each hollow unleavened bread vessel held a mixture of chickpeas and potatoes, allowing guests to choose between two waters: watermelon and tamarind. The flavours were a delight to guests. I couldn't leave without having a Mango Lassi. The creamy combination of sweet mangoes and tangy yogurt was the perfect way to complete my experience.
What a beautiful display of hand-rolled chocolates at Mary's Brigadeiro. Guests were given the opportunity to choose from three varieties: 70% cacao, caramelized white chocolate, and semi sweet. To complete the interactive experience, guests could then customize their Brazilian bonbons with any assortment of delicious toppings. I chose caramelized white chocolate rolled in pistachio crumbs. I could have stood there all day trying the abundance of delectable options available – just look at how gorgeous these look!
Once again, guests couldn't get enough of Love Gelato's mobile station as the team served up a healthy variety from some of their most popular flavours. Whether it was in a cup or cone, guests were delighted to enjoy delicious hand-made gelato. I opted for affogato, which is espresso poured over your choice of gelato, I went with Fior di Latte. A cool and refreshing round-out to a day of exceptional indulgence. It's hard work, but somebody's gotta do it.
Now food wasn't the only star of the show at the Toronto Catering Showcase. To help keep the crowd entertained and the room bumpin', the event also featured some exceptional entertainment talents. Pictured below, we see the incredibly talented Olga Pankova - Live Event Artist dazzling guests by painting only with fire and copper. Guests huddled like paparazzi "oohing" and "ahhing" as they filmed Olga in action. Rayn the magician from Jestr Events consistently blew guests away while performing his delightful brand of illusion and sorcery.
Now that cannabis prohibition has ended in the Great White North, the experienced and knowledgeable bud-tenders at High Bar Hospitality & Event Group were on site to provide guests with information about their premier full-service bud-tending experience. Whether it's catering, weddings, private or corporate events, High Bar provides personalized experiences to everyone from beginners to experts in this new and burgeoning industry. Their station was a huge hit among attendees.
There was no shortage of libations to go with all that fantastic food! The knowledgeable staff from WineOnline.ca recommended the Lopez de haro – a crisp, easy drinking white Rioja. Local brewery, Brunswick Bierworks offered some fantastic beer options. I opted for the Bierfest Oktoberfest which was both refreshing and smooth. The good folks at Dillon's were showcasing their bottled Negronis, made of course, with their now infamous gin.
Industry pillar DJ Floh Back Productions played to the room perfectly, gently building toward a steady flow of energy that was maintained throughout the event's four hour duration. To compliment the atmosphere even further, live accompaniments were provided by Wellington Music. The behind-the-scenes AV mastery from the team at EPiQVision and security from Sword Security ensured that everything ran smooth as silk from beginning to end!
It was a successful day filled with exceptionally creative food, fantastic drinks and dynamic entertainment. Being surrounded by so many professional vendors all at the top of their game felt like such a treat!
With the gorgeous fall weather, guests were enticed to eat and drink on the venue's roof top terrace, all while taking in the city's dramatic skyline.
Food is all about bringing people together and the Toronto Catering Showcase did just that. It was an afternoon to be remembered for all in attendance. A big thank you to everyone involved. Can't wait until next year!