Reviews
Elle Cuisine did an amazing job for our corporate event at our office in Toronto. It wasn't just a meal, it was a wonderful experience. Food combinations and dishes we had never had and flavors that were incredible. The ribs we had were fall off the bone tender meat. The salmon was tasty and not over cooked. The experience was and tailored, definitely super personal. The best part about it all was that we got to enjoy a classy tasty meal.
Elle Cuisine catered for our office event and the food was yummy and cooked to perfection. Everyone loved the food and Elle Cuisine will obviously be our go to caterer for all future events. We can't thank them enough for going above and beyond our expectations.
Elle Cuisine hosted a beautiful summer social event for our team at work in my home. Their staff arrived on time, were professional, were very respectful of my home, and created a beautiful dinner that was delicious and met all of our dietary requirements and budget. I will definitely be using their services again, and highly recommend them to anyone considering a caterer for any type of event.
Elle Cuisine catered a milestone birthday for my mom and our immediate family. The process was seamless and the food was delicious. We were thrilled with our experience and can't wait for the next opportunity to work with the team!
An incredible experience. Food was excellent and the staff were extremely kind, organized and professional. 5 Stars! Will definitely have them at our next event.
We partnered with Elle Cuisine for The Delisle Space's Industry Event in February 2019. The ladies at Elle were lovely to work with and their sticky toffee pudding was an absolute success. Guests loved the presentation and Elle's unique take on classic canap offerings. We look forward to working with them again in the future and are delighted they are on our preferred vendor list.
The ladies at Elle are a dream to work with and the food is excellent! I find them very flexible and able to customize menus to fit my client's personal tastes.
elle cuisine has been mentioned inside these other vendor profiles:
Company Overview
Company Overview
Name: Lauren Mozer
Title:Owner, Executive Chef
Email:Send an Email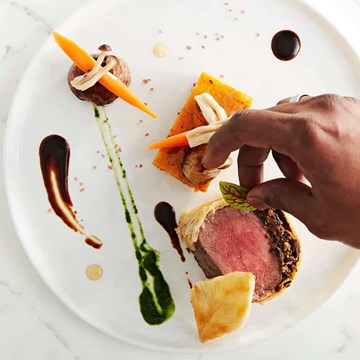 How Catering Companies in the GTA are Reducing Their Carbon Footprint and Giving Back to Our Community
9/11/2019
Read more