Known for its stellar loft space and stunning rooftop views, The Burroughes is a unique and popular event space found in the heart of downtown Toronto. Their annual Open House is always a killer party and this year did not disappoint!
This 6,000 square-foot blank canvas space features exposed brick, original hardwood floors, post and beam, and large windows overlooking downtown Toronto. The venue is a versatile space that can be transformed into a dramatic backdrop for any type of event such as social, corporate, exhibitions, weddings and creative events alike. It was certainly a beautiful backdrop to this party!
With delicious bites from some of the city's finest Caterers, trendy interactive stations and lush floral from Hunt and Gather, guests enjoyed all that this venue had to offer in one night. People were raving all night about the festivities and luckily Olive Photography was there to capture it all.
Vendors Featured in this Article
elle cuisine featured passed canapes and a beautiful station that was a feast for the eyes and belly. Their passed canapes packed a punch, including Jerk Marinated Prawns, Yorkshire Pudding, and Kung Pao Cauliflower. Their interactive station featured two types of Gnocchi – handmade herb-infused Gnocchi with house made Chicken Chorizo Sausage, and handmade Yukon Gold Potato Gnocchi with San Marzano Tomato Sauce and house made Ricotta Cheese. Delish!
en Ville Event Design and Catering brought some Asian flair with their Bao Slider Station. Fluffy fresh steamed Mantou Buns were filled with a choice of roasted Pork Belly or Fried Tofu. Accompanied by pickled Carrot Slaw, Hoisin Sauce, Scallion, Silantro, Sichuan Chili Sauce and Bean Sprouts, it was both fun and easy to eat.
Mini bites are always popular at events. Marigolds & Onions had a beautiful display of bite-size treats, including a Smoked Salmon Medelaine and Mini Profiteroles filled with Blueberry, Raspberry and Vanilla Mousse. They were almost too cute to eat!
Did someone say bacon? Encore Catering had fragrant mini bites to feast on. Their Jamon + Date was a crowd favourite, featuring a Bacon-Wrapped Date (so unique!). Guests also got to try a passed Vegetable Pakora with Mint Tamarind Chutney and Raita dipping sauces.
Sometimes when you go to a cocktail reception, you worry there won't be enough substantial food. But Food Dudes did not disappoint! Their Lobster Queso and BBQ Burgers were a huge hit, especially when grilled to order.
Poke Bowls have taken Toronto by storm, so it would only be appropriate to have a Poke station! Daniel et Daniel Catering & Events set up their own take on a Tuna Poke Bowl station, giving guests an elevated take on a popular, low-key dish.
ProvisionsTO delighted guests with a deconstructed Tortilla bowl with Korean Braised Beef Short Ribs, garnished with Ginger Scallion Slaw, Kimchi and fresh Cucumber. Such a fun take on Asian-fusion!
Presidential Gourmet treated guests to both savoury and sweet dishes. On the savoury side, their Huli Hulli Chicken on Hawaiian Fried Rice: a comforting dish with a nice crunch. For sweets, they showcased an oversized Macaron Petit Gateau with Raspberries and Pineapple Crème Fraiche Ganache.
For those who wanted some greens, Sublime Catering's Live Salad Green Station was a fun take on the traditional salad. Harvested live greens were mixed with a wide selection of toppings to create the perfect salad, including Sous Vide Poached Egg, house made Salmon Gravlax, Maple Roasted Pork Belly, and puffed Wild Rice.
Up on the rooftop, Drake Catering offered both food and drink. Their food station featured a vibrant Sweet Potato Crostini with Stracciatella, Persimmon Agrodolce, Raw Asparagus, and Fish Roe. Guests enjoyed a cocktail, featuring ginger beer, whiskey and custom mixed bitters.
Some fantastic prizes were up for grabs, as is custom every year. The prizes were set against a tropical backdrop made up of different types of foliage, perfect for the summer!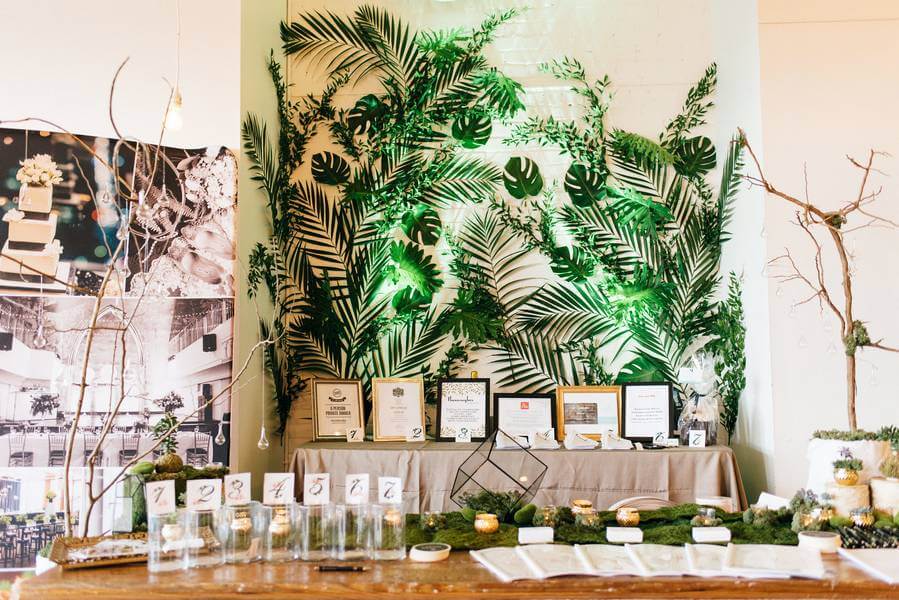 Absolutely stunning set up and the prize table by All That Jaz Weddings
No party is complete without live music and great drinks. Magen Boys Entertainment provided the soundtrack for the night, with live musicians on saxophone and electric violin. Over at the bar, Leave it T.O. us kept guests happy with drinks from Pommies Cider Co. and Ace Hill Beer.
After all the savoury foods, it was time for dessert. The S'mores station from Double Chocolate Fountainwas such a hit with everyone. Interactive food stations where guests have to get involved are always a good idea. And s'mores? A great idea!
Photobooths have definitely had their days at events. But Event Circle continues to push the envelope with booths to come up with fun, interactive stations. Their boomerang booth was like a life-size version of the popular Instagram feature. It was a hoot!
As an event planner (oh hey, that's me!), I'm always looking for great ideas to bring to my Clients, and this event is always a fantastic jumping off point. Clients are wanting the newest, trendiest and most unique ideas, and seeing them firsthand is amazingly helpful. Speaking of ideas, I loved the string lights and the vibrant colours featured on the sample table by Chair-man Mills.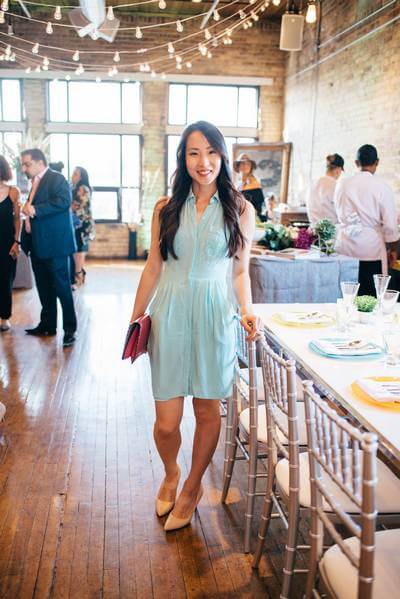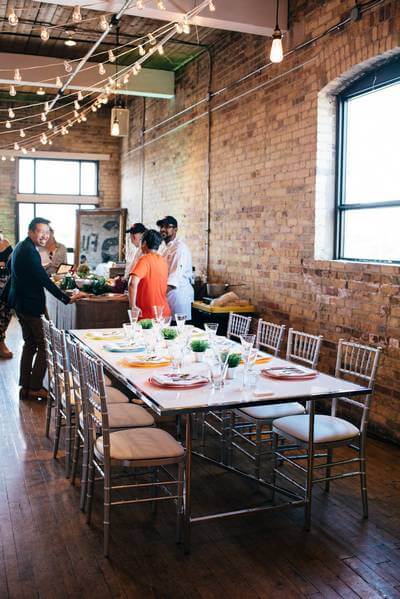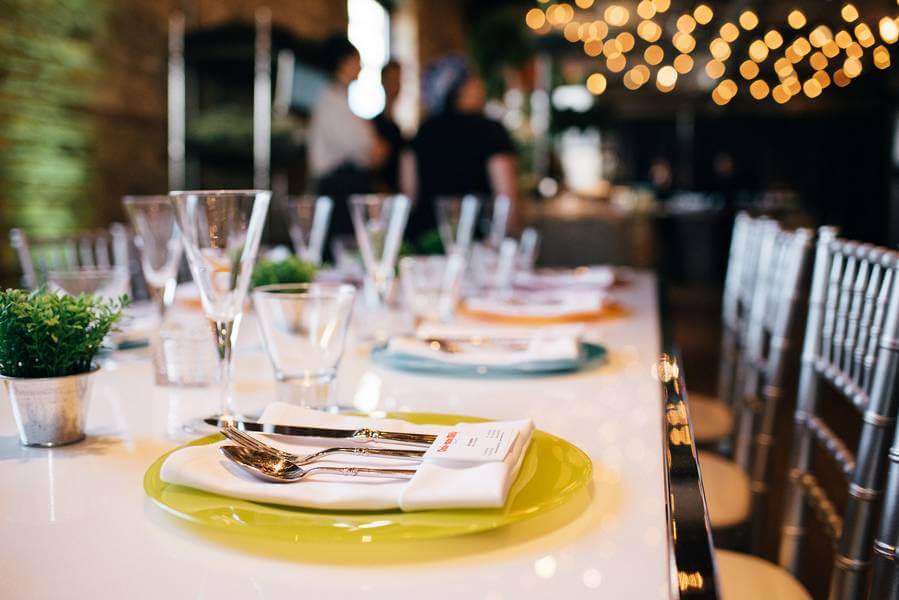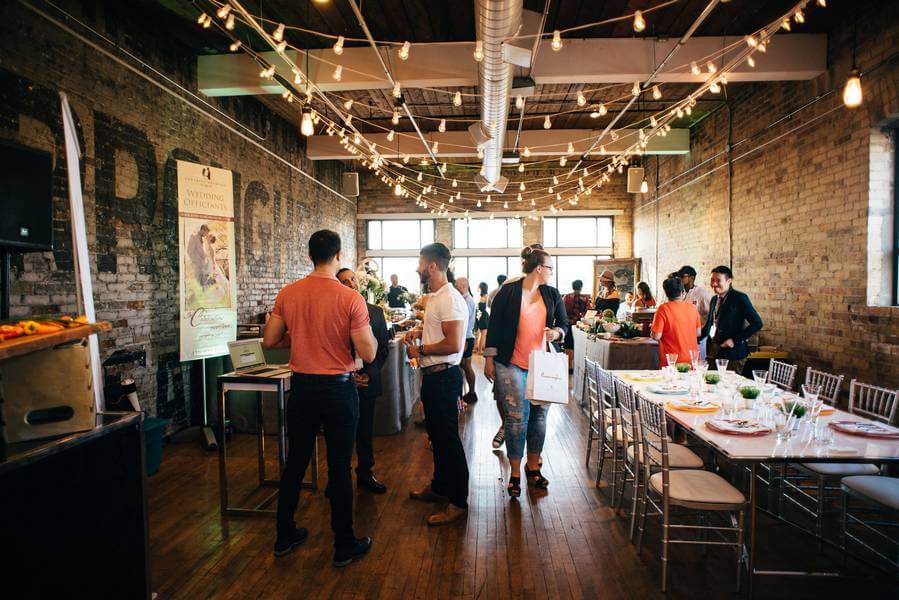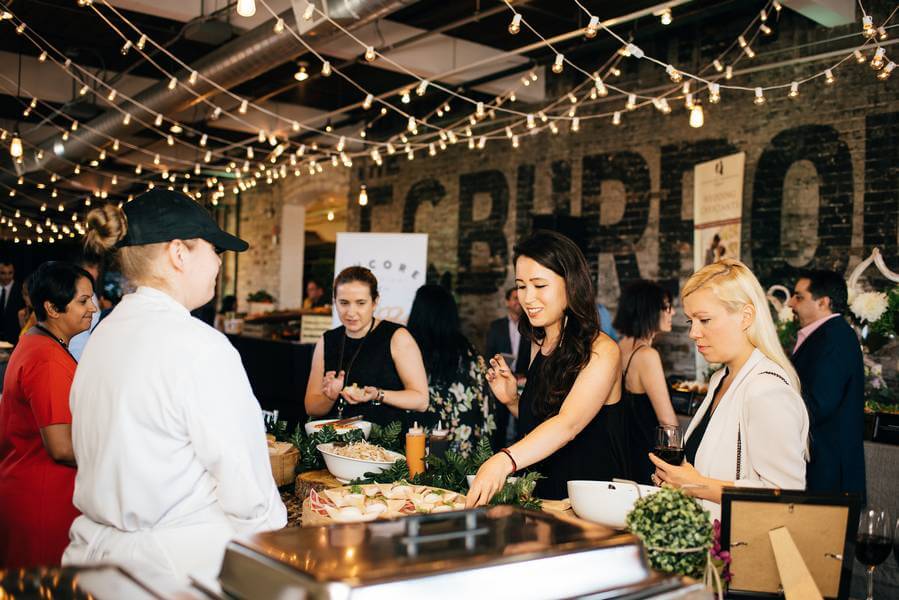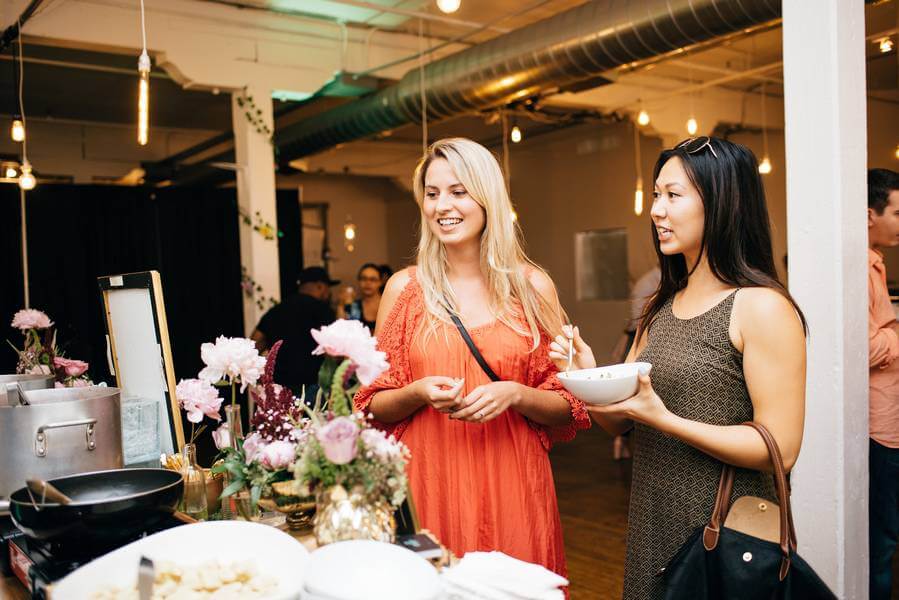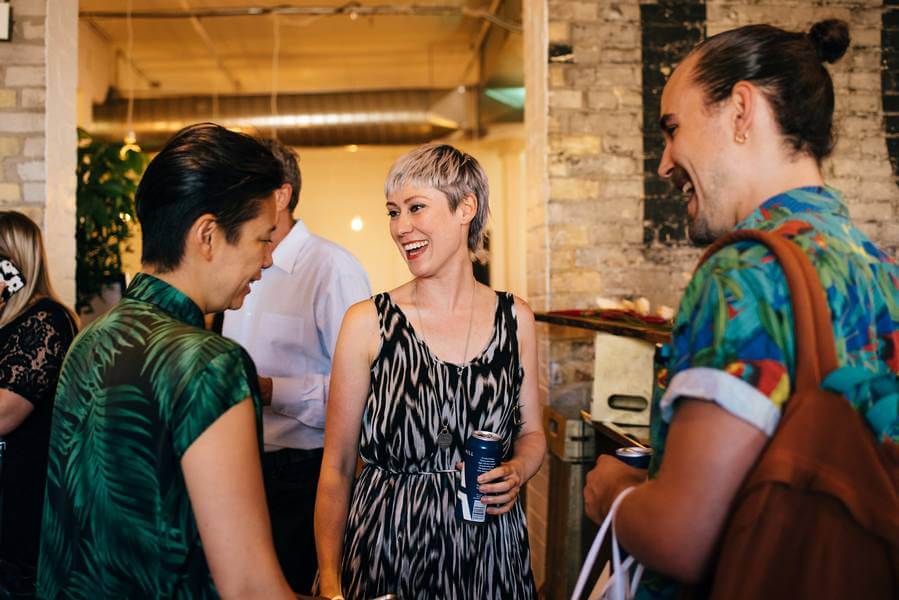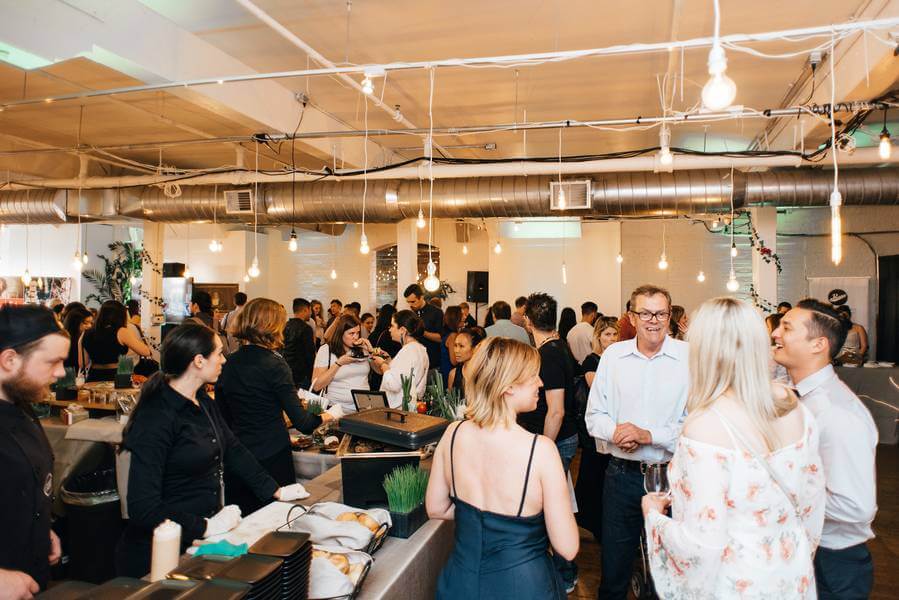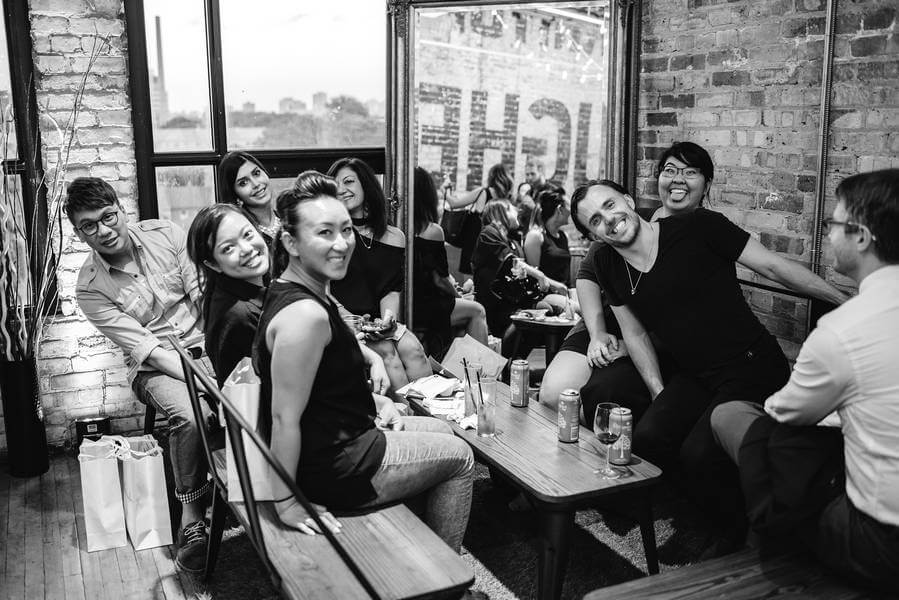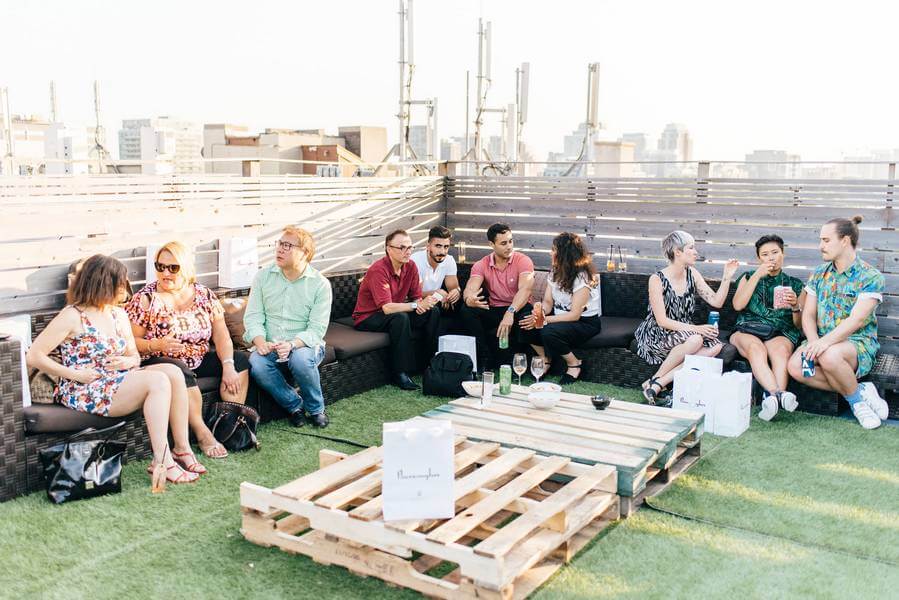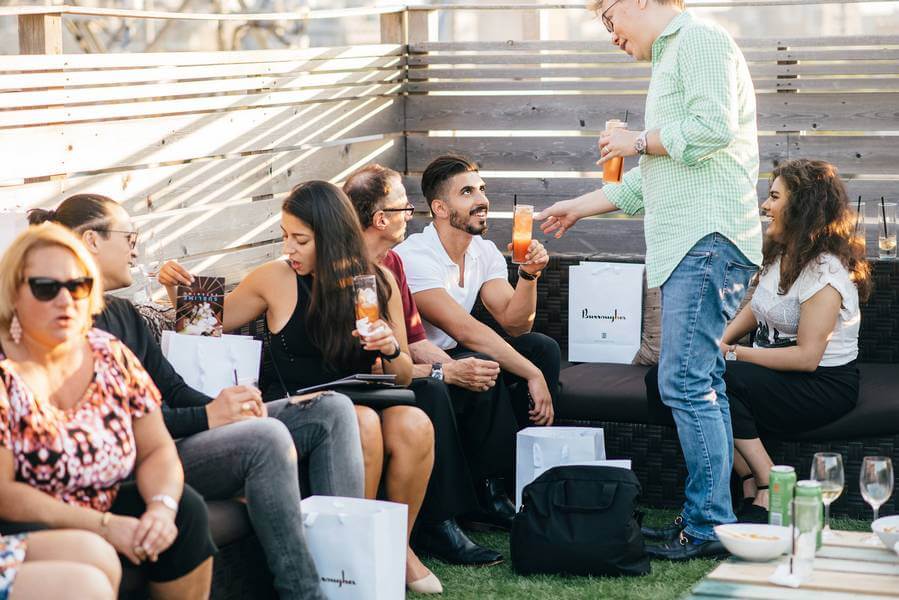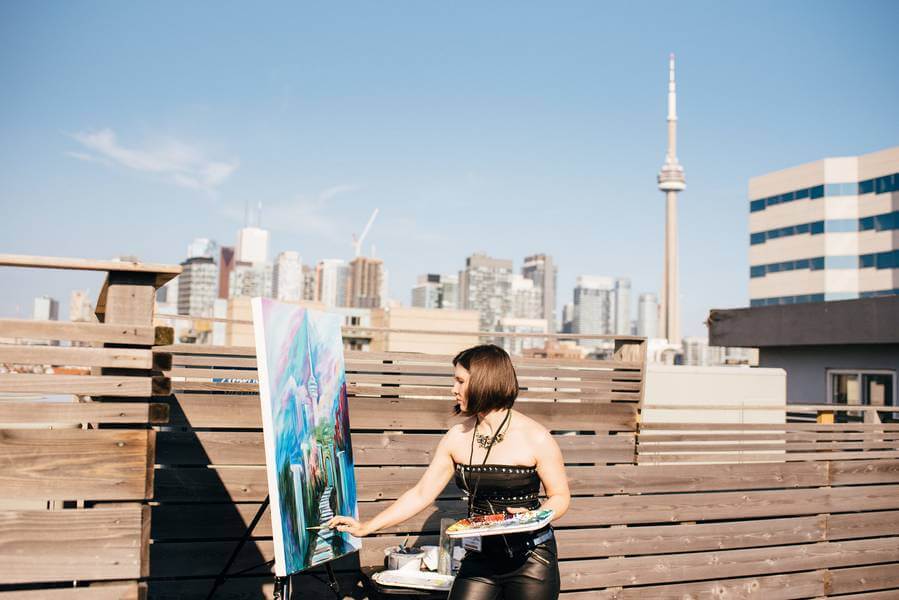 Olga Pankova - Live Event Artist clearly in the zone, doing her thing
I can always count on The Burroughes to put on a great event. With so many tasty treats and and a handful of talented vendors on site (can't forget about Enduring Promises or Toronto Popcorn Company), you can be sure that everyone left happy and very full. Until next time!