One of our favourite things to do in Toronto toward the end of Summer is check out the Canadian National Exhibition. If not for tradition's sake, it's for the ultra-decadent, over-the-top food creations announced every year (did someone say Pulled Pork Cinnamon Rolls and Churro Cheeseburgers?)! Keeping with the spirit of gluttony, we thought we'd class things up a little bit by shoulder-tapping Toronto's top caterers for some of their takes on CNE-inspired dishes. The results are to die for!
By the way, did you know 9 of these caterers will be featured at Toronto's first-ever Catering Showcase? "What's that?", you ask. Only one way to find out.
---
The Homer-Inspired "Good Morning Burger"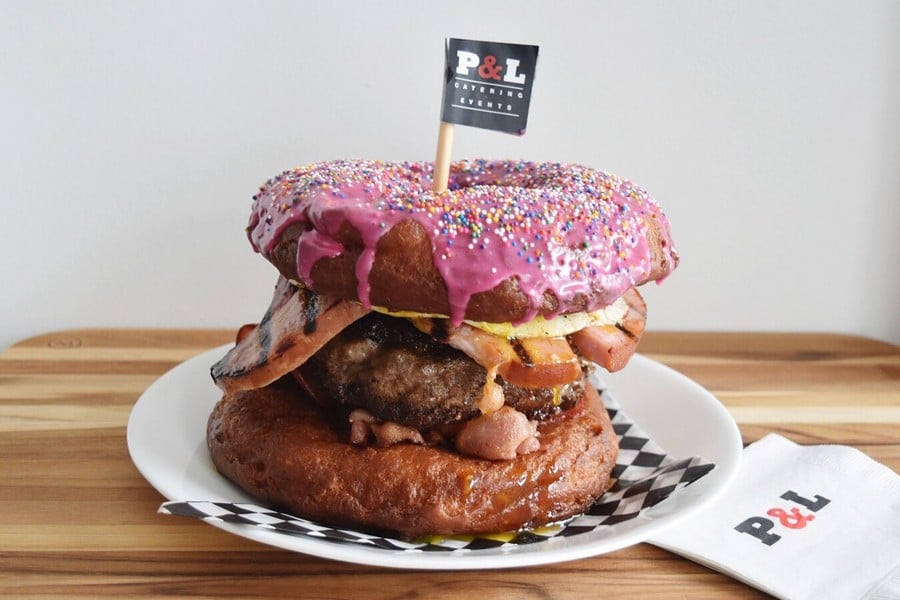 "This reference comes from Simpsons, Season 3, Episode 23 "Bart's Friend Falls in Love" – Homer is watching TV and the announcer's voice explains…We start with 18 ounces for sizzling ground beef and soak it in rich creamery butter. Then we top it off with bacon, ham, and a fried egg. We call it, the Good Morning Burger."
This dish is a combination of classic exhibition burgers and doughnuts however we put them both together. What better way to get in the mood for the exhibition than with all of our favourites in one?
The details? Simpsons style doughnuts, burger soaked in butter, seared bacon, grilled ham and a sunny side up egg. Chef Meghan Robbins, with the help of her amazing team created this mouth-watering, life-changing dish."
Maddy Slatt, Parts and Labour Catering & Events
Vendors Featured in this Article
---
The Tip Of The Iceberg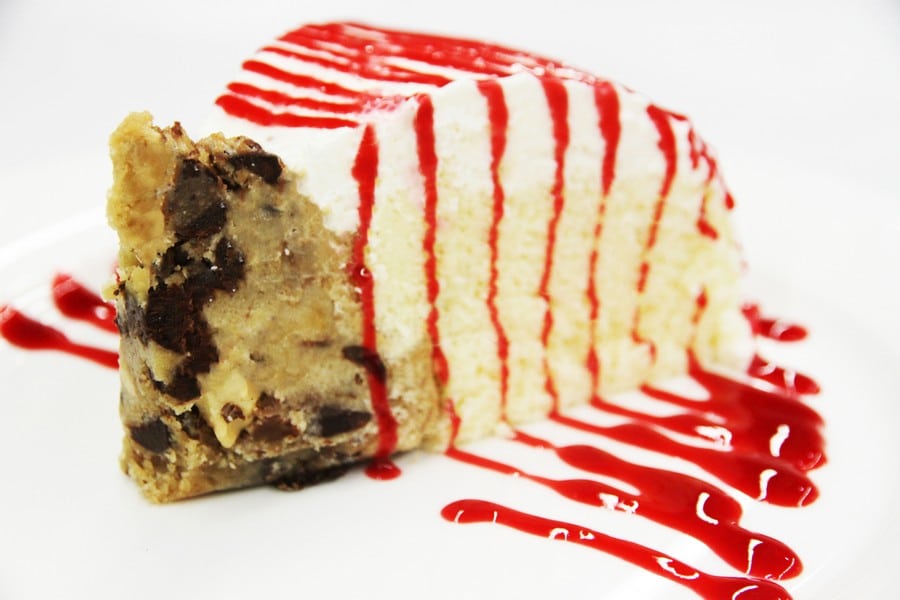 "The Tip Of The Iceberg (Frozen Colossal Cake) combines the decadence of Encore's famous 'Chocolate Chip Colossal Cookie' with a deliciously sweet frozen sponge cake, spread with creamy frozen yogurt. Once the Colossal Cookie was placed in the centre, we froze the cake and cut 4 colossal slices. A piece of the frozen cookie merged with the tip of each slice of frozen cake, creating the distinct look of an iceberg. To top it off, we drizzled raspberry sauce on top for the ultimate CNE inspired food experience.
A new decadence has arrived with The Tip Of The Iceberg."
Andrew Basso, Encore Catering
---
General Na' Taos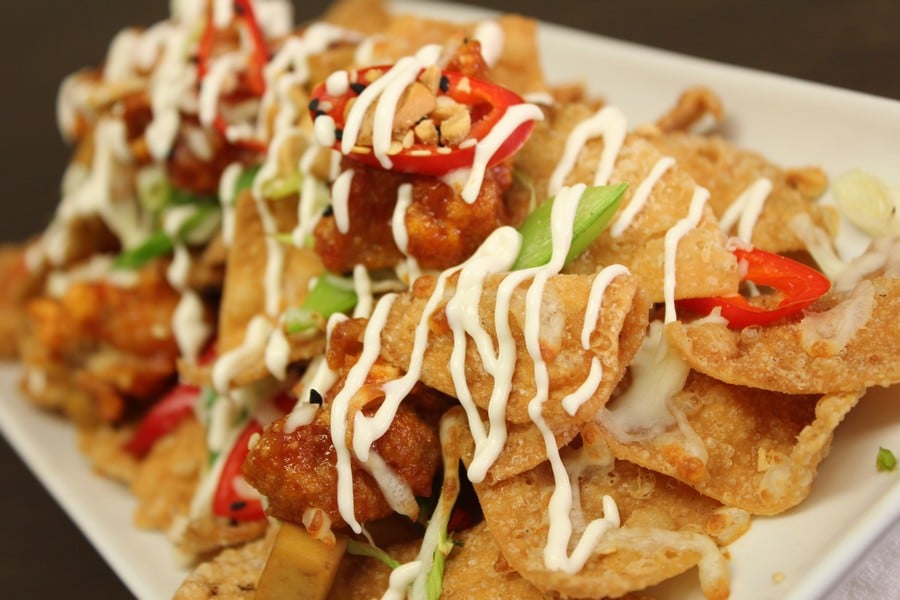 Photo Courtesy of Rob Minnella
"In the spirit of the CNE, we've created a delicious plate of General Na'Taos! This dish is made up of Crispy Wontons, General Tao Chicken, Melted Mozzarella Cheese, Marinated Tofu, Pickled Chili's, Scallions, Sesame Seeds, Snap Peas, Peanuts & Tahini Crema!"
Chef de Cuisine Sean Clayton and Sous Chef Liam Kelly, Toben Food by Design
---
PB&J Waffle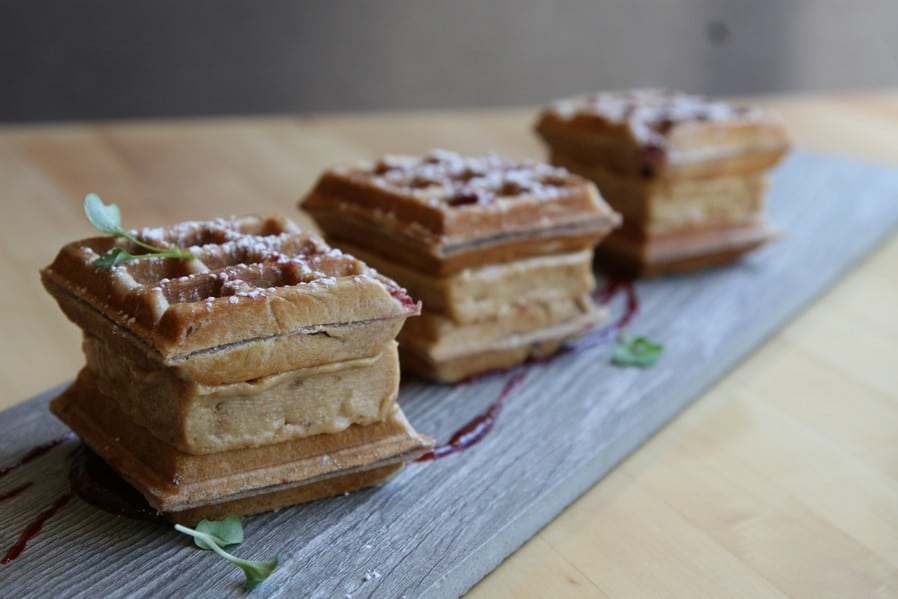 "This CNE-inspired dish is L-eat Catering's take on PB&J! These Belgium style Jelly Waffles are sandwiched with homemade Peanut Butter Ice Cream. Our owner's favourite childhood AND adulthood combination with a gourmet and decadent twist!"
Deirdre Anderson, L-eat Catering
---
The Nutella S'more Panzerotto
"This dish is made from Graham Cracker Crumble, a Giant Marshmallow, Nutella, and Pizza Dough. The ingredients are wrapped up and fried to perfection, then topped with more Nutella, torched Mini Marshmallows, and Cocoa Sugar. The ultimate in gooey, chocolatey deliciousness!"
Lauren Mozer, elle cuisine
---
Butter Tart with Smoked Duck Breast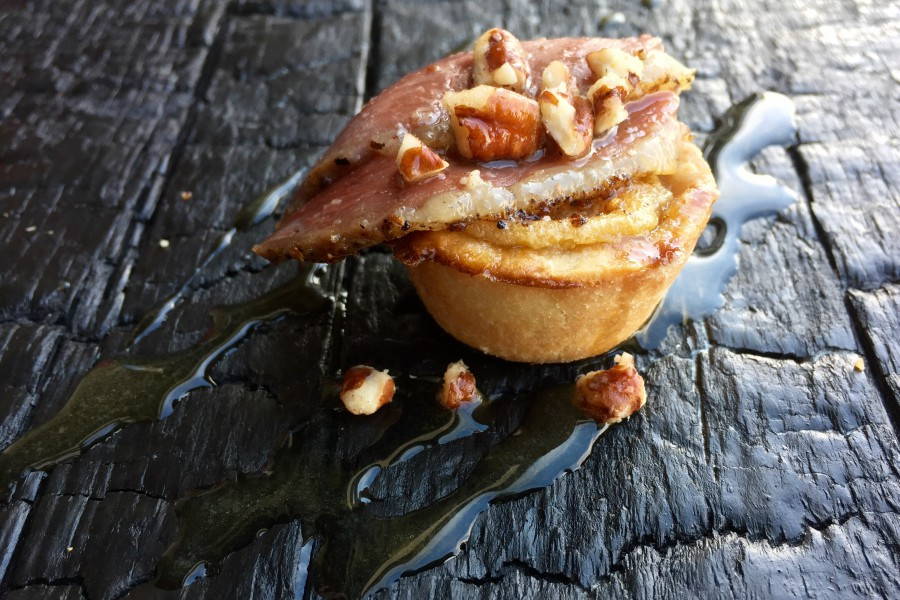 Photo Courtesy of Megan Smalley
"Get sticky, smokey, and sweet with our CNE-inspired Butter Tart with Smoked Duck Breast, Toasted Black Walnuts and Maple!"
Chef Chris Brown, Victor Dries Curated Events
---
Deep Fried Macaron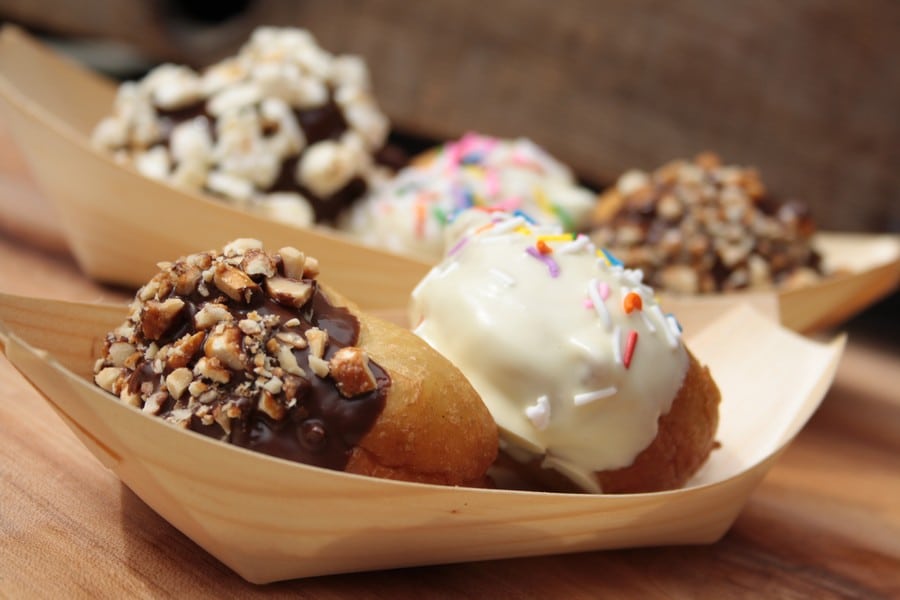 "The team at Daniel et Daniel has created a truly CNE-inspired macaron. Deep-fried, drenched in chocolate, and covered in your choice of favorite toppings ranging from beer nuts, popcorn, M&M's, and candied bacon. For the ultra-decadent, we suggest adding two scoops of Daniel et Daniel's home-made salted caramel ice cream!"
Tom Flaherty, Daniel et Daniel Catering & Events
---
Bite-Sized Bahn Mi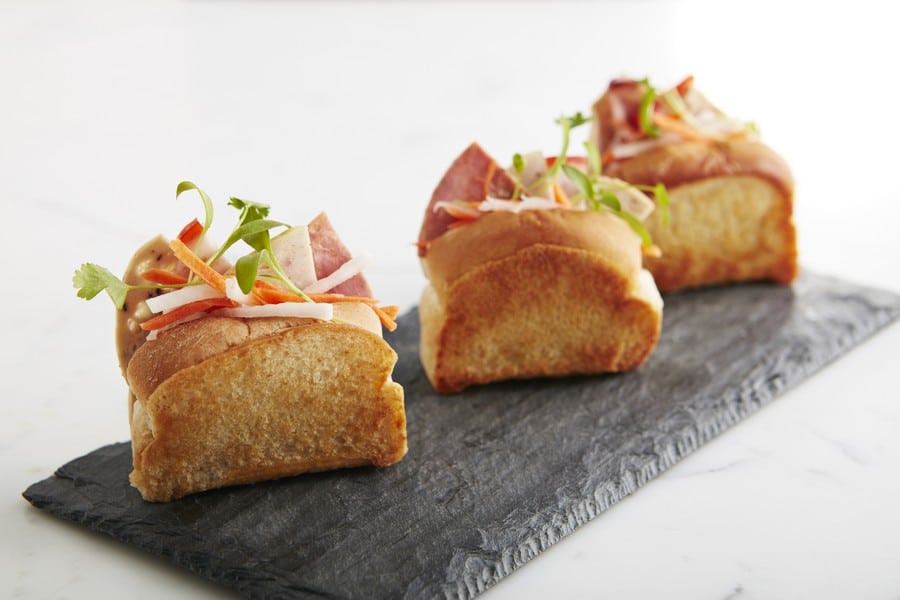 "With the CNE in full swing, we've taken notice of the outrageous — yet strangely delicious — combinations of flavours and cultures in one dish. At Presidential Gourmet, we love culture and fusing different elements into our menu items, like our miniature Bahn Mi with Honey Baked Ham, Liver Pate, Pickled Daikon, Carrots, and Micro Cilantro on a not-so-typical top cut Slider Bun."
Executive Chef Jay Suppiah, Presidential Gourmet
---
Deep Fried Grilled Cheese Rollup
"Wanting to put a twist on a classic comfort food dish, I went with a childhood favourite. The first question that came to mind when thinking of a dish worthy of the CNE was 'What can I deep fry?' So, we came up with the Deep Fried Grilled Cheese Rollup. We use the Ploughman's Loaf from Blackbird Bakery, flatten it out, fill it with aged cheddar and smoked mozzarella, and roll it into a torch-on before freezing it. Then we bread it and deep fry it because, let's be honest, everything is better deep fried — especially cheese!"
Chef Kevin Castonguay, ProvisionsTO
---
Gourmet Mini Doughnuts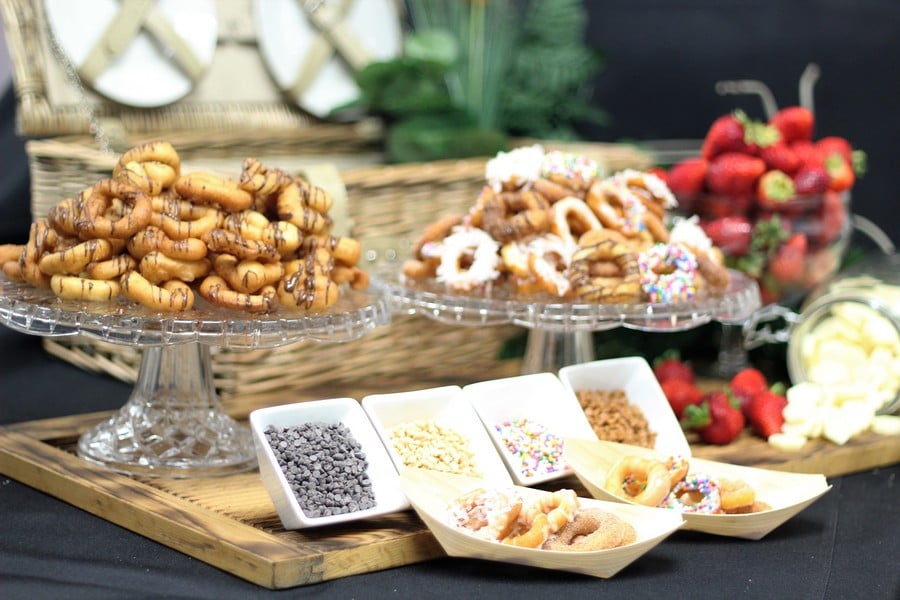 "Everyone remembers the Tiny Tom Doughnuts from the Ex, but at en Ville, we like to do it a little differently! We make all our own doughnut batter and fry up these sweet treats fresh right  in front of guests! Guests then choose from a huge array of different flavours and toppings. One of our favourites right now is our Maple Glazed Sweet Potato Coconut doughnut.
Preparing mini doughnuts hot and fresh, and giving guests the chance to finish it off just the way they like, never fails to bring back memories of summers at the Ex, licking the sugar and cinnamon off your fingers!"
Executive Chef René Kramer, en Ville Event Design and Catering
---
"Nacho" Average Nachos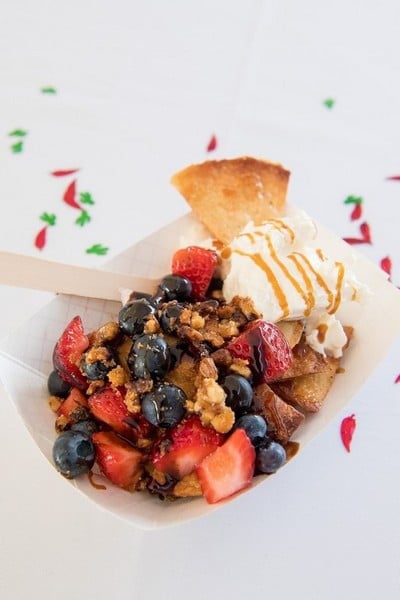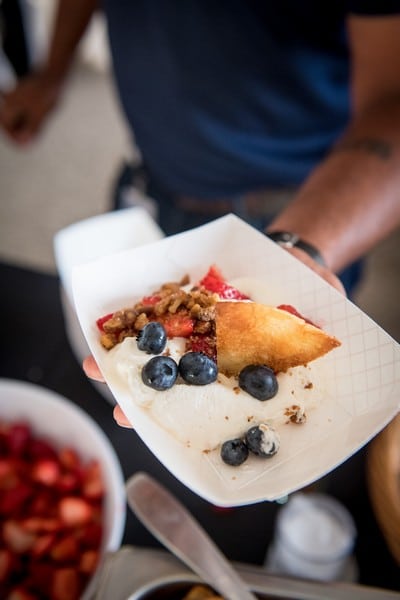 "Nachos show off their sweeter side with this dessert take on a dish that everyone loves. Baked Tortilla Chips are basted in Deep-fried Butter and coated in Granulated Brown Sugar and Cinnamon before being baked and dusted a second time. The taste is reminiscent of Cinnamon Toast Crunch cereal. As a build your own buffet, guests load on their own toppings such as fresh Whipped Cream, Caramel Sauce, Chocolate Sauce, Blueberries, Strawberries, Candied Walnuts, and more! Certified CNE foodie approved!"
Fia Pagnello, Kiss the Cook Catering
So what do you think? How many of these badboys would you try out? Let us know in the comments.