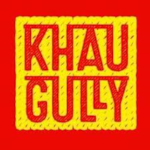 Khau Gully (eating street) is a place where people in search of good food throng. The search for authentic and healthy Indian food in Toronto ends with Khau Gully. If you want wholesome and innovative food come to us. All gourmets converge here, where they can eat in an amiable and relaxed atmosphere. Our food has that little something that makes you relish and recall it for days! Located at a prime and trendy location between Eglinton & Davisville on Yonge Street. Khau Gully awaits you!
Really good spot! I've been there a bunch of times with my wife and we've had a great experience each time - they are very consistent, which to me is important in a restaurant. We've tried quite a few different dishes, and liked them all... especially the fried okra (bhindi rajasthani), which in my opinion is one of the best appetizers in the city! Highly recommended.
This place not only has some of the fastest service I've seen from restaurants in the area, they also have a wider variety of dishes than you might expect. I personally recommend the butter chicken or tikka massala. The staff are very courteous, helpful, and passionate about what they do, which shows in the excellent quality of the food. I order from Khau Gully at least once a week and they've never let me down in terms of quality or service. Highly recommended!
DIY Vacation
January 2021
The best Indian food Ive had in a long time with generous sizes and very professional service. I ordered takeaway and it was on time and super tasty. I already ate some of both these dishes before taking a photo (Rogan Josh & Tender Coconut Chicken). Highly recommend.
Melissa Jean Clark
January 2021
Absolutely delicious Indian food. My boyfriend and I have ordered delivery from several Indian places and they were always lacklustre. Until we ordered from Khau Gully. The food is fresh and flavourful. They were very friendly and delivered quickly too. So glad we found this amazing restaurant.
Terese Hatter
November 2020
Amazing food!Ordered delivery from here yesterday. Maybe the BEST Indian food I have had in Toronto., and I have had A LOT! Order directly from the restaurant for the best deal on food and delivery! I have not had the opportunity to visit, but the phone service was great! Will order again, and recommend highly!
Khau Gully has been mentioned inside these other vendor profiles:
Company Overview
Company Overview
Map
1991 Yonge Street, Toronto, ON M4S 1Z8