Over 300 Toronto culinary enthusiasts came together this weekend for the first-ever Toronto Catering Showcase presented by (ahem) none other than your good friends right here at EventSource.ca.
Hosted at the always-impressive The Bram & Bluma Appel Salon, guests were immediately taken aback by the absolute deluge of exceptional culinary delights expertly prepared by 12 of Toronto's most notable catering companies. If that's not enough, the show featured local wines by the renowned Peller Estates, a wide selection of craft beer provided by Brew Box Co., live music from our friends at Wellington Music, and so much more (read on)! With so many delicious options jam-packed into one event, a highlight reel from the talented team at Images Life Media says it best!
Vendors Featured in this Article
An absolute dream come true for epicurean enthusiasts, The Toronto Catering Showcase welcomed a variety of guests ranging from savvy food-first couples, event hosting veterans, corporate planners, esteemed industry pros and your good-ol' everyday foodie-types. We pulled out all the stops for #TCS2016 and went to some of the biggest names in the industry to help put this all together: a big thanks to our friends at Ashley Pigott Events for helping produce and coordinate the event; Luxe Rentals for the stand-out bar and furniture; and Décor & More for providing all the florals. Mr. Henry Lin of 424u spent the day capturing this spectacular afternoon.
Wellington Music had guests head-bopping along to their classical renditions of Top 40 hits
So let's dive in to the food stuff, shall we? Kiss the Cook Catering's station had guests lined up with their take on Chinese/Italian infused dishes. Incorporating La Mian (hand pulled noodles) with traditional Italian ingredients, it was a definite crowd pleaser.
Kiss the Cook's noodle master was on hand to demonstrate the Chinese art of making La Mian! Did we mention this was just one of 12 stations? Let's keep 'er moving!
All Photos of Kiss The Cook Courtesy of Kelvin Young Photography
The good folks at Encore Catering provide a visual cornucopia of worldly options: Hawaiian-inspired Ahi Poke, Chinese Crisp Wonton Bolso, and Mexican-inspired vegetarian Tacos.
Dishware and tableware courtesy of Event Rental Group
Food Dudes served up flavour-rich crowd pleasers at their Shawarma station: Braised Lamb Neck with Greek Yogurt, Hot Sauce, Beet Pickled Jicama, Feta, Mint Gremolata, and Tortilla Strips. For the veggie lovers out there: Fried Goat Halloumi with Greek Yogurt, Hot Sauce, Beet Pickled Jicama, Feta, Mint Gremolata, and Tortilla Strips.
Toben Food by Design went with several gluten-free options including their Artisan House Smoked Chicken Sausage and a Garam Masala Jumbo Shrimp. I think I ate a good 6 or 7 of these (thanks Toben). We also have Wild Mushroom Risotto Cakes – delicious.
10tation Event Catering served up a delicious East Coast duo consisting of Sea Scallops and Lobster on Cauliflower Puree with Green Apples, Celery Leaves and toasted Breadcrumbs and Gnudi (not to be confused with their potato cousin, Gnocchi) with Lamb Neck Ragu and Pepperonata. Oh, and for dessert? Pumpkin and Ontario Ricotta Cheesecake.
Coming off the heels of our Harvest Shoot, Daniel et Daniel Catering & Events served up a fitting, seasonal array of Fall-inspired dishes such as Roasted Butternut Squash Arugula Salad, meal-sized Chicken Cobbler, and dreamy Apple Pie!
Eatertainment Special Events & Catering kept it classy with their Grilled Octopus Salad complete with Olives, Peppers, Frisee, Arugula & Chorizo Crumble. As a dessert option, a fantastic White Chocolate Arancini in Graham Crust.
elle cuisine delighted with their made-to-order Yukon Gold Gnocchi and rich-tasting accouterments; Maple Smoked Salmon Trout; and delicious Sticky Toffee Pudding.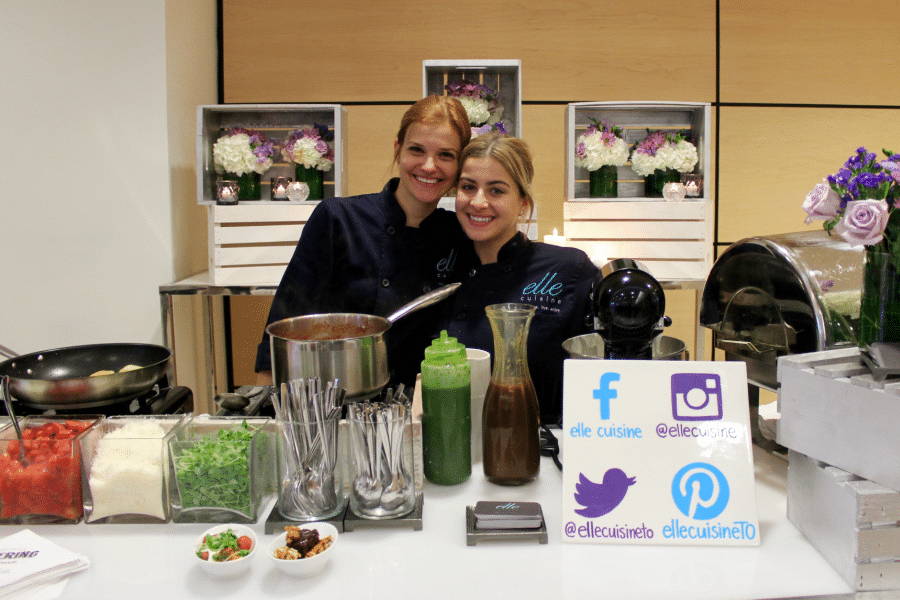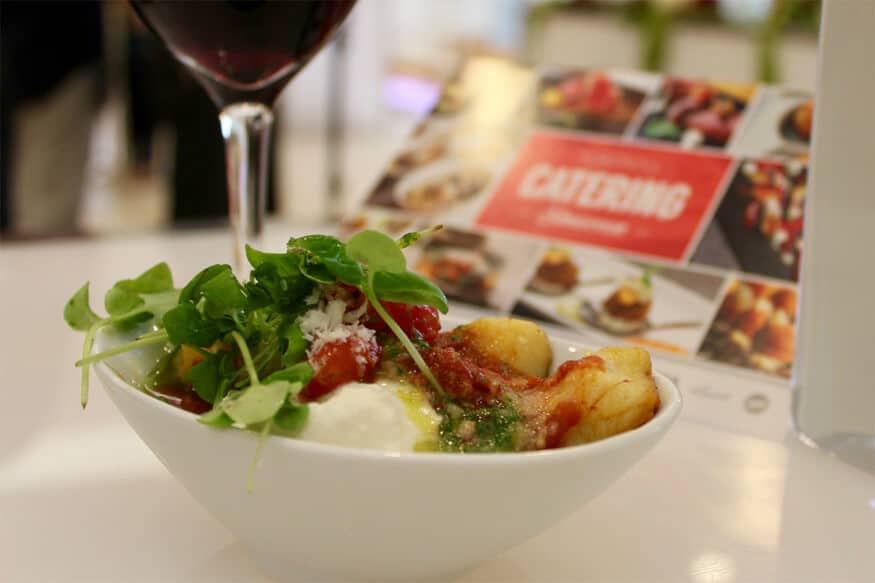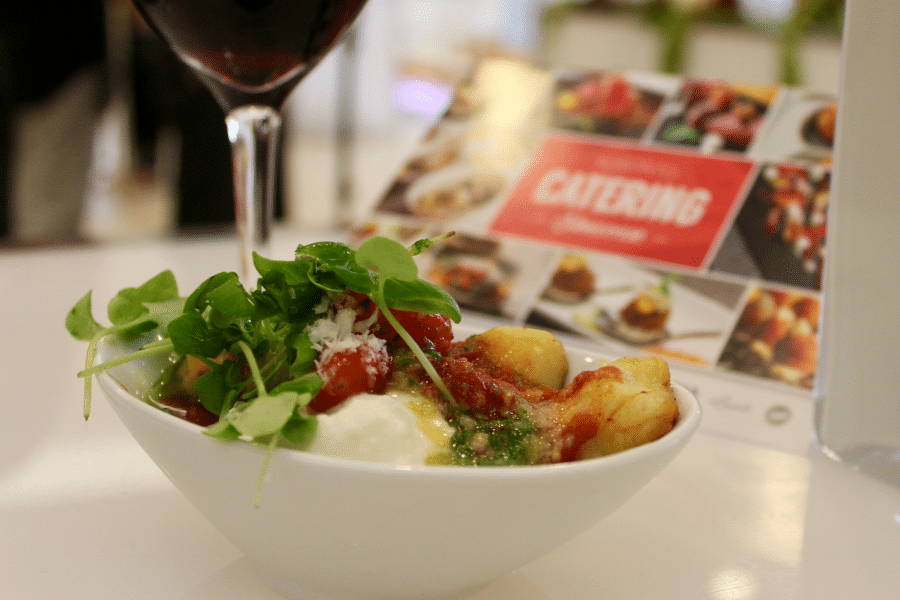 Photos Courtesy of elle cuisine
en Ville Event Design and Catering went surf and turf offering both Olive Oil Poached Canadian Halibut and Beer Braised Ontario Beef Cheek Short Plate. To round things out, they also offered a delicious Maple-Roasted Pumpkin Tartlet.
L-eat Catering prepared their famous 21-ingredient Paese Calabrese Coleslaw, Branzino Crudo with Lime, Kimchi, and Avocado, and Chocolate and Peanut Butter Cup Tarts.
Parts and Labour Catering & Events went with some down-home staples. We're talking delicious morsels of Mole Fried Chicken on top of warm Buttermilk Waffles, BC Snapper Crudo (with an accompanying veggie option), and for dessert, a "let's hold and hands and sing Kumbaya"-inspired Campfire Tartlet.
Presidential Gourmet brought the flavour with Savory Candied Pork Belly sliders on a soft Hawaiian Bun. Want more? How about a Sushi Taco with a Crisp Wonton, Sushi Rice, Miso Sake Shrimp, Pickled Ginger, Sesame Aioli, and Scallion? Oh we're still not done here… For dessert, we have a Sweet Matcha & Yuza White Chocolate Bon Bon and a Green Apple and Speculoos Macaroon served on a gold mono board.
The lovely folks at OystersXO kept guests fully engaged with their mobile shucking of deliciously fresh oysters – a huge hit among guests.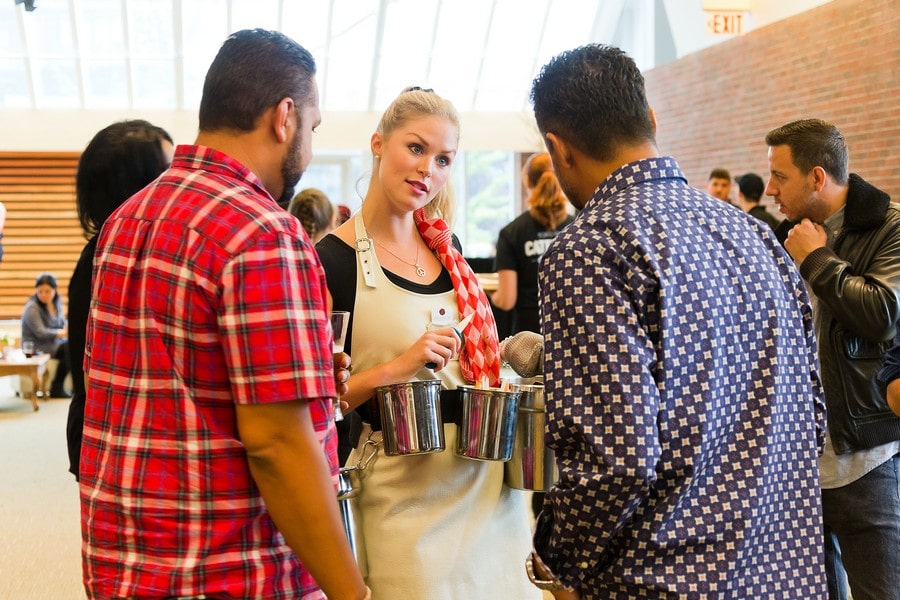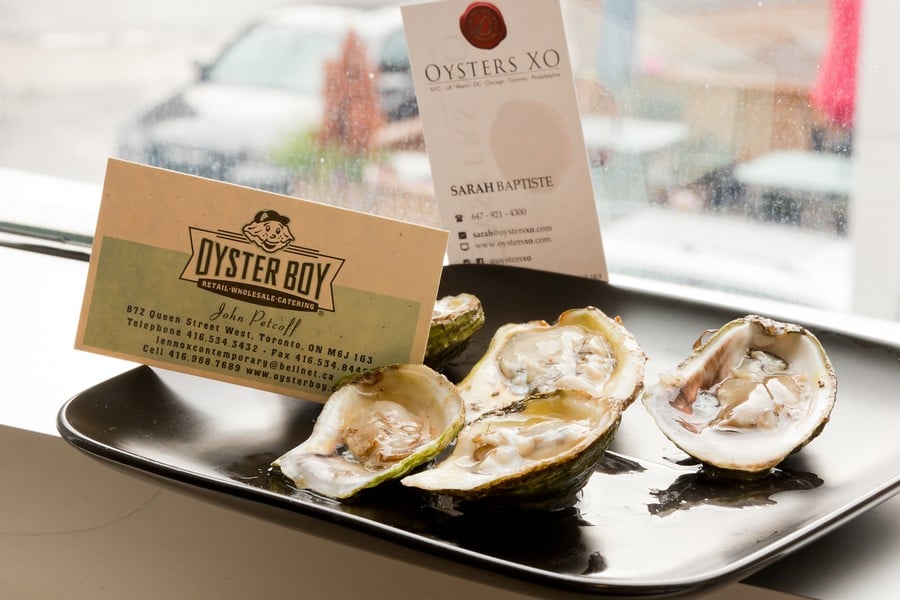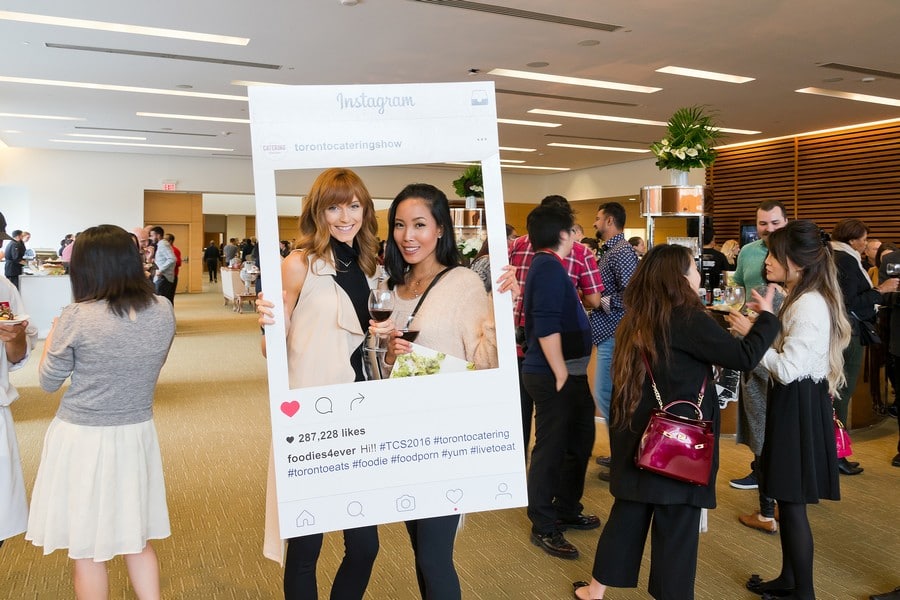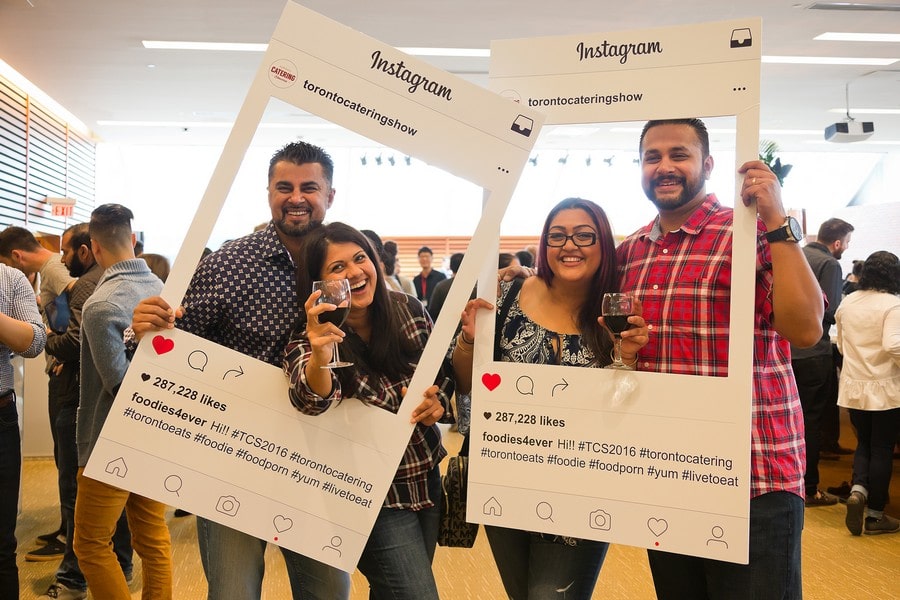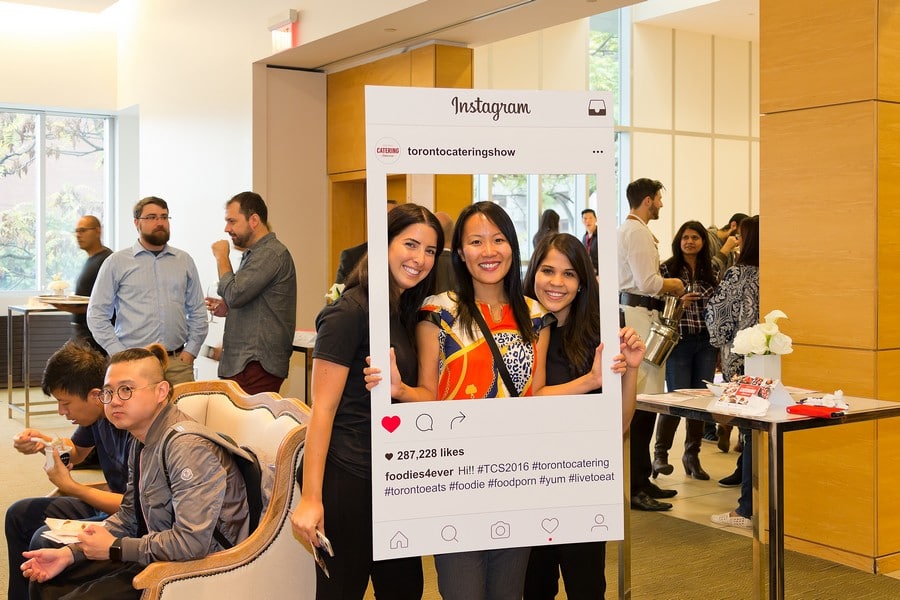 Photo Props and Booth Vinyls provided by Event Graffiti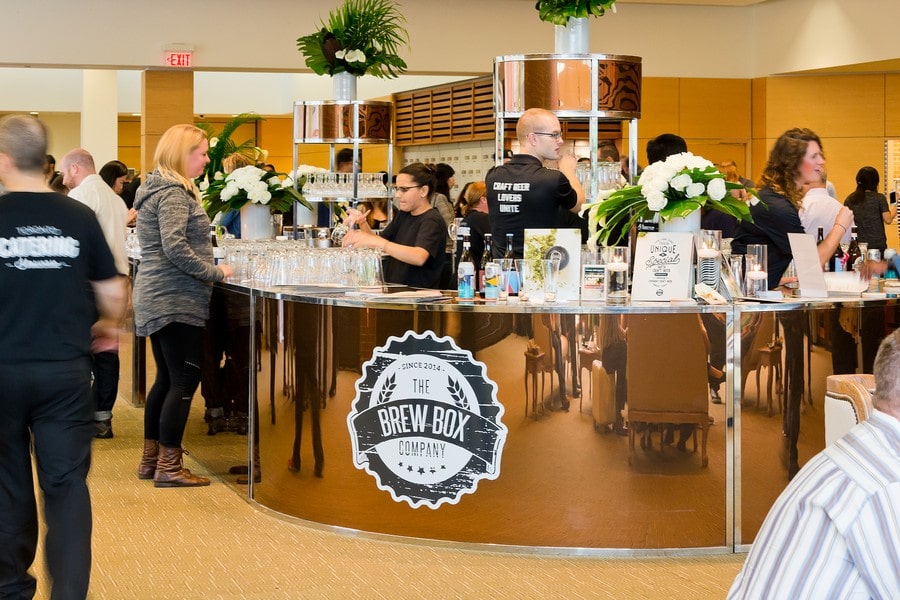 Staffing provided by The Butler Did It
The room was packed with guests from the start to finish and the upbeat buzz – courtesy of music and AV from bb Blanc Audiovisual – kept things humming along swimmingly. No doubt: with an abundance of amazing food to taste, fabulous entertainment, and a fun touches that made for some great photo ops (check #TCS2016 on Instagram), it's safe to say a great time was had by all! Big thanks to everyone who helped make the first Toronto Catering Showcase a massive success!