Wedding season is here and with it comes all the joy, excitement, and of course, decision making that goes hand in hand with the final stages of wedding planning. If you fancy yourselves a food-first couple, you know just how important your wedding day menu can be. To help you curate a delectable menu for you and your guests, we reached out to a slew of Toronto's most acclaimed caterers to find out what they'll be serving up for the big Canada 150-wedding season. Brace yourself – we've got 11 unbelievably tasty dishes to make you feel all warm and special inside… and by that I mean, hungry. Buon appetito!
Vendors Featured in this Article
---
Smoked Trout Mousse
Apple, Dill, Charcoal Blini, Beet Dust
"Canada's 150th birthday is having a huge influence on menu development this summer. In Toronto, we've seen a surge in dishes inspired by both nationally recognized and very local ingredients. Whether it's a new spin on a classic favourite or an innovative creation featuring Canadian ingredients, patriotic dishes are one of the hottest trends this summer. Amongst our favorites is the Smoked Rainbow Trout Mousse created by Executive Chef Karen O'Connor. It embodies Canada's vast, fresh waters and the Great Lakes in a delicious bite sized hors d'oeuvre, perfect for summer weddings."
– Guillaume Clairet, Daniel et Daniel Catering & Events
---
British Columbia Jewel Lake Trout
"Our latest addition to the Presidential Gourmet menu? British Columbia Jewel Lake Trout! It is a striking, colourful main course that compliments any summer wedding! The pairing of lavender-crusted Swiss Shard, Saffron Marbled Yukon Gold Potato and Spinach-leek Nage is an innovative combination, which will leave a lasting impression on your taste buds and wedding party."
– Executive Chef Jay Suppiah, Presidential Gourmet
---
Blackened Halibut
Coconut Rice, Cilantro Oil, Green Curry, Lotus Chip, Bok Choy & Zesty Micro Sprouts
"Halibut is such a decadent and versatile fish that allows us to try different variations – and this one is a keeper! A little bit of heat brings all the flavours together beautifully and warms your insides!"
– Chef Lauren Mozer, elle cuisine
---
Cavolo Nero Cone
"We love summer not only for its blue skies and beautifully balmy temperatures but also for its simple, savoury eats. This year, our favourite summer dish is our Cavolo Nero Cone, which is a fun (and perfectly portable!) twist on one of our best-loved Gusto dishes. Made with fresh Lacinato Kale, Zante Currants and Toasted Pine Nuts, topped with Grated Parmigiano, Shaved Pecorino, Zesty Lemon Vinaigrette and wrapped in a crunchy Nori Cone, the Cavolo Nero Cone is a bold combination of flavours and textures that perfectly primes a summer palate."
– Chef Davide Iannaci, Gusto 54 Catering
---
Family Style Branzino Fish
Shaved Fennel Citrus Salad, Cauliflower Salad and Roasted Fingerling Potatoes  
"The reason behind the creation? "Family Style" is very on trend right now – it not only presents beautifully but creates an intimate atmosphere for your guests. This dish uses classic elements of the summer grill with beautiful, light Mediterranean flavors and is perfect for small or large wedding affairs. Whole grilled fish is always a hit and packs a punch with natural, amazing flavors; especially Branzino. Paired beside our shaved Fennel-Citrus Salad, this dish is a total knockout!" "
– Chef Toben Kochman, Toben Food by Design
Our friends at 10tation Catering are cooking up some Branzino as well!
Braised Branzino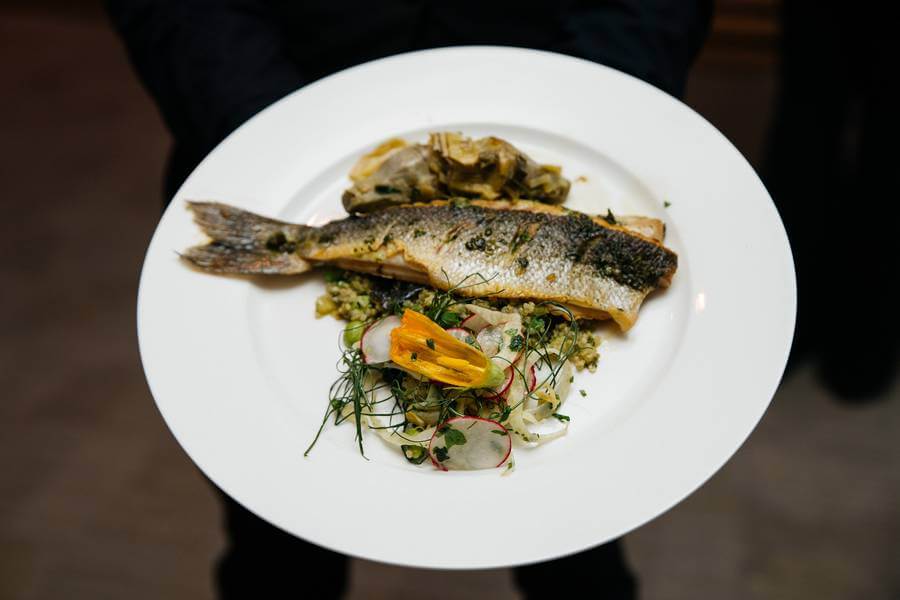 Photo Courtesy of Josh Tenn-Yuk
"Our Mediterranean Branzino with Spring Quinoa, Fresh Fava Beans, English Peas and Mint, Braised Ontario Artichokes, Fennel and Radish Slaw is definitely a hot summer menu item! We love the seasonality of this dish – its fresh yet hearty."
– David D'Aprile, 10tation Event Catering
---
Rhubarb & Champagne Gelée with Dehydrated Strawberries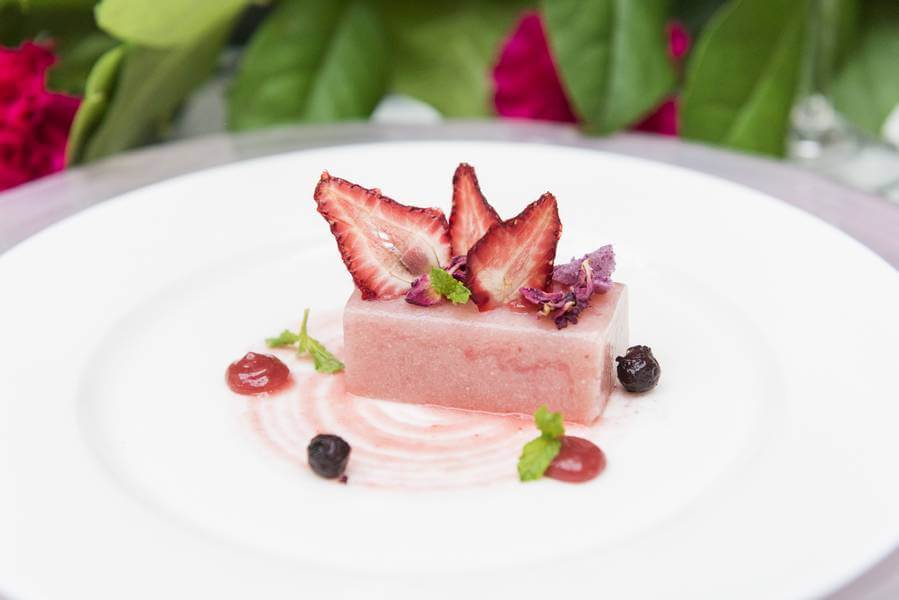 Photo Courtesy of Ikonica Images
"For summer 2017, we're seeing a resurgence of blush and rose colours. We used fresh Ontario fruits and vegetables to perfectly create a pink palette for our Rhubarb & Champagne Gelée with Dehydrated Strawberries, and Flavours of Rose Petals."
– Executive Chef Daniel Holloway, Urban Acorn
---
Bacon and Eggs… Literally
"Our newest addition to our spring menu is our take on Eggs and Bacon which we showcased at our latest Fancy Brunch industry networking event. Scrambled Eggs, Candied Bacon, Champagne Hollandaise Espuma with Grated Truffle. This twist on a "bacon and eggs" adds a spontaneous flair to any meal. We love the creativity behind this dish and the spontaneous flair behind the concept."
– Chef Kevin Castonguay, ProvisionsTO
---
A Full Canada 150 Menu
"In celebration of Canada's 150th we have a new Canada 150 Menu we're offering bride & grooms who are proud to be Canadian and want to show it off at their wedding! Pictured above is a small sample of what we will be offering including Niagara Ice Wine Gravlax, Alberta Beef Tartar in Savoury Cones and Spicy Autumn Prairie Vegetable Pakora Cubes – to name a few.What really excites me about this menu is the opportunity to showcase product from across our great country. From coast to coast, Canada offers an abundance of amazing products, and we are very proud to have developed a menu that features these products prominently in celebration of Canada 150."
– Sebastien Centner, Eatertainment Special Events & Catering
---
Fry Me To The Moon
"We have a reputation for setting trends when it comes to interactive food stations. Our "Fry Me To the Moon" French Fry station is no exception and has been a best-seller for 2017 wedding season. Guests enjoy mini baskets brimming with crispy treats served hot and fresh from the deep-fryer. Enjoy classics such as homemade Sweet Potato Fries with Chipotle Dip, or sample the more adventurous options including Green Bean Fries with Miso Mayo, Polenta Fries with Spicy Marinara, or Eggplant Fries with Tzatziki, to name just a few. "
– Fia Pagnello, Kiss the Cook Catering
---
Nitro Ice Cream
"Never before have we had so many couples opt for a wedding with interactive food stations, rather than the formal three course dinner. Interactive stations are a fabulous way to showcase your favourite foods and items from different cultures & backgrounds! They also allow guests to get up close and personal with the Chefs, and see how their food is made. One of our favourite stations of all time is the Nitro Ice Cream Bar. Not only is it the most visually dramatic and stunning station you could offer to your guests, but there is virtually endless flexibility with flavours and ingredients! Because Liquid Nitrogen is so much colder than the conventional way of making ice cream, you can use ingredients that wouldn't normally freeze – namely, liquor! We're looking forward to a hot Summer, and to making lots of Nitro Ice Cream!
– Executive Chef René Kramer, en Ville Event Design and Catering