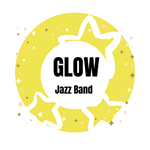 With over 10 years of event experience, the Glow Band (all year) and Mistletoe (Holiday) Jazz Band can make your sonic vision a reality for your social, corporate event, or wedding. Ms. Faith Amour, the bandleader, goes the extra mile for her clients.
Having performed and collaborated with clients far and wide, Faith will ensure that your guests enjoy the very highest quality of music your city has to offer and that you have peace of mind that you're in good hands.

Past Clients & Venues:
Shoppers Drug Mart, Moneris, Scotiabank, Sunnybrook Foundation, Toastmasters, Kubik Inc., Rotary International, YMCA and more.
Past venues include Winter Garden Theatre, Woodbine Race Track, Liberty Grand, Niagara University, Rosewater Room, The Mansion, Classical 96.3, University of New Mexico, The Vue and others.
What You Get:
- Fantastic Background Music - for Cocktail and Dinner Ambiance
- A 3 to 5 piece jazz band - Voice, Piano, Bass, Drums, Saxophone
- a straightforward and quick booking process
- An elegant and inspiring atmosphere
ABOUT:
The Singer
A dynamic award-winning entertainer and a consummate professional. Faith Amour has been requested to perform for events in cities such as Washington D.C., Paris, Santa Fe, Milan for festivals, annual dinners, high-end weddings, gallery openings, university cultural days and political events. She has been listed by BizBash, The Knot, and has received music awards in Canada and the U.S. for her work.
The Players
Phenomenally accomplished musicians from the city's bustling music scene, at the top of their game, with the passion, talent and experience to dazzle on any world stage. They are recording artists and busy international sidemen in their own right.
Request a free quote from one of Faith Amour's Jazz Band!
For Top-Notch International Jazz Vocals and Instrumentalists. Professionalism, Sophistication and Flexibility. For One Amazing Experience.
Partnering with you to create the stunning atmosphere you desire...
Company Overview
Company Overview
Pros I Know
Liberty Grand Entertainment Complex