Music in Motion DJ Service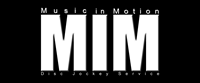 Music In Motion DJ Service has been providing entertainment to all types of functions since 1990. All Music In Motion DJ's are trained to entertain any style of function from the classy wedding to that wild & energetic school dance. Providing the best in all your needs for your special day! Services we provide are: lighting, dry ice, photography, samba dancers, percussionist, master of ceremonies, flowers, decor, wedding cakes and much more. Music in Motion along with our sister company DEG Productions is your one stop shop for your special day.
I cannot recommend Music in Motion for your DJ services enough. Most of my contact was with Phil Di Principe through the process. Phil made the whole process simple and straight forward for booking by providing package details and explaining any add ons you would need for your event. My wife and I live on the east coast and having to correspond through email and video chats back to Ontario did not affect the level of service we got in the end. The Music in Motion team have you fill out a handy guide that spells out what songs or music you want to walk down the aisle to, what song you want to end your night on, and everything in between.
I will also give kudos to our DJ for the night Ralph Devincenzis who was able to adjust our playlist and timing order of songs on the fly. Not only did we get quality sound and a playlist that had a great ebb and flow for the night but Ralph managed to play to the crowd. When the kids at our wedding jammed out to Beastie Boys Ralph saw fit to play three more bangers from the band to keep them rocking.
Not only will you get great tunes but an MC with a lot of character and charm, 5/5 does not do them justice.
We hired Music in Motion for our wedding. We went with them off the recommendation of our wedding planner, and were not disappointed. During the planning stages, we had a brief chat with them, and then filled out a form describing our favourite songs and genres (mostly mainstream pop, dance, hip-hop, etc). DJ Anton MC'ed for the first half of the night, and handed over to DJ Tony for the second half. They played some EPIC music that kept the dance floor going until we got kicked out of the venue! They kept the music hot with smooth transitions and after dinner, about 80% of our guests were dancing at any given time. The music and dancing was a highlight of our wedding – it kept people there until the end! Strongly recommend Music in Motion and DJ Anton and DJ Tony.
Mike and Agnes
February 2020
Best DJ service hands down!! I would highly recommend Phil and his team at Music In Motion for your next event. We hired them for our wedding on Feb. 15th 2020 and we couldn't be more pleased. Our guest all night, and days after, were talking about how awesome the DJ's were and how much fun they had at our wedding. Thanks Phil and his team once again for making our wedding the best night for everyone... Cheers!!
What a great night filled with awesome music thanks to our pretty incredible DJ's! If you are looking for a DJ with a load of energy to get the crowd going then look no further. Our guest are still talking about the blast they had dancing the night away. Thanks guys!
Tyler Christian Brown
November 2019
We hired Phil to supply DJ and MC services for our wedding on November 09, 2019. Both the DJ and MC were amazing! I think I told them both 3 times that night what great jobs they were doing. I requested specific songs and playlists for the chapel service, cocktail hour, dinner, to introduce speeches, etc. They played every song I requested at the exact right time. They even added in 'My Heart Will Go On' as soft background music during a bridesmaid's speech who mentioned the movie Titanic! They were amazing. Both the DJ and MC couldn't have been friendlier or more professional. I should also say this was a gay wedding. While you shouldn't have to qualify it, there are a lot of people who are uncomfortable with that. I thought I might need to hire a gay DJ to ensure they would be ok with us. There was absolutely no need. The Music In Motion DJ and MC were so encouraging, professional, and charming.. we couldn't have asked for more. If you want to relax and enjoy your special day, knowing the music and entertainment are in good hands, go with this company. I can't recommend them enough.
I've worked with Phil on several projects and he (as well as all of his staff) are great to work with. They always pay attention to detail and ensure the party is running smoothly. There are times when we've been hit with unexpected details at a wedding and they're able to make adjustments on the fly so that the timeline runs without a hitch. Music In Motion knows how to get the party started and keep it going all night! I've hired them on multiple occasions for my own events as well and wouldn't hesitate to do so again. You won't be disappointed with Music In Motion!
We have been working with Music in Motion DJ Services for many years and they have also been accommodating to our clients.
Professional, Reasonable and Reliable is how I would categorize them. I would recommend their services to anyone in need of some great music.
Music in Motion DJ Service has been mentioned inside these other vendor profiles:
Company Overview
Pros I Know
Pearson Convention Centre
Weston Golf and Country Club
Le Tréport Wedding & Convention Centre
Embassy Grand Convention Centre
Mississauga Grand Banquet & Event Centre
Map
3136 Mavis Rd SUITE 207, Mississauga, ON