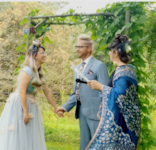 Based in Toronto Ontario, Signature Ceremonies is a sought after boutique wedding officiant service. Couples can have a short and sweet basic ceremony or collaborate with Ontario certified wedding officiant Lorraine Maltese to co - create a one of a kind ceremony. You have the freedom to add vows or blend beliefs.
Lorraine combines years of wedding skills to execute a highly customized ceremony.
Couples get an inspiring, extraordinary and unforgettable wedding script and an eloquent delivery. From the initial ceremony planning to the walk down the aisle and the legal registration, Lorraine will assist you every step of the way to deliver a stunning reflection of your love. A perfect match if you desire an authentic heartfelt result beyond your imagination.
Wedding Ceremonies by Lorraine Maltese