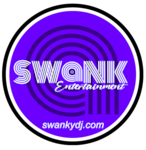 We specialize in creating an atmosphere where people let loose, sing at the top of their lungs, and spend all night dancing. Your event decor will surely be wonderful and the dining and drinks will be delicious, but what all of your guests will truly remember is how much FUN they had. [dj]Pete and Swank Entertainment is here to make sure ALL of your guests have the best time EVER! "A Truly great DJ can make a whole room fall in love. Djing your special event is not about choosing a few tunes. It is about generating shared moods; it's about understanding the feelings of a group of people and transforming them to a better place".
Weddings

Corporate Events

Anniversaries, Birthdays, Quinceanera, Sweet 16

Special events

Office Parties

Receptions/Galleries/Openings

Retail In-Store events

Bar/Bat Mitzvah

Proms

Trade and Consumer Shows/Conventions

Clubs, Bars and Restaurants

Warm-up act for LIVE entertainers

Festivals & Weekenders
[dj]Pete and Swank Entertainment provide decades of music curation, DJ and Audio/Visual experience for you to ensure your next event is unique and perfect in EVERY way.
Company Overview
Company Overview
Pros I Know
Artists' Play Event Space