The Marry Men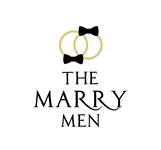 Congratulations! You're engaged. Now it's time to say "I DO!"
We believe the most important part of your wedding day is your ceremony and we are committed to making the day meaningful and memorable for you, your family, and your guests.We are also available to officiate other life services and milestones. As ordained ministers with the Canadian International Metaphysical Ministry (CIMM), Jason and Michael are licensed religious officiants with The Province of Ontario. We are all-inclusive, LGBTQ+ and inter-faith friendly. Serving the GTA, Golden Horseshoe, and cottage country.
We're in the "forever" business.
Let the Marry Men tell your story!
Company Overview
Pros I Know
Deals & Packages
The Dress Rehearsal (optional)
Jason or Michael can attend the wedding rehearsal to facilitate the ceremony practice and any planning at the venue or designated location.
Service Includes: consultation with the Wedding Planner, review Day-Of Schedule, Meet & Greet with Wedding Party
---
The Simple Ceremony (Paperwork)
A short legal marriage to be performed at a mutually agreed upon location (couples home, venue, or public space) This intimate package is for couples who are planning a destination wedding, or for couples who require processing of their marriage in a shorter time frame. This is also a perfect option when couples have decided to have a friend perform their ceremony.
---
Act 2 - Vow Renewal Ceremony
Re-do your "I Do's" in a beautiful but simple ceremony to celebrate an anniversary milestone, reaffirm your love with new rings, or put a spin on your classic vows.
Service Includes: Words of Welcome, Exchange of Vows and Rings, Pronouncement, Initial Consultation
Officiated on the day & time of your choice.
---
Overture - Sweet & Simple (Elopement)
This ceremony provides couples the opportunity to exchange rings and vows.
Service Includes: Words of Welcome, Declaration of Consent and Intention, Exchange of Vows, Exchange of Rings, Signing of the marriage licence, Pronouncement, Initial Consultation
---
Act 1- The Essential Ceremony
This is for couples who want a traditional or contemporary ceremony.
Service Includes: Words of Welcome, Declaration of Consent and Intention, Exchange of Vows, Exchange of Rings, Signing of the marriage licence, Pronouncement, Initial Consultation
---
The Show-Stopper Ceremony
This is a fully-personalized ceremony designed for you and by you with the Marry Men signature touch.
Services Include: Initial & Final consultation , Words of Welcome , Declaration of Consent and Intention , Exchange of Vows , Exchange of Rings , Signing of the marriage licence , Pronouncement, The Marry Men Signature Wedding Gift
---