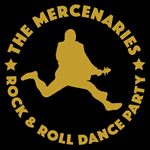 Big, small, country, city; we do them all. We know thousands of tunes, and will learn a song or two for your special day. The Mercenaries are not your run-of-the-mill wedding band; but you're probably not your run-of-the-mill couple 'bout to get hitched. Want to sing a specail song backed by a killer band on your day, No problem. Need a bagpiper, we have you covered.

Are you looking for an irreverent, fun loving band who will help you let loose and get your freak on without letting you down or freaking you out? The Mercenaries are the band of your dreams -- professional, consummate musicians who come ready to take requests, improvise, and hype the crowd. The Mercenaries make it their mission to inject fun and energy into any occasion -- from intimate (yet safely distanced!) house parties, to corporate events in need of serious amplification. Plus they dig Boomers, X-ers, Zeds, and Millennials. That's just facts, fam.
As champions of community and alchemists of song, Ian and "Toronto's Greatest Dance Band", The Mercenaries, have been expertly guiding humans to supreme levels of fun for over eight years. When it comes to crowd-pleasing and creating an unforgettable event, Ian Goodtimes is your man. If you're looking for something extraordinary, hire the entertainer's entertainer. This guy lives up to his name with humour and huge heart. AND Ian plays bagpipes too!
Company Overview
Company Overview
Pros I Know
Deals & Packages
Complimentary bagpiper with wedding booking 2021
Book the mercenaries for your wedding in 2021 and get a bagpiper for your ceremony free!
Savings: Free offer
Expiration: 12/31/2021
What services are included with this Package:
Contact-less and socially distant backyard responsible rock & roll wedding party in your backyard! We even provide our own power
---
Here's the Fine Print:
Artist to provide 5 peice band featuring guitar, bass, drums, keys & female vocalist artist is to provide all sound, lighting and background music for the night.
This package is exclusive to EventSource.ca visitors. To redeem, you must mention you found this package on EventSource.ca.