The Sidewalk Crusaders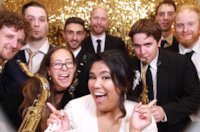 The Sidewalk Crusaders is a versatile band, providing an interactive and exciting musical performance filled with many styles of music, improvised solos, and choreography.

Genres frequently performed by the group include pop, funk, jazz, disco, rock, top 40, music from film, music, from television shows, music from video games, klezmer (such as the Hora), and Punjabi folk music. The band is able to perform any genre of music. The genres listed consist of the most popular genres played.

Instruments commonly used by the band include: soprano saxophone, alto saxophone, tenor saxophone, clarinet, flute, trumpet, trombone, keyboard, synthesizer, electric and acoustic guitar, electric and acoustic bass guitar, violin, cello, drums, and the dhol. The band commonly uses a vocalist for its performance, as well.

The band is open to playing any and all events. Common events the band performs at include: weddings, corporate events, private parties, festivals, charity events, restaurants, clubs, and bars.
Previous events the band has been hired for include, but are not limited to: "Canada Day at Queen's Park", The Toronto Premiere of Cirque Du Soleil's, "KURIOS", The Dubai Shopping Festival in Dubai, UAE, The Beaches International Jazz Festival, The Toronto Christmas Market, and Friday Night Live at the ROM.