We recently put together a handy-dandy list of Vaughan banquet halls for those of you planning a large wedding outside of the downtown core. But, what about those of you who are looking to stay in the West end of the city? Don't worry, we have you covered too! There are a plethora of gorgeous banquet halls in Mississauga that are equipped to host your large affair. Not only that, the halls themselves are diverse and offer an array of options to suit your style, budget, and guest count!
Read on for this definitive guide on banquet halls in Mississauga! Happy planning!
Did we miss anyone? Please let us know in the comments below.
---
Mississauga Convention Centre
75 Derry Road W, Mississauga, ON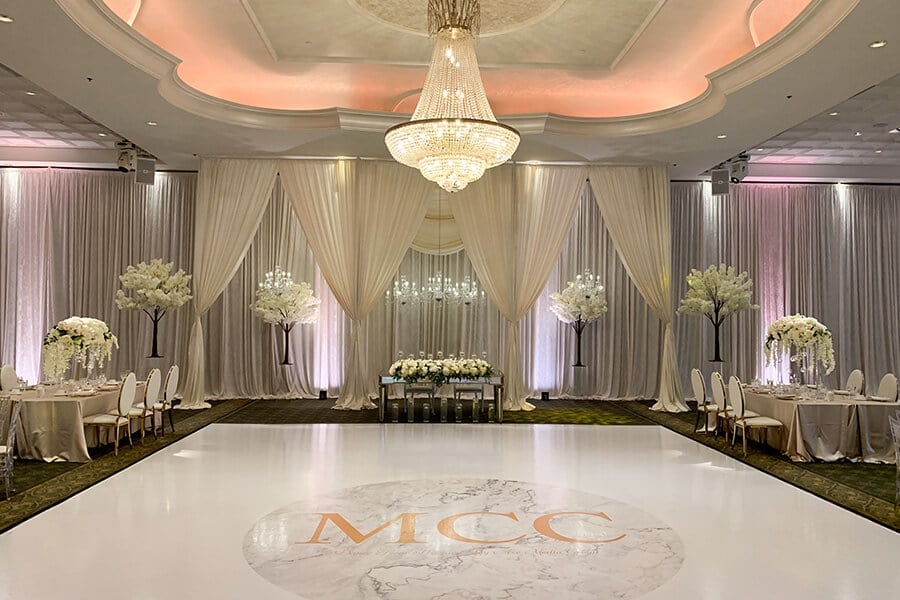 Photo Courtesy of Digital Dream Photo & Video
Boasting six luxurious ballrooms within its stunning 30,000 sq. ft. of space, the Mississauga Convention Centre can accommodate anywhere from 140 to 2, 900 guests! Offering 18′ high coffered ceilings and brilliant chandeliers, your wedding is guaranteed to be classically elegant. On top of that, the dedicated team at the MCC will help tailor every detail of your wedding to create your dream day – what more could you ask for?!
Vendors Featured in this Article
---
Maple Banquet Hall
1325 Eglinton Ave E, Mississauga, ON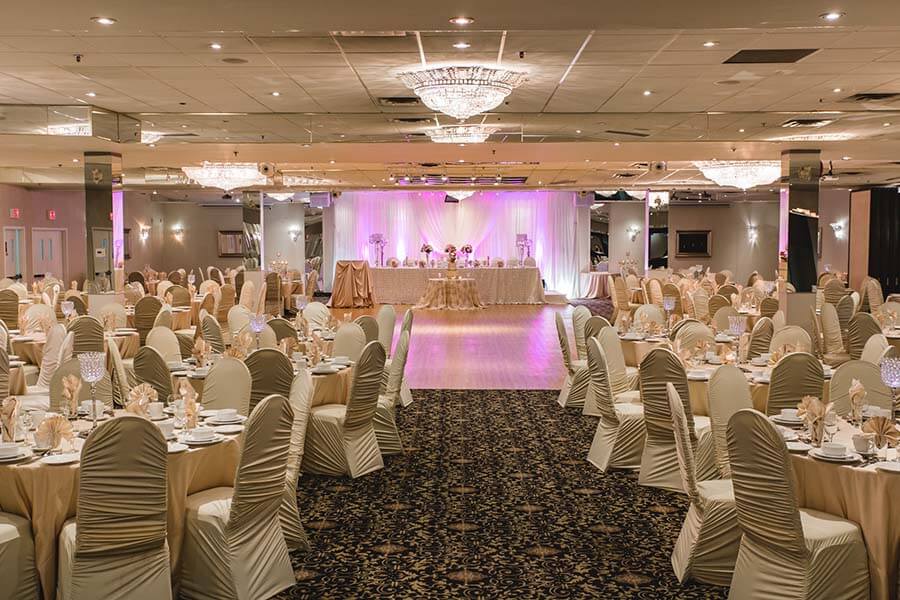 Photo Courtesy of Maple Banquet Hall
Offering classic decor and exceptional cuisine, Maple Banquet Hall is capable of accommodating up to 550 guests in their beautiful event space. Knowing that budgeting can be a difficult aspect of wedding planning, the team at Maple Banquet Hall will do the best they can to accommodate your budget (whatever that may be) without cutting corners – how amazing is that?
You May Also Be Interested In
Le Treport
1075 Queensway E, Mississauga, ON
The trained staff at Le Tréport Wedding & Convention Centre pride themselves at always striving for excellence. With over 30 years of experience, they have rightfully earned their place in the hospitality industry as one of the most hospitable! Le Treport is equipped to accommodate up to 500 guests, and they promise to ensure that your event will be beyond unforgettable. Added bonus: with a newly renovated on-site Chapel, this venue has everything you'll need for your big day in one place!
---
Mississauga Grand
35 Brunel Rd, Mississauga, ON
Looking for a central event venue in Mississauga? Well, look no further than the Mississauga Grand Banquet & Event Centre: located just 15 minutes away from the airport and within walking distance of three major hotels, you really can't beat the location! Plus, with 50 years of banquet experience under their belt, they are well known for their outstanding culinary cuisine, professional staff, and fabulous service. Boasting 20, 000 sq. ft. of stunning event space, the Mississauga Grand is able to accommodate intimate occasions by dividing the hall into three rooms, or up to 600 guests for more large scale events.
---
Crystal Grand
2110 Dundas St E #4, Mississauga, ON
Crystal Grand Banquet Hall is a family-operated venue that specializes in wedding planning services! Evoking elegance and luxury in the warm atmosphere of their two event spaces, The Grand Room and The Petit Room, Crystal Grand is equipped to accommodate more intimate banquet style events for up to 300 guests.
---
Renaissance by the Creek
3045 Southcreek Rd, Mississauga, ON
Equipped with four elegant ballrooms that can be configured in a variety of seating arrangements, the Renaissance By The Creek can accommodate large groups of up to 1000 guests! Boasting a majestic foyer, beautifully landscaped grounds and an elegantly decorated interior, your event is going to be nothing short of luxurious. On top of that, the team at Renaissance by the Creek will work hard to exceed your expectations to ensure the best experience possible for you and your guests!
---
Red Rose Convention Centre
1233 Derry Rd E, Mississauga, ON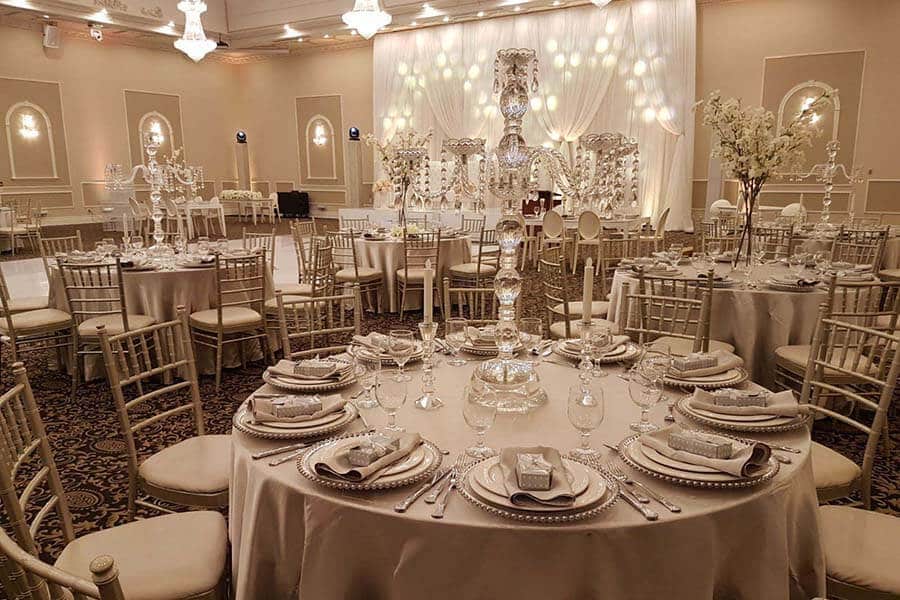 Photo Courtesy of Red Rose Convention Centre
Located near HWY 410 and Derry Road, the Red Rose Convention Centre is a warm contemporary space that can accommodate a maximum of 1000 seated (1500 standing) guests within its three different halls. Luxurious and affordable, the Red Rose Convention Centre is designed to suit a variety of needs, and their team of experienced professionals will be available to help plan every step of the way!
---
Roma's Hospitality Centre
5980 Shawson Dr, Mississauga, ON
Recently renovated and exquisitely decorated, Roma's Hospitality Centre is the perfect setting for an intimate event or a grand reception capable of hosting a maximum 600 standing guests. Featuring mirrored French doors, Crystal chandeliers, and state-of-the-art A/V equipment, your event is sure to be timeless and elegant! Added bonus: this venue has been family owned and operated for over 30 years who will treat you as one of their own!
---
C Banquets
300 City Centre Dr 12th floor, Mississauga, ON
You can always opt to party above the crowd at C Banquets, which towers 12 stories above downtown Mississauga. A guest list of up to 210 guests are welcomed to enjoy incredible panoramic views of the city – even catching a glimpse of the Toronto skyline! Boasting a modern-glam, city chic vibe, C Banquets definitely offers a unique, banquet hall experience.
---
Waterside Inn
15 Stavebank Rd S, Mississauga, ON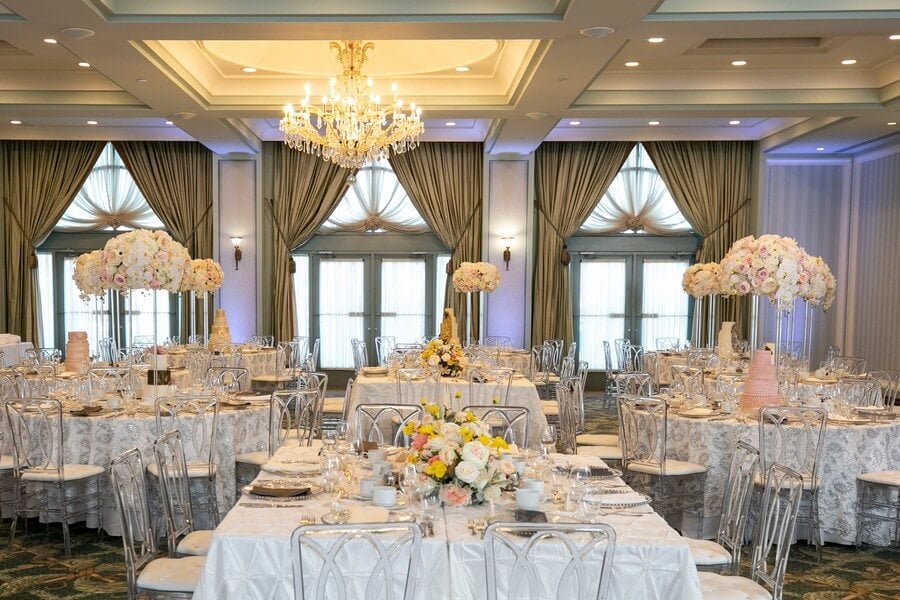 Photo Courtesy of Magic Vision Photography
The Waterside Inn is 94-suite boutique hotel overlooking the tranquil Port Credit lakefront and offers a serene lakeside banquet hall experience – convenient for those out of towner guests, am I right? The elegant ballroom is gorgeously decorated with 3 antique Crystal chandeliers and has a walkout terrace. Perfect for intimate gatherings, the ballroom can be broken down into three sections, or can accommodate up to 250 guests in the entire space.
---
Livadia Banquet Hall
918 Dundas St East, Mississauga, ON
Located in the heart of Mississauga sits the always elegant Livadia Banquet Hall. Specializing in weddings, the team at Livadia offers full-service wedding planning, so you'll have all the help you need to execute your special day! You and up to 150 guests are sure to have a blast ripping it up on the spacious 1,200 sq. ft. dance floor that boasts a glamorous, picturesque "dancing fountain" that you'll definitely want to pose with for the 'gram!
---
Lakeshore Convention Centre
806 Southdown Rd, Mississauga, ON
Being the first Mississauga banquet hall to practice the "Farm to Table" concept, the Lakeshore Convention Centre prides themselves on running an eco-friendly business with excellent service. In fact, they are one of the most well-known and respected convention centres in the GTA! Their 23,000 square foot facility boasts 22 foot high ceilings and can be divided into three smaller halls, making them suitable for any type of event to accommodate anywhere from 50 to 1000 of your nearest and dearest!
---
Payal Banquet Hall
3410 Semenyk Ct, Mississauga, ON
You won't have to worry about a thing at the Payal Banquets & Convention Centre. Their highly professional team will follow your consultation to a T from decor to menu and music selection! Event planning is their game and stress-free is their goal!
---
17 Event Venue
5165 Dixie Rd, Mississauga, ON
With 32,000 sq. ft of space spread between 2 levels, 17 Event Venue boasts a luxurious, stylish and multi-functional contemporary space. Capable of accommodating up to 500 seated guests, their private event space on the upper level is perfect for weddings and other events – and it features a one-of-a-kind chandelier that takes up the entire center of the space, a definite show-stopper!
---
Oasis Convention Centre
1036 Lakeshore Rd E, Mississauga, ON
Founded in the early 1990's, the Oasis Convention Centre and its veteran staff have been providing stellar service for decades! From small gatherings to grand weddings of up to 900 guests, they've done it all within their 24,000 sq. ft. premise. You can choose between one of their three ballrooms, each individually decorated with a bar and dance floor. What more could you ask for?