Co-owners of Paper & Poste, Beckee and Lexi are the dynamic duos behind one of Toronto's most successful stationery design firms. In business together for over 10 years, when the pandemic hit, the pair hustled to adapt as best they could. This, of course, hasn't been without its challenges. Read on to hear how these two entrepreneurs are making the best of the situation, having found a unique way to coast through the worst of the pandemic in anticipation of what's gearing up to be a very healthy rebound.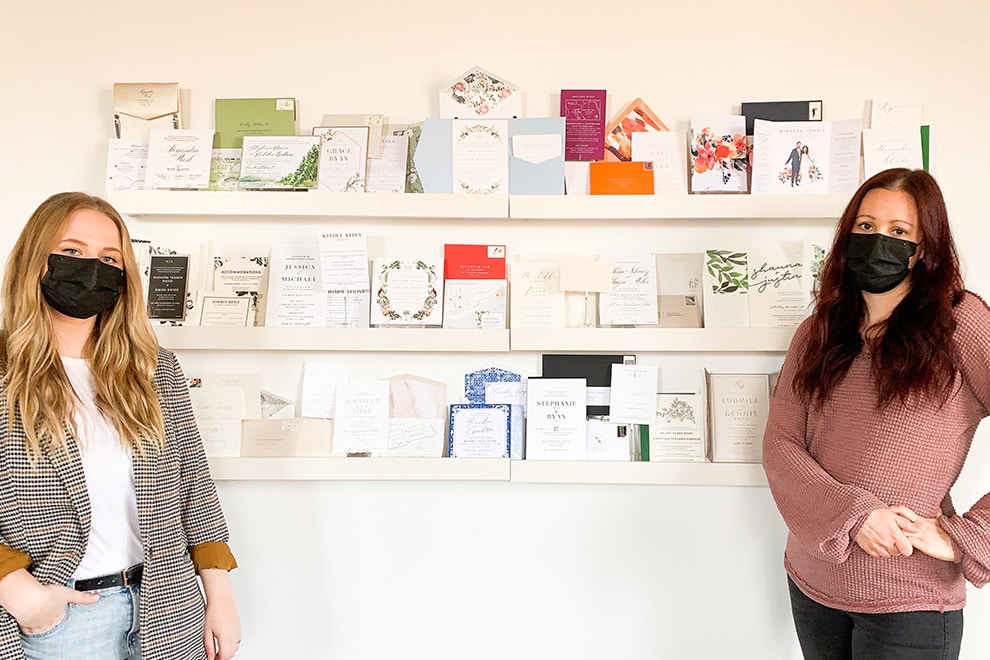 Let's talk about the old days
What was business like pre-pandemic?
2019 was a solid year for Paper & Poste. We were excited to celebrate our 10-year anniversary in 2020, but of course, as things would unfold, the sentiment heading into the year was anything but celebratory. The big projects that we had planned were quickly halted, and suddenly we found ourselves in survival mode.
When did stuff really hit the fan?
As soon as the first government announcement was made, clients quickly put their stationery orders on hold. Just like that, nearly all of our business came to a standstill. What was shaping up to be one of our busiest wedding seasons on record, quickly deteriorated into our slowest year ever. Every time a new postponement came in, we became more and more fearful of our ability to survive as a small business, not knowing how long the pandemic would last.
We became more and more fearful of our ability to survive as a small business, not knowing how long the pandemic would last.
How has your business been affected? 
Luckily, we were coming up to the end of our lease on our studio space in Liberty Village and came to the decision that we would put everything in storage. We are trying to hold off on signing a new lease until the circumstances changed. Eventually, we signed a new lease on a studio space nearby at a lesser price point. This allowed us to further curtail spending at a time when we really needed it. Sadly, things continued downhill until we eventually had to furlough some of our team members and reduce our team size. We experienced a 60% drop in sales between 2019 and 2020. While it's certainly been a lesson in expecting the unexpected. As business owners, to say it's been "difficult" would be a gross understatement.
As stationery designers, our part in the wedding planning process is always done far in advance than other vendors. Although we're finding a lot of clients are optimistic for summer/fall 2021 weddings, couples are naturally quite hesitant to confirm their dates and order Invitations right now, which of course, is drastically affecting our 2021 sales.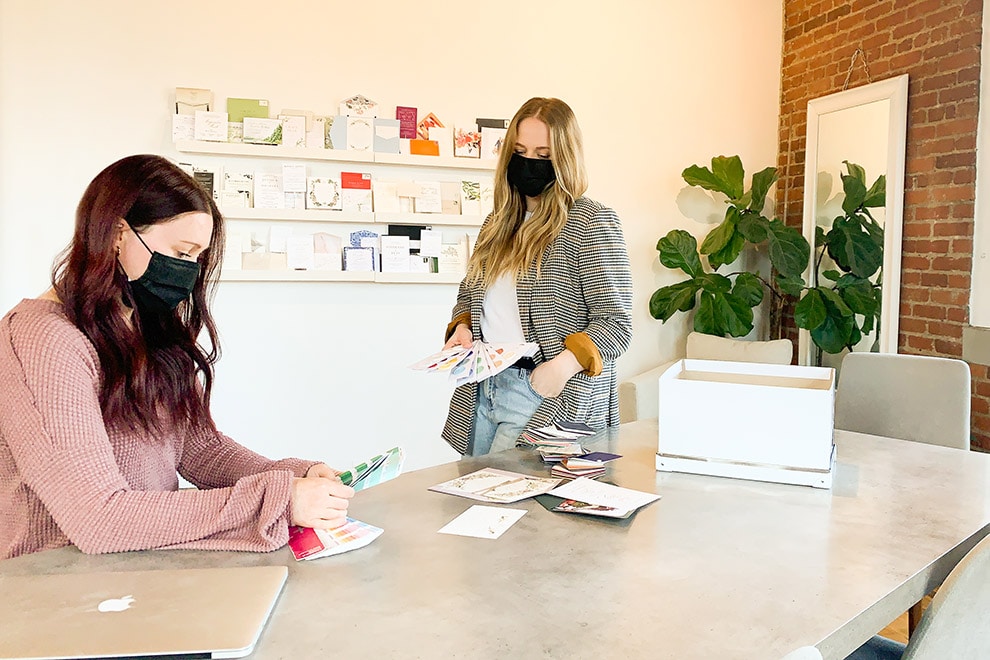 What have you done to manage the expectations of your Clients?
It's been a bit tricky to help clients navigate their wedding stationery orders when the situation is constantly evolving. Our clients often expect us to have some inside info with respect to the future of weddings. However, the unprecedented nature of this pandemic doesn't provide us any past experience from which to rely on. We do everything we can to help, but at the end of the day, we only have as much information as presented to the public.
How has your business adapted?
Our timelines have been adjusted to allow greater flexibility for our clients; our minimums have decreased in order to accommodate more intimate events. We've found creative ways to provide visuals for Zoom appointments when in-person meetings aren't possible. We've also used this time to launch Paper & Poste Brand Studio – an alternative use of our collective skillset focused on developing brand identities and visuals for businesses large and small. A lot of businesses have taken this slow time to focus on rebranding – a task that for most are often brushed to the side during busy periods – and we've been getting a lot of interest in that area.
How has the pandemic affected you personally?
How have you been affected?
There is nothing about this past year that has been "'comfortable" in any sense of the word. We certainly felt the weight of our business is affected when we needed to lay off a team member for the first time. Going further, we've each had scary moments with both of us having to reevaluate our lifestyles due to the loss of income. Additionally, moving our offices to remain as financially prudent as possible was also a big emotional leap for us too. Of course, as business owners, this is a reality of the job, but with our small family-like team, it all really hit home. We're incredibly thankful for our physical health, and the health of our loved ones. However, our mental health has certainly been affected like so many of our colleagues in this industry as the event industry seems to have been largely forgotten in this pandemic.
What sorts of activities have you done to keep a level head?
With some greater time on our hands, Beckee has been embracing the additional time she has with her two-and-a-half-year-old daughter. Lexi has been taking advantage of her backyard fire pit for fresh air and a change of scenery with her husband.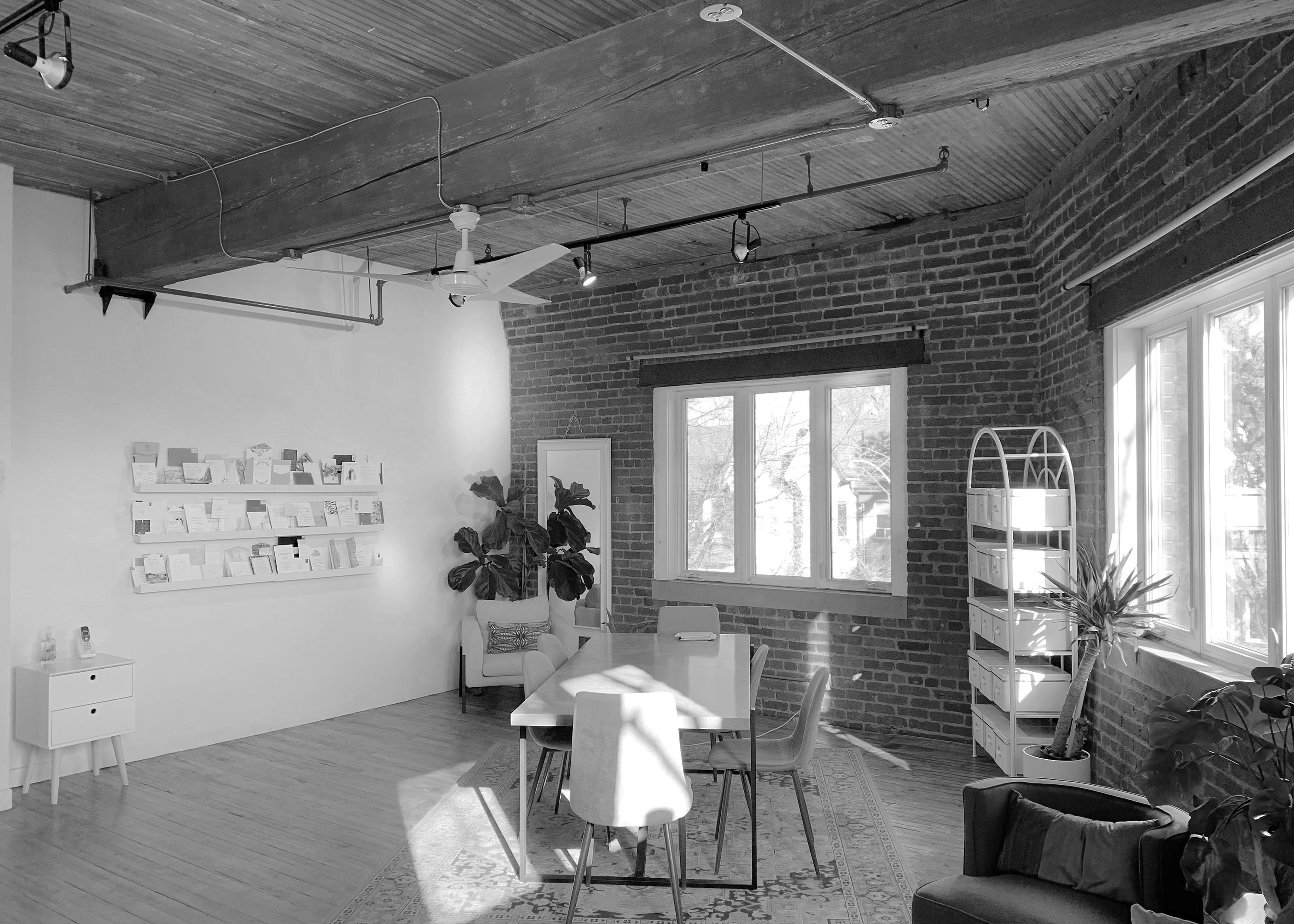 Looking Forward
What do you see happening for your business in 2021?
We've been excited to see the return of planners and wedding clients. We remain hopeful about vaccinations in 2021. We cannot wait for our clients, who have had to make multiple postponements to their wedding dates to finally be able to celebrate with their family and friends. While we anticipate the "pick up" of the event industry once vaccines are more readily available, we have been happy with the trajectory of Paper & Poste "Brand Studio" so far. It's an area that we've wanted to focus on for a long time, and are thrilled to now have the ball rolling.
With vaccines starting to roll out, what sort of upward momentum are you seeing?
We're seeing more appointment bookings from planners and couples with positive outlooks on the 2021 celebrations. The security of knowing that vaccines are continuing to be rolled out means we can see some light at the end of the tunnel. Couples are more flexible with their expectations. More are willing to adjust plans to ensure that a safe, intimate 2021 wedding is possible rather than it being postponed. We love the positive outlook and are re-energized by the enthusiasm!
Many entrepreneurs out there often feel like they are suffering in silence. Do you have any words of advice to help people cope?
2020 and the start of 2021 has been a difficult time for everyone. As small business owners, our stress is of course based on the survival of our industry, our ability to pay our staff, our ability to maintain our own livelihood and to accurately plan for the future of our business when everything seems to be changing so quickly. These are unprecedented times and there is no right or wrong way to be feeling. I would say that whatever emotions you're going through right now, know that they are valid. If there were ever a time to get a "hall pass" on spontaneously breaking down, it's now. We get it and we're right there with you!