EventSource reached out to seven of Toronto's hottest wedding planners to find out some of their favourite trends and tips for planning for your big day. From jewel tones to exquisite stationery and even food trucks, the info below will ensure you create the most memorable and flawless wedding of your dreams!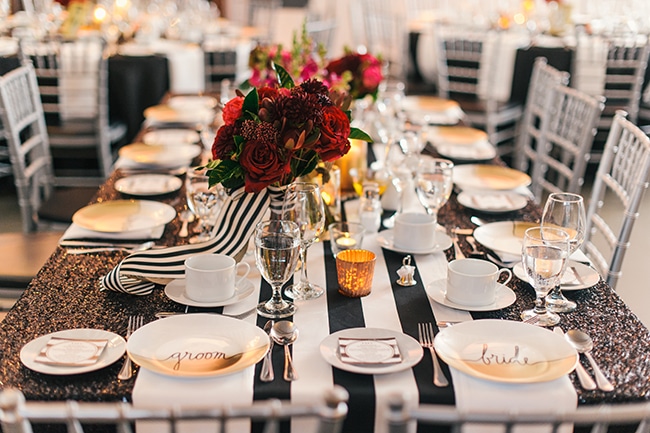 Image Courtesy of Love by Lynzie Events + Design
What do you think will change from this season to the next in weddings?
"Wedding trends aren't like fashion trends. They persist and last through multiple seasons and die hard. Mason Jars, Burlap, Chalkboard signs, Blush and Gold- these are all weddings trends that have persisted very strongly over the past few years. I'd like to see brides and grooms steer away from these predictable trends and begin focusing on their personal love stories as the inspiration behind their wedding decor and plans. I think next season, we will see more colour in gem tones and brights. I also think we'll continue to see a shift toward non-traditional weddings that include al fresco dining, lawn games, food trucks, cook outs, karaoke and other fun items. With couples getting busier, and weddings requiring more and more coordination, I think we'll start seeing more and more couples booking wedding planners in a Month-of capacity since couples now have a keener sense on how much work goes into a flawless event. I also think we will see more intimate weddings at smaller venues with a really great dinner party, a perfectly styled tablescape, and great conversation." – Lynzie Kent, Mad Bash Group
---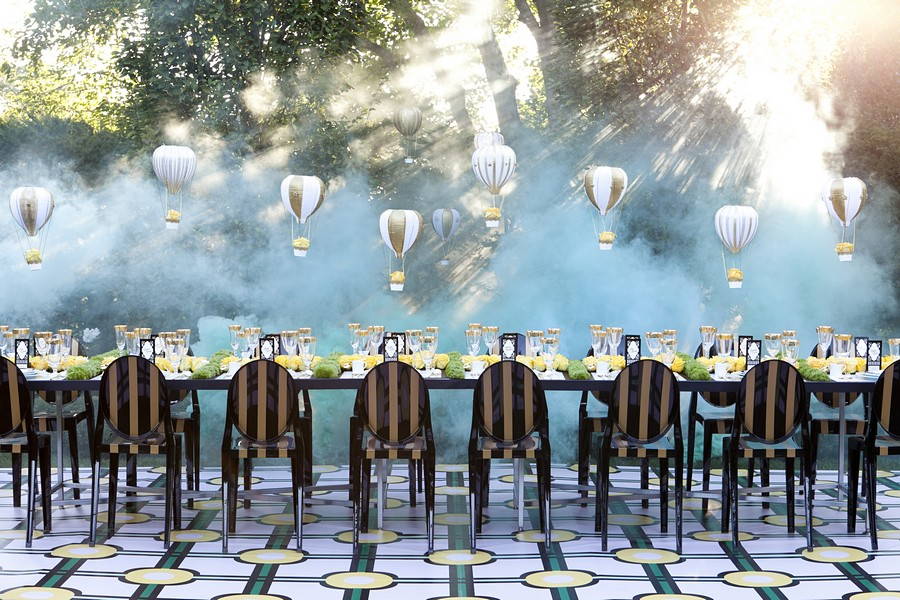 Image Courtesy of Melissa Andre Events
What are some of the best ways a bride and groom can set the tone for their wedding?
"One of the best ways to set the tone for your wedding is with your invitation. This is the first design piece that guests will experience and should suggest the level of formality, style, and mood. Choosing a metallic letterpress invitation with calligraphy suggests something traditional and formal. Alternatively, you can opt for something more fun and whimsical that includes graphics and multiple colors that may offer a more relaxed feel. I have produced invitations that are dye cut in the shape of a heart or actually printed on plantable petal paper for an earthy look. There are endless options when it comes to stationery design and when paired with the proper wording, this will give guests an idea of your aesthetic, the vision you have for your day, and what has inspired your vision." – Melissa Andre, Melissa Andre Events
Vendors Featured in this Article
---
What is the most important aspect of planning a wedding?
"The most important aspect of planning a wedding is to enjoy the process. A lot of couples dread the planning, but it truly is a moment in time to be celebrated (because you are getting married soon!). It all boils down to making decisions and creating a celebration that your family and friends will enjoy with you. Sure there are a lot of expenses and decisions to be made, but it should not be a stressful experience. If you are finding it overwhelming, take some time off from planning and come back to it later.
Savour the dress shopping, have fun at your tastings and enjoy the celebratory energy that is all around you. Hiring an experienced wedding planner and professional vendors will also help with easing the stress. But, just remember, the engagement is short lived, so take it all in. Before you know it, you will be married!" – Rebecca Chan, Rebecca Chan Weddings & Events
---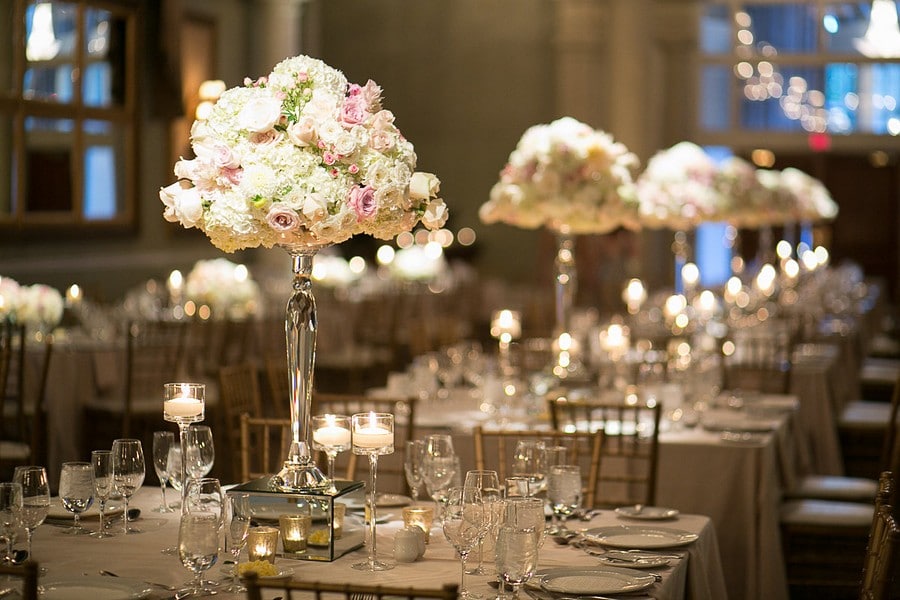 Image Courtesy of Melissa Baum Events
What is this season's biggest wedding trend?
"From a decor perspective, brides are looking to create an environment for their guests rather than just putting centrepieces/flowers on the table. Popular inspiration points include the garden, topiaries & the outdoors and aiming to bring those elements indoors with installation pieces and simpler centrepieces as opposed to large centrepieces and ignoring the walls and ceiling completely." – Melissa Baum, Melissa Baum Events
---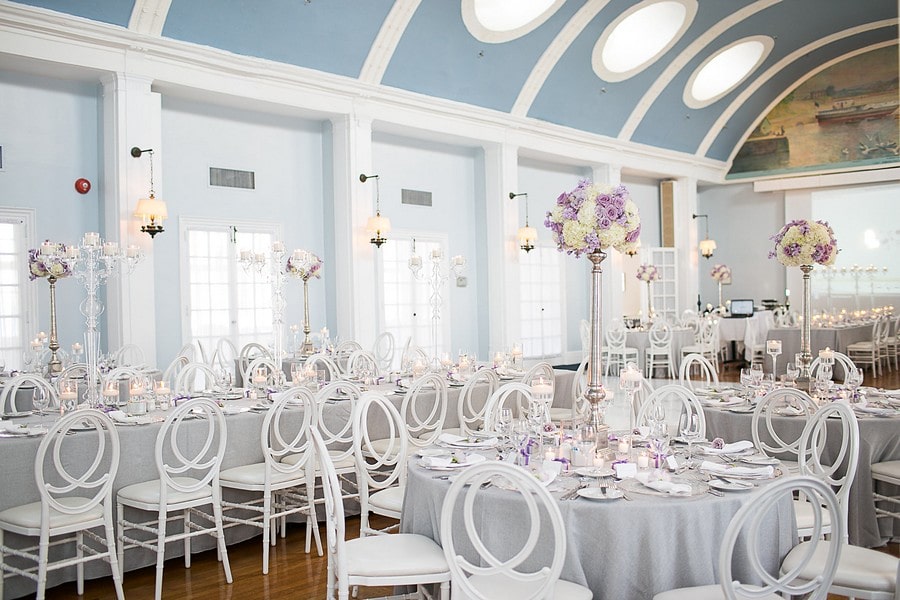 Image Courtesy of Fabulous Occasions, Photo by Melanie Rebane Photography
What is a common mistake couples make when planning their wedding?
"The one mistake I find couples often make is not doing the research of what all the different components of a wedding cost. What often happens is that a couple underestimates the cost of flowers, décor, photography, lighting etc. and books a venue which eats up a large portion of their budget and is left without a realistic amount  to spend on all the other components needed to pull off the event they envision. My advice would be to hire a planner prior to booking a venue or do a lot of cost research!" – Malvina Chevolleau, Fabulous Occasions
---
 What is a great way for a bride and groom to accommodate children at their wedding?
1) The easiest way to include children in the wedding is to have them be a part of the ceremony or reception. Younger kids can be the flower girl or ring boy and older kids/tweens can be junior bridesmaids or junior groomsmen.
Another alternative is to assign jobs to some of the older children. For example, your preteen cousins can hand out programs at the ceremony, help guests find their place cards during the cocktail hour or assist the elderly in finding their seat at the reception.
2) Prepare individualized loot bags for the kids to keep them busy and entertained. Let's face it, even some adults have trouble keeping quiet during speeches, so how can we expect the little ones to stay put? Put together bags with colouring books, puzzles, activities and, of course, candy and place them at each child's table. The kids can fill out the activity books right at their table and will stay quiet throughout the reception.
3) If you are expecting a lot of children to attend the wedding, think of hiring a babysitter to watch the kids during the reception, in a separate room of the venue. Provide the babysitter with board games, activity books or handheld video games that the kids can play with. As well, you can also rent a projector and screen from your A/V or DJ company and show the children a movie. Both the kids and their parents will thank you!
– Tamara Niyazov and and Michelle Garber, Fab Fête Event Planning Boutique
---
Do you have a piece of advice you would like to give to couples currently planning their wedding?
To couples who are currently planning their wedding my advice would be to learn what the difference is between a wedding planner/coordinator vs. venue coordinator.
Both venue coordinators and wedding coordinators are committed to keep their couples happy, however there is a key difference between the two.  Whereas a venue coordinator deals strictly with matters related to the venue (food and setup), a wedding coordinator's scope of responsibilities goes beyond what happens at the venue to every little detail leading up to and on the big day.
For couples looking for a dedicated professional to take over weeks before their wedding to finalize details, contact vendors, manage logistics, oversee setup, and keep the day running smoothly from beginning to end, a wedding coordinator should be highly considered.  Once couples become educated on the differences between the two, they will be better equipped to make an informed decision on the amount of help they need which inevitably leads to a more enjoyable planning experience! – Iris Li, Blue Lavender Events
---
Some great advice! Have any other questions for Toronto's top wedding planners? Add a comment below and we'll get it answered for you!