Dreaming of a classic rustic wedding on a private farm? Cozy… warm… earthy… it's that perfect ambiance for the most romantic event of your life! Whether you're planning a pure country hoedown or a luxe rustic event, we've done all the legwork for you! We've compiled a list of the top Toronto barn wedding venues in and around the GTA – each with something unique to offer for your special day! Happy hunting!
For even more barn venue options, check out the updated version of this article: Over 50 GTA Wedding Barn Venues in (or reasonably close) to Toronto/GTA
Vendors Featured in this Article
---
Cambium Farms
18333 Winston Churchill Blvd, Caledon, ON L7K 0R9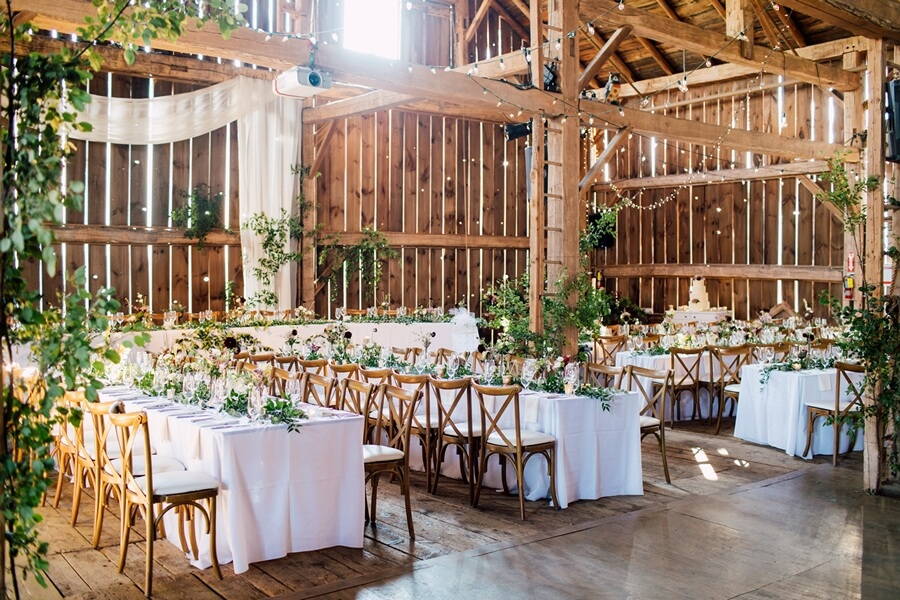 Photo Courtesy of Purple Tree Wedding Photography
What are centuries old and spans 50 acres of beautiful land? Well, it has to be none other than Cambium Farms! Don't worry, the amenities have been upgraded since the 1800s to match the needs of modern society. However, it has not lost its original enchanting beauty to the technologies of the future; it is, and always will be, a rustic barnyard. Capable of housing 250 people indoors, and 500 people in outdoor tents and the barn, Cambium Farms is very experienced in hosting many different types of events. In addition, the venue also comes with a country-style bar, DJ booth, a relaxation lounge area, and a bar.
You May Also Be Interested In
Belcroft Estate
2539 14 Line, Bradford, ON L0L 1R0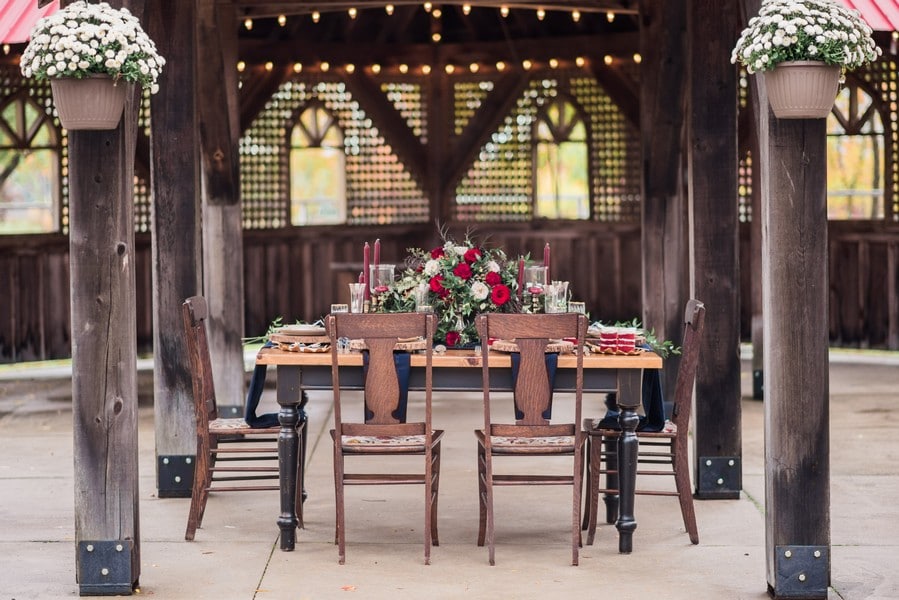 Photo Courtesy of Emily Christine Photography
For those of you with "beautiful surroundings" at the top of your wish list, you can't go wrong with the barns at Belcroft Estate! You and your 165 guests (or 230 guests if you adjoin the main dining space with the dance floor), will be blown away by the beauty of the abundance of trees, ponds, and courtyard aesthetics. This barn is equipped to handle both small and large events. In addition, there is a 'Man Cave' or drive shed built to keep the groom and groove going!
---
Cadogan Farm Estate
15930 St Andrews Road, Caledon, ON L7C 2R8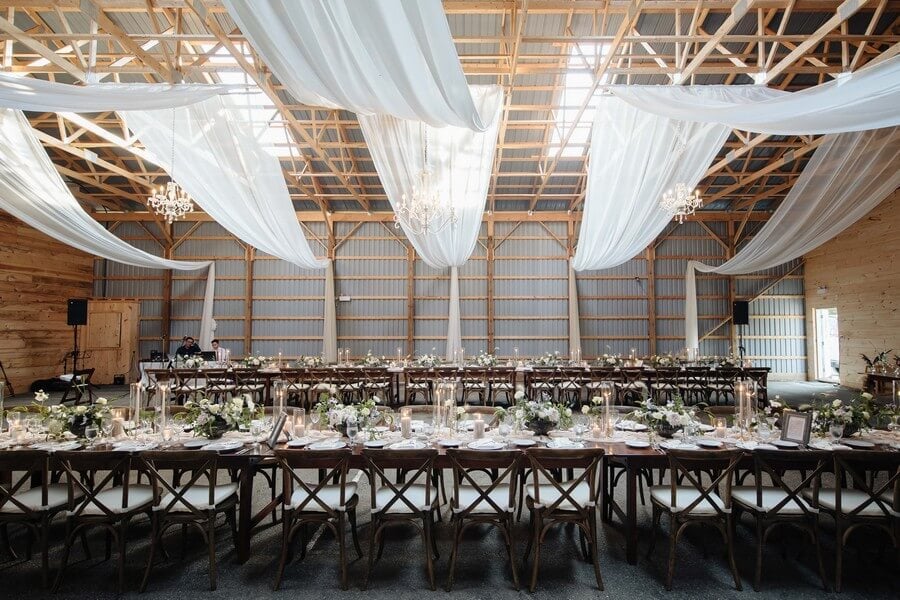 Photos Courtesy of AGI Studio
If you're dreaming of a country ambiance whilst maintaining a chic and elegant atmosphere, Cadogan Farm Estate is the best of both worlds! Boasting 200 acres of pristine Canadian countryside, a handful of onsite event locations, and possibly a surprise horse sighting, you can't go wrong with this slice of country heaven!
---
Earth to Table: The Farm
250 Concession 4 West, Hamilton, ON L8B 1J3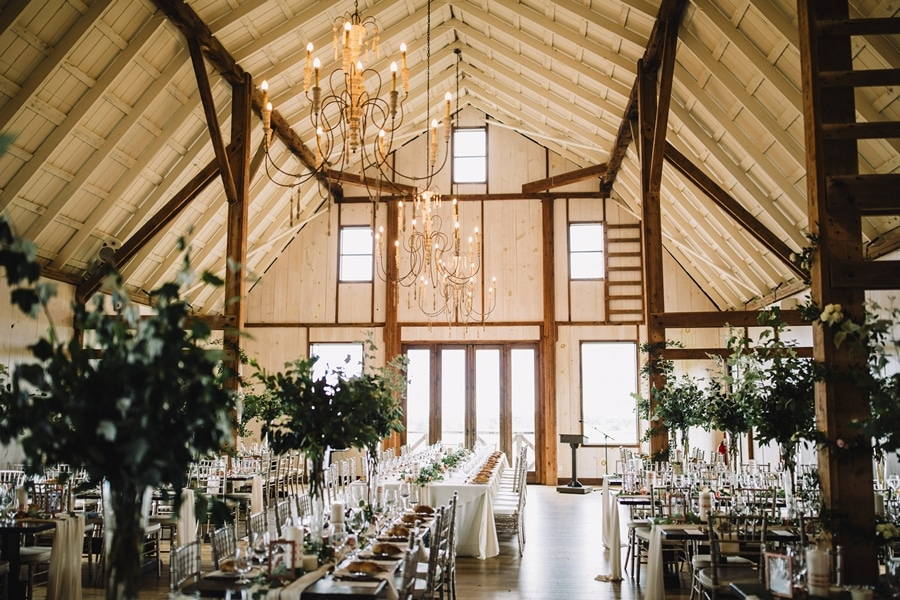 Photo Courtesy of Lori Waltenbury
You're sure to fall head-over-heels in love with the charming 97 acres of farmland called Earth to Table: The Farm! It is the perfect and romantic place for a country-chic affair! The thoughtfully restored barn showcases original wood beams and details from the 1800s all while beautifully blending the lines of rustic and elegance. In addition, this venue seats up to a max capacity of 240 guests — all of whom can enjoy the breathtaking sunset view from the barn's Juliet balcony!
---
Steckle Heritage Farm
811 Bleams Rd, Kitchener / Waterloo, ON N2E 3X4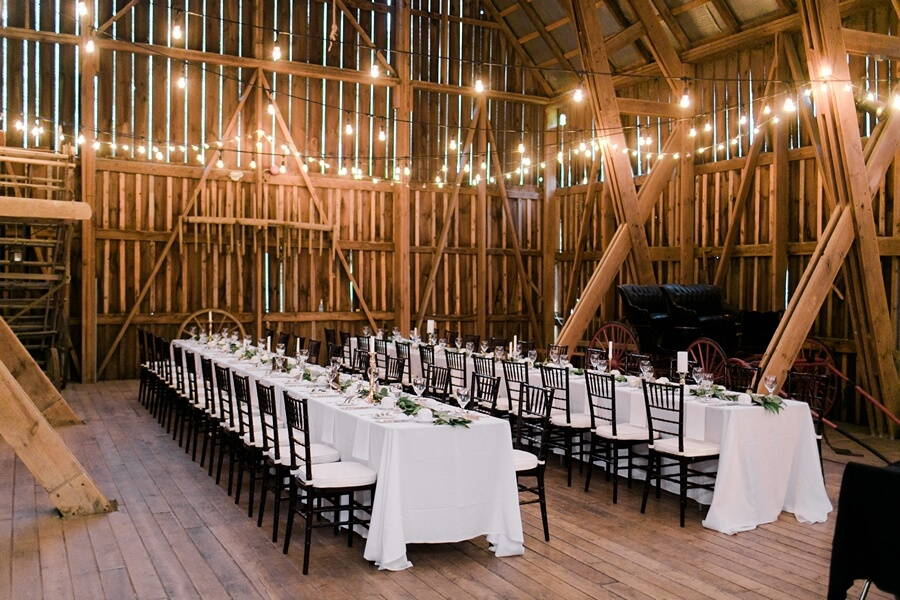 Photo Courtesy of Richelle Hunter
Despite dating back to 1833, the Steckle Heritage Farm has retained many original buildings and ALL of its rustic charm nestled on its 12 acres of land. Capable of accommodating up to 165 guests for seated dinners and up to 205 people for dances and public events, the farm is no stranger to the event industry. What do we love most about this venue out of all the other notable wedding places? The farm is a heritage-designated property owned and operated as a charity providing educational and recreational programs to youth and families within the community – how amazing is that?
---
Compass Rose Suites
575 Crowes Rd, Prince Edward County, ON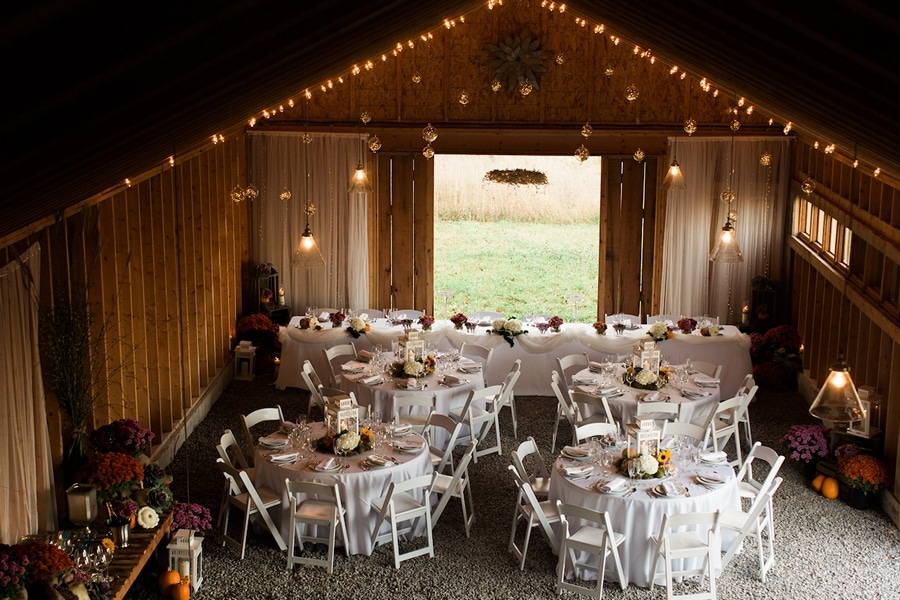 Situated on 100 acres of land in the heart of Prince Edward County with the ability to accommodate up to 200 guests, the beautiful Compass Rose Suites venue is a sight to behold! Its venue space includes a wooden barn, glass greenhouse, and optional tent rental. With on-site accommodation in the modern farmhouse (which sleeps 8-12 in three private suites) plus additional space for camping on the property, there's plenty of room for your guests to spend the night! Sounds like a party to us!
---
The Slit Barn
768 Blair Road, Kitchener / Waterloo, ON N3H 4R8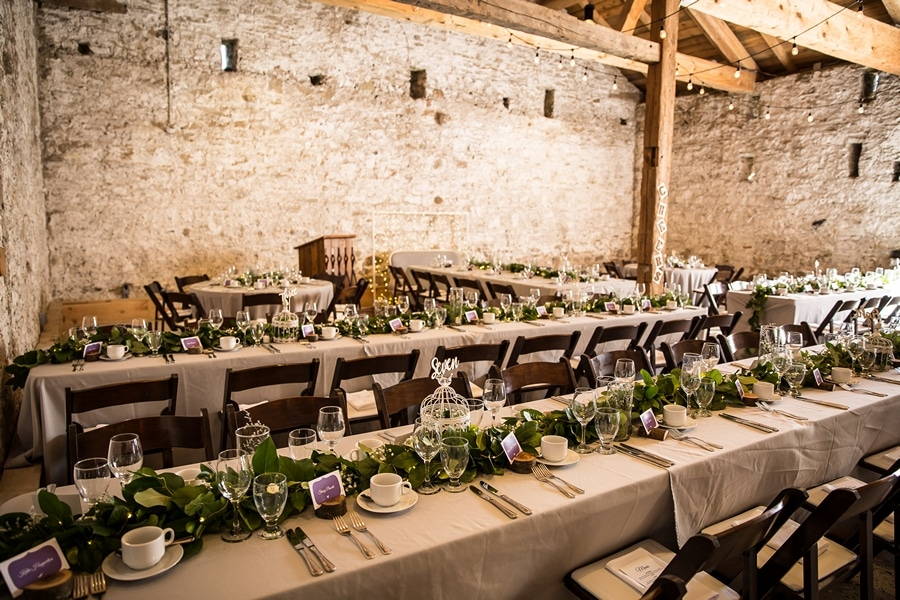 Photo Courtesy of Brian Limoyo Photography
The Slit Barn is a 3,000 square foot wedding venue ideal for rustic weddings. We can't get enough of the beautiful stone interiors, aged wooden beams, lush greeneries and well-manicured lawns – the photo opportunities are endless! In addition, it has an on-site event planning team. Talk about a complete package!
---
Artscape Wychwood Barns
601 Christie St, Toronto, ON M6G 4C7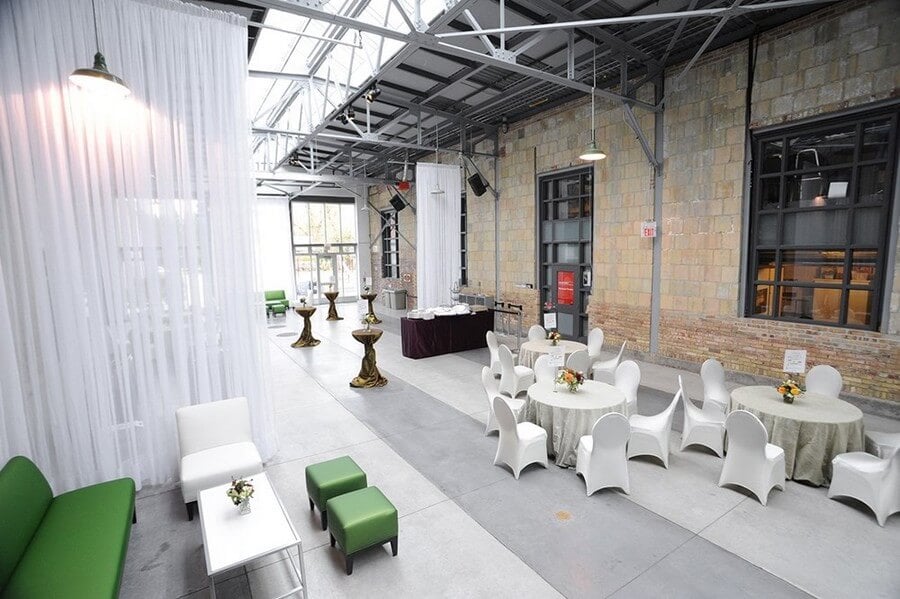 Photo Courtesy of Garrison McArthur Photograhers
Are you dreaming of a barn wedding, but have family and guests who don't want to venture off the subway line? Situated in the heart of mid-town Toronto, Artscape Wychwood Barns may just be the place you are looking for! It is truly a wonderous traffic-free option that is, in fact, accessible via subway – amazing! No matter what your event size, Artscape will be able to accommodate and help make it memorable. In addition, you have the option to cut down your costs by supplying your own liquor! What's not to love?!
---
Country Heritage Park
8560 Tremaine Road, Milton, ON L9T 2X3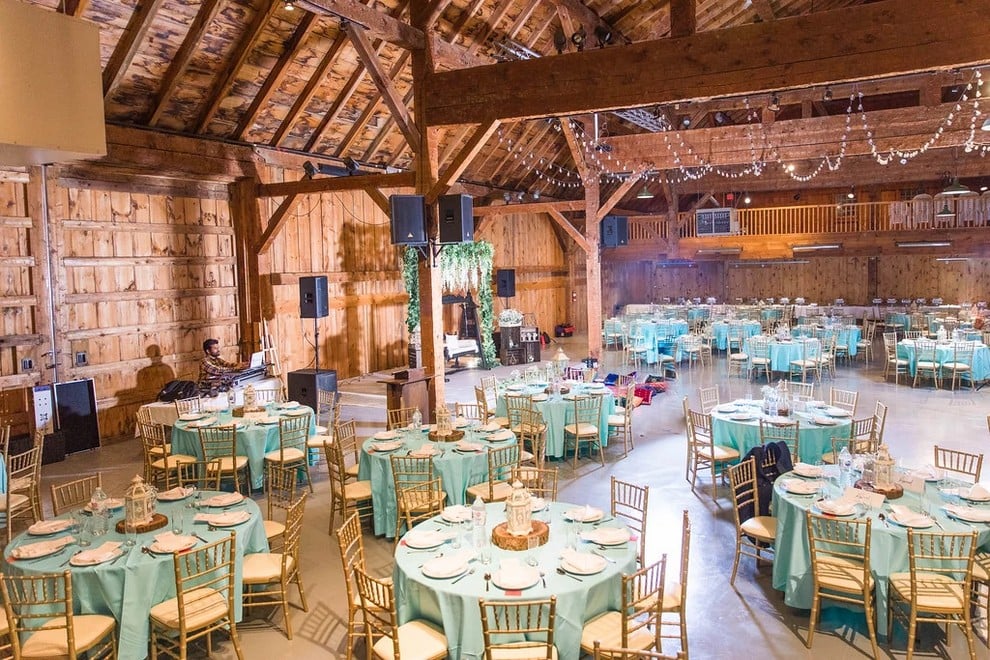 Nestled right beside the majestic Niagara escarpment in Milton is the beautiful Gambrel Barn located within Country Heritage Park. Perfect for seated events up to 280, guests will absolutely fall in love this charming, historic barn surrounded by 82 acres of serene country bliss.
---