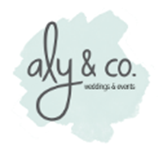 Aly & Co.
(View profile)
Aly & Co. is a Wedding Planner located in Toronto, Ontario. EventSource Users rate this vendor a 5 star rating out of 5.
Most recent review
A Dream Wedding Brought to Life by Aly & Co. I am overjoyed to share my heartfelt gratitude for Aly, the exceptional wedding planner, and her incredible assistant, Jaz. From the very beginning, Aly's dedication and unwavering support transformed our special day into an unforgettable masterpiece. Aly served as our month-long and same-day coordinator, and let me tell you, her passion and expertise were evident in every facet of the planning process. She effortlessly orchestrated every detail, leaving no stone unturned. Her meticulous attention to detail ensured that every aspect of our wedding was executed flawlessly. What truly stood out was Aly's caring nature. She approached her role not just as a planner, but as a true friend invested in making our day extraordinary. Her warmth and compassion made every interaction a joy, and her ability to connect with both us and our guests was truly heartwarming. Jaz, her assistant, was an absolute gem. Her energy and enthusiasm were infectious, and she proved to be an invaluable asset throughout the day working seamlessly alongside Aly. She added an extra layer of reassurance that everything would unfold seamlessly. Aly's foresight in planning ahead of time was a game-changer. Everyone involved in the wedding knew exactly what to expect, leaving us stress-free and able to fully savor each moment. Her meticulous organization and communication skills are unparalleled. Thank you from the bottom of our hearts for creating a day that we will cherish forever. Your commitment to excellence and your genuine care made all the difference. We're incredibly grateful to have had you by our side as we celebrated the start of our journey together. -Alessia & John
---
Articles featuring Aly & Co.