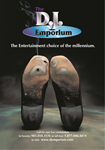 DJ Emporium
Profile information for "DJ Emporium" could not be found.
Vendors Similar to DJ Emporium
Sharon & Johnny
June 2019
We hired DJ Emporium for our wedding on May 25, 2019.
We had a smaller wedding with around 80 guests, but still wanted some music and dancing at our reception. Our MC/DJ Josh did a fantastic job to fulfill our wishes. He had energy, and amazing personality and voice that kept our guest entertained and adapted based on what was happening at different times of the evening.
We also added on a live violinist for a portion of the evening to provide entertainment to our guests during dinner service. We had many compliments from our guests regarding the violinists and even inquiries on how they could hire him. I promptly referred them to DJ Emporium.
DJ Josh had some unintended competition that night. The night where the Toronto Raptors won Game 6 of the NBA Eastern Conference Finals. Although the men were watching the game on their cell phones and tablets. DJ Josh still spun some great tunes (from oldies to modern, to hip hop) that got the moms, aunts, and non sport fans dancing away.
The dance floor was never empty. We got married on September 23, 2017 at LIUNA Station and DJ Emporium blew us away. Our MC Mass & DJ Josh did an AMAZING job. From entrances, to the kissing game, to get everyone on the dance floor, these guys knew how to keep our guest entertained and happy. We were beyond happy with them. The music was a perfect mix of what we wanted (Euro Dance) with what the crowd wanted. Worth every penny!!!! Thank you thank you!!!!
Martina Petrolo
October 2018
Our wedding was a couple of weeks ago - and people are still calling, texting us to say what an amazing time they had - and what a party it was! Honestly - I always knew DJ Emporium was one of the best, but when they DJ'd mine and my husband's wedding, they just exceeded any expectation I have ever had. The whole team is amazing, between Marco, John and Dom (our DJ), you just can't go wrong. You can NOT go wrong with choosing DJ Emporium for your wedding music entertainment.
Jessica Balzamo Rosales
August 2017
We hired DJ Emporium for our wedding on August 19, 2017 at Montecassino Chesswood!
To start all I have to say is WOW! What an incredible night! Without DJ Emporium our night wouldn't have been the same.
We had an LED Screen as our DJ booth which played photos of us growing up during dinner, then we had a live Instagram feed that had pictures popping up all night with our live hash tag, also had music videos with songs that were played. I would highly recommend getting the screen as your booth if you intend to post pictures at your wedding. It's all packaged together and you avoid having a projector and another screen at your event.
We had Michael as our violinist to start off the dancing at night. He is incredible! He sets the mood for your guests and he plays top 40 songs which is so impressive! Definitely recommended!
Then at 10:30 we had a bingo player. CSTYX. He was the best thing I have ever seen! So friendly, envolves the crowd and really sets an amazing vibe on the dance floor! I promise you, you will not stop dancing! Hire him! You will not be disappointed!
Lastly, we had DJ Louie and Josh as our MC who were absolutely amazing! They are so nice and understanding they really listen to you! Even with the craziness of wedding planning and weird request you make!
I would also like to thank Marco Gismondi for everything!
All in all an amazing company! You can trust them to make your night amazing, and they do not disappoint! If you don't choose DJ Emporium for your event, I'm sorry to your guests. lol I promise you you're feet will not stop moving!
Nicole Ventullo
March 2017
If I could give more than 5 stars I would! I am so happy I chose Dj Emporium for our wedding! From the first meeting we had all the way up until the wedding, they were so organized and made sure everything ran smoothly. I am so glad they recommended Instagram Live, it was a hit!! Our 2 DJ's amazed us! They got everyone on the dance floor and had them on the dance floor till the end of the night. The bongo player was incredible, and put on a great show!!! I am so happy with the service we had with DJ Emporium, and would recommend them to anyone who is in search of great entertainment for their function.
Thank you to all the staff at DJ Emporium!!!
Fantastic company to work with. Amazing team of DJs and MCs. Really good packages. They know how to keep that dance floor full and party. I'd recommend them again and again to my clients.
DJ Emporium has been mentioned inside these other vendor profiles: