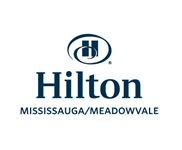 Hilton Mississauga/Meadowvale
Profile information for "Hilton Mississauga/Meadowvale" could not be found.
Vendors Similar to Hilton Mississauga/Meadowvale
This vendor does not yet have any EventSource reviews. Be the first to leave one!
Clean large and comfortable room however I had 2 issues with the hotel. First is they don't provide water bottles... I got in my hotel at 11pm expecting water bottles ready for me and surprise, none are found. Reception says they don't provide water bottles. I had to ask multiple times and insist for them to provide it to me. Second, the shower drains doesn't function properly while I was showering. Water went up above my ankles while showering quickly for 5min... I removed 1 star for each issue, otherwise everything is great.
The hotel was clean and the room was a good size. The staff was friendly and helpful. They only things I did not like was the fact that it said all rooms have a balcony but mine was basically a sliding door with a ledge barely big enough to step out on. I did like that the hotel was completely smoking free and the indoor pool even has a waterslide. Overall a very nice please to stay.
Konstantine Palanski
May 2018
Traffic aside, this to a surprisingly great hotel that's convenient for meetings and general stays if you're working with any of the companies in the area. Clean, with helpful staff. I have to say that the food is very delicious too, which is more than I could say for most hotel catering menus.
Room was clean... no fridge.... ac/heat blower is loud. Great staff... pricey food for the quality and quantity... Spa and fitness center and steam room is closed for major construction without warning even though we registered weeks ago
Guillaume Boisset
April 2018
I spent three nights there a few days ago. Staff friendly and useful. Everything clean. Food good. Elevators work. Exercise centre big with plenty of machines although TVs did not work. The big blue slide in the pool seems to be a lot of fun for kids, although opening hours need to be checked. A few issues: the heating in the room is quite loud. Also, the curtains do not have overlap when they close, which means there is always a slit of light in the morning, which is regrettable. I was at the meeting centre for business meetings and everything was OK there also.
The Hilton Mississauga Meadowvale is not only an elegant, lovely venue, but is also staffed with some of the warmest, most capable event and catering staff we've had the pleasure of working with. Every time we have an event at the Hilton Mississauga Meadowvale, we know our clients are well cared for and end up with a memorable evening. Looking forward to working together even more in the future!
Hilton Mississauga/Meadowvale has been mentioned inside these other vendor profiles: