Reviews
Meghan Nicole
August 2019
The macarons were great but the service was horrible. I have never been before so I was unfamiliar with how I would order. Wasnt sure if I could just get one or if they came in sets. Staff was completely unhelpful and just stood there with impatience. My sister and I were going to share so I was going to buy a small gift box of them for $27 because its a good price and the box was cute. After all, I only went here for the aesthetic and pictures. One of the ladies behind the counter just looked at me and said well those are for gifts... so I got discouraged to buy one cause I wasnt buying it for a gift. I ended up spending much less so they lost a sale there. One of the staff members was training the other and they both looked like they really did not want to be there (more so the one doing the training, the one being trained just looked annoyed at her trainer). I would come back if there was better service!
Gladdish-Emm Inoncillo
August 2019
Place is beautiful! Macaroons are amazing. I appreciate the beauty of it all. My son really loved it and he is 3 yrs old
This place is beautiful! The person working there wasnt the most lively and friendly worker, but service was quick. The macarons were decent. I loved the raspberry, salted caramel, vanilla and chocolate. I wasnt a big fan of the lemon. Way too strong of a taste. Overall, would go back, when Im back in town.
We went here for a birthday lunch. The tea and the sandwiches were delicious. The macaroons were incredible! They had so many different flavour combinations it made the experience more enjoyable. I definitely recommend the pistachio macaroon! Yum! A little expensive but delicious!
I dont really have a sweet tooth but my my the macaroons I had here were amazing. I tried pistachio and strawberry cake flavour. Its like a burst of taste in your mouth. The prices are a bit high but its understood because of the quality. Most of the times Ive tried dry macaroons but these ones were moist. Loved them !!! I loved the cafe specially which gave me a feel of an old time. The interior is really cute and colours are chosen wisely which really suit the environment.
Ladurée has been mentioned inside these other vendor profiles:
Company Overview
Company Overview
Deals & Packages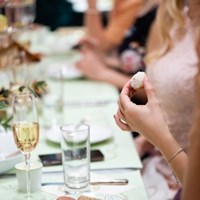 Special event
Price $1,500
---
---
What services are included with this Package:
Food
Alcohol & soft drinks
Gift boxes for your guest
---
Here's the Fine Print:
18% gratuity for more than 8 people
This package is exclusive to EventSource.ca visitors. To redeem, you must mention you found this package on EventSource.ca.
Map
3401 Dufferin St., Toronto, ON M6A 2T9