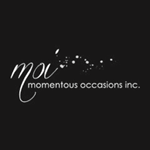 We are now offering 2021 and 2022 booking specials.
Momentous Occasions Inc is a Toronto-based company that specializes in full service wedding and social event planning for couples who want someone to cater to their vision and every wish. Collaborating with couples in planning such an important event is an honour for our team of event specialists. Elegance and style are signature marks at every event we produce.
We are incredibly lucky and grateful to have Araxie plan our wedding. As a COVID bride who had to deal with the constant changes, Araxie was my support. She managed to connect us with wonderful vendors who did an incredible work. She was a pleasure to talk to and extremely professional. I would recommend Momentous Occasions and Araxie in a heartbeat to anyone looking for a wedding planner.
Araxie is such a wonderful person! She went above and beyond to make sure our wedding went smoothly. She always replied to emails and messages and made us feel so comfortable during the whole process, especially during Covid and with all the uncertainty. We were truly blessed to have had such a kind hearted, understanding and hardworking person to help us plan our big day! Thanks Araxie! Xo
Araxie is phenomenal! Alex and I couldn't have chosen a more patient, detail oriented, creative, and organized wedding planner. She took the time to listen to our vision and create our dream wedding better than we could've ever imagined. She took the time to meet with us at last minute requests, was professional and quick when responding to emails, and never complained about our late night phone calls or multitude of weird questions. We took all of Araxie's vendor recommendations, and they were all AMAZING to work with. And due to her extensive connections in the wedding industry, she was able to get us the best prices from vendors. We've received so many compliments on our table décor and stage, and friends and family talk about how beautiful, fun, and smooth our wedding ran till this day. We truly can't thank Araxie enough for making our dream wedding come true, and making it run so smoothly and on time! She had control over the flow of our wedding, coordinated with all vendors on time, and resolved issues before we even knew they existed. We truly had the most stress free and beautiful wedding, and got to spend it with family and friends without a worry in mind. To anyone getting married, I would highly recommend Araxie and her team if they want their wedding dreams to come true, and to have a wedding planner who goes above and beyond their expectations.
Knar and Garo
August 2019
We cannot thank Momentous Occasions enough for all the hard work that was put into making our daughters bridal shower and wedding an absolute dream! Momentous Occasions thought of every single detail and gave it the full attention it deserved making our daughters day an unforgettable one! Planning both the bridal shower and wedding was stress-free as Momentous Occasions kept us on track and made it a piece of cake for us, not to mention enjoyable! A lot of care and dedication was put into the planning process to make the outcome of it simply perfect, also ensuring the bride was calm at all times. Momentous Occasions exhibited calmness, patience and perfection throughout the entire planning and execution stages. On the wedding day, Momentous Occasions was ensuring that all was going according to plan in the background while the rest of us were able to enjoy the moments of this special occasion. We cannot thank Momentous Occasions enough. We are so grateful for all the hard work and the hours spent on making this occasion one that our family and friends cannot stop talking about!
My husband and I can't thank Momentous Occasions Inc. enough for helping to make our wedding day and my bridal shower absolutely perfect! We were initially nervous about the planning process but while working with her we were able to thoroughly enjoy the planning process because of her. They day of our wedding, everyone around me kept commenting on how calm and collected I was. That was because I had FULL TRUST in Momentous Occasions Inc. to execute all of the details the day of! She not only executed all the details we had discussed but she went above and beyond our expectation! She is incredibly organized, flexible and creative. She was able to introduce us to multiple amazing vendors, and she actually organized the visits and alleviated that additional stress off of my hands as well. She attended every vendor meeting to ensure we were asking all the questions needed to pick out the vendors which suited all of our needs and budget. She worked tirelessly to make my vision a reality in every way possible. I whole heatedly recommend hiring Momentous Occasions Inc. for all your event planning needs!
Momentous Occasions Inc. has been mentioned inside these other vendor profiles:
Company Overview
Company Overview