Reviews
Kendra Francis
September 2019
Unbelievably ProfessionalFrom the beginning the service was professional and top notch. We worked with a photographer named Brenton and he was friendly, professional and was amazing with the clients and our guests....basically he has an amazing personality.As a planner we worked as a team and he controlled all aspects of his work. The images are beautiful and we could not have asked for anything more.Their rates are beyond reasonable for what they provide as top of the line service.A go to every single time.Thank you Beautiful Life Studios.
Allison MacLeod
August 2019
Johnny, Mo and their team captured every moment without being intrusive, or in the view of our guests. From start to finish they made my husband and I feel so comfortable, and the end photos and videos turned out even better than we had imagined. Not to mention they were a great group of guys who were so positive and fun that they added to the vibe of the day.
We hired Beautiful Life for our wedding and we were overjoyed with the experience. We had Brenton as our photographer and he really was the best we could have asked for. He was super professional and also very easygoing, and he made us all feel comfortable. He was able to direct us (something my husband definitely needed) and the photos turned out beautifully! My entire family commented on how great he was, asking if maybe I had known him previously because of how well he got along with everyone. His demeanor really helped set a nice calm vibe to what could have been a stressful day. I would ABSOLUTELY RECOMMEND Brenton and the Beautiful Life team!
Tiffany and her team recent;y photographed my wedding. I cannot thank them enough for the amazing experience we had. Such professionalism and an absolute joy to work with. Even through the pouring rain they creatively found ways to make sure we got all the photos we wanted. I will forever use Beautiful Life Studios to photograph my family's milestones.
Austin (in Toronto) shot our engagement and wedding photos and he was nothing short of amazing! Both hubby and I rarely take any photos and we're so awkward that we were nervous how this whole wedding photos thing was gonna go. Hiring Austin was the best decision we made! We were blown away by our engagement photos, and so far got the teasers from our wedding and they were also incredible. He has such a good eye! He managed to make us look not awkward which I'm sure wasn't an easy thing to do. Worth every penny! Not only is he an amazing photographer, he is also super fun and friendly and just a pleasure to work with. We had a blast taking photos with him and can't recommend him enough.
We worked with Beautiful Life Studios on a photoshoot and had such a great time. Austin and Tiffany were absolutely fabulous and fun to work with- inviting and collaborative! Luckily for us Tiffany photographed one of the recent weddings we had the pleasure of flowering and I already can't wait to see the pictures! Wonderful team, good vibes!!
Beautiful Life Studios has been mentioned inside these other vendor profiles: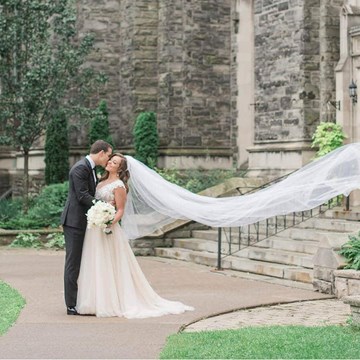 Dana and Fraser's Sweetly Elegant Affair at The King Edward Hotel
3/07/2019
Read more