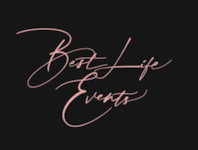 Best Life Events is an award winning boutique WPIC Certified Wedding and Special Events company in the Greater Toronto Area. We offer full or partial planning of chic weddings, luxury bridal showers and special anniversary parties. We also offer WPIC certified design advice and wedding management services (month of coordination). Best Life Events believes your special celebration should be gorgeous and our motto is quality over quantity always, regardless of your budget! We are prepared to introduce you to the GTA's finest and most reputable vendors and venues and we are always up to date on the latest trends in bridal fashions, entertainment, flowers and decor. We are extremely knowledgeable about the very latest in the Local and International Bridal Scene. Most importantly, we will guide you through the sometimes overwhelming feeling of planning one of the most important days of your life. We will streamline the chaos so you can relax and shine
Thank you so much to Best Life Events, who planned my wedding and truly did an amazing job. As a busy person with an interest in wedding design but without much knowledge of current vendors or options, I was so happy to have Nifette by my side, who really helped bring to life the (vague!) initial vision I presented to her. From picking catering, decor, music and a photographer, finding a venue within my budget that met all my wants, to shopping for a dress, Nifette was there to guide my selections and to help navigate the process, presenting us with options and arranging appointments. I'm so happy we had Best Life Events leading the team, because the entire process became easy. When my wedding had to be moved up by months due to the illness of both my grandmothers, which was really difficult for my family, Nifette calmly navigated the changes. She was a caring voice of reason and it really made me feel like my fiancée and I had a source of support when navigating additional stress within the family (as I imagine all weddings have...). Thanks so much to Best Life Events, the wedding was absolutely gorgeous and I can't stress how much Nifette's patience and knowledge of the industry made the months of prep more easy for us. The wedding was the most special day of my life and we honestly couldn't have done it without her. I wholeheartedly recommend Best Life Events.
Oh what fun we had at my niece's bridal shower J The invite said All White and I didn't think everyone would comply, it being November. But they did! Turns out that was the best colour to set off the gorgeous flower crowns that were individually made for us on site. That's how to do ambience for a bride to be and her besties! And good choice with booking a private event at Figo restaurant on Adelaide. The brunch was super tasty, beautifully set out and there was lots of it. Highly recommend Best Life events who organized it all, down to the palm leaf place mats, beautiful all white centrepieces, sparkly gold accents everywhere, a fabulous iridescent paparazzi wall and my favourite – an all white doughnut wall the size of a cartwheel! I loved our favour gifts which included a beautiful rose shaped gold mirror compact and candy coated almonds presented in adorable bride and groom candy bags! It was quite fabulous!
We had the great pleasure of working with Nifette at Best Life Events for our wedding at the Aga Khan Museum in October. Nifette helped and guided us with absolutely everything from visiting venues, shopping for a bridal gown and suit, designing the flowers and decor, booking the entertainment and even wrapping the favours we chose at last minute! We were amazed by how responsive she was by text, email and over the phone over months and months of planning. Her calm and patient manner made us feel confident in the many decisions we had to make. She always recommended the top people in the city and saved us so much time and effort researching and booking vendors. Our wedding was so elegant and luxurious, we just couldn't have been happier with how spectacular everything turned out. We've gotten so many compliments from our guests! Nifette and her assistant were on top of every detail throughout the day. We didn't have to worry about any aspect of the timeline and that was a real relief for us and our families. We really felt free to enjoy the beautiful food, decor and music without worrying about what needed to be done next. My spouse and I both have such busy work lives in the city, it was so helpful to have someone we could trust who would present us with options to choose from, from the latest trends, to the perfect ideas to fit the style we were looking for. We would recommend Best Life Events for anyone who wants to blow away their family and friends while barely lifting a finger!
Best Life Events has been mentioned inside these other vendor profiles:
Company Overview
Company Overview
Deals & Packages
What services are included with this Package:
The orchid is our most comprehensive package which offers wpic certified design advice and full planning of your wedding from start to finish. This package includes 12 - 18 months of pre-wedding planning and is for couples who have recently gotten engaged and are in the beginning of their wedding planning journey.
We begin by meeting in person and discussing your needs, likes, preferences, style, dreams and ideas. Next steps will be to choose a venue and date, and to develop a budget, an overall theme, event documents (including timelines, to-do lists, floorpans and day-of-itinerary).
Based on our discussions, we will recommend the gta's best fit vendors for everything from wedding stationery, decor, menu, entertainment, djs, photographers, rentals and favours. We will attend vendor meetings together and will act as a liason with your chosen vendors from beginning to end.
Your package includes the attendance of our lead planner and at least one or more assistants (depending on the guest count), who will coordinate your rehearsal, ceremony, photo shoot and reception. Your planners will ensure all decor items, vendors, bar, menu, favours and signs will be set up as agreed upon. Assistance with packing up all the event items at the end of the evening will be attended to.
Our planners and assistants are all wedding planning institute of canada certified and abide by the wpic's strict codes of ethics in every aspect of your wedding.
You and your guests will have access to our extensive best life events emergency kit at no additional cost.
We will work with you to create the most well organized budget, timeline, table layouts and seating charts.
We are available for unlimited phone calls, emails and texts throughout the planning process.
---
Here's the Fine Print:
Special add on services available are bridal gown and accessories shopping and recommendations, as well as groom attire shopping and recommendations.
If the guest count requires more than two planners there will be an additional minimal fee
This package is exclusive to EventSource.ca visitors. To redeem, you must mention you found this package on EventSource.ca.
What services are included with this Package:
This package begins at least 6 weeks before your wedding date. We will begin with an in person meeting to discuss all the plans and vendors you have secured to date. We will meet at your venue to discuss the floorpan, decor plans and to gather information for your day-of itinerary.
At this point your lead planner will take over all communications with the vendors you have chosen. We will review the banquet event order and the contracts and will discuss your transportation plans.
A final floorpan and Day of itinerary will be created and will be distributed to the vendors by the planner. All orders will be reviewed and arrival times will be confirmed.
The lead planner will attend and supervise the ceremony rehearsal.
Set up of the event decor will be done by the planner and assistant(s).
The planner will coordinate the bridal party, and the bride and groom's transportation.
At the reception, the planner will oversee all aspects of the food, bar, musicians, dj and decor, ensuring that the timeline is adhered to.
The assistant will remain until the late food is served. The planner will stay until the end of the evening in order to assist in packing all wedding items.
The couples and their guests will have access to our extensive emergency kit.
---