This annual article has easily become a favourite for us here at EventSource (and for our readers, too!). The GTA is blessed with a plethora of talented folks in this industry, and their hard work never ceases to amaze us time and time again.
Looking back at some of the gorgeous work that came out of last season is not only fun and exciting but also inspiring for those of you in the midst of planning your upcoming nuptials! So without further ado, we present to you some of the best weddings from 12 of Toronto's top wedding planners.
---
Rainbow Chan Weddings and Events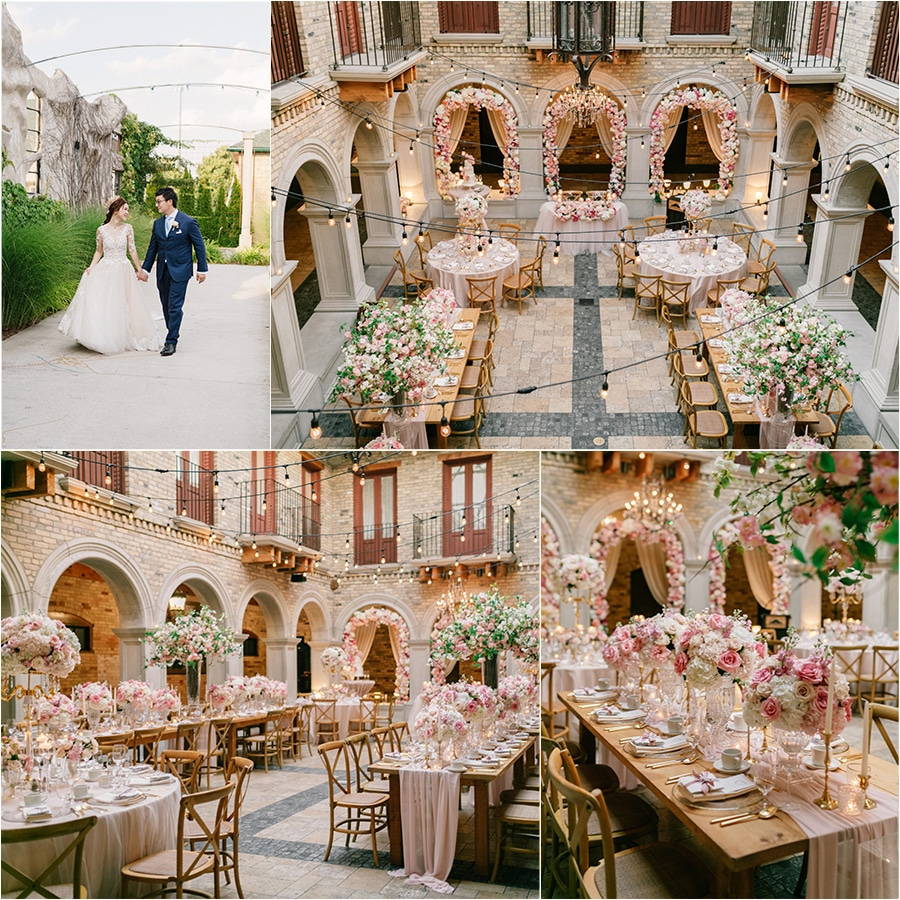 Photos Courtesy of Artiese Studios
"Being involved in Cynthia and Sean's beautiful nuptials was a privilege. These two are such a fun and unique couple with an adventurous and entrepreneurial spirit. They knew what they wanted – a venue with a romantic European feel, and Hacienda Sarria was the perfect fit!
Cynthia and Sean put so much thought and care into the tiniest details of this event so our wedding coordinators and planners knew that we needed to make sure that each element was perfectly executed, from the custom made gift bags to the event design and styling. Neutral tones and illusion of being outdoors give this space a distinctly European feel – it's like you're at the center of a quaint Italian town. Hundreds of pink and white roses and hydrangeas adorned the tables at varying heights, complete with beautiful and ornate gold flower stands. The pink floral arches that were used during the ceremony were incorporated into this space as well. The pairing of these floral arches with the architecture looked stunning behind the sweetheart table. Overhead, twinkle lights set the mood. Pink linens with a French tulle overlay created a soft, romantic aesthetic, enhanced by tons of candlelight. Chandeliers and draping tied everything together. The end result was old-world charming, but with many romantic and modern twists.
We are so grateful to have been a part of this couple's big day, and we hope they remember it for the rest of their lives!"
– Rainbow, Rainbow Chan Weddings and Events
Vendors Featured in this Article
---
Shealyn Angus Weddings & Events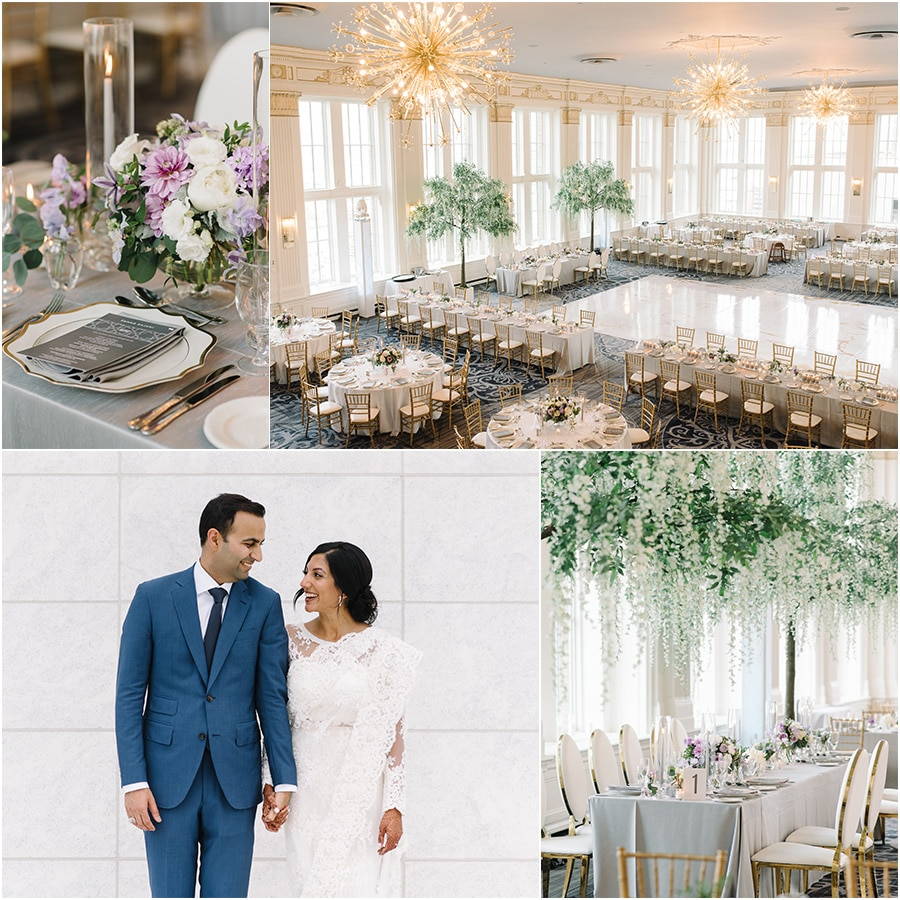 Photos Courtesy of Tara McMullen Photography
"Native Texans, Faria and Muhammad welcomed 200 of their closest family and friends to Toronto for a weekend celebration. It was a fabulous two day celebration that started off with a welcome party at the Aga Khan Museum, followed by a stunning Saturday wedding day that started at The Ismaili Cultural Centre for their Muslim ceremony, and capped off in the Crystal Ballroom (my favourite room in the city) at The Omni King Edward Hotel for dinner and dancing. Does it get much better than that? Not only was it a celebration full of delicious food, great music, and dancing, but it was a feast for the eyes. Faria and Muhammed fully put their trust in our team of amazing vendors to produce a stunning wedding, and it did not disappoint. I couldn't ask for more than a couple who truly trusts me to bring together the best of the best to create magic on a wedding day. From the gorgeous wisteria trees that flanked the head table, to the soft and romantic palette of pastel blues and greys accented by gold and white chars and a marble dance floor. The design for the reception truly complimented the romantic vibes of the Crystal ballroom.
But my favourite part of the wedding? Faria and Muhammad themselves. These are two of the most kind hearted people I have every had the pleasure of working with. And their families echoed those sentiments – in my first meeting with Faria's parents, her father brought me a Texas pecan pie! To a pregnant wedding planner, this was the cheery on top of a very delicious wedding planning cake.
The perfect recipe for a wedding: Kind & excited clients, trust in your team, an open mind, great music, delicious food, and a great attitude. Faria and Muhammad were the perfect recipe and their wedding couldn't have been more of a success."
– Shealyn, Shealyn Angus Weddings & Events
---
Love by Lynzie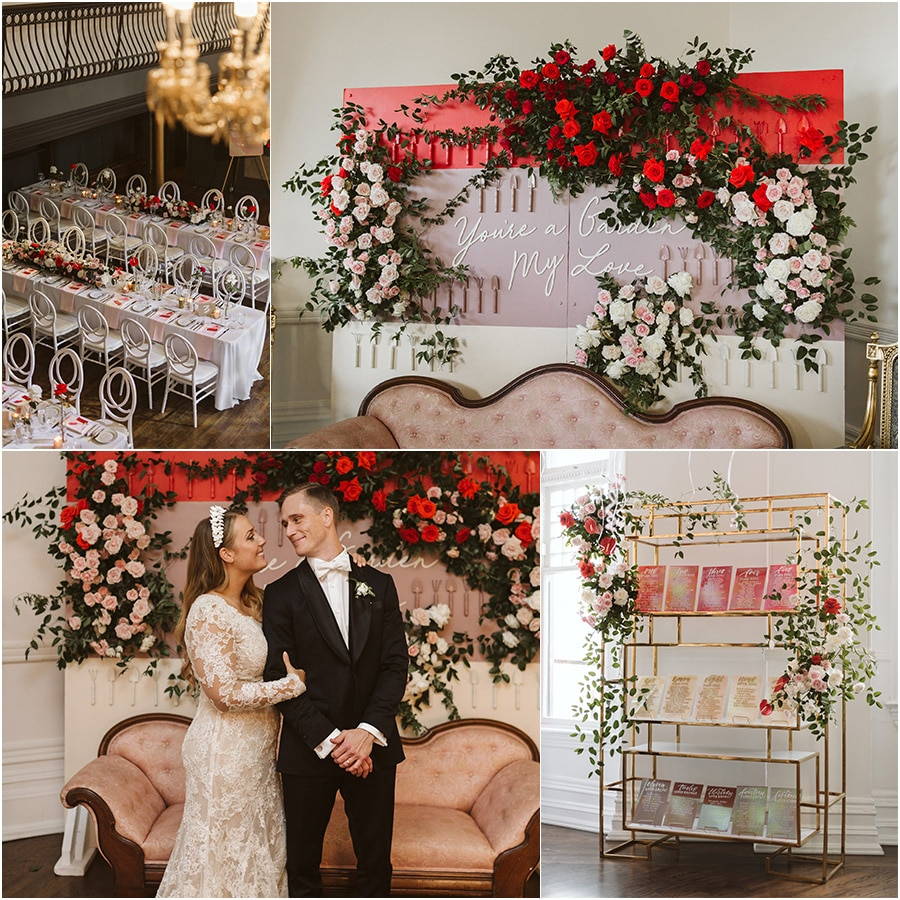 Photos Courtesy of Marcucci Photography
Arielle and Brett's "Dreamy Floral Disco" themed wedding took place at The Great Hall, an old reclaimed music hall in the heart of Toronto with unique vibes and cool architecture. Inspired by an epic dance party, we created a design that was modern, fresh and funky – think colour blocking and tons of mylar and iridescent touches that set the stage for a disco vibe and party atmosphere!
One of our favourite installations of this wedding was the photo booth backdrop which was inspired by Arielle's job of teaching children how to garden. We incorporated their colour scheme of red, pink and white in a colour-blocked fashion which was then accented with mini gardening tools and of course, an insane crawling floral installation.
This wedding was a true labour of love for us at Love by Lynzie and one of our favourites of the season for its raw beauty, colour scheme, team of vendors (Patchouli Floral Design, Chair-man Mills, Detailz Couture Event Rentals & Catherine Cachia, to name a few) and over the top installations!"
– Jess, Mad Bash Group
You May Also Be Interested In
Blush and Bowties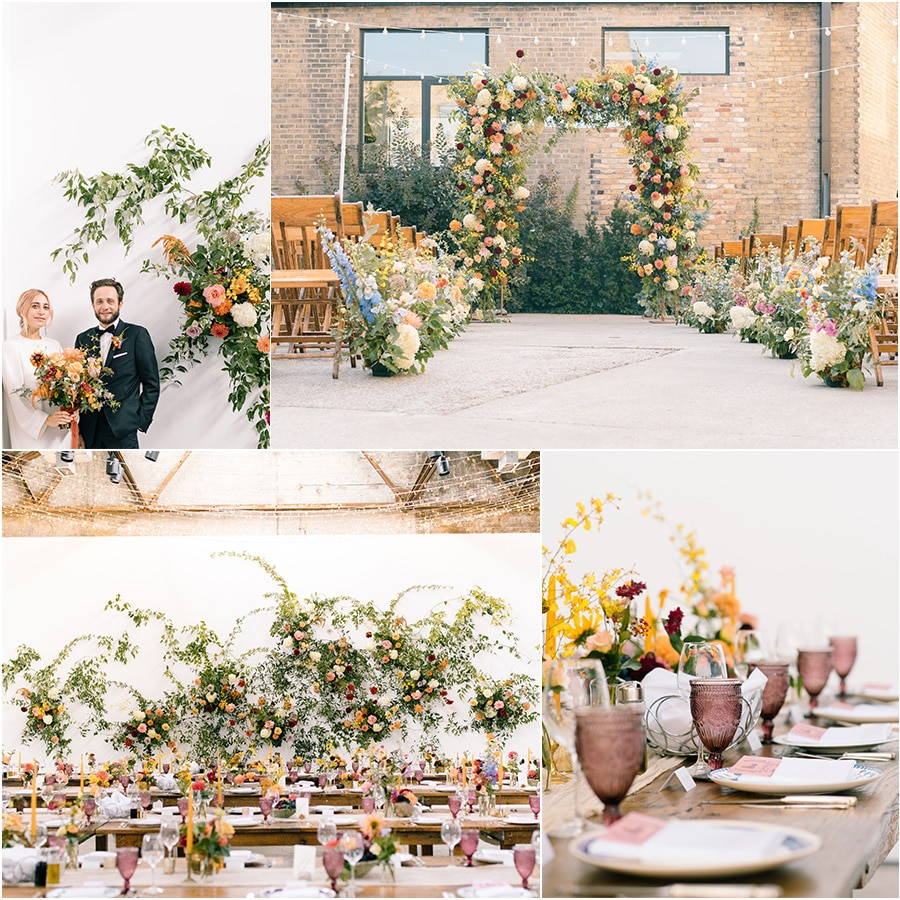 Photos Courtesy of Marissa Joan Photo
"I loved being part of Cassia and Val's wedding as I felt like we created a unique design and experience. As a self-proclaimed lover of neutral and muted colours, the couple's bold and vibrant styles pushed me as a wedding designer. Olga Korper Gallery was the ideal setting for this off-beat celebration and Tellie from Hunt and Gather created one of the most show-stopping flower installs I've ever seen! The evening's festivities began in the stone courtyard with a pre-ceremony mingle followed by a low-key ceremony under a not so low key chuppah! The party kicked off with a hora under the stars and a family-style dinner catered by Gusto 54 Catering. Not only did this wedding stand out to me visually, but Cassia and Val were such a sweet, chill couple. They wanted the day to feel welcoming and have zero stuffiness. Judging from the dance party and smiling faces, I'd say it was a success!"
– Alex, Blush & Bowties
---
Rebecca Chan Weddings & Events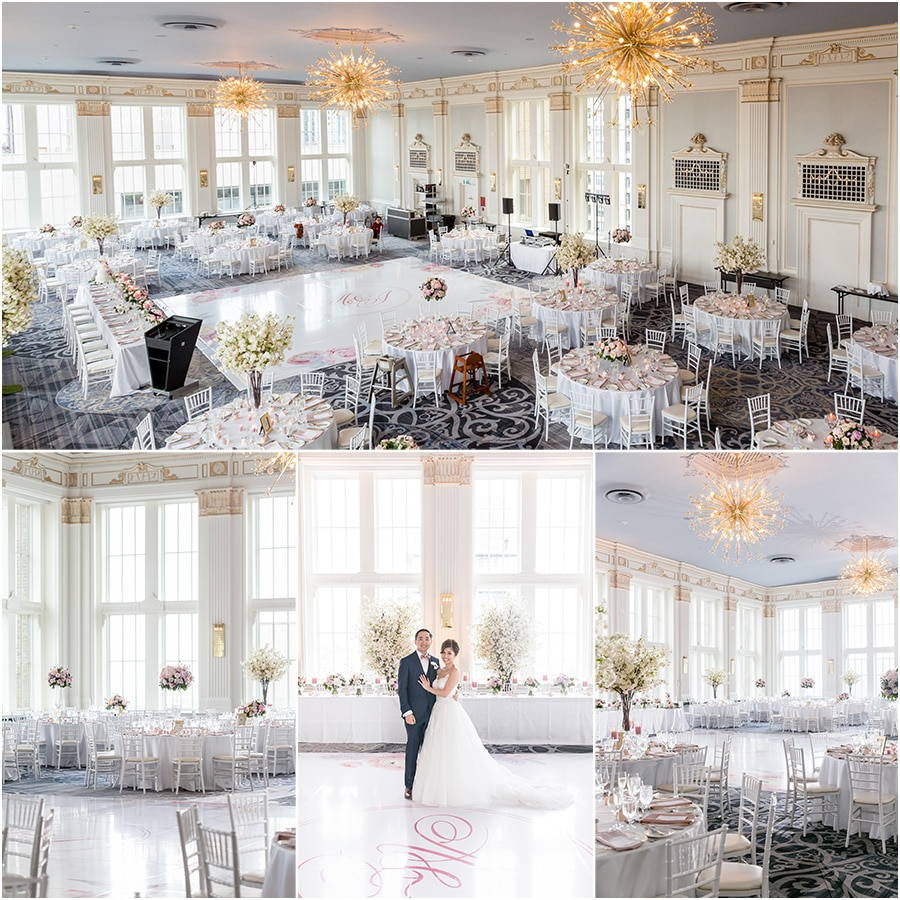 Photos Courtesy of Joee Wong
"We kicked off the year with this fun and vibrant spring wedding at The King Edward Hotel's Crystal Ballroom. The venue itself is stunning with its crown moulding and gold accents, but paired with lavender and blush floral notes, it was just breathtaking. What made the evening extra memorable was the bride and groom – their constant laughter throughout the day, and their love for each other that couldn't be hidden. Working in the wedding industry can be stressful  at times, and it is working with couples like this that make it worthwhile!"
– Rebecca, Rebecca Chan Weddings & Events
---
Lustre Events
Photos Courtesy of Amos Photography
"Jemma and Red came to us knowing they wanted something unique, romantic, and both rustic yet modern at the same time. They also wanted shades of wine and berry to be the focus which has a lot of meaning to them. The groom's name is literally Red, both of their birthstones is the ruby, and the name Jemma (who often goes by Jem) just ties everything together! While they were first dating Red also sent Jemma a red rose to her work on a regular basis to help steal her heart. Clearly this design was just meant to be!
To say this wedding was a dream to design is an understatement. Jem and Red are so sophisticated-ly stylish, and with their wedding happening in September it was also a perfect opportunity to bring in some seasonal autumn elements. The barn at the Earth to Table: The Farm is truly breathtaking. It's high ceiling, chandeliers, and just the grandeur and polish of the space was a very inspiring canvas.
From the magical ceremony arch created with red foliage, big blooms and little touches of gold, to the glass cloche seating chart wall and tiny detailed cloche place cards, this wedding was overflowing with gorgeous details that made it personal and beautiful.
What a sincere delight to get to know and love this special couple. It was an honour and a dream to execute this wedding. Cheers to an unforgettable day!"
– Melissa, Lustre Events
---
All That Jaz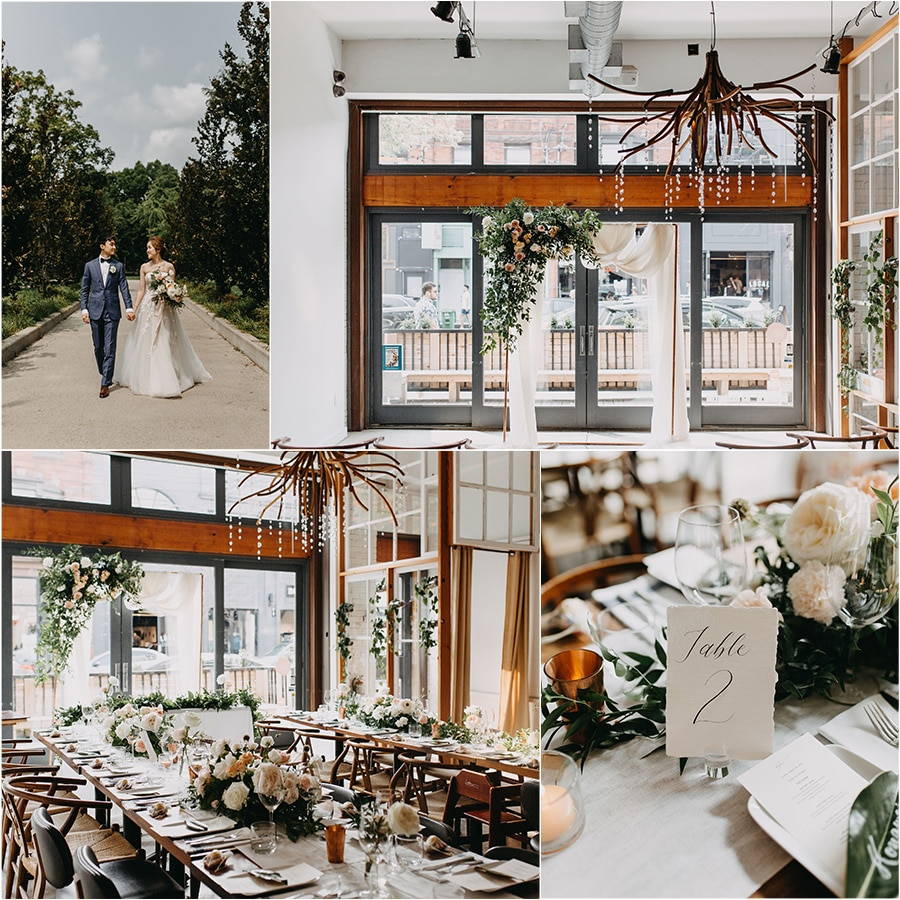 Photos Courtesy of Sage & Sea Co
"I love when couples opt for a more 'non traditional' venue with charm and unique character. It creates space for more creativity and personal touches. I loved designing this space. We added simple touches such as soft candleight, florals and gentle pops of colour to create an intimate and inviting celebration. No celebration is complete without good food and great wine. Boehmer Restaurant curated a unique menu paired with delicious cocktails and wine for guests to enjoy throughout the evening."
– Jasmine, All That Jaz Weddings
---
Devoted To You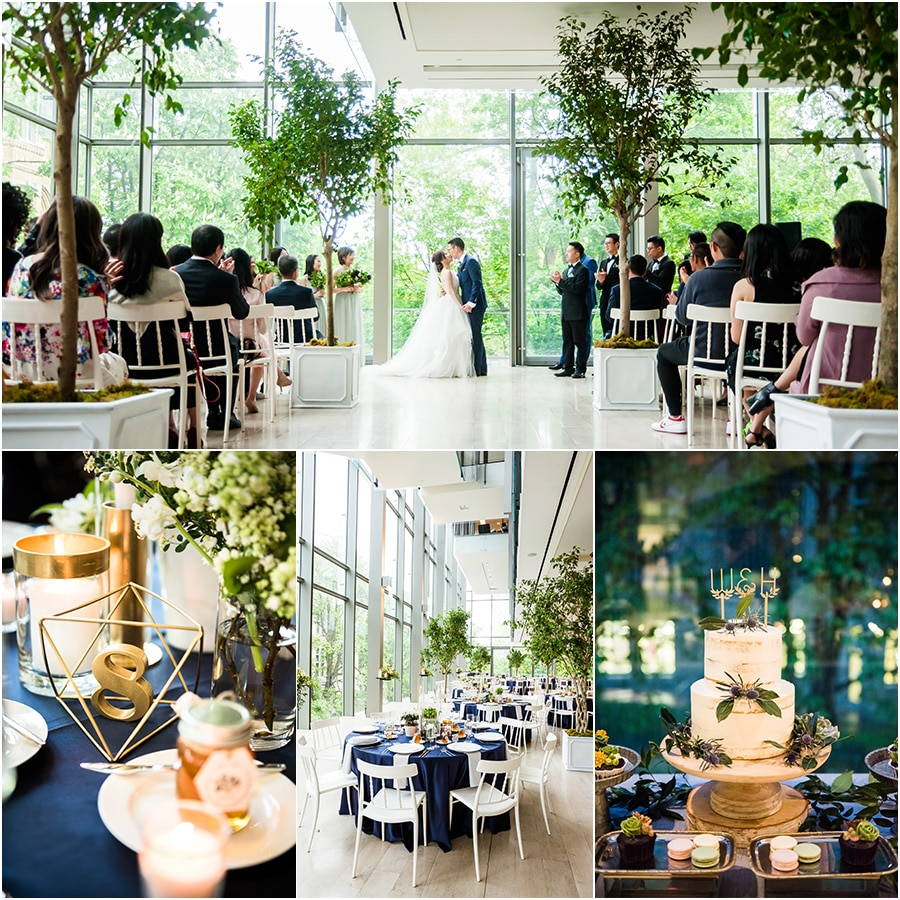 Photos Courtesy of Ikonica Images
"Wei and Jim's wedding took place at one of our favorite venues in Toronto, The Royal Conservatory. The architecture and the floor to ceiling windows create a very welcoming space for guests. The colour palette chosen by the couple was also very modern and refreshing. Trees, greeneries and potted herbs were used to fill the space, building a connection with the surrounding trees outdoors. Best of all, guests were invited to take the potted plants and herbs home to plant in their garden.
Our creative bride designed the invitations and all the day of stationery for the wedding. She also handmade the gem-shaped escort card holders and all geometric himmeli table number stands. This is definitely a wedding made with love!"
– Carmen, Devoted To You
---
Fab Fête Event Planning Boutique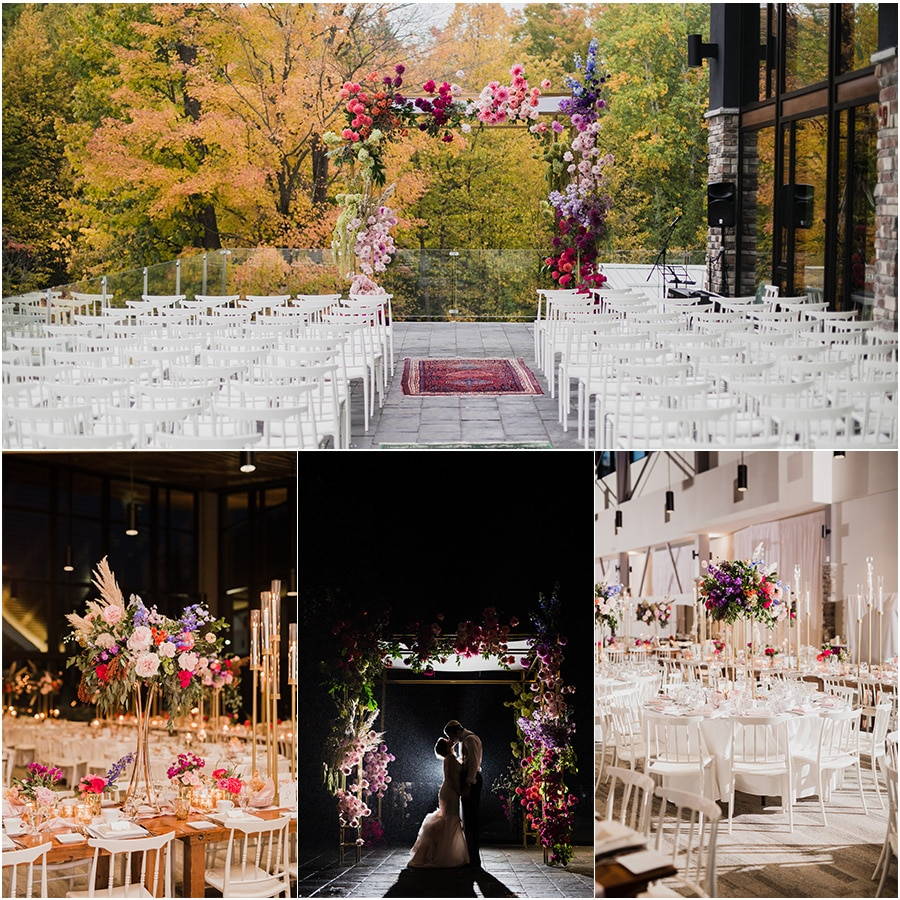 Photos Courtesy of Luminous Weddings
"Hayley & Jeff's wedding at the Alpine Ski Club in Blue Mountain was definitely one of our favourite weddings from 2018! The bride is extremely bubbly and outgoing and wanted the decor for her wedding to match her exuberant personality. She was also willing to do something different and go outside of the box, which we always encourage! Together with Alina of Flowers Time, we used a combination of bright and colourful flowers to create a gorgeous and whimsical chuppah, along with some beautiful centerpieces. The bright colours really popped, especially against the natural outdoor scenery, and helped to create that 'wow' factor that the bride and groom were looking for. It was an incredible wedding filled with so much happiness and joy and we were honoured to be a part of it!"
– Tamara, Fab Fête Event Planning Boutique
---
As You Wish Weddings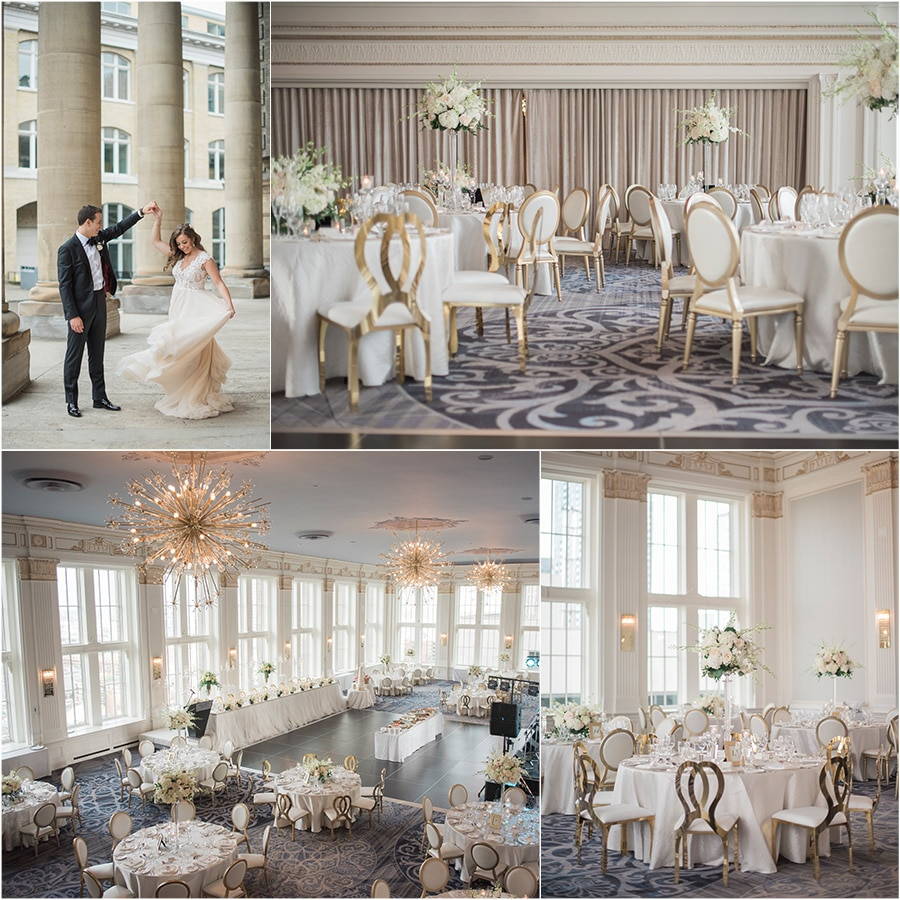 Photos Courtesy of Blynda DaCosta
"Dana & Fraser's wedding in the stunning Crystal Ballroom of The King Edward Hotel was a favourite from this past year. Not only was the reception filled to the brim with gorgeous, thoughtful details, but what stood out most was the very real connection and love this couple have for each other. It's impossible to find one photo from their day where they are not smiling – they truly enjoyed every moment and I am thrilled our team was able to be a part of it!"
– Caryn, As You Wish Weddings
---
Designed Dream Wedding Planning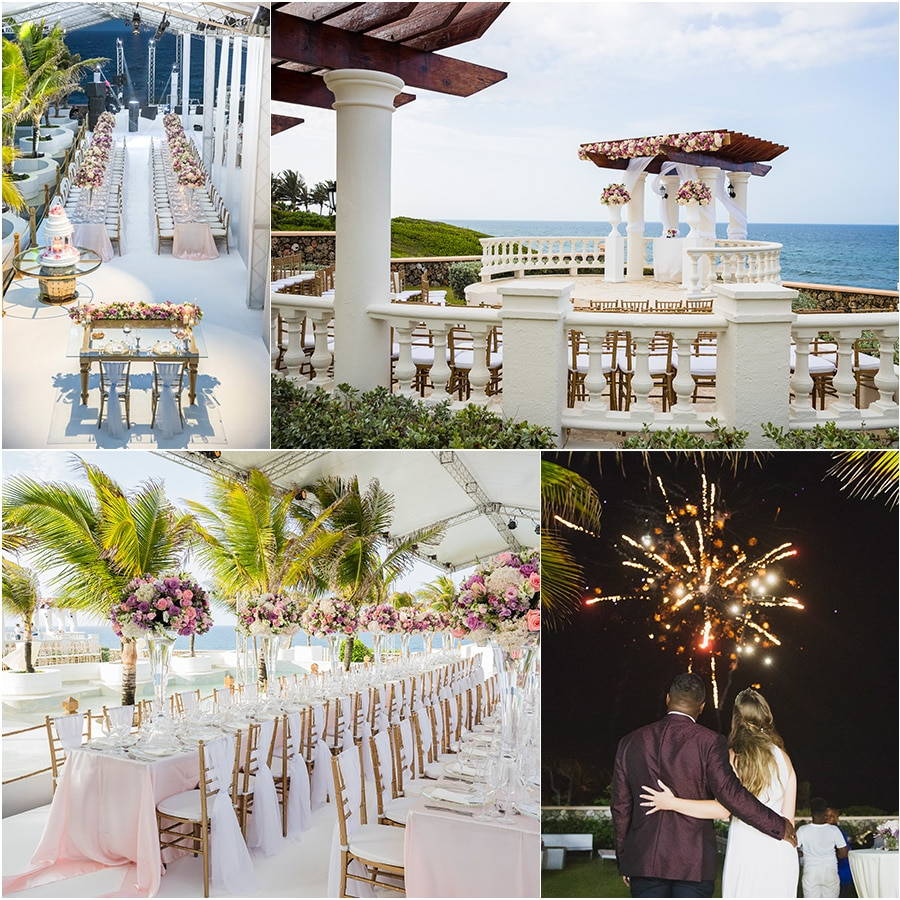 Photos Courtesy of Fable Studios
"This year there was one wedding that really stood out, a destination wedding on a private villa, Castillo del Mar, in the Dominican Republic. The couple was from Toronto and they had 120 guests fly out to their wedding, which is considered a big group for a destination wedding! The private villa came with nothing included, but there was a local planner who helped with contracting local vendors and communicating with them. The planning part was pretty smooth and pleasant, but once we got to the villa a few days prior to the wedding, surprises started to happen.
We had a pretty elaborate yet very exciting set-up that took 24 hours straight to complete. The set-up crew was at it through the night. Despite the challenging set-up, tight time frames and some little issues that arose throughout the wedding day here and there (which we had to solve on the fly) at the end of the day, everything worked out perfectly of course, and the wedding looked like something from a movie with fireworks, glowing palms, lots of lights, beautifully dressed guests and my awesome couple, Jessica and Joel! I made sure that my couple wasn't aware of what was going on behind the scenes until after the wedding, so they really enjoyed the night and had so much fun with their families and friends! It was definitely worth all the work, the rush and the challenges!
I will never forget that wedding as it was a huge learning experience for me!"
– Fidan, Designed Dream Events
---
Art of Celebrations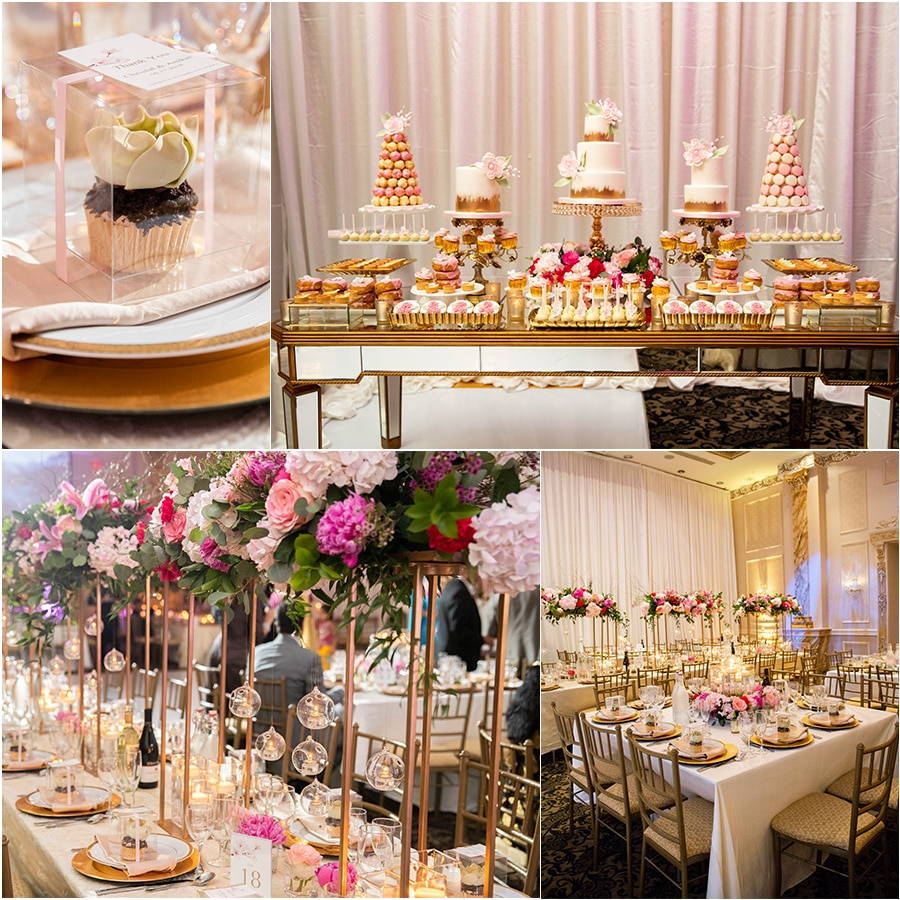 Photos Courtesy of Fable Studios
"Christal and Nick's wedding was a true celebration of their ethnicities. Nick, Hindu Indian and Christal, half Sikh Indian and half native Canadian, wanted to make sure that their backgrounds were blended and highlighted throughout their wedding celebrations. It was a four-day event filled with colours, textures and so many beautiful details. Each event was treated as its own so that both the couple and their guests had something to look forward to on each of the days. We worked closely with the couple to design and create the wedding of their dreams and we loved every minute of it. From the bright and colourful Sangeet, to the traditional ceremony, to the whimsical, romantic candlelit reception, each day was a true feast for the eyes filled with beautiful traditional dances and unforgettable custom made outfits!"
– Roxy, Art of Celebrations