If bison sliders and build-it-yourself poutine stations seem overdone to you, you're in good company. So, what's trending for 2016 when it comes to weddings and other special events? We rounded up the most delicious predictions from seventeen of Toronto's top caterers to share what they'll be serving up this year.
Feeling hungry? On the menu, we have global inspired delicacies from as far as Hawaii and Eastern Europe, some innovative takes on old classics, and of course, some other interesting surprises to whet your palette. Bon appetite!
---
"Cocktail Style" High-End Apps
"Above is a photo of our Mini Roasted Lamb Chops with mustard glaze and olive tapenade. We predict high end appetizers (such as this one) will be a food trend, particularly for weddings in 2016, as cocktail style receptions are becoming more popular than formal sit down dinners!"
– Chef Andrew Ellerby, McEwan Catering
---
The Infamous Bar Cart
"A returning trend that we will start to see at events in 2016 is the bar cart! Pushing mini plates of dishes such as lobster pogos, foie gras, and frittatas to seated guests or throughout a crowd will be all the rage! It's a throwback to a classic era of entertaining and guests enjoy being able to select a la carte."
– Executive Chef Christopher Matthews, Eatertainment Special Events & Catering
---
Soup Served "French-Style"
"We're starting to see more four-course dinners at wedding receptions, with the first or second course being a richly flavoured soup or consommé. To add an extra luxurious element, many soups are being served French-style, presenting a beautiful garnish in the bowl before the soup broth is poured."
– Chef Paul Brans, Oliver & Bonacini Catering
---
Aloha Poke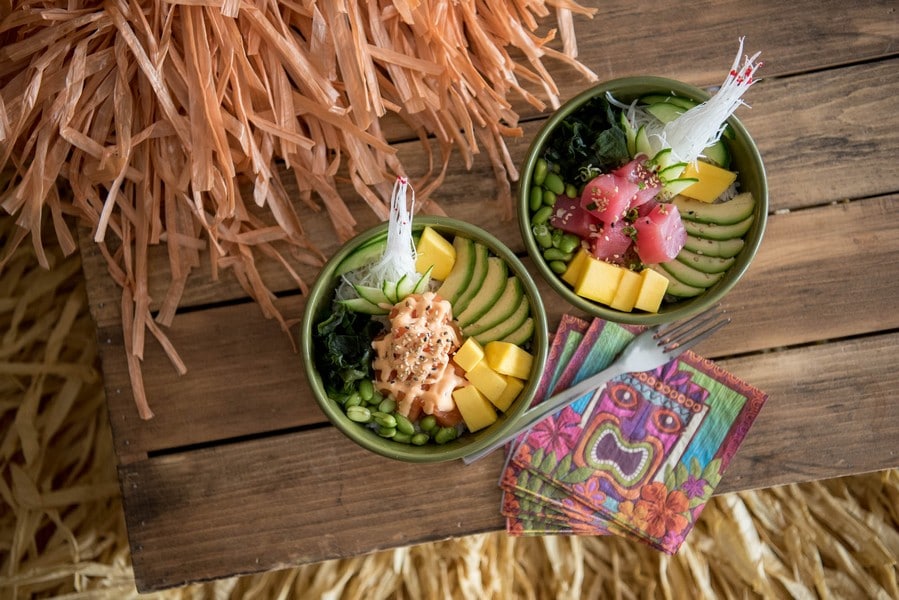 Photo Courtesy of Kelvin Young Photography
"Poke, pronounced Po-kay, is a raw fish salad originating in Hawaii. We predict this dish is going to be a must-have menu item in 2016 and so we have added a Poke food station option to our 2016 event menu. Chefs help guests build their own custom bowl starting with a base of rice, and adding your choice of raw ahi tuna, salmon, smoked octopus, or shrimp with a variety of fresh ingredients and signature sauces. We are so enthused about the dish that we are planning to deliver it to the Toronto food scene in a much bigger way. Be on the look-out, but also be warned.. poke is totally addictive!"
– Fia Pagnello, Kiss the Cook Catering
---
Rustic Farmhouse Seafood Boil
"Guests sit at communal tables and are encouraged to eat sans cutlery for this relaxed, rustic, farmhouse-style meal. Place settings include wooden mallet favours (engraved with bride and groom's initials, if desired), lobster bibs, and mason jars full of local craft beer. The dish is full of Steamy lobster, head-on shrimp, Canadian mussels, and other seasonal shellfish. Spicy andouille sausage, potatoes, and corn are cooked in an Old-Bay infused craft beer broth and poured directly onto a butcher paper-lined table. This is the perfect meal for an intimate and casual summer wedding where good food, family, and friends are the focus!"
– Sofia Gatsos, en Ville Event Design and Catering
---
Family Style Dining
"Pictured here is a 'Providore Grazing Station', filled with house cured meats, terrines pickled vegetables, scotch eggs, whole roasted cauliflower, cured trout, and crispy Albacore tuna. A great communal station for appetizers, dinner, and/or late night snack. Boredom of the traditional sit down dinner has reached a new high. Sharing is the new caring when it comes to the restaurant scene and we are now seeing this trend with catering too. Clients are wanting to share with their guests the social and communal aspect of eating. Not only does the experience of family style dinning bring guests together, it allows for guests to experience a greater variety of menu offerings."
– Chef Tallis Voakes, Providore Catering
---
Charming Upscale Brunch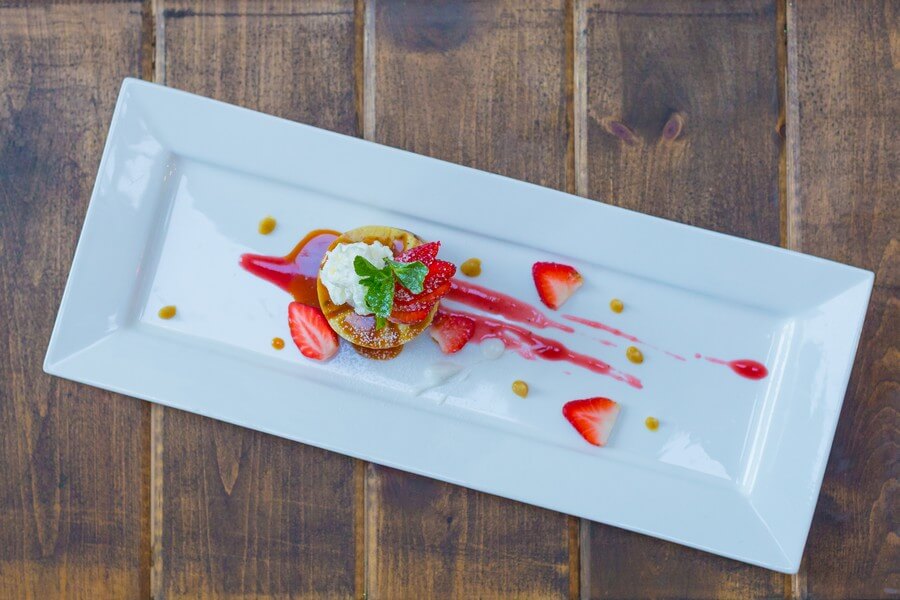 Photo Courtesy of Justin Eastman
"Pictured above is a Vegan Strawberry Bread Pudding with Coconut Chantilly and Fresh Mint – a great dish for a brunch celebration! In 2016, we predict clients will swap out those late night dinners for a bright and intimate upscale brunch with friends and family!"
– Marie Fitrion, Urban Acorn
---
Chef-Driven Fast-Casual Concepts
"Our latest culinary masterpiece combines the heartiness of Applewood Smoked Bacon, Bison Beef and Dill Pickle, with the elegant taste of Aged Cheddar inside a soft Perogie shell. Chef-driven fast-casual concepts will grow in popularity at many different types of catering events in 2016, including weddings and corporate events. Encore's "Patriotic Polish Perogie Burger" will entice you to step out of your comfort zone and experience a unique and fulfilling taste of culinary patriotism!"
– Executive Chef Roshan Wanasingha, Encore Catering
---
Clean Eating
"Dishes using local flavours that push to make a positive environmental impact will be trendy for wedding receptions and other events in 2016! A great example: Our Gorgonzola Panna Cotta with Roasted Pears. This year, we're getting back to our roots with clean menus and a natural approach to a wholesome and healthy lifestyle. This dish, and many other innovative dishes, will keep you right on track!"
– Executive Chef Jay Suppiah, Presidential Gourmet
---
Sustainable Seafood and Authentic Middle Eastern Spices
"CaterTrendz has embraced both sustainable seafood and authentic middle eastern spices into our offerings for 2016. Pictured above is Sebah Baharat (middle eastern spice) Pan seared sablefish with smoked paprika and saffron cream, and organic greens, honey roasted Starkrimson Pear and aged balsamic dressing! We find it's important to incorporate authentic middle eastern spices, as a much larger part of the population wants to authentically experience different culture foods. On top of that, sustainable is on everyone's mind these days and Seafood is emerging as a great alternative to traditional meats. As discerning palettes hanker for velvety butter tasting Seafood, the very versatile, highly sustainable sablefish is moving to the top of every menu, and will continue to do so this year. "
– Chef Walter Vaz, CaterTrendz Culinary Production
---
Small Bites with Big Tastes
"Pictured above is our Seared Scallop and Pancetta! The new year always brings on a feeling of freshness and creative thinking for all of us at La Cantina. Continuing on our experiences from 2015, we see a lot of clients gravitating towards our smaller plates and tasting menus for a variety of events. Traditional events consist of 3 or 4 courses, but adding a course or two tends to create more of a 'WOW' factor and stimulates the senses. Multiple courses and bold interpretations on the classics we know have been increasingly popular for us and deliver great impact to any event, and we predict we will see even more of this in 2016!"
– Executive Chef Anthony Ramundi, La Cantina Catering
---
Veggie Centric Plates
"Dishes that incorporate a lot more seasonal, local vegetables, with less of the large proteins are definitely going to be a trend in 2016. In keeping with delivering in local produce, we will see growth in classic preservation methods, rather than using imported vegetables. They will be used subtly to enhance the dish. Our Beet and Burrata dish combines house made cheeses and a light pickling of beets. It presents beautifully and all elements are local. The creaminess of the burrata complements the beets which are slightly acidic, and then sweet. Absolutely fantastic paired with prosecco!"
– Executive Chef Bradley Yip, Jewell Catering
---
Heavy Eastern European Comfort Foods
"Because people travel extensively to far away places and bring back the local flavours, we see heavy comfort foods (specifically German and Eastern European foods) making a comeback in 2016. Schnitzel is a big one and so we have developed a "Schnitzel Bar", an active food station where our chefs will finish a Schnitzel with assorted toppings to the guests' specification and taste. The perfect addition to your upcoming event!"
– Chef Ashtad Dadachanji, Marigolds & Onions
---
Merveilleux
"Featured in the photo above are our pillowy, snowball-like mounds, filled with sweet whipped cream, crushed meringue, and covered in an unlimited assortment of flavors. Flavours guests can choose from include chocolate flakes, white chocolate shavings, caramelized hazelnuts, or shaved almond chips. This treat will take wedding sweet tables by storm in 2016!"
– Chef Simon Kattar, a la Carte Kitchen
---
It's Okay to Play With Your Food
"The dish pictured above is a play on traditional candy. We believe a strong food trend that will emerge in 2016 is 'playful eating'. The featured dessert is a chocolate peanut butter cup with peanut brittle, peanut butter ice cream, and maldon sea salt."
– Deirdre Anderson, L-eat Catering
---
Preparing the Meal in Front of Your Guests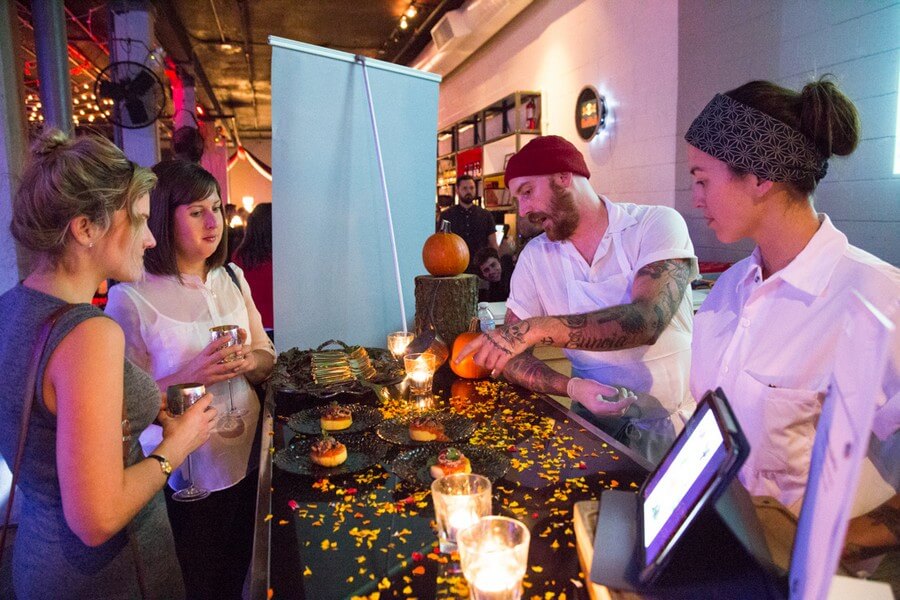 Photo Courtesy of Shane Fester Photography
"An aspect of catering I feel is gaining more prominence, from our experience at P&L Catering, is the visible presence and pageantry of creating the food which guests are enjoying. Long gone are the days in which cooks stay tucked away in a dark corner; nowadays it seems like people want to actually see chefs creating the dishes in front of them. We aim to create an intimacy at our events, from all aspects – one which creates a dialogue between the cooks and guests to enrich their participation in the event itself. In doing so we hope to elevate our food from a simple dish to an all-encompassing experience."
– Chef Matthew Ravenscroft, Parts and Labour Catering & Events
---
Re-Presentation of The Foods We Already Love
"This year our focus is on what we are calling Re-Presentation. While the foods may be what we have all seen in the past, we are focusing on re-presenting them in fun and different ways! The first photo above is an example of what we called 'Cheese & Charcuterie Clip Boards'. The second is our 'Edible Art Smashball Dessert' – an ambitious food station where a marble 'canvas' is prepped with chocolate and caramel drizzle. Then, a chocolate ball filled with peanut butter, chocolate, and other dust is smashed onto the canvas. Guests use scrapers to scoop up the smash and sprinkle it over a salted caramel pudding. By re-imagining the presentation, the foods that we love can be re-loved! Super fun for your events in 2016!"
– Jake Curl, Daniel et Daniel Catering & Events
---
Do you have any other food predictions for this year's events? Let us know in the comments below!
---