With a venerable team of best-of-the-best creative vendors at their side, and produced in partnership with Drake Catering, the team at Mad Bash Group brings together 11 lucky couples to "elope" in true style for a local pop-up chapel, held at the always enchanting Evergreen Brick Works.
Forget city hall! LBL's pop-up chapel offers all the features of a fully planned, professionally decorated wedding but with "turnkey" access to some of Toronto's most popular vendors including officiants, rental companies and photographers. For a very reasonable flat-rate, the team looks after every last detail – all you have to do is show up! There's even room for your (truly) nearest and dearest. Best of all, a portion of all the proceeds go back to local charity!
We've got all the details below from Friday's chapel below. By the way, there are still limited spots available for the next pop-up chapel on November 16th, 2018 – scroll down for all the deets!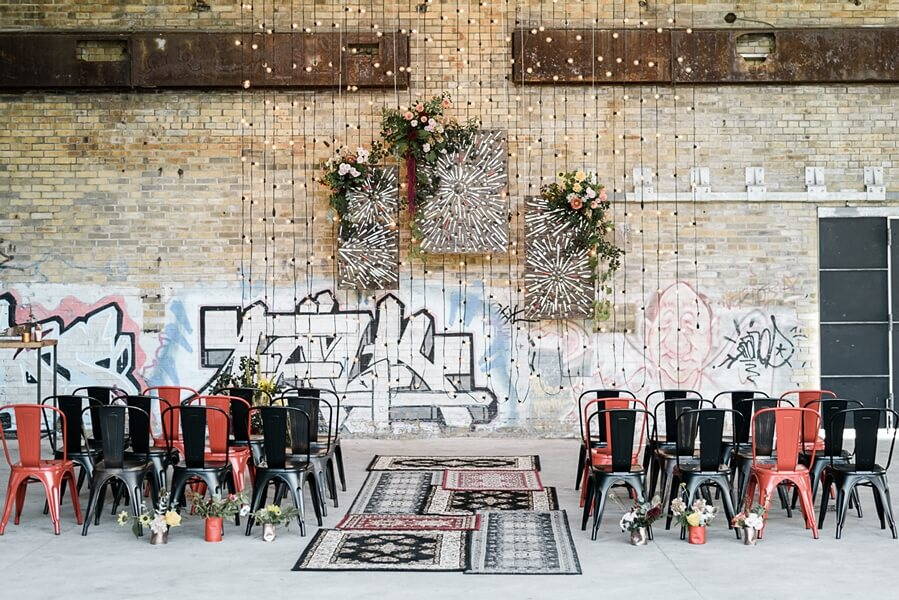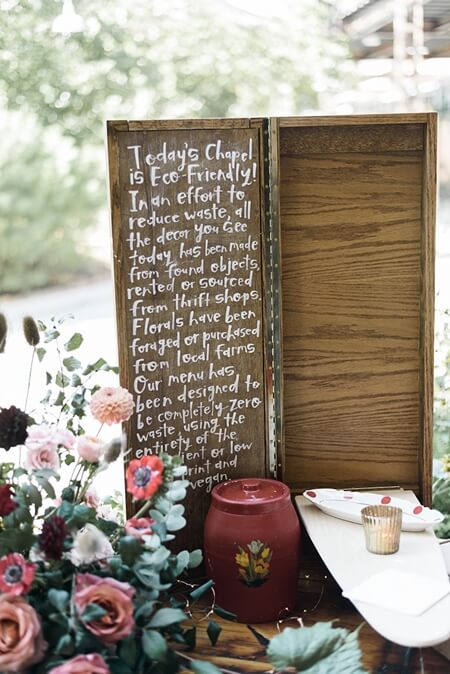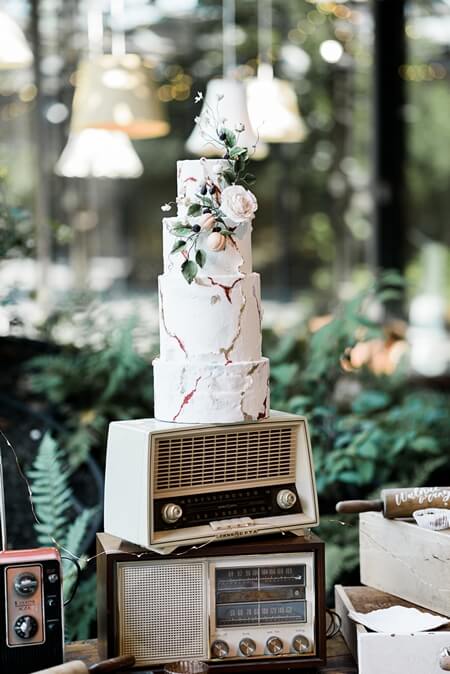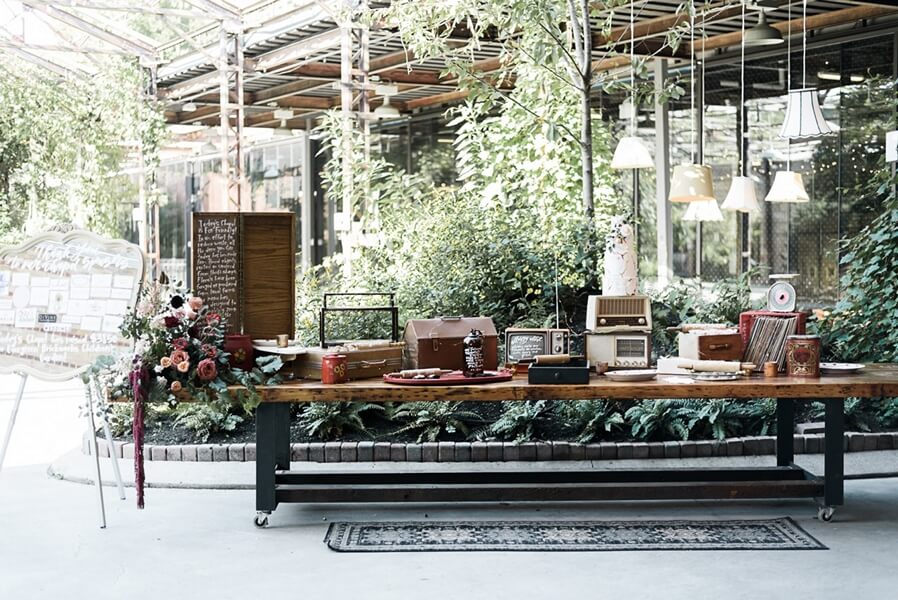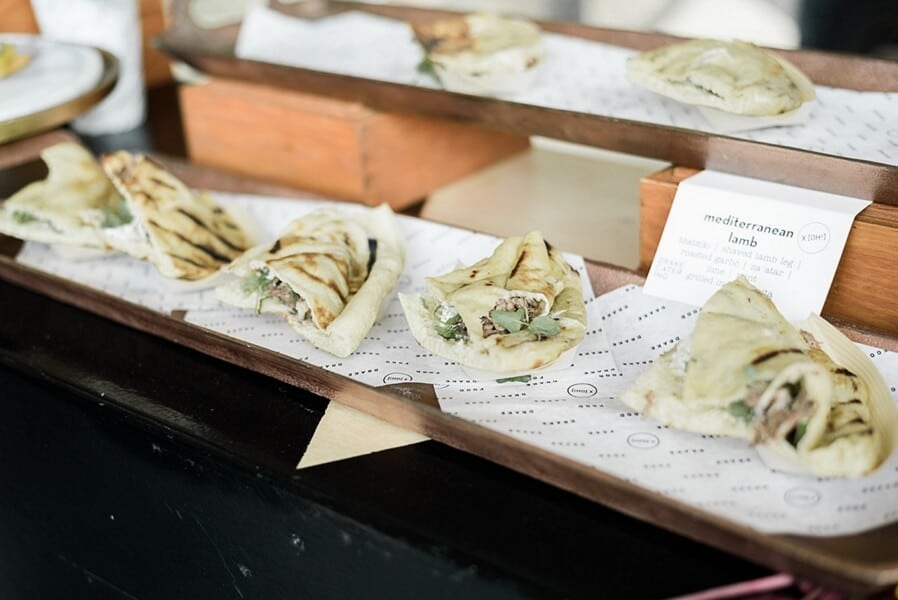 Photos Courtesy of Alix Gould Photography
Vendors Featured in this Article
While we're absolutely loving the boho-chic vibe and vintage details, our favourite thing about this pop-up chapel is that it was designed to be completely eco-friendly! All of the decor was hand made from found objects that were either rented or sourced from thrift shops; the florals were foraged or purchased from local farms; and even the menu was designed to be completely waste-free! On top of that, a portion of the proceeds goes to the Evergreen Brick Work's Children's Garden charity. How can you not love everything about this? We asked the couples to weigh in on their experience.
---
Jennifer and Jeffery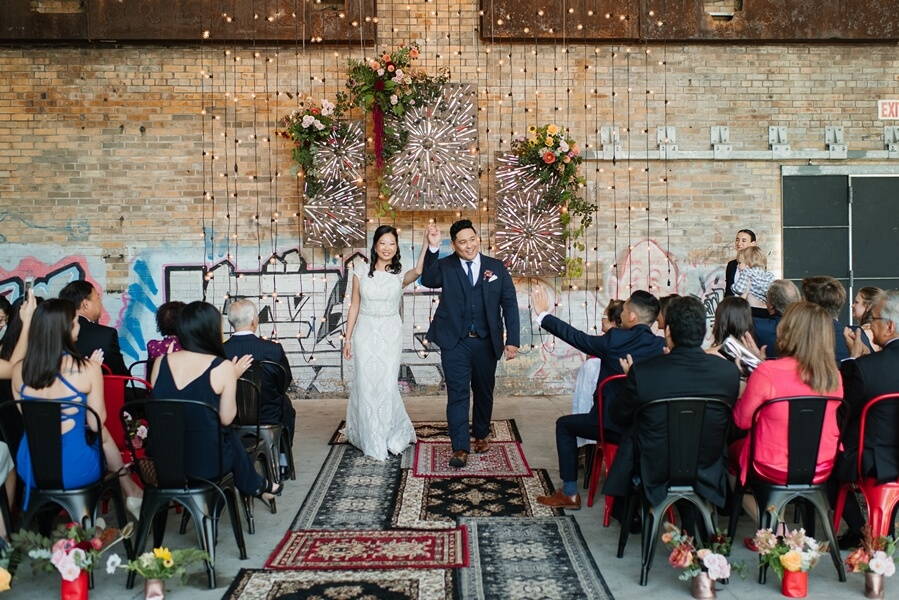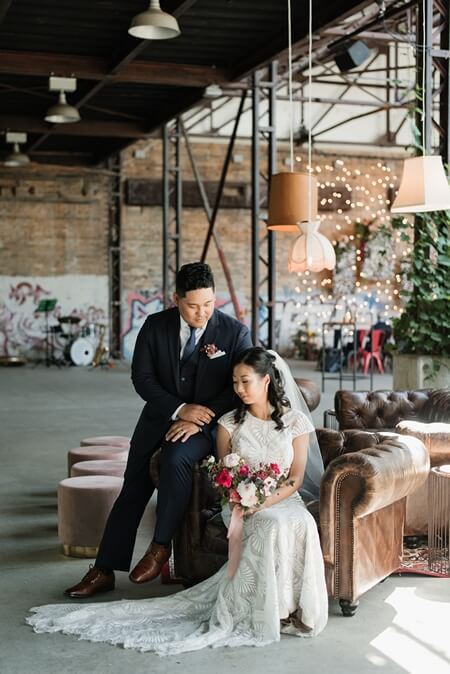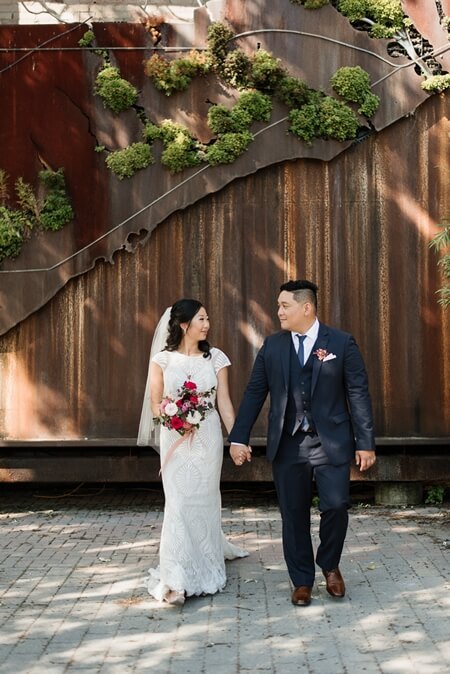 Photos Courtesy of Mango Studios
From the Couple: We loved the fact that some of the proceeds would go to a good cause, the simplified planning approach, the intimate setting and the fact that we could hold our ceremony at a beautiful venue like Evergreen Brick Works at a more affordable price! Our friends and family were excited about the idea when they first found out. It's bittersweet because most of them could not attend, but they were thrilled for us nonetheless. We're a practical pair, so we'll likely redirect most of our wedding savings to mortgage payments. However, we have started planning our honeymoon!
---
Manuela and Ivan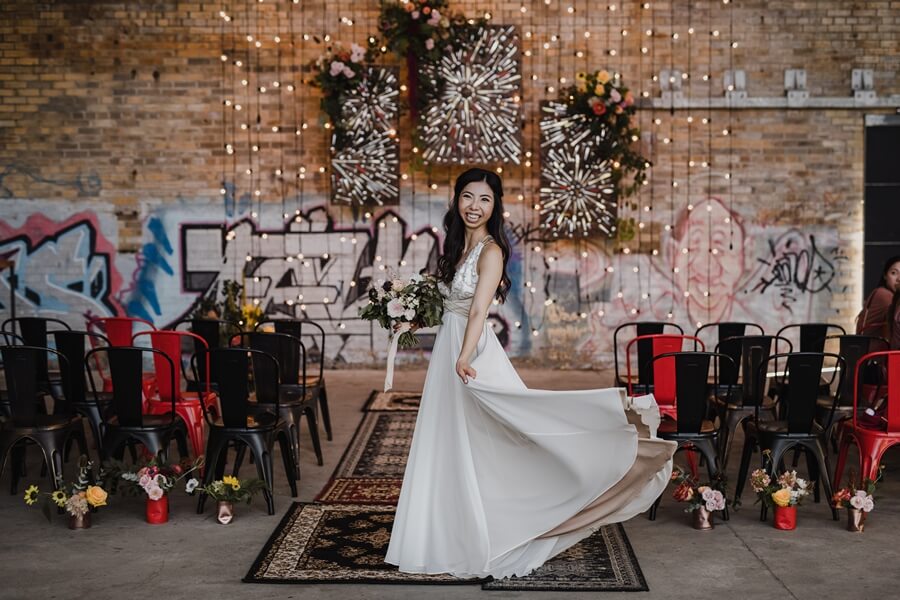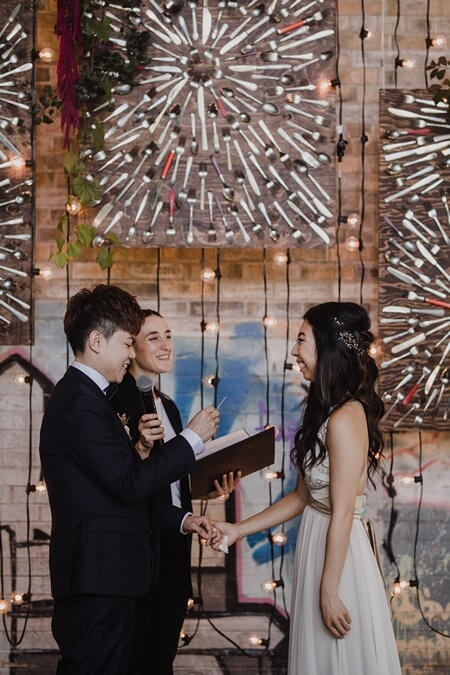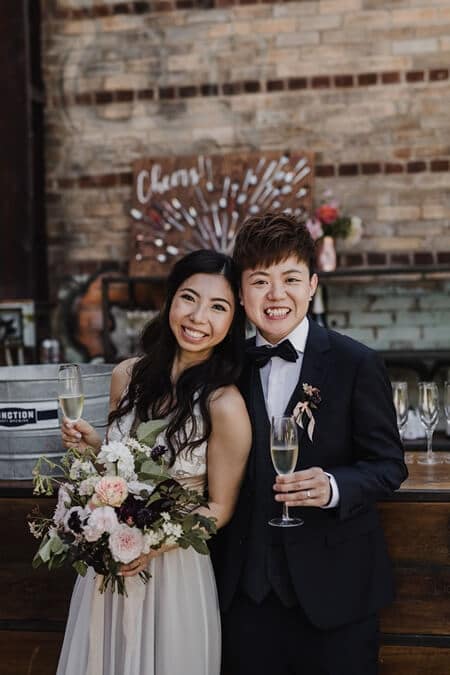 Photos Courtesy of Jennifer See Studios
From the Couple: We love the idea of a pop-up wedding as it is truly a simple celebration of love between us shared with the people closest to us. It's intimate, hassle-free & affordable. Our friends and family absolutely LOVED this too and thought that it was such an amazing idea. I mean, who doesn't love an intimate ceremony/wedding? It's short and sweet, and you can actually see and hear the couples' reaction and vows.
---
Michelle and Jason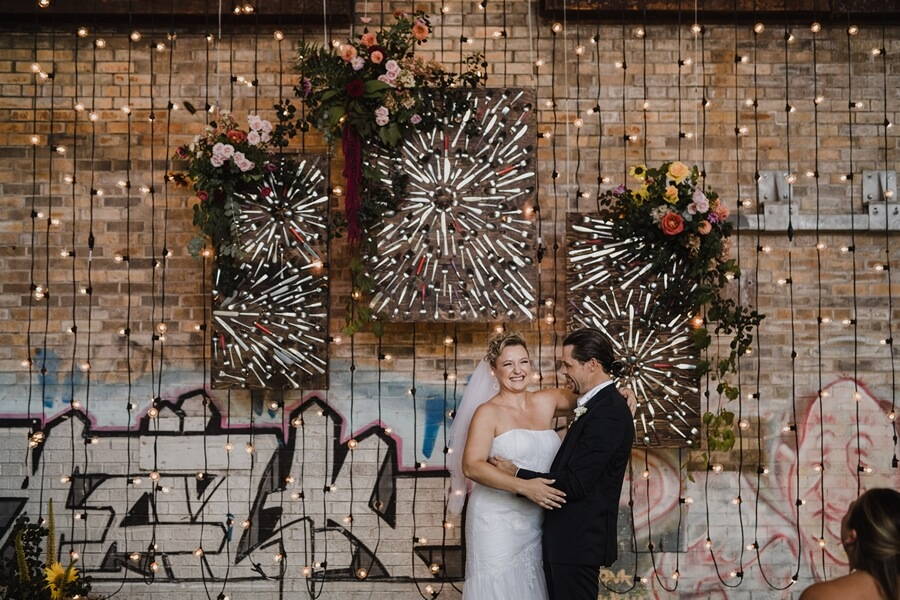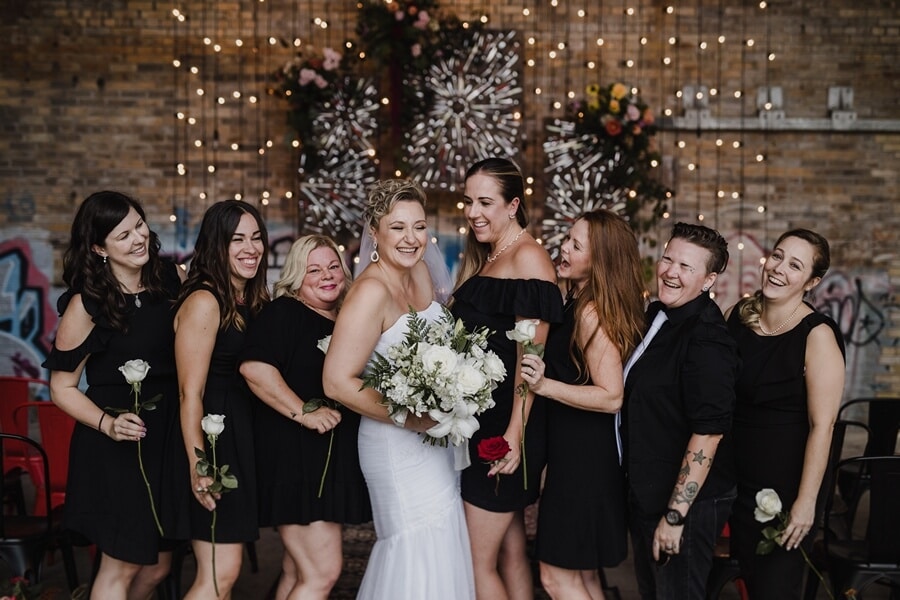 Photos Courtesy of Jennifer See Studios
From the Couple: A friend tagged me in a post on Facebook, since she knew that the thought of planning a wedding was very overwhelming for me. I kept saying that I wish I could just give someone money and just show up for the day. But, of course, hiring a wedding planner like that is completely out of our budget. I always wanted something simple but beautiful. When I read about Lynzie's pop-up wedding chapel, I couldn't believe that what I was looking for was right before me!
We wanted our wedding day to be special, but we also didn't want to throw away all of our saved money for one day. We want to continue to put our money away for our future. Being able to save thousands of dollars on a wedding will keep us on the path that we have been on. For us, being able to provide a home for our growing family is where the savings of a wedding day will do.
---
Cathy and Cameron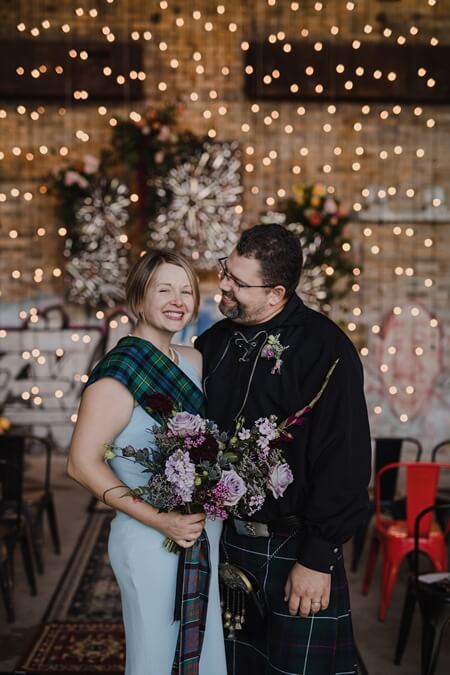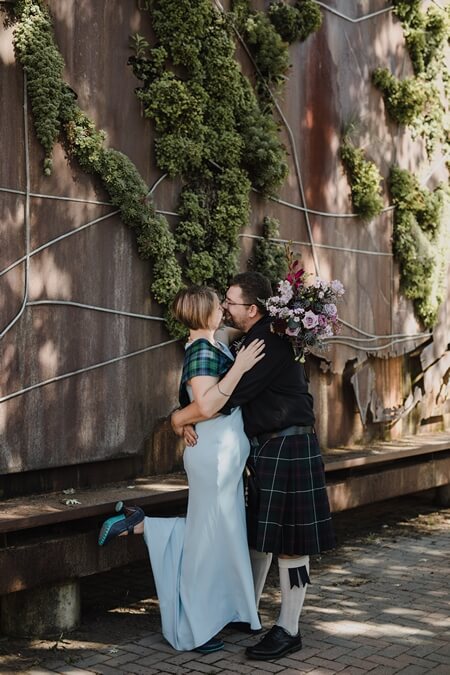 Photos Courtesy of Jennifer See Studios
From the Couple: The pop-up chapel popped up on our Facebook feed. We had been thinking about getting married for sometime, but didn't really care for all the pomp and circumstance. The pop-up chapel was perfect for us, and we also loved the idea that the ceremony would be in a rare location and that a portion of the fees went to a charity!
There was a lot of confusion when we told our friends and family that we were going to do this. They weren't sure what this "pop-up chapel" was. After we explained it, they were super cool with the concept!
---
Dongshin and Brad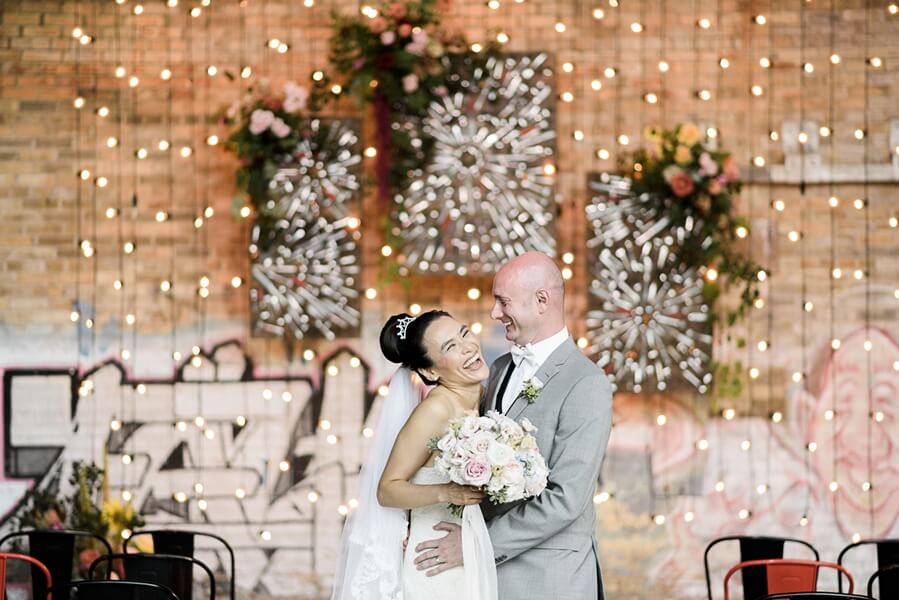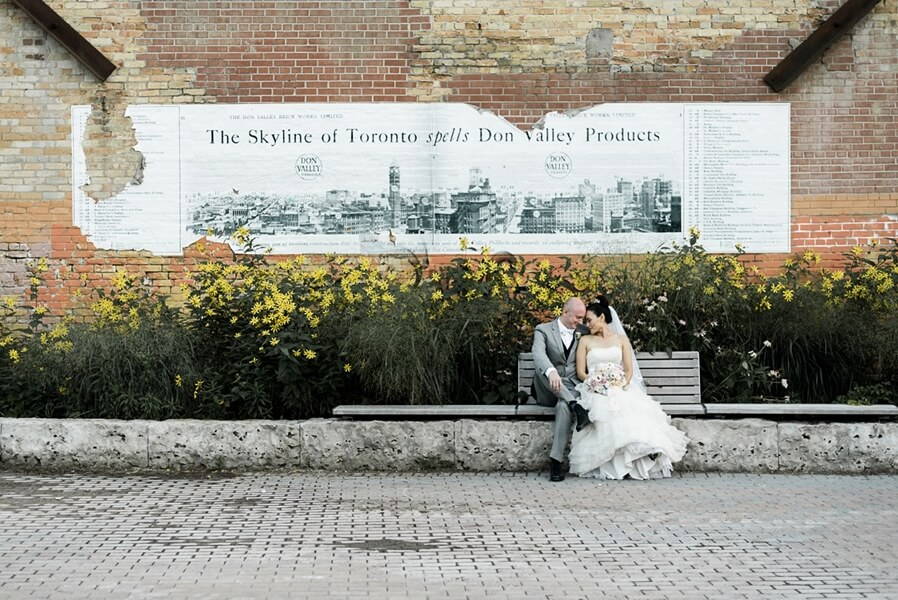 Photos Courtesy of Alix Gould Photography
From the Couple: We weren't originally planning on having a large or expensive wedding and were even looking into a small City Hall ceremony. Things grew from there. We needed to have a small reception, a dress, rings and obviously a photographer! So I started to look around and realized that nothing was available with our short timeline. Most venues are booked far in advance, and everything costs way too much for a single day event because it's a wedding. I had originally heard about a pop-up chapel on the news. I searched it online and found Love by Lynzie and sent an email to see if they were doing something similar again soon! Low and behold they were just about to announce the 2018 pop-up chapels. We signed up because it was easier, cheaper and fast, also the venue is fantastic and close to our home!
The money we saved is going into our dream honeymoon! We have enough money left over in our wedding budget to go for 2 weeks in Paris, Florence and Venice! We are so excited!
---
Julianne and Jeremy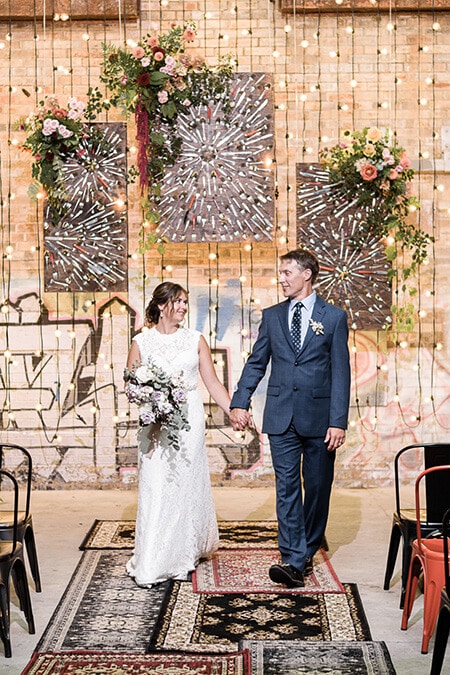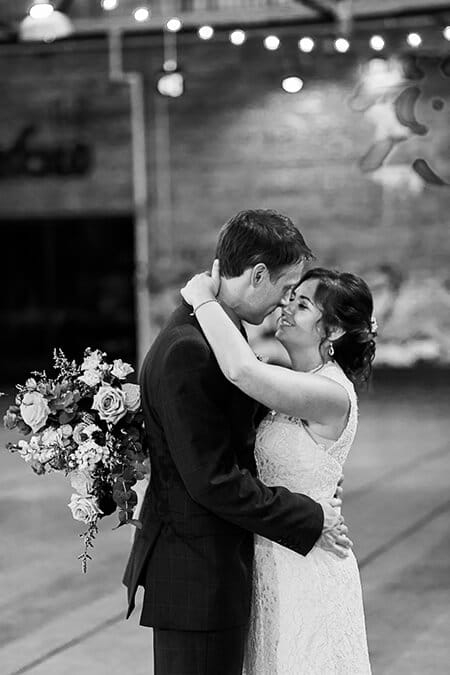 Photos Courtesy of Alix Gould Photography
From the Couple: We both really liked how simple the pop-up chapel was; neither of us really wanted the big traditional wedding. We really liked the location and that some of the proceeds go towards charity. Our family and friends were really supportive and loved the idea as well. After the chapel, we all went out for dinner. Recently we purchased a home that needs some renovations so the money we saved is going towards those.
---
Kaili and Andrew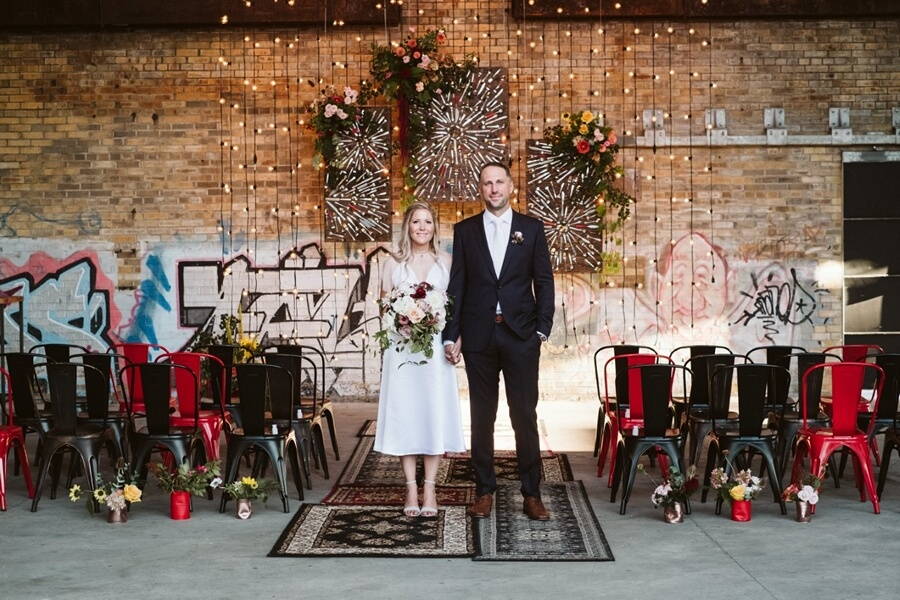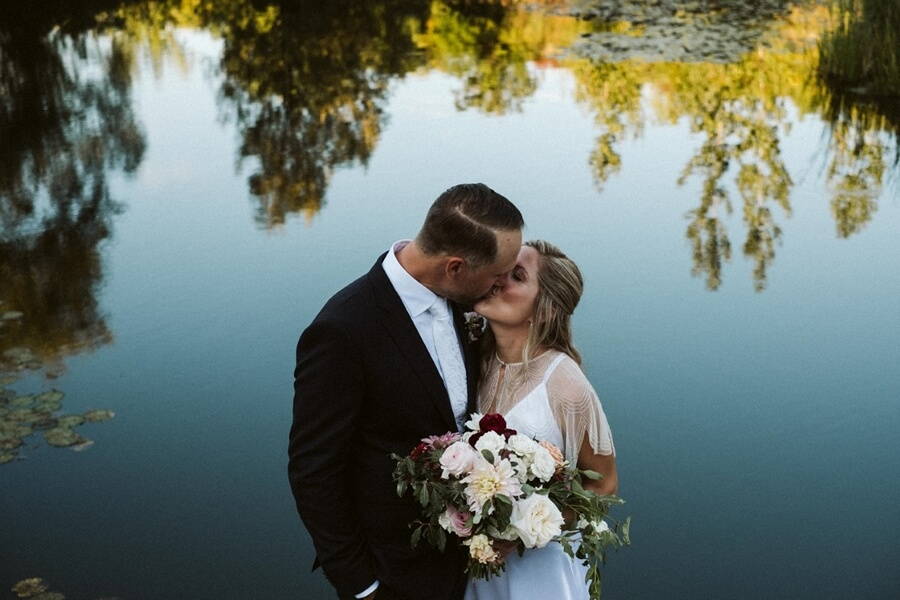 Photos Courtesy of TJ Tindale Photography
From the Couple: We never wanted anything over the top (financially) which in Toronto can be very difficult not to do. Also, I truly had no desire to do any wedding planning. City Hall was our next best option, however, it was just a bit too informal for us. I had clicked on an article through CBC about millennial's getting married in 2018 and came across the pop-up chapel. Everything about it was right to us, it was the perfect size, perfect setup, an unparalleled idea, affordable, and the cherry on top was the opportunity to give back to charity – across the board wins!
Our friends and family thought it was so fun and unique and agreed that it was perfect for us. Considering our City Hall wedding was just going to be the two of us, our families were thrilled they made the invite list!
---
Vass and Geoff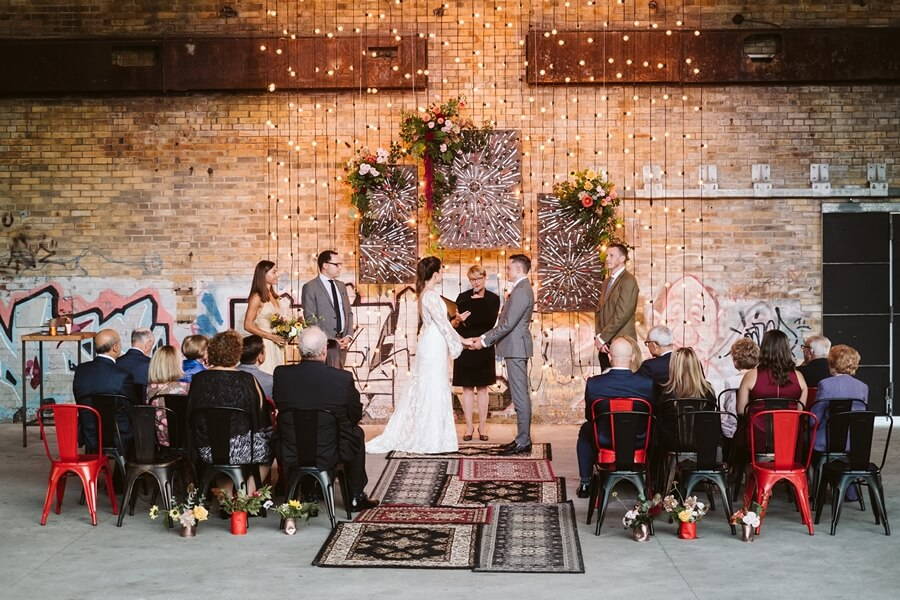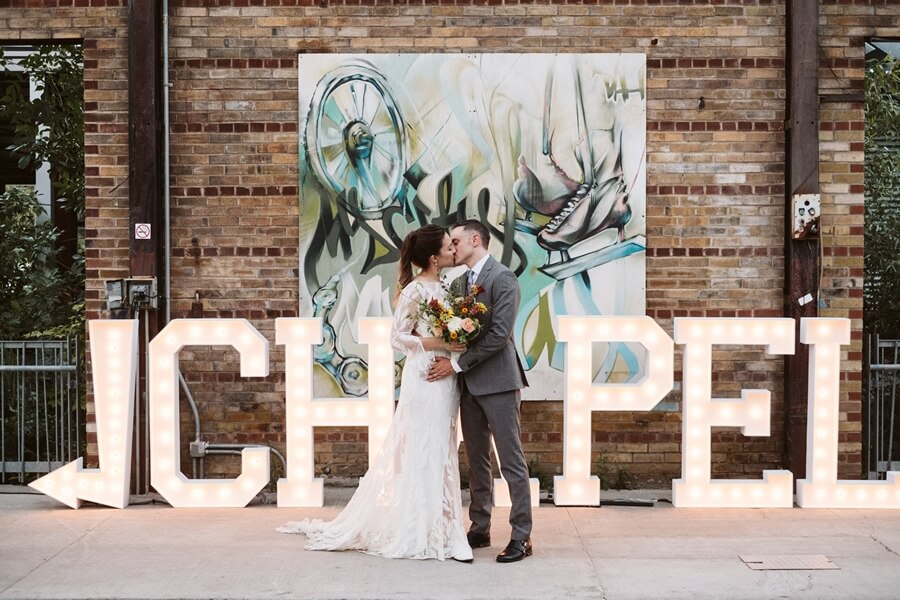 Photos Courtesy of TJ Tindale Photography
From the Couple: When we visualized our ideal wedding ceremony, we always pictured a small family gathering. But when you're planning something from scratch it's so hard to keep it from growing bigger and bigger. With the built-in limit of the pop-up, we were able to stick to our vision. We were drawn to the all-in-one package because of the simplicity and the element of surprise in terms of the decor and other details. It builds up the excitement not having to plan every detail ourselves! Plus, the Evergreen Brickworks is a historic part of Toronto that we will visit again as our lives go on.
Our family was initially confused (like, why is this not a Greek church?) but ultimately impressed by the intimacy and reasonable price. Our friends have been charmed and very encouraging. Many have remarked that they wished they went for a pop-up as they are in the midst of planning their own nuptials. It's such a fantastic concept.
---
Maria and Steve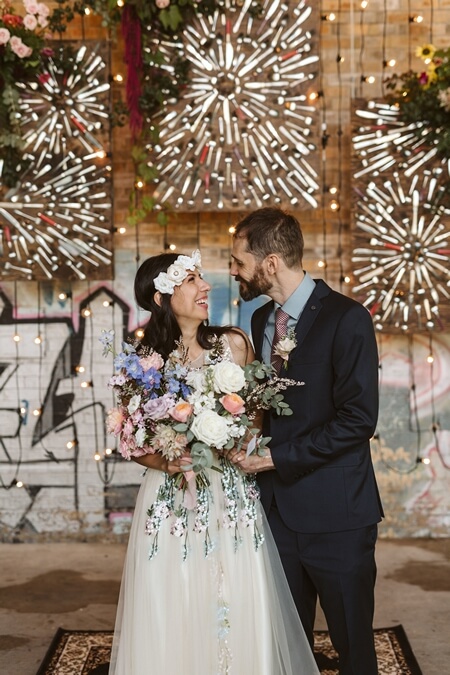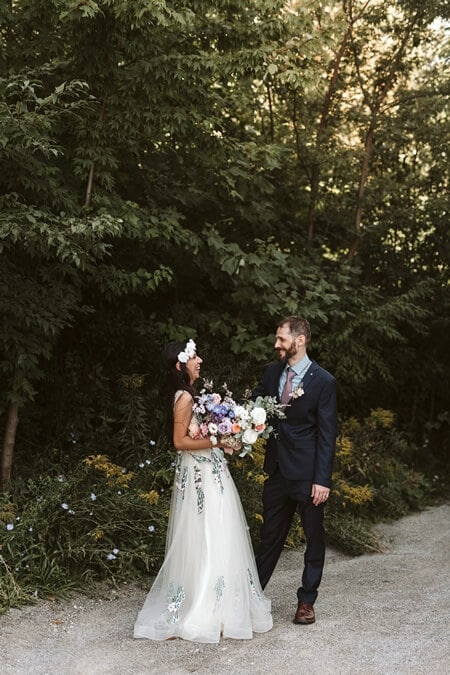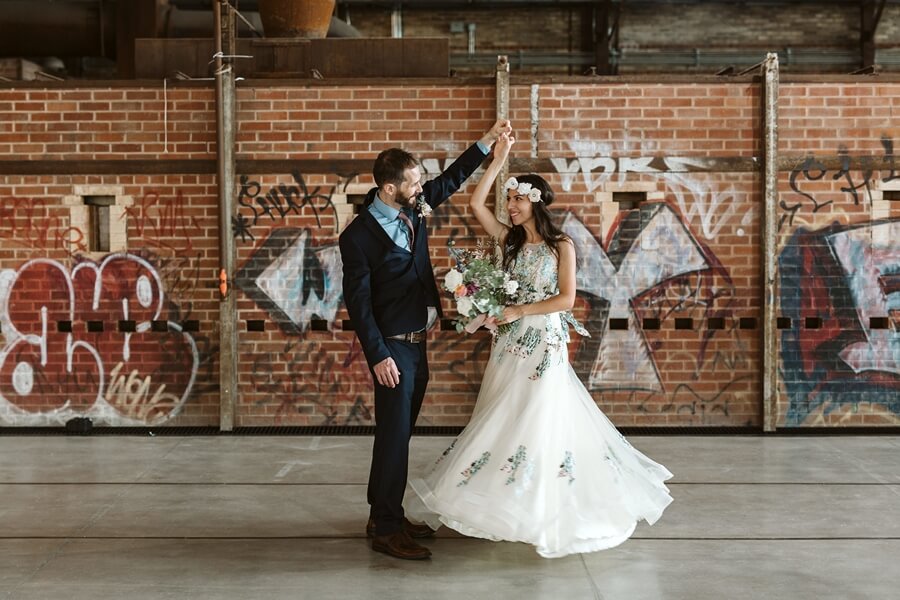 Photos Courtesy of Marcucci Photography
From the Couple: When we started planning our wedding, there were so many options which made it difficult to decide on the littlest of details. With full time jobs and opposing schedules this was a very convenient option for us. The planning of decor details are left to these great stylists at Love by Lynzie at a fixed affordable price, not to mention the theme of this pop-up was totally eco-friendly. We like the idea that everything essential is included in the package, i.e., officiant, photographer, etc. so you don't have to scout your own. All the planning is done for you, you're kind of like a guest at your own wedding which relieves a lot of stress of being a host and having everything going accordingly.
Living in the city in this economy and being in our prime 30's and 40's, we plan on saving our money for our future family instead of spending it on a traditional wedding.
---
Celine and Sumir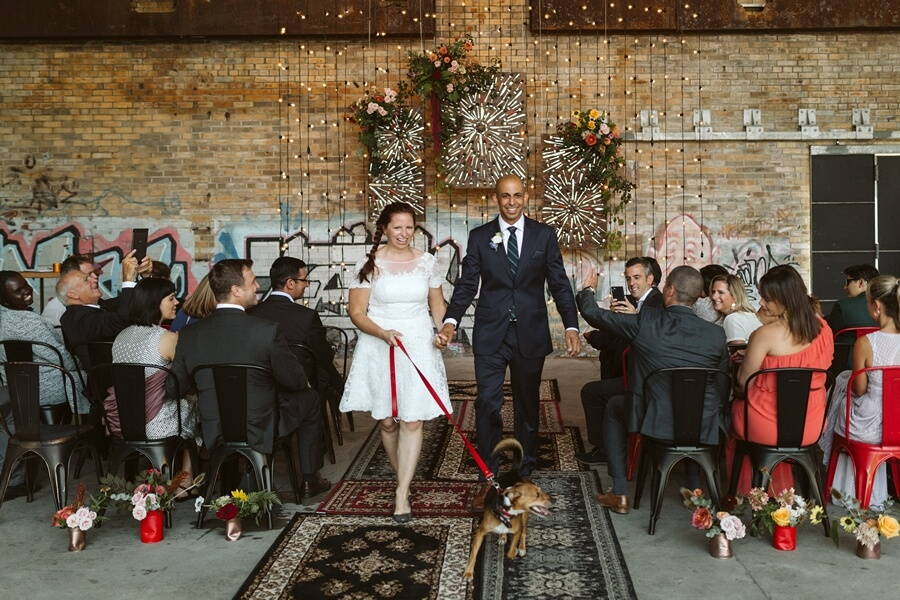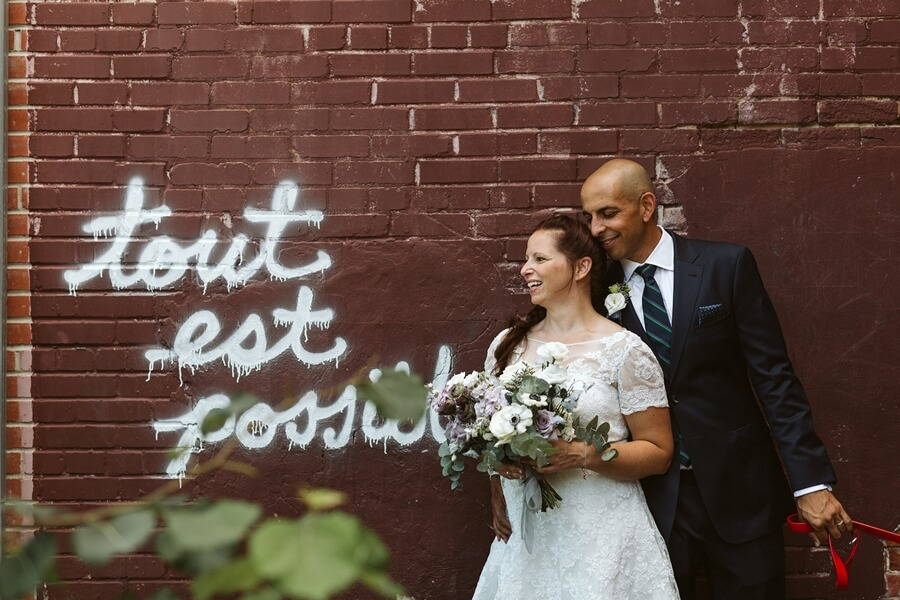 Photos Courtesy of Marcucci Photography
From the Couple: We were drawn by the idea of a simple and intimate ceremony, as well as the reasonable cost. Spending a huge amount of money on our wedding was never something that appealed to either of us, and the more we looked into the idea of a pop-up wedding, the more it felt very much in line with who we are and what we value. We love to travel, and try to focus our budget and spending on making that possible. While we don't have a big trip planned as a honeymoon immediately after the wedding, we are planning to travel to Italy for a friend's wedding & some hiking next year. The money we've saved by doing a pop-up wedding will definitely help!
To be honest, our friends and family required a little explanation. But once we explained, they were all very positive about the idea. Overwhelmingly, people we told were more excited by the idea of us getting married than the mechanics of how we were planning to do it. The small size means that not everyone we love could be with us for the ceremony, but because they love us back, they understood!
---
Heather and Patrick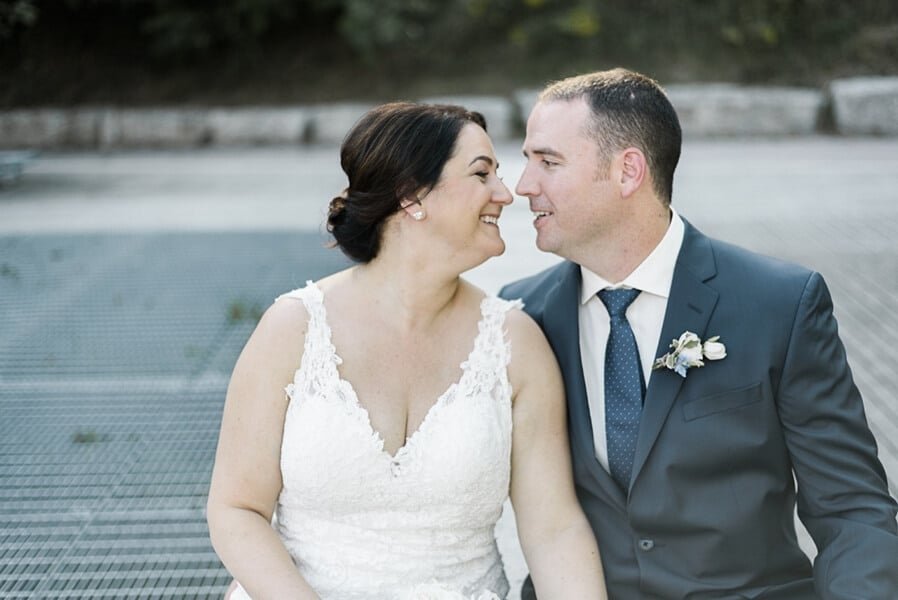 Photo Courtesy of Alix Gould Photography
From the Couple: Being a couple that has never wanted a traditional wedding, we immediately fell in love with the simplicity of a pop-up wedding. We love that we can relax and skip stressful wedding planning without sacrificing having a beautiful wedding. We did this without telling our family and friends – we eloped! With the money we'll save on a wedding, we plan to pay down our mortgage and get a pool!
---
Seem like a fit for your wedding style? The next pop-up chapel (presented by Love by Lynzie, Drake Catering and Mango Studios) is happening November 16, 2018 at the BMO Atrium at Evergreen Brick Works. A portion of the proceeds goes to supporting Team Dog Rescue!