This past Sunday, Toronto-area couples enjoyed the best of the Estates of Sunnybrook's hospitality with Pinterest-worthy inspiration at the McLean House, the Vaughan Estate, and the Coach House. With a plethora of Toronto's premier wedding vendors showcasing their incredible talents, we knew we were in for a treat! Each and every room was dressed to the nines with stunning decor, lush florals, and decadent sweets. With the help of some great live musicians and fantastic food, the entire day just felt so perfect – each room was a treat for the eyes, ears, and stomach!
If you missed it, don't fret, we've got you covered! The super talented photographers at Mango Studios and Olive Photography were on hand to capture the beauty of this elegant Open House. First stop – The McLean House!
---
McLean House
In the Bayview Room of the McLean House, guests were treated to stunning decor, designed by Simply Perfect (with the help of the team at MMD Inc.), and the enchanting music of Ambiance Flute & Guitar Duo. We loved the cozy atmosphere of this sun-drenched room, with big, beautiful windows and cozy fireplace. Thanks again to Anastasia at Olive Photography for capturing these stunning photos of the McLean House property!
Vendors Featured in this Article
Back on the main level, Fun Flower Stand was our next stop, and we weren't disappointed! These charming ladies created lovely (and super cute) accessories featuring fresh flowers for all of the guests in attendance!  This is a must-have for your next event!
Our friends at Brent Miller LIVE kept the crowd moving with lively performances of songs from all genres in their signature style. They even rallied up a little dance party at one point!
To keep energy our levels up, our next stop was a scrumptious treat from the very talented bakers at the cocoa cakery. My personal favourite was the salted caramel cupcake with salted caramel buttercream. I may have had two…
We were enchanted by the beautiful floral displays created by Berries and Blooms. We especially loved the long greenery and rose arrangement on the wooden table in the main room. Greenery is hugely in fashion now, and even features in Pantone's 2017 colour of the year.
---
Vaughan Estate
Next, we headed over to the oh-so-classical Vaughan Estate. Naturally, the entire space was styled to perfection! A big thanks to Ayyyna at Mango Studios for providing fabulous photos of all the happenings in this gorgeous space!
In the main reception space, Ken Delos Santos and Chantal Dube Harpist left guests speechless with their incredible performances. You may have caught a few live as we shared in our Live Instagram stories. If not, be sure to check us out on Insta!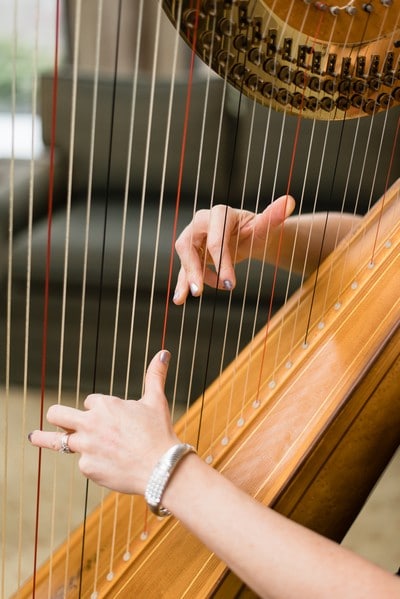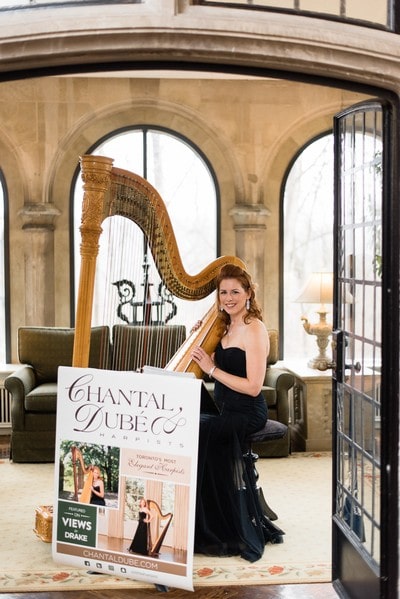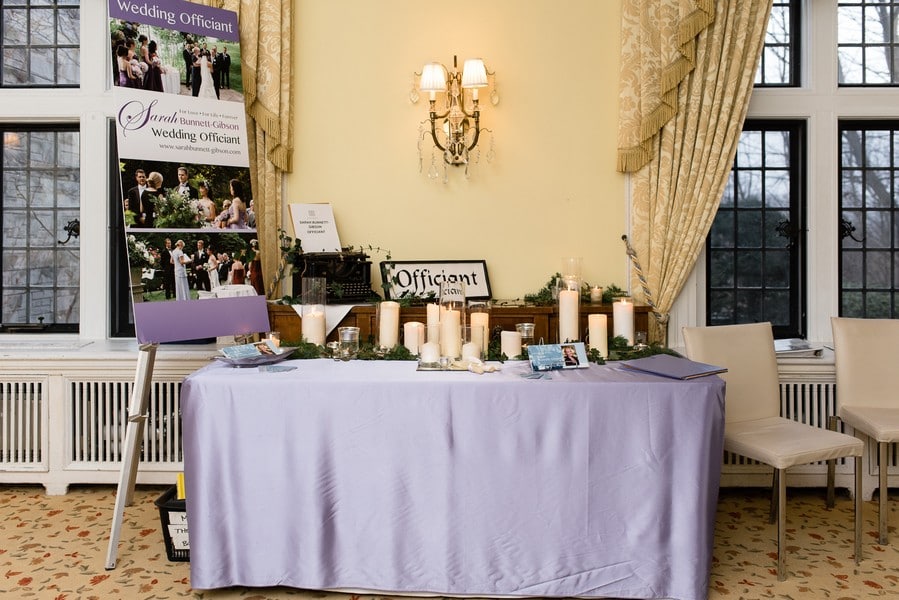 Lovely display for Sarah Bunnett-Gibson Wedding Officiant
The Main Ballroom featured standout floral designs by Fete Floral & Events. We loved the on-trend use of greenery on the sweetheart table and backdrop, as well as the matching chandelier behind the head table.
The main floor ballroom is the largest of the Estates of Sunnybrook's rooms. Charmingly appointed with Palladian windows, classic moldings and beautiful, rich hardwood flooring, it's impossible not to love this space! Here, guests were able to meet and chat with the venues' preferred vendors Mango Studios, Impact DJ, and Corina V. Photography.
Check out this gorgeous spread by Patricia's Cake Creations! For research purposes only, I stopped by for a yummy vanilla cupcake, and to admire the beautiful cake designs on display.
Upstairs in the Academy of Medicine, hot off her appearance on Cityline, Rebecca Chan Weddings & Events created this lovely ceremony inspiration. A standout feature in this room were the large paper flower displays on the ceremony backdrop and along the aisle. The sweet hand-lettering signage by Ink and Jo was a great added touch to personalize the space even more.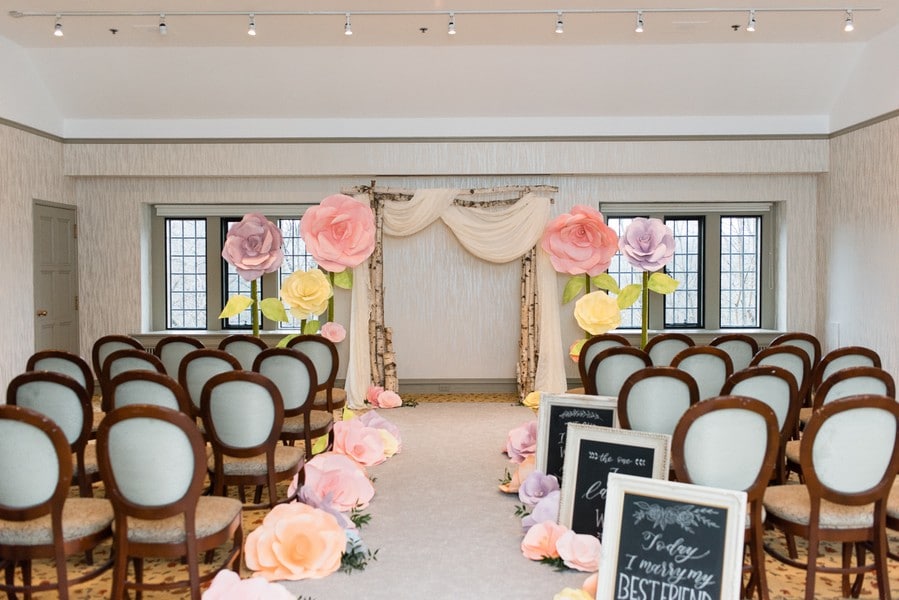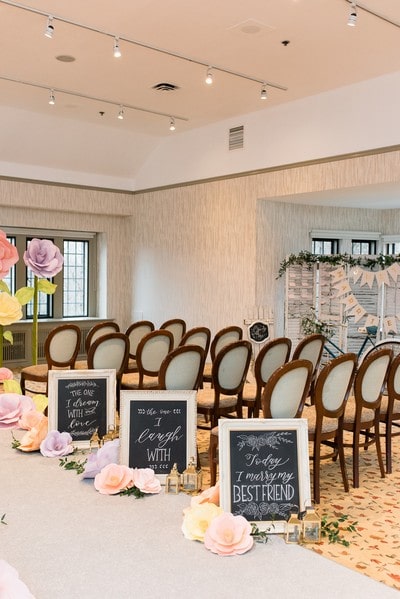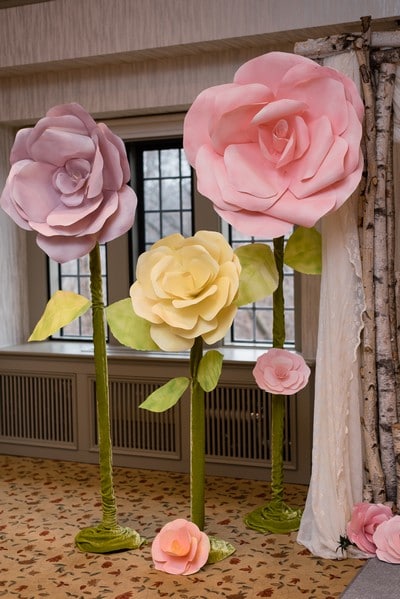 Large Flowers and XO table courtesy of Ettridges Decor
Bike Vignette Courtesy of Southern Charm Vintage Rentals
Orsi and Alex at Wellington Music serenaded guests with soothing classics, helping excited newly engaged couples envision themselves walking down the aisle.
In the Valleyanna Room, Phoebe Lo Events styled a classic and sweet ceremony set up with beautiful displays by Secrets Floral Collection and Cakelaine. We loved the details along the ceremony aisle, especially the hanging terrariums with individual floral heads!
Guitar hero Dunstan Morey Guitarist completed the feel of the room with soothing, ambient music as guests mingled nearby.
Continuing our tour to the lower level of the Vaughan Estates, the Courtyard Ballroom was styled to perfection by Fabulous Occasions and Wild Theory Floral and Event Design. Guests also met with the good folks at Maximum Music, Kim Lovell Photography, Snapshot Photobooth, DJiZM Entertainment Group, Alisa Gayle Piano and Montage Music. The venue was filled to the brim with other industry titans as well: Krista Fox Photography, San Remo Florist, eyecontact photography and Kettle Creek Weddings.
The venue's in-house catering team served up delicious fan-favourites, like house-made mac & cheese with chorizo, a build-it-yourself tacos station complete with gourmet fix-ins, and a yam and potato station, complete with house-made savoury sauces!
A huge thank you to the vendors who helped make this fab open house a reality, and to the hard-working team at the Estates of Sunnybrook for proving once again why they are one of the premiere event venues in Toronto.