What's the most popular thing about summer events? We're thinking outdoor patios, hands down! As all Canadians understand, summer is but a fleeting memory during most of the year which is why we love to indulge in the great outdoors when we can during the hot and short season!
If you're planning a summer event, you'll likely want to take advantage of the warm weather and book a venue with an outdoor patio. To make you're search easier, we've complied a list of venues right here in Toronto with fabulous outdoor spaces for your summer event! But, hurry! Winter is coming…
---
Globe and Mail Event Centre
The 3000 sq. ft. terrace at the The Globe and Mail Centre offers a stunningly dramatic 180° view of the downtown skyline to the west, Lake Ontario and Toronto Islands to the south and the city's rapidly transforming east end. The Terrace is ideal for fair weather cocktail receptions, corporate functions, casual gatherings or leisurely star-gazing.
Vendors Featured in this Article
---
Chez Lavelle
Sitting 16 stories above the hustle and bustle of the busy city, Chez Lavelle's outdoor patio offers a breathtakingly unobstructed 360° view of Toronto's city skyline! Take in the one-of-a-kind views, or go for a dip in the rooftop pool – whatever tickles your fancy!
---
Old Mill
The lovely outdoor patio at the Old Mill Toronto features views of the historic property in a peaceful, secluded atmosphere. You're sure to enjoy the lush gardens, historic views and delicious food no matter what the occasion!
---
Archeo
Bet you didn't know that Archeo had a patio – that's because it's so tucked away that it almost feels like a secret! This lovely outdoor addition to the space is extremely versatile and can be set up to accommodate a wide range of objectives and events.
---
Thompson Toronto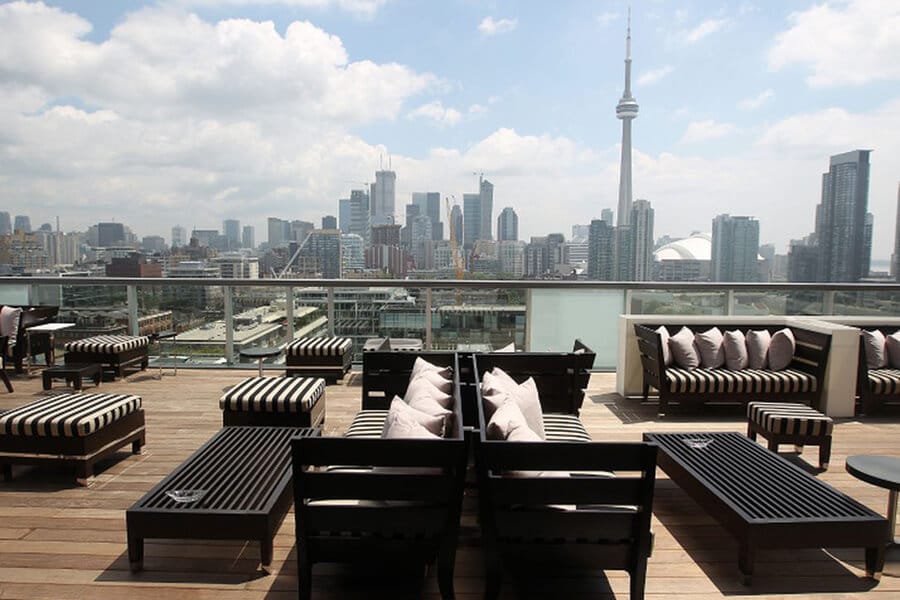 Photo Courtesy of the Toronto Star
With breathtaking 360° views of the downtown Toronto skyline and Lake Ontario, the rooftop patio at Thompson Toronto is perfect for a good ol' fashioned photo op or a nice breath of fresh air!
---
Steam Whistle
From May to October, guests at the Steam Whistle Brewery are welcome to explore their 2,000 square foot patio. The gorgeous outdoor space features cobblestone and embedded railway tracks leading to a fully functioning, restored railcar turntable – so cool!
---
Radisson Admiral
You'll definitely be inclined to bring your event outdoors at the Radisson Admiral Hotel - Toronto Harbourfront! Their Lakeview Pool Lounge provides an oasis in downtown Toronto where your guests can take in the stunning views of Lake Ontario and the Toronto skyline!
---
Estates of Sunnybrook
The extended grandeur of the Vaughan Estate at the Estates of Sunnybrook is a serene, intimate addition to the historical grounds. Surrounded by lush gardens and stone pathways, it's a picture perfect, peaceful space for your guests to enjoy a breath of fresh air!
---
Alton Mill
Mixing rustic charm with imagination, wonder and industrial chic styling, the outdoor patio space at Alton Mill Arts Centre brings the venue's vintage vibe outdoors!
---
Malaparte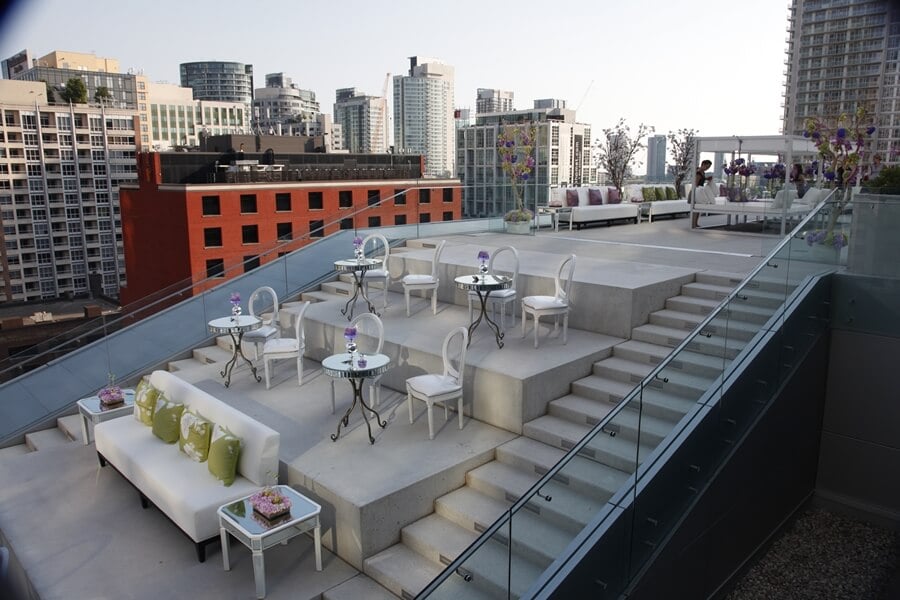 Photo Courtesy of Nikki Mills
Reminiscent of the roof of Villa Malaparte in Capri (where Jean-Luc Godard shot Le Mépri), the stunning rooftop terrace at Malaparte - Oliver & Bonacini sits on the 6th floor of the TIFF Bell Lightbox and offers breathtaking cityscape views – it doesn't get much better than that!
---
The Broadview Hotel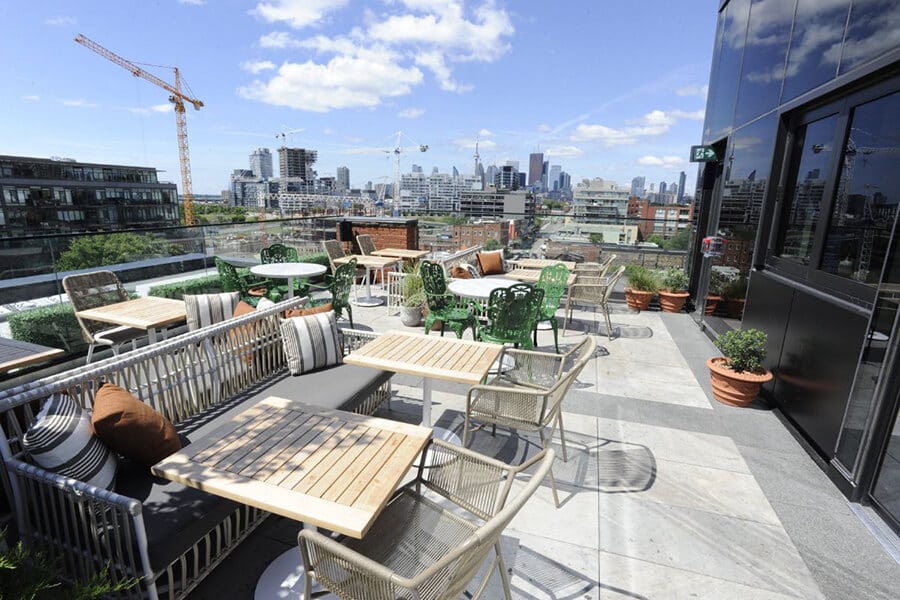 Photo Courtesy of the Toronto Star
Connected to Lincoln Hall at the The Broadview Hotel sits the beautiful 1,000+ sq. ft. Lincoln Terrace. Perched right above Queen St., this outdoor space offers spirited views of Riverside and includes a fully equipped custom bar, an integrated sound system AND WiFi!
---
The Burroughes
The rooftop terrace — or "7th Floor"– at The Burroughes is included in your venue rental of the space on the 6th floor! Offering a spectacular 360° view of the city skyline the space also includes a bar and lounge area with a capacity of 140 guests – need we say more?
---
Airship 37
Stylish garage doors at Airship 37 open both of the venue's spaces up to a unique, eclectic patio area featuring a vintage Airstream bus – talk about a one-of-a-kind VIP space!
---
Brassaii
The gorgeous courtyard patio at Brassaii is equipped with 2 full service bars, a private deck, a projection screen, flat screen TV's, LED lighting and a sound system – talk about all the bells and whistles!