Let's face it, weddings and special events are expensive – and new costs pop up at every turn. So, when it comes to investing in event insurance, you might be thinking "do I really need it? I'm sure everything will be fine right?" Well ideally, yes; but as the old saying goes… stuff happens! The last thing you want is to have to cancel your wedding last minute and not only be out all of your deposits and payments, but also have the burden of paying for another wedding later on. It's for this reason we highly suggest getting event insurance. If you don't know what is special event insurance then keep on reading.
For a pretty reasonable cost, you get the peace of mind knowing that if something goes sideways, you won't be out all of your money. People tend to have a lot of questions on the topic, so we did a little bit of research and found a few important things your event insurance will cover.
---
1. Reimbursement for a vendor no-show: Now, if you find your vendor on EventSource, the chances of this happening are pretty dang slim, but let's say you have a friend who has an uncle who knows a guy who runs a wedding photography company on the side. Whether through extenuating circumstances, or they straight up choose to ghost you, at least this way you can make sure you get your money back.
2. The cake or flowers get ruined: While worrying about your cake or flowers getting ruined seems frivolous, both these items are delicate and can be expensive. With event insurance, you can be sure that if one or the other is to not make it to the wedding, you're covered!
3. Theft: One of those things that we don't like to think about, but it does happen. Wedding crashers, disgruntled venue staff and even guests have been known to disappear with some expensive wedding gifts. To make sure you and your friends and family aren't out hundreds or even thousands of dollars, it makes sense to protect yourself.
4. Protection from liability: Let's face it, you want your guests to have fun but what if they have a little too much fun? If one of your guests gets injured or the venue gets damaged, you could be sued and potentially be on the hook for some serious moolah – not exactly how you want to start newlywed life, right? While event insurance can't protect you from having lousy friends, you can breathe a little more easily when your classy cousin breaks out the beer funnel at your reception.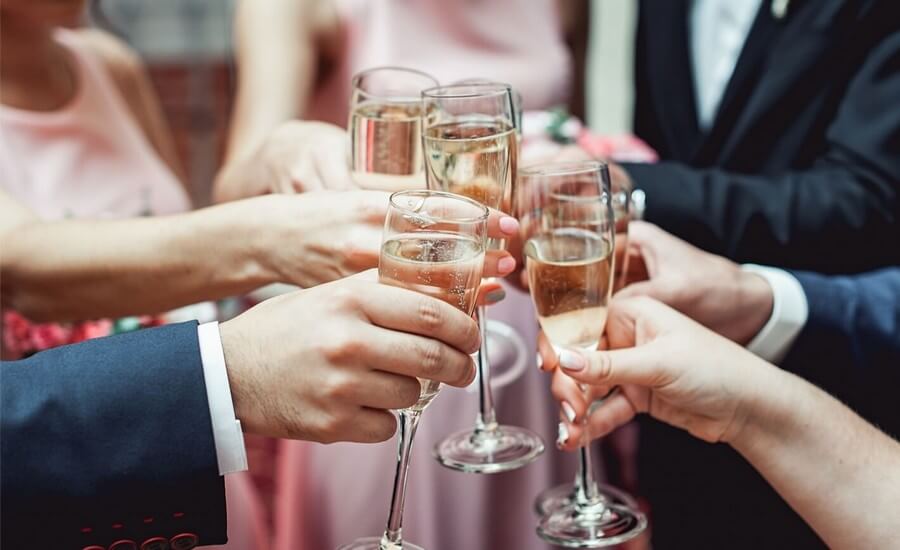 Photo Courtesy of stories.avvo.com
5. Rescheduling the wedding: This is the big one – and if you only need one reason to get wedding insurance, this is it. Rescheduling a wedding takes a lot of work and depending on how far out you are from the day, vendors might not be able to accommodate a switch and are unlikely to give your deposits back. This way, whether a family member gets sick or there is a massive snow storm on your wedding day, you can rest easy knowing that if you do need to reschedule, you can still swing it without being out of pocket.
You May Also Be Interested In
Remember that event insurance isn't quite as "fun" to openly discuss as your dress, your flowers, your invitations, and so forth. As a result, many assume that issues are uncommon and that insurance isn't required. While it may seem tempting to save a bit of money on something that you hopefully won't need, for a relatively low cost, it's nice to have the have peace of mind knowing that you're covered in a worst-case scenario. Trust me, you don't need the hassle!
---
We wanted to include a few Canadian event insurance providers who can help you out so we reached out for some info.
PAL Canada
The term "Party Alcohol Liability" was coined by the founder of PAL Canada to describe the specific type of insurance required for special events serving alcohol – so why not name your entire company after this, right? Completely Canadian owned and operated, PAL Canada offers an in-house claims team dedicated to ensuring that you're covered in case your event does not go off without a hitch!
Front Row Insurance
Front Row Insurance offers an easy online tool to insure your event with policies starting at $105 and can cover up to $5,000,000 in general liability coverage – not too shabby!
Duuo
Providing coverage for a wide variety of special events from weddings and bridal showers to meetings and workshops, Duuo Event Insurance also offers easy event insurance registration directly from their website. In the unfortunate event that you do have to make a claim, you can also do so entirely online. Convenience is king!