To say that the COVID-19 pandemic has thrown a wrench in the plans for the many who were planning a big celebration is a dramatic understatement. These restrictions have challenged the special events industry to start thinking outside the box and quickly innovate in an effort to adapt to current times. To that end, many across the industry from planners, to officiants, to photographers, have come together to collaborate on special wedding planning packages that manage to adhere to all the current rules and restrictions.
If you've postponed your special day due to the pandemic but still want to celebrate on your original date with a small ceremony, or if, as restrictions ease, you're looking to host an intimate celebration with those nearest and dearest to you in compliance with WHO and Health Canada guidelines, you may just find the perfect solution below.
---
Elopement and Micro Wedding Planning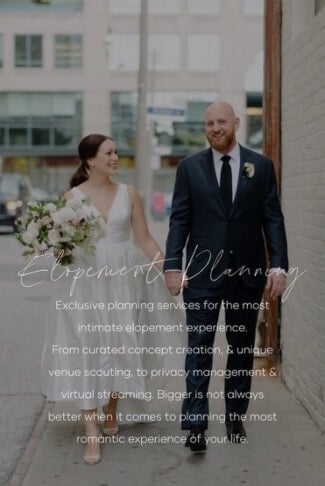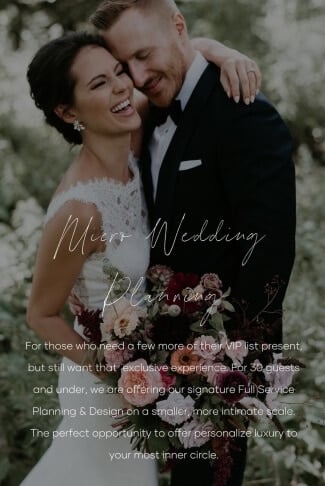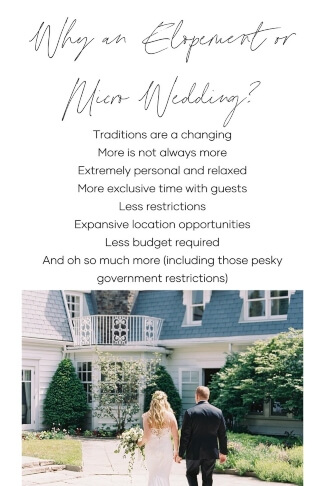 "Bigger isn't always better and we are here for it! We intrinsically foresee smaller intimate wedding celebrations taking the lead and the insurgence of more experiential weddings becoming popular. Because of this, we are offering new services to accommodate these changing times. Our new Elopement and Micro Wedding Planning Packages give clients the benefit of all the bells and whistles of our Full Service Planning & Design on a smaller and more intimate scale. The perfect opportunity to offer personalized luxury to your close inner circle. From design and budgeting, to virtual streaming and privacy management, we are excited at the opportunity to plan creative and innovative new ways of celebrating love."
– Shealyn, Shealyn Angus Weddings & Events
Vendors Featured in this Article
---
White Glove Wedding Delivery Service
View this post on Instagram

"Because of COVID-19, couples are being forced to reschedule their wedding celebrations. We understand that it is difficult to let go of the special date you have picked, and then having to wait months, or sometimes up to a year later, to celebrate together. So many of our clients are in this same position, and we know the heartbreak they are going through.
We're helping couples commemorate their original wedding date with a wedding delivery service of curated vendors delivered to their door. This turnkey service is a mini wedding in a box, a premium service for couples who still want to celebrate in style!"
– Rebecca, Rebecca Chan Weddings & Events
---
Event in a Box
View this post on Instagram

"We miss those days when we could dress up nicely, and enjoy a fine dining experience with our friends and family. To continue showing our love and support, we partnered up with some amazing industry professionals to deliver a virtual event experience to your homes. Whether it is an anniversary, proposal, birthday party, bridal shower, baby shower, intimate wedding, mother's day or any other celebration, we've got you covered!"
– Fidan, Designed Dream Events
You May Also Be Interested In
Wedding Night In
View this post on Instagram
"We're wedding people, and we really feel the disappointment and heartbreak that you feel if your wedding has been postponed. So we wanted to do something extra special to help you commemorate your original wedding date while you wait for your big reception. Treat yourself to a Wedding Night In Box and celebrate your day together safely at home."
– Katie, The Event Design Co.
---
Love Conquers All
View this post on Instagram
"You can have the most picturesque outdoor wedding ceremony in the year you intended and celebrate without excluding anyone next year. These intimate weddings are ideal for couples looking to have up to 40 guests. On Saturday August 15 & 16 at McMichael Canadian Art Collection, we will be hosting a series of micro-weddings."
– Tanya, Classy Affairs
---
Luxury Elopements
View this post on Instagram
"I've always believed that beautiful weddings need to be more accessible, and with this in mind, Fete Floral & Events and I decided to work on a series of luxury elopements. With the rise of COVID-19, we've added in social distancing protocols so when the world of weddings opens up once more, we can ensure the safety of all of our guests.
The concept is simple and promotes accessibility and sustainability – pick a date and theme, show up ready with your marriage license and crew and leave the rest to us."
– Alisha, Events by Whim
---
The Elopement Edit
View this post on Instagram
"2020 has been a year of unexpected twists in many modern-day love stories. And we know so many couples have had to rethink, postpone and re-envision how their wedding plans will be carried out & when. In collaboration with some of our dearest of vendors friends, we have come together to offer couples in the Toronto Area, a beautiful solution to putting the party on hold, but not the marriage. We recognize that for many couples, being married this summer is still what they hold most important."
– Laura and Ellie, Muse Event Co.
---
Luxurious Little Weddings
View this post on Instagram
"Our Luxurious Little Wedding packages are not pop ups! You select the time and date that suits you and we pull it all together.
These are challenging times but we have partnered with some of the most coveted industry vendors to provide couples with an extraordinary opportunity to marry in a stylish , romantic and authentic way this year."
– Karina, Karina Lemke
---
Micro Wedding Packages
View this post on Instagram
"?We are officially offering Micro Weddings! With almost a decade of experience in the wedding industry, we've developed a keen fondness for smaller celebrations. We also understand the incredible investment weddings can pose and felt compelled to offer a budget friendly, all in package option for those looking for something more petite and packaged. Allow us to do the work for you, so you can step into your styled and thoughtful celebration with some of Toronto's top wedding vendors by your side."
– Alex, Blush & Bowties?
---
Perfectly Petite
View this post on Instagram
"We understand how heartbreaking it is to have to postpone, cancel or downsize your wedding due to COVID-19 and it is not an easy position to be in. Our Perfectly Petite weddings are perfect for couples that are seeking an intimate celebration with their closest friends and family.
Working with some of the top vendors in Toronto, we will be celebrating love in the most magical way. Our all inclusive petite package includes all the important details without all the stress. 30 of your specially invited guests will celebrate with you at our one-of-a-kind experience. We'll take care of all the planning and you show up ready to celebrate!"
– Jeannie, A Blush Moment
---
The Backyard Movie Experience
View this post on Instagram
"We are so excited to introduce our new service – The Backyard Movie Experience! Why not commemorate your original wedding date, bridal shower or bachelorette with a fun get-together for you and your bridesmaids. Eat, drink and watch a hilarious movie on a huge inflatable movie screen from the comfort of your backyard."
– Michelle, Fab Fête Event Planning Boutique
---
Beach Elopement
View this post on Instagram
"Still have your heart set on getting married this season? Why not have a unique, intimate ceremony at the beach in Toronto ? Packages include a "picnic basket" of light refreshments made especially for you and your witnesses by one of our local artisanal cafes."
– xoLife Celebrations
---
A Little Picnic For Me & You
View this post on Instagram
"As the warmer weather lies ahead, we created a way to still be able to celebrate the special moments in our lives. A picnic is the perfect way to enjoy the outdoors while still maintaining safe social distancing. With the location of your choice, whether it be a park or even your backyard, a picnic with a loved one is the cutest alternative during this time."
– Patrizia and Bianca, Blushing Aura Event Coordination & Design
---
Elopement Package
View this post on Instagram
"Yesterday, the province announced they will allow up to 50 people to attend outdoor weddings.? There will, however, still be a limit of 10 people at the wedding reception for dinner. WE can still accommodate this number for dinner on the outdoor patio at The Royal Ashburn at an extra cost. ?Contact us for more details."
– Francesca, by Francesca, xo Weddings & Events
---
Micro Weddings and Elopements
View this post on Instagram
"We have added some services to accommodate all couples who still want to make their wedding day happen with all the beautiful design details they envisioned for their special day. Whether your planning a small ceremony or a micro wedding we will carefully design an intimate space with details that will create a safe and beautiful atmosphere to ensure your day will be just as memorable as you imagined."
---
Micro Wedding and Elopement Packages
View this post on Instagram
"We have been getting inquiries about micro weddings so we've created packages with everything you need for your elopement, pop-up or micro wedding in one place. For laid-back couples who like to be swept off their feet on their wedding day without reeling from the high costs."
---
Elopement and Intimate Ceremony
View this post on Instagram
"This package is perfect for couples who have had to postpone their wedding but would still love to get married on their initial date or for couples who love the idea of eloping but aren't sure where to begin. Simply show up + marry the love of your life, worry free!"
– The Memory Vine
---
Micro Wedding Packages
View this post on Instagram
"Imagine marrying the love of your life in front of an intimate group of your nearest and dearest, on a perfect evening surrounded by stunning city views. From groups of 5 up to 40, this is a once-in-a-lifetime moment to access the best terrace and hottest venue in the city for a unique private celebration."
---
Micro Weddings
View this post on Instagram
"We're bringing you literally the easiest way to throw a micro wedding. With flat rate packages that include everything you need, you just choose and then chill!"
– Lynzie, Mad Bash Group
---
Micro Ceremonies
View this post on Instagram
2020 summer dates now available for your beautiful and intimate wedding ceremony at Evergreen Brick Works!
---
Elopement Packages
View this post on Instagram
Say "I Do" at Cambium Farms this summer! Their elopement packages have ceremony spaces to choose from; The Barn, The Lawn, The Byre and The Carriage House.
---
Weddings to Go
View this post on Instagram
"Experience the amazing gourmet cuisine of the Mississauga Grand, brought straight to your home or venue of your choice ?providing you a one-stop planning experience!?"
– Mississauga Grand Banquet & Event Centre
---
Micro Wedding Package
View this post on Instagram
"2020 has pushed our boundaries and forced us all to adapt and change with the time. So, if your dreams of a 2020 wedding have not gone as planned, we are here to offer you a ray of hope. Sure, it would not be the same as throwing a grand celebration with all the friends and family present, but it's an intimate, memorable and meaningful way to still keep your wedding date and celebrate together. And hey, who wouldn't want to tell the grandkids how you celebrated love in the midst of chaos that was 2020?! From the venue, officiant and the catering and décor, we take care of every detail to make sure you can live in the moment without a worry on your mind."
– en Ville Event Design and Catering
---
Micro Weddings and Elopements
View this post on Instagram
"We have curated lovely styled packages for you to choose from which are complimentary with your elopement. You don't need to give up the dream of a beautiful wedding… just adapt!"
---
Lovely Little WeddingTM
View this post on Instagram
Graydon Hall Manor have recently introduced a new package called Lovely Little WeddingTM! The package costs $800 for a 2-hour rental of the Coach House and/or gardens for a wedding ceremony & photos. This is an elopement package designed for 5 attendees: bride, groom, witness, officiant and photographer. Email [email protected] for details.
---
Intimate Weddings in the Ballroom
View this post on Instagram
The Fairmont Royal York is welcoming couples to elope this summer in their infamous Ballroom – just the two of you! Packages are available from June 1 2020 to September 6 2020, and come with a 10% discount on 2021 wedding packages for when you can celebrate with all of your loved ones when the time is right.
---
Luxury Petite Wedding Collective
View this post on Instagram
"Rare times call for rare opportunities. On August 22nd, 2020 celebrate your marriage with loved ones in the Shangri-La Hotel, Toronto. Every moment is carefully planned and designed for ultimate luxury and intimacy so you can forget about the times we are in and be free to celebrate."
–  Dukes & Daisies Weddings & Events
---
Le Petit Wedding
View this post on Instagram
"2020 is the year of modern love stories & we recognize that many of you do not want to wait another year to get married. But that doesn't mean it can't be special, beautiful & stress-free.? We've collaborated with some of the best vendors in the industry to help bring your wedding dreams to life no matter what! All you have to do is show up!"
– Sylvia, Le Petit House
---
Gracewood Elopements
View this post on Instagram
"On September 13, we are hosting intimate ceremonies at Gracewood Estates, Kurtz Orchards. All you need to do is have something beautiful to wear, and obtain your wedding license paperwork! Space is limited. Reach out to secure your spot, today."
– Danielle, Shaw Events