There's certainly no shortage of online wedding inspiration! But what happens if you're getting married in Toronto and the look you love was featured somewhere in Utah? Different venue, different vendors, different weather, different everything! This is why we love reaching out to local GTA wedding planners to feature some of their favourite looks from recent weddings. So, in true EventSource fashion, may we present to you a host of stunning local wedding inspiration from 13 of Toronto's top wedding planners.
---
Lustre Events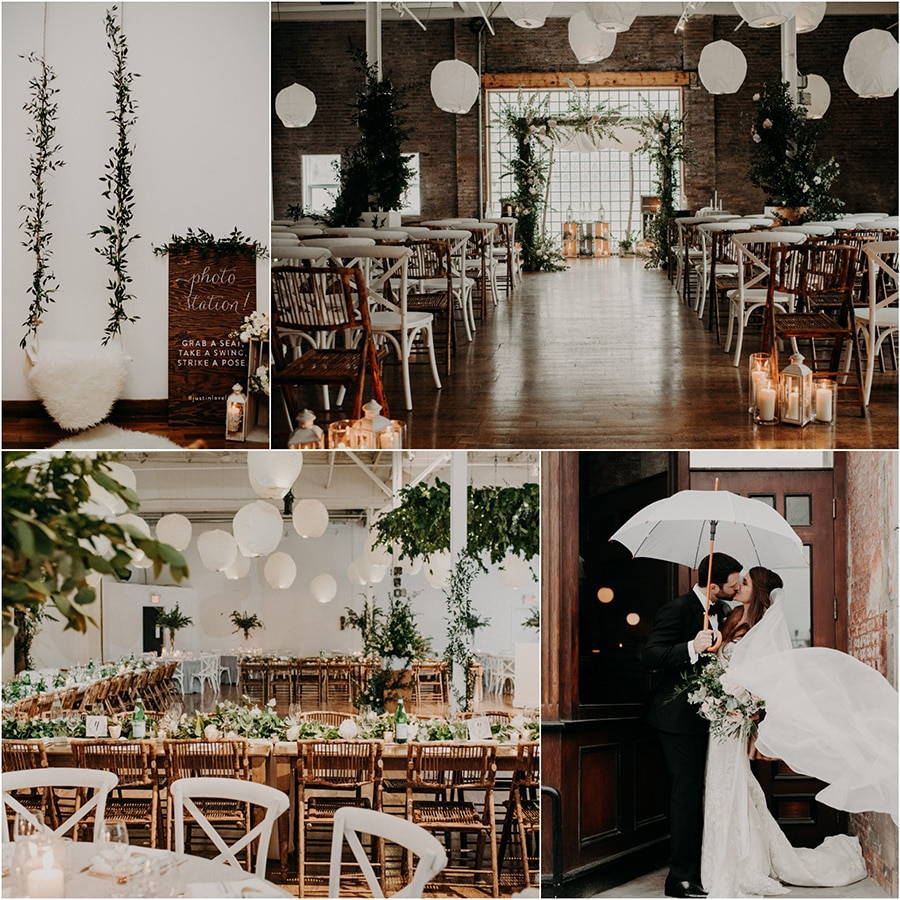 Photos Courtesy of Scarlet O'Neill
"Lindsay and Justin wanted their wedding to feel intimate and romantic like an enchanted forest! They wished for everyone to feel transported for the evening into an elegant botanical world. It was no small task in such a large industrial space, but all of their dreams became a reality that night under a glowing umbrella of lanterns and life.
The casual mixed seating and gorgeous chuppah that was covered in wild blooms created the perfect setting at the ceremony. Rustic crates were filled with wax dripped bottles and lanterns. The ceremony included meaningful traditions from their Jewish, Scottish, and Greek family backgrounds. After the vows, guests made their way to the patio and lounge for comforting hors d'oeuvres and cocktails while a roaming saxophone set the mood.
The reception space had tables filled with foliage and candles, a magical canopy created with flickering sky lanterns, and a ceiling dripping with greenery. The room completely came to life! Rose gold was the perfect accent on the stationery and place settings. Each guests' name was written on a river rock that had been painted and then waited for them at each seat. A romantically fun rope swing was paired with some fur to create a cozy photo station for guests to enjoy! It was an unforgettable celebration for two phenomenal people that make one another complete."
– Melissa Lukan, Lustre Events
Vendors Featured in this Article
---
Shealyn Angus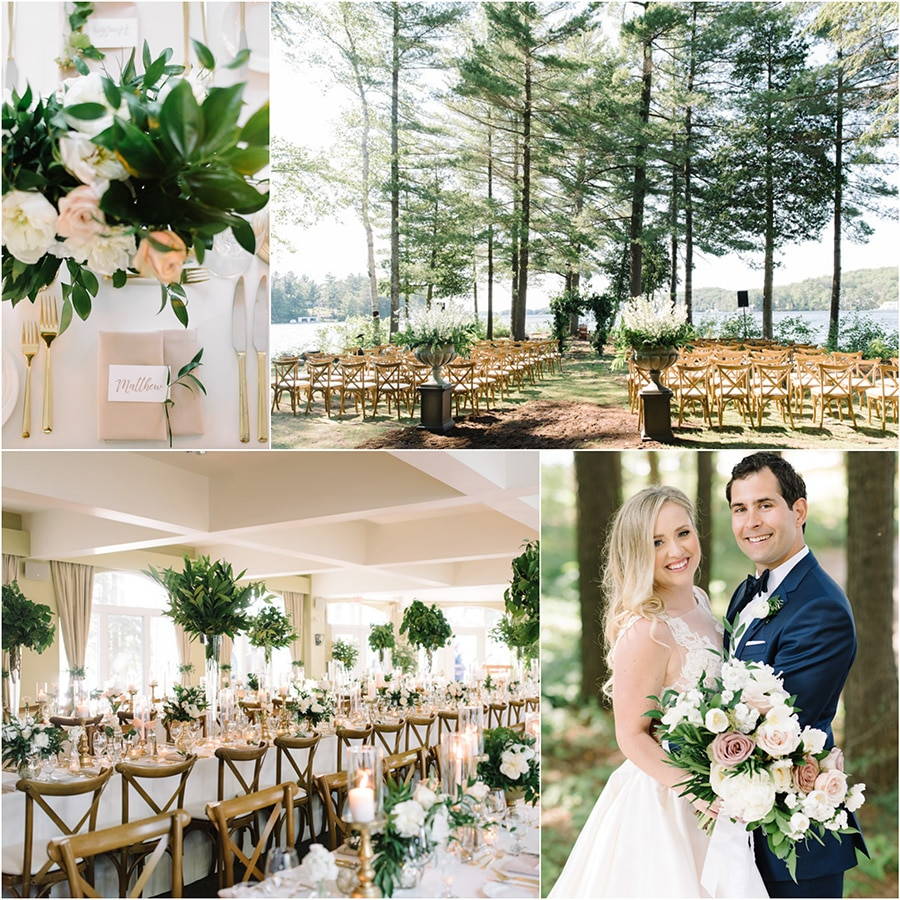 Photos Courtesy of Tara McMullen Photography
"Elynn & Joe's wedding was held on the most perfect summer day this past July. Guests enjoyed a weekend of Muskoka activities (including a chartered boat ride through the islands) and a beautiful wedding celebration on the lakeside point of the Sherwood Inn. Who doesn't love spending a weekend up in the most beautiful part of Ontario with gorgeous summer weather?
Elynn and Joe hired me to help design and coordinate the whole affair, allowing myself and florist Tanya List Designs to go wild with a beautiful garden inspired aesthetic and inspired details. The dining room truly felt like we brought the outside in, and the ceremony 'plan B' (it was the windiest day of the year and draped chiffon was just not going to happen!) was an absolutely stunning masterpiece arbour with the most amazing foraged greens and branches. Mix in beautiful white blooms, a ton of candles, and super personal stationery details, and you have the recipe for a gorgeous affair. Not to mention, Elynn and Joe hired some of my all time favourite vendors (Barb Simkova, Tanya List, Eric Frank) which felt like a weekend away with friends for all of us as well!
But the best part of the wedding was how much fun everybody had. And that was because Elynn & Joe led the march! They had fun morning till night, never stressing about anything and enjoying absolutely every moment. I always tell my clients "If you have fun, they'll have fun!" It's as simple as that. Not to mention, their bridal party surprised them with a customized "Elynn & Joe" sing along rendition of The Tragically Hip's 'Wheat Kings' to cap off the night. I mean, come on!"
– Shealyn Angus, Shealyn Angus Weddings & Events
---
O Weddings & Events
Photos Courtesy of AGI Studio
"We loved planning Olivia and Ben's green and white affair held at the Shangri-La Hotel, Toronto last season. It was a day filled with great friends and loving family. The wedding theme was derived from the Harry Potter novel; specifically the Golden Snitch (used in the game 'Quidditch'). The Golden Snitch has two wings so we brought in a set of beautiful white wings for the occasion. As our couple stood right in the middle of those two wings and exchanged their vows, it almost felt like their love and future as husband and wife took off towards a beautiful future. We also love the natural and neutral colors that were used. Trees also symbolize growth and it definitely gave off a whimsical feel to this beautiful day!"
– Jessie Huang, O Weddings and Events
---
Blush & Bowties
Photos Courtesy of Christine Lim Photography
"'A warm, disarming cocktail hour, followed by a funny, engaging, comfortable, inclusive sit down dinner/ceremony, followed by fun, celebratory dessert, mingling and music.' When Liz and Kobi came to me with their vision statement, I couldn't have been more excited. Liz and Kobi had one of the more unconventional ideas for their wedding flow that I had come across – starting their wedding off with a lively cocktail hour, then moving onto a dinner/ceremony fusion, where their friends would serenade them with wise words/advice on marriage and finishing with hand written vows for each other.
Their wedding was absolutely one of my favourite celebrations to be apart of and was an incredible pleasure to help plan – not to mention,  The Burroughes is one of my favourite venues in the city! Not only was their gathering one of the most unique wedding experiences I have been a part of, but their day was also just so darn gorgeous. The couple was clear on they how they wanted their wedding to look and feel; they longed for a welcoming and intimate vibe, an abundance of romantic lighting, brass touches, and whimsical florals. With the help of some insanely talented wedding artisans including Hunt and Gather, Lovely Little Design Co., and Linen Closet, we were able to help bring to life their unique vision alive. "
– Alex McNamara, Blush & Bowties
---
Rebecca Chan Weddings & Events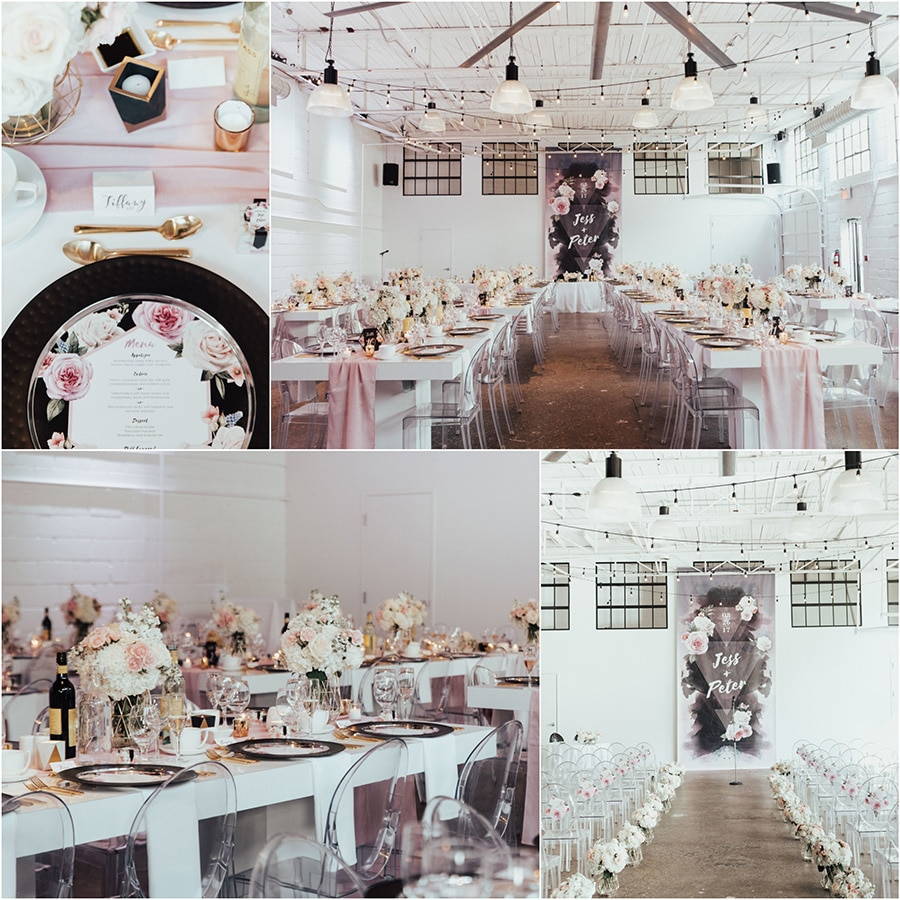 Photos Courtesy of Avanew Studios
"Every wedding is so unique and beautiful, but one wedding is particularly memorable from last year. So many of the weddings I plan are classically romantic and elegant, and I get so excited when a bride has a specific vision for something different. This wedding palette was blush, white and gold. Bold floral graphics were complimented by geometric shapes and modern touches. The bride made her own graphics and table runner, and the groom helped create the concrete votive holders. The couple was not afraid to be unique and get their hands dirty. It was a true labour of love and it turned out beyond stunning. It was so much fun to plan this one with them!"
– Rebecca Chan, Rebecca Chan Weddings & Events
---
Designed Dream Wedding Planning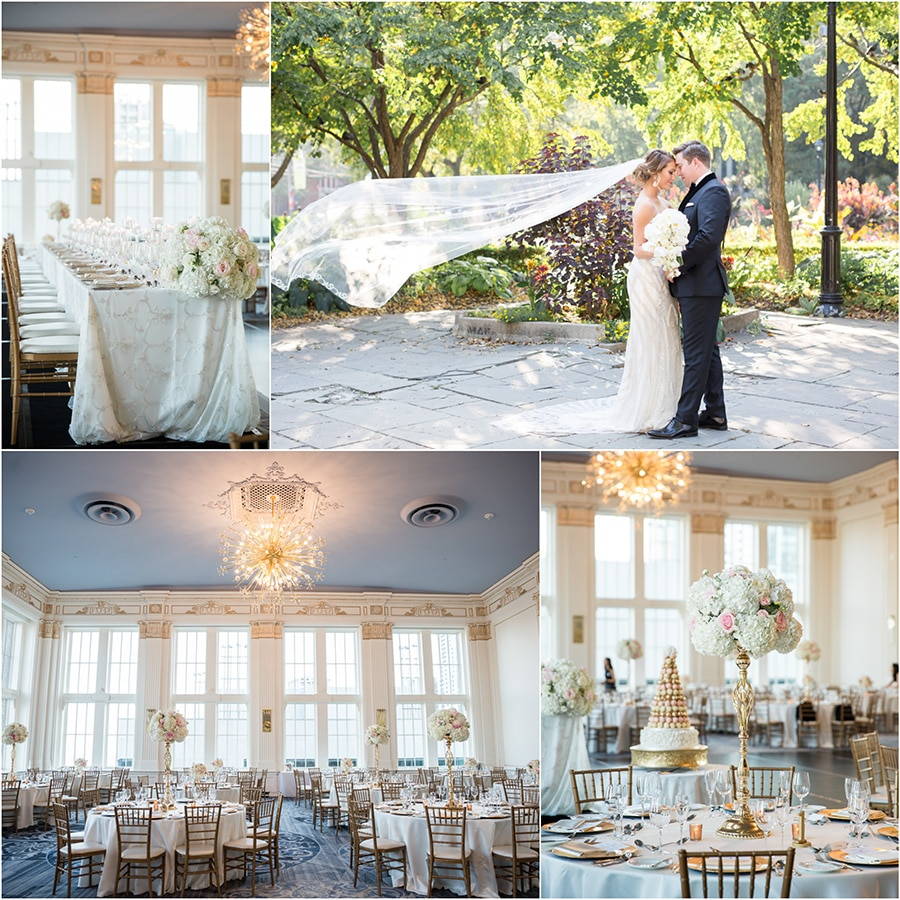 Photos Courtesy of Avenue Photo
"It is always really hard for us to name just one favourite wedding of the year, but we have to call out an elegant and regal fall wedding that we had a pleasure of planning, designing and coordinating for the sweetest couple Jackie and Keegan at the The Omni King Edward Hotel.
Gold was the accent colour of the wedding, which was the perfect match with the modern gold chandeliers and details on the walls. We designed an elevated long head table for the couple and their bridal party right in the front of the glass windows. The 22 guest tables were decorated with high and low centerpieces of soft colours, golden candle holders and table numbers. In the middle of the ballroom, we used black matte dance floor that paired so well with the patterned carpet of the rest of the room.
There are a few reasons why this wedding stands out for us: The Crystal Ballroom was newly renovated and reopened at the time, and it was very exciting for us to incorporate our couple's vision in the new and undiscovered space. Everything was exciting for us, from creating the design and working on the floor plan to setting up (which took 2 days)! The result was absolutely worth it all! The couple and their family were extremely sweet and nice to work with, which always makes such a huge difference in planning a wedding. On top of that, we had an amazing vendor team to work with and this wedding couldn't have been more perfect! "
– Fidan Ismayilova, Designed Dream Events
---
Love by Lynzie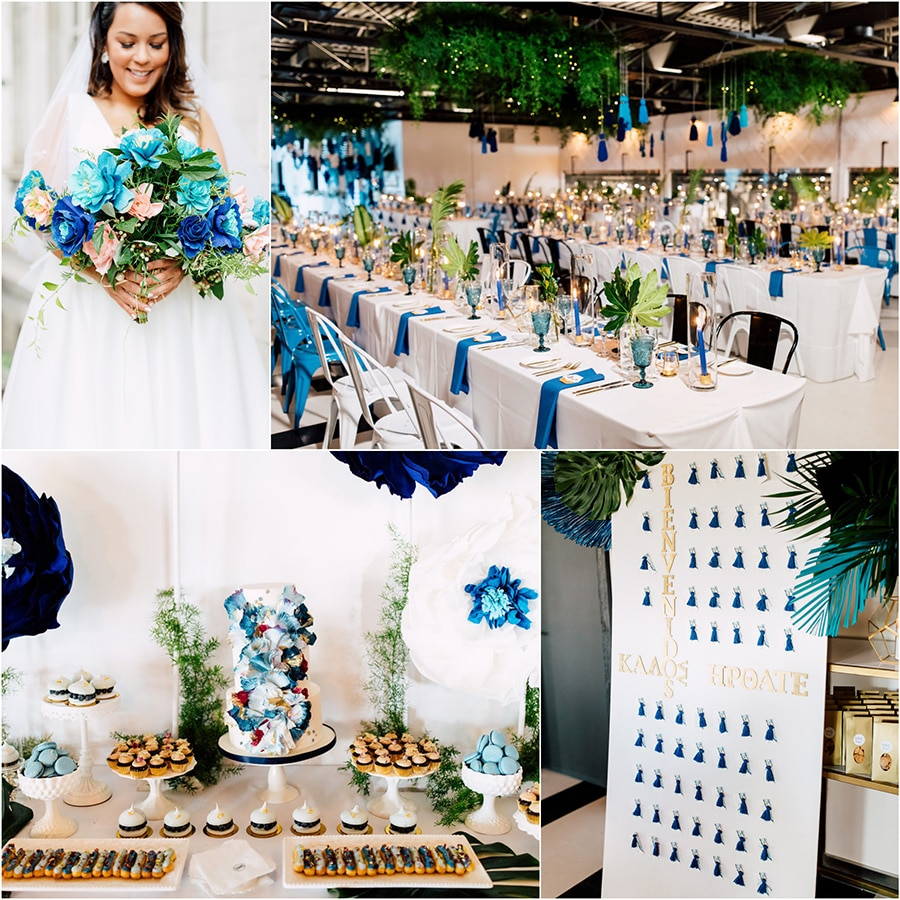 Photos Courtesy of Purple Tree Wedding Photography
"Isabel and Garry's wedding was blue, unique and totally wild, and is one that we'll be swooning over for a long time! The couple tied the knot back in August at Canvas, which was the perfect venue for us to create the bride's dream of having her big day to truly feel like an art show, full of installations, pops of gold and shades of blue and of course, a ton of quirky decor inspired by their Greek and Venezuelan heritages.
To really deliver on that WOW-factor that the couple was looking for, we created a huge installation over the head table that included a gold banner of the newlyweds last name surrounded by a ton of tropical greenery and over-sized paper flowers. We also hand cut over 400 tropical leaves in various shades of blue and white for the grand entrance installation and hand made yarn tassel chandeliers! And we can't forget our 8×8 wall of blue shoes that encouraged guests to 'kick off their dancing shoes' and get wild on the dance floor."
– Nicole Connor, Mad Bash Group
---
Fab Fête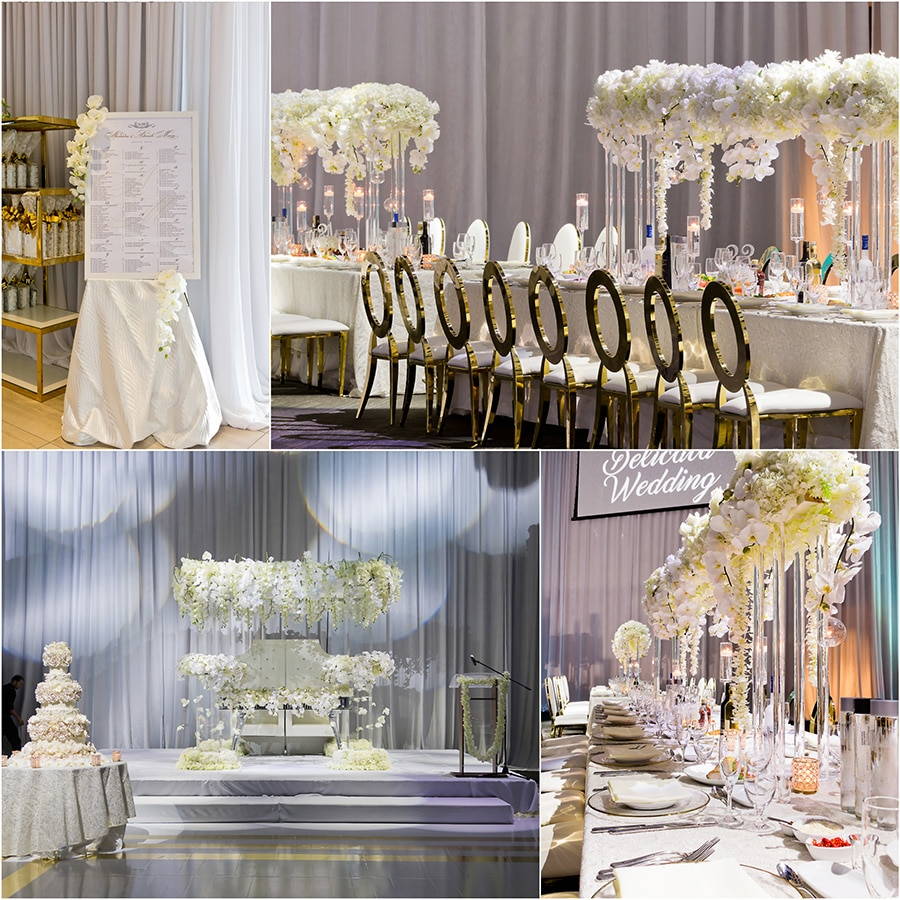 Photos Courtesy of 424u Photo & Video
"Alex & Mario's wedding was one of our favourites from last season. The couple were so in love and their vision for a white and gold whimsical wedding was right up our alley. From the moment that you walked into the Universal EventSpace, your obvious reaction would have been WOW!
For the ceremony, the aisle was lined with clear pillars with rectangular florals and candles on top of the bases. A custom-made Lucite Chuppah was created, which was covered with white orchids and hydrangeas and was placed in the center of the room – showcasing the couple from all angles to their guests as they exchanged vows. Following the ceremony and cocktail hour, guests made their way into the ballroom and were greeted by spectacular floral chandeliers , a gold-trimmed dance floor and a custom monogrammed bar with a photo of the newlyweds incorporated into the design. Each table was decked out with fresh floral centerpieces and Gold Belmont charger plates and were circled with a mixture of Cartier and Aria style chairs. The band was flown in from New York and guests were partying the night away with a number of musical acts including the groom who played the accordion as everyone dance around. It was a fun night indeed!"
– Michelle Garber, Fab Fête Event Planning Boutique
---
As You Wish Weddings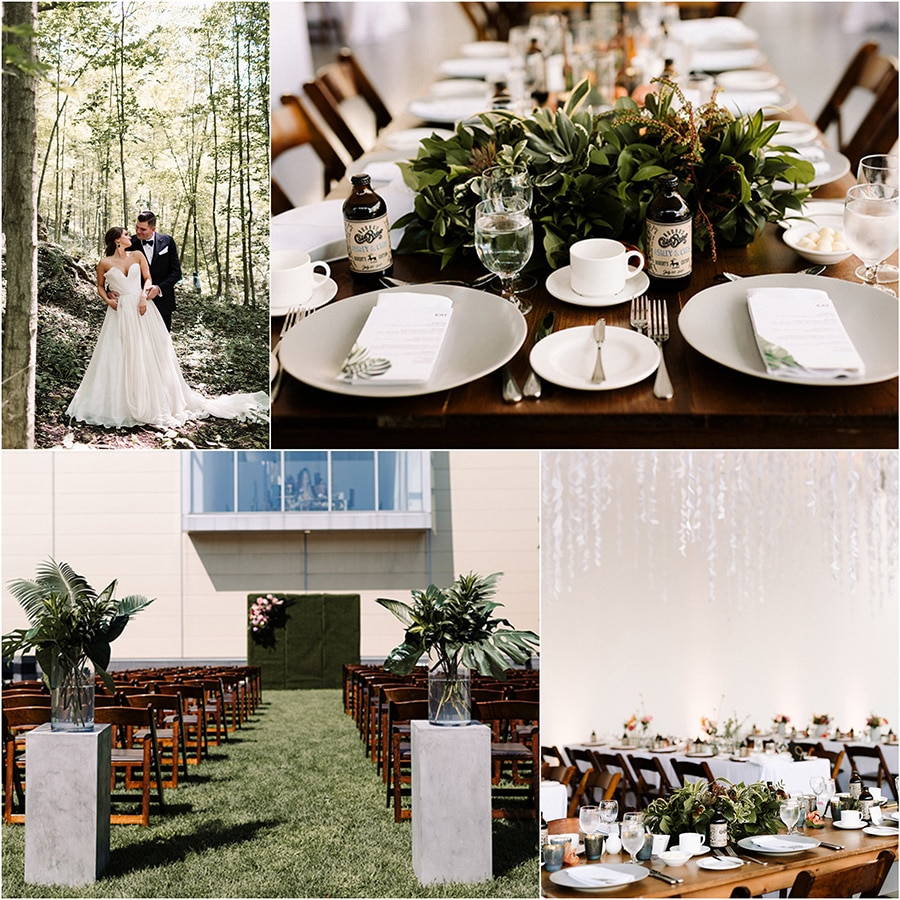 Photos Courtesy of Laura Rowe Photography
"Working with Ashley & Chris to plan and design their wedding was a dream come true! Bursting with details, we loved having the creative freedom to think outside the box. Their vision was a combination of chic fashion, tropical inspired elements, and modern details, with the Art Gallery of Hamilton as the backdrop. While it's no secret that these two are super stylish (the bride is a designer after all), we loved that all of the design decisions felt personal and had meaning behind them. For example, the outdoors have a special place in their relationship as they first connected on a Summer camping trip. As such, one of the focal points of the design were the cascading paper leaves hung from the ceiling, created to replicate the feeling of dining under the trees. While creating stunning ceremony and reception spaces were high on the couple's list, their main priority was an amazing experience for their guests. From a cigar bar with an outdoor lounge area, to lawn games, and a s'mores and tacos station, this wedding was definitely a highlight of our 2017 wedding season."
– Caryn Leith, As You Wish Weddings
---
Truly Yours Planning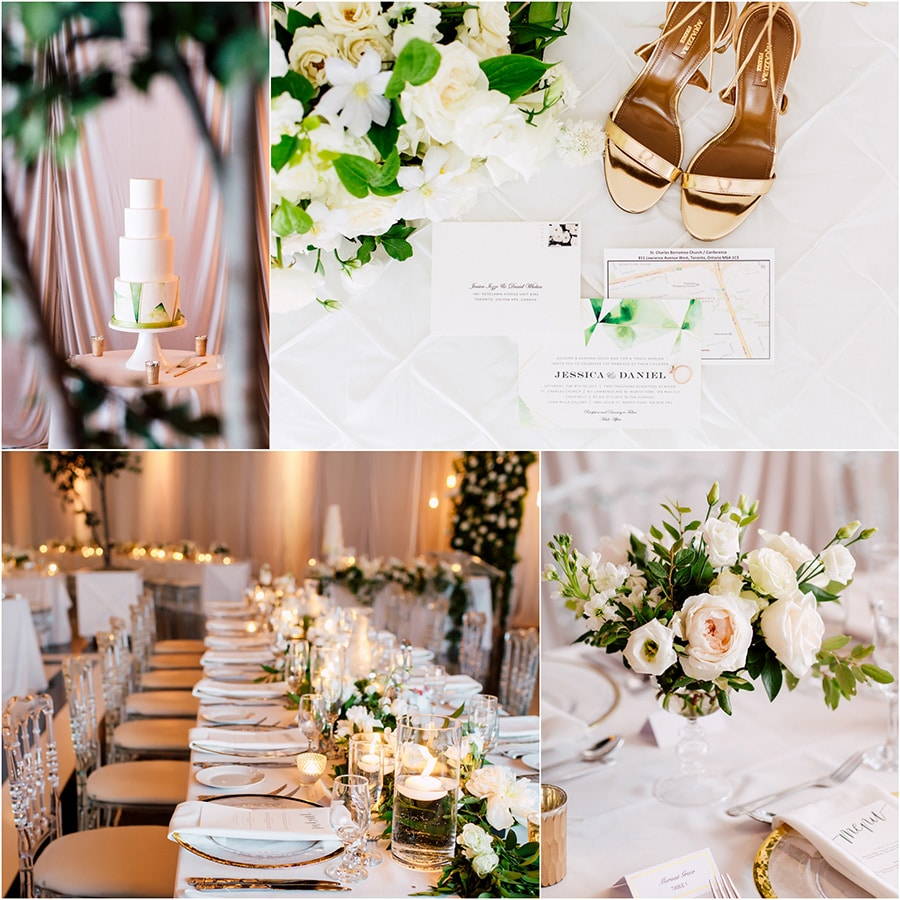 Photos Courtesy of Purple Tree Wedding Photography
"It was not easy to narrow down the list, but its safe to say that Jessica and Daniel's modern garden themed wedding stole our hearts. Jessica & Daniel always wanted to have a uniquely designed wedding and an experience their guests wouldn't soon forget. We loved the creative freedom we were given to transform York Mills Gallery into an outdoor garden summer nights dream.
The way we created the feel of the outdoors (indoors) was by featuring 14ft ficus trees disbursed around the room. The modern harvest tables featured alternating table designs which incorporated beautiful lush garlands, centerpieces, and candle light provided by the team at Blush and Bloom. By angling the dance floor provided by DFD Event Solutions to create a diamond shape and featuring black and white stripes in the design, we were able to create another level of dimension within the space. All these elements came together to create a truly timeless event.
Jessica and Daniel were truly an amazing couple to work with! Their relaxed, easy going personalities and love of Chinese food and Gelato made them a couple we will always remember and love!"
– Diana Pires, Diana Pires Events
---
Distinct Occasions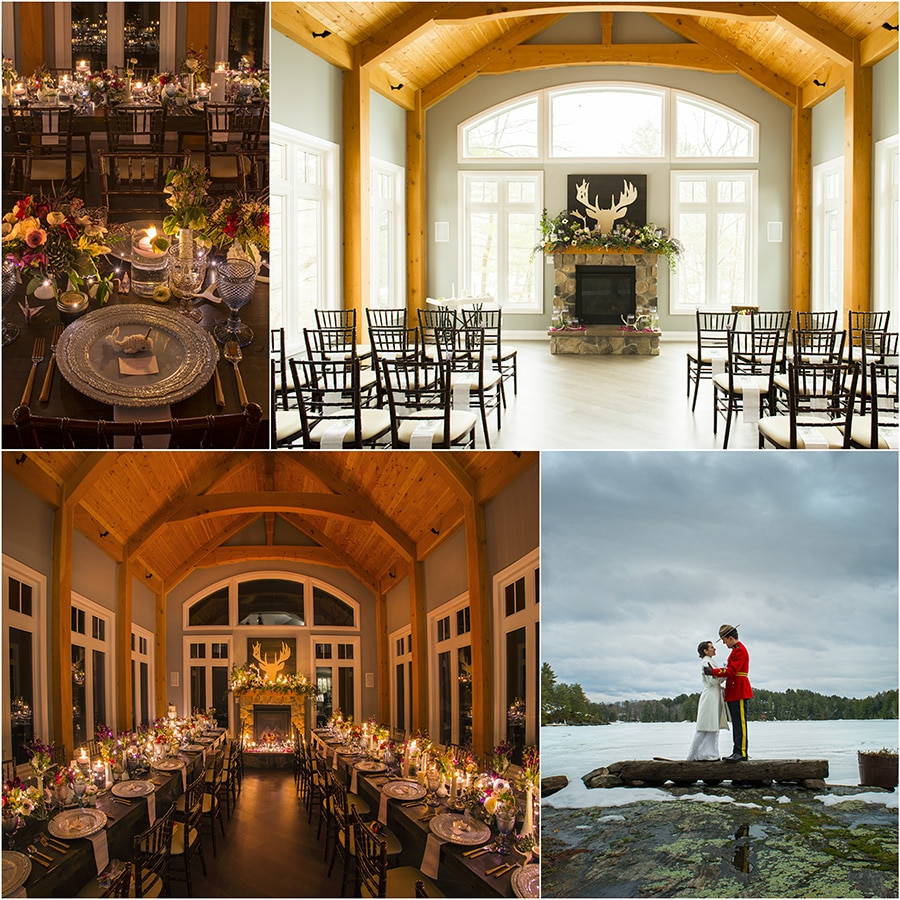 Photos Courtesy of Stephan Edgar
"Rachel and Dmitri live in Nunavut where Dmitri is an RCMP officer. When they elected to marry in Ontario to be closer to loved ones they knew they wanted to infuse their big day with elements of their current home. Rachel harvested antlers from the land and with the help of hunter neighbours, she handmade the jam favors with berries she collected and even made her wedding boots! That is some serious commitment! Dmitri carefully selected the ceremony details, was adamant about the plethora of candles and brought an element of fun with his request for a s'more bar by the fire in the snow. It was an intimate wedding weekend not to be forgotten!"
– Crystal Adair-Benning, Distinct Occasions
---
Devoted To You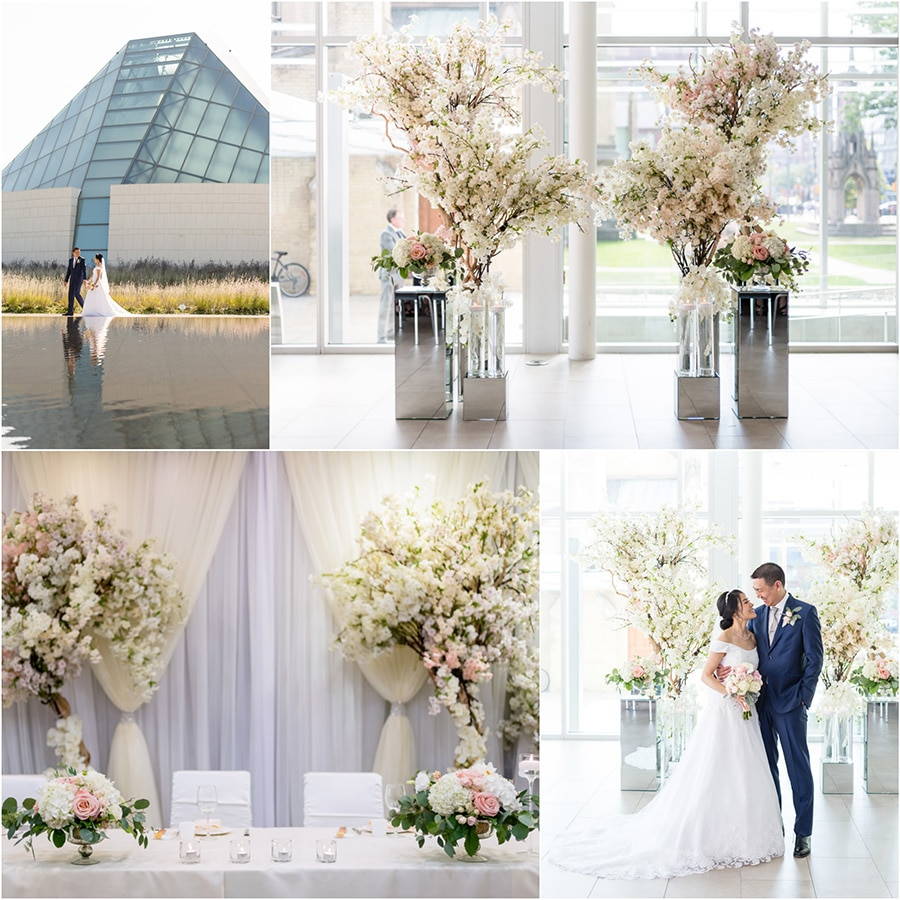 Photos Courtesy of Joee Wong
"Leslie and Matthew's wedding is very special to us and is one of our favourite weddings from last season. Event though this couple both grew up in Calgary and have known each other since kindergarten, destiny didn't bring them together until a few years ago in Toronto and they have been together ever since. We took their love story as an inspiration to design their wedding. The wedding ceremony took place at the St. James Cathedral Centre where the couple tied the knot under beautiful cherry blossom trees. Leslie is a foodie and she only wanted the best Chinese banquet for her wedding but instead of a banquet hall, she went with a restaurant for her reception. We took on the challenge to transform the restaurant in a short amount of time, and with the help with a small village of people, were able to bring her vision to life."
– Carmen Luk, Devoted To You