Feel like you're about to loose your mind from picking out your floral themes, choosing your venues, and deciding on chicken or salmon? Don't worry, you're not alone! Planning a wedding isn't an easy process – but we're here to help! We've assembled a collection of advice from newlywed couples who open up about their true thoughts and feelings on planning the big day. Our hope is that these couples can give you some insight to help you enjoy every step. Grab a cup of tea or glass of wine and savor these informative tips.
---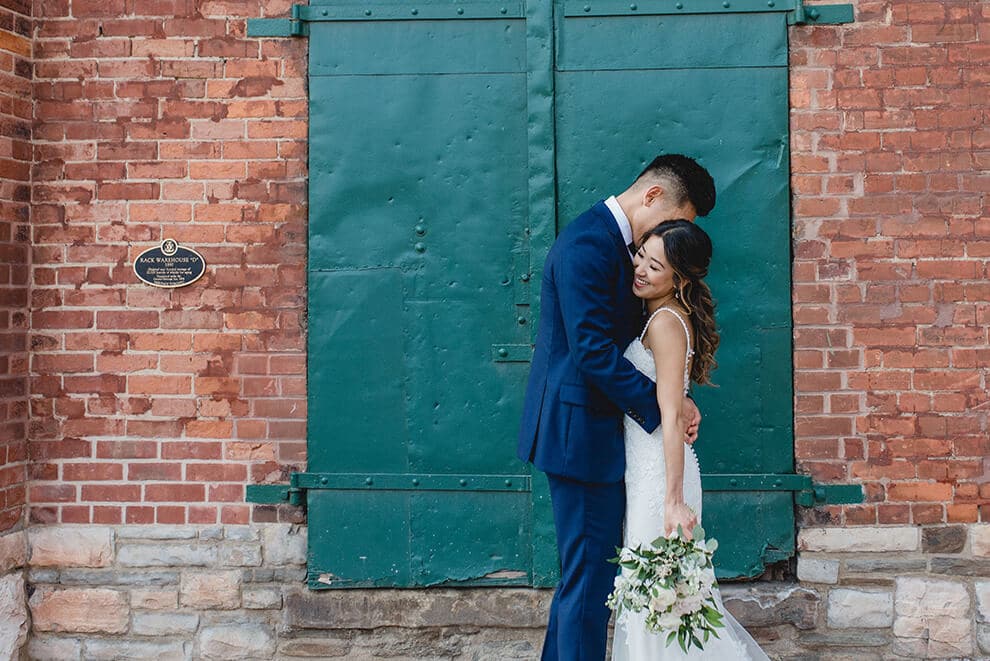 Wedding captured by Jacqueline James Photography, see more photos here
"For all future brides, don't stress on the planning and the little things, just enjoy being engaged to partner! I constantly reminded myself that although it's one of the most important days of our lives, it's ONE day. A day you want to enjoy!" – Ara and James
---
Wedding captured by Lindsie Grey, see more photos here
"To all of the couples starting their wedding planning journey I would say my biggest piece of advice is to not stress about the small things, enjoy the planning process. I absolutely loved planning my wedding and I had a vision in my head for how I wanted it to look. It's easy to stress when things don't go according to plan, but you can always adjust and find other options that fit your vision of the day. Also, do not be afraid to ask for help, whether it be friends, family or if you hire a day-of coordinator like we did. They took care of everything from the decor set up, to the overall timing of the day. I couldn't have done it without them. Hiring someone on the day of took so much stress and tasks off my plate and just let us enjoy our wedding!" – Megan and Zak
---
Wedding captured by Oak & Myrrh Photography, see more photos here
"Try to focus on the things that you value most as a couple and that represent you. If that means avoiding some more traditional aspects then that's ok! It's more meaningful if you are able to  incorporate things that are unique to your relationship. And don't lose site of the big picture! It's easy to get caught up in all of the details of wedding planning!" – Krista and Kyle
---
Wedding captured by Wolf Photography, see more photos here
Prioritize the things that mean the most to you. So many little details go into the day and those add to the experience but as far as vendors go, if you want to splurge, choose one or two that you know will make that difference for you. For us, it was our photographers and our band. We knew we'd want great photos to look back on and the band made the whole night that much more fun for everyone." – Kristi and Richard
---
Wedding captured by Purple Tree Wedding Photography, see more photos here
"If you work together as a team to plan the wedding it can be fun and both bride and groom will be excited for the day after all the time and effort spent. Also pick a team of people/vendors that suit your personality. We were fortunate enough to have a fantastic wedding planner that kept the planning process fun and allowed us to have a carefree enjoyable wedding day." – Suzanne and Jamie
---
Wedding captured by Purple Tree Wedding Photography, see more photos here
"If you are planning from overseas, I would definitely recommend a wedding planner, our wedding planner was absolutely unbelievable and went over and above to make our day perfect. Take your time to make sure you have the right venue, and the right photographer. Capturing your special day and moments is really important, because the day flies by, but the memories last on forever." – Dustynne and Fraser
---
Wedding captured by Lushana Bale Photography, see more photos here
"I would say the first thing is to put together a wedding vision board. This can be a collection of photos, vendor cards, colour swatches, anything that inspires the tone you'd like to achieve for the day. Hiring wedding planners, or even partial planning is so helpful as planning can be overwhelming. As much as possible, stay organized! We used a binder and electronic spreadsheets to keep all vendor information, to do lists, quotes and then payment schedules on track. Lastly, once you get engaged it's tempting to jump right into wedding decisions, but you may regret them so take some time to take in the engagement moment and then you can thoughtfully begin the planning stage!" – Alessandra and Gianluca
---
Wedding captured by Sara Monika, Photographer, see more photos here
"Before you know it the day will come and go. Be present in each moment of the planning process and of course on the magical day. Having an incredible team to work with truly makes the whole process an exciting and smooth experience. If you're not looking for any wedding planning support, we would highly recommend reconsidering this. Having as much support as possible truly magnifies the awesomeness of the whole journey." – Kaitlyn and John
---
Wedding captured by Oak & Myrrh Photography, see more photos here
"Our advice is to figure out what the top three things that are most important to you for the wedding and that's what you should prioritize when budgeting. A lot of the other details we stress about get lost because the day goes by so fast and is so special regardless. Our top three things were the photographers, great DJ, and delicious food." – Laurie and Dan
---
Wedding captured by Alix Gould Photography, see more photos here
"If I had to give any advice to couples planning their wedding, it would have to be, don't lose sight of the big picture – you are marrying the love of your life! It is so easy to get caught up in peoples' opinions, the financial side of things, and having the perfect 'Pinterest-worthy' day, but those things will fade. Make time for each other on your big day – steal a quick private moment after the ceremony, go for a little sunset photo shoot with your new spouse while your guests are eating dessert, or share a private dance just the two of you. Have your 'newlywed moments', because the day is really about celebrating the love you two have for one another – and how freakin great is that!? When I first starting planning, I was striving for perfection. But the truth was, the most perfect thing about the day for me was the man that I was marrying! And anything on the big day that didn't go completely as planned didn't matter, because I had Matt. That's what we think about and appreciate when we sit on the couch in our pyjamas months later drinking wine."  – Meagan and Matt
---
Wedding captured by Samantha Ong Photography, see more photos here
"The most important lesson and the biggest piece of advice I can give other brides is to remember that your wedding is about starting and celebrating your new life as a new family. Whether somebody tells you they don't like your colour scheme, your food selections or even your seating plan – what matters the most is who you are as a couple and what is important to you. This is a once in a lifetime moment celebrating a once in a lifetime couple.
I would also pass along that it is OK to ask your bridal party to do things for you. At one point, we needed to find our coordinator and we were just terrified to go outside into the crowd and look for her. We had to get one final photo and we knew it wouldn't be done if we were surrounded by well wishers again. I wanted to cry with happiness when Sarah, Steven's sister, offered to go find her for us.
I would also pass along that the day is not going to go as planned, no matter how hard you try. We are the most type A people around and I literally had our itinerary planned out to every five minutes. All that went completely out the window. We weren't on schedule, our wedding sign fell over, and my veil even fell out of my head as I was walking down the aisle (oh yeah – pin that veil in nice and tight!) – but, none of that mattered. What mattered was when I finally said I do and I was the happiest person on the planet. No amount of schedule issues or veil mishaps or family drama can take that moment and that feeling away from you." – Caitlin and Steve
---
Wedding captured by Eva Q Photo, see more photos here
"We held weddings in both China and Canada. After comparison, it is obvious that how important it is to hire a professional wedding planner. Ours saved us lots of work as well as negotiating the best deals for us. We suggest that couples communicate with their wedding planners in no delay and exchange the thoughts. We received lots of advice from our planner and she worked for us in spite of the time difference (we live in China and Toronto's wedding was a destination wedding to us)." – Xia and Wieqi