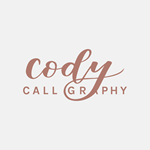 Cody Calligraphy
Profile information for "Cody Calligraphy" could not be found.
Vendors Similar to Cody Calligraphy
Nadia Leiningen
February 2020
I can not speak more highly of someone!! My fiancé Ian and I worked with Cody throughout our entire wedding process, from invitations to seating charts, welcome signs, name cards, menu's, you name it! Cody has been an absolute pleasure to work with. From the very first meeting, Cody was incredibly professional, giving us time to brainstorm ideas while providing creative and inspired suggestions along the way. She then created a vision board that was a perfect representation of our conversation but took our ideas to a level that we could never have imaged! Every step of the way, Cody has been communicating with us non-stop. She is always available for questions and goes above and beyond in everything she does (she even ordered pretty stamps from Canada Post for our invitations and had them sent to our house!). The platform she uses for her invitation suits is incredibly easy to use. She provided us with every question we would never think to ask ourselves and ensured the invitations were perfect before sending them to print. Needless to say, I would recommend Cody Calligraphy to my closest friends and family, as well as any bride looking for a clean, elegant, classic style coupled with a a kind, creative and professional vendor. We feel so lucky to have had Cody as such an integral part of our big day!
Brenda Salloum
January 2020
I highly recommend Cody Calligraphy workshop. What a wonderful fun way to learn calligraphy! It was a little party in a flower shop cafe. I loved it from the minute I arrived to the end of class. It was just the right size too; about 10 people. The workshop was relaxing and yet moved at a fast enough pace to cover everything I needed to learn in lowercase. I had never taken calligraphy before and found Cody easy to follow. She helped individual students when they needed it. Keep in mind this is not pen and ink but modern calligraphy using brush. It's the perfect girlfriend or mother and daughter workshop to do together; although I went alone, I still enjoyed the people I met. Cody is a lovely person and I would definitely take the Uppercase workshop if she offers it.
Hannah Lonergan May
December 2019
I had a fantastic time at Cody's workshop. She made it a safe and fun learning space and it was a beautiful morning! Cody's teaching style is approachable and warm, and she absolutely knows what she's doing. I can't wait to practice what I learned and to follow her business. I would recommend Cody's workshops and services to anyone! Thank you, Cody!!
Cody is a very attentive workshop facilitator! She is engaging, encouraging and brings a lightness and humour to the process which is so appreciated in learning a new art form. Would highly recommend attending one of her calligraphy workshops!
michelle scott
November 2019
This was one of the best workshops I have attended. I learned a lot! Cody is a great instructor who is encouraging, inclusive and funny. If you are looking to learn brush calligraphy, take the leap and sign up for one of Cody's workshops.
Cody Calligraphy has been mentioned inside these other vendor profiles:
Aleksandra Radic Photography