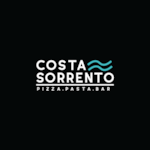 This modern and edgy italian restaurant is located in the heart of new downtown Markham. Costa Sorrento with its authentic Amalfi Coast causine and neapolitan pizza can be an ideal venue for individual, corporate, weddings and social gatherings. The decor of sea blue floors, hand painted ceramics and yellow lemons will transport you to Amalfi Coast and our food will delight your palate.
Conveniently located close to 407, Highway 7 and 404 it is easily reachable and a great meeting point for GTA.
Costa Sorrento is avaialble for exclusive buyouts, preset menu dinners or small meetings in our private room. Due to the fact that its privately owned it is easly accessible and the owners are accomodating to even the smallest personalized requests.
This vendor does not yet have any EventSource reviews. Be the first to leave one!
Isla Sophia Camilla
December 2020
Costa Sorrento is my favourite restaurant in Markham, and is by far the best Italian food in this area!! Last time I had the weekly specialty pizza - yellow cherry tomato, shaved parmigiana and balsamic glaze. Simply delicious!! They also have veggie, vegan and gluten free dishes which is a plus.
Savannah Clarke
October 2020
Unionville doesn't offer enough Italian restaurant options - but Costa Sorrento makes that OK with me. Delicious and casual Italian dining. We sat in the outdoor space (covered and heated) and were surprised with how comfortable the experience felt. As for the food, there is a lot of what you might expect - pizza, pasta, steak, calamari, etc., And it is all done very well. The pizza is thin-crust and from a wood oven, so you know it will taste authentic. The main dishes we ordered, consisting of multiple pastas, were delicious. I think the best one is the shrimp pasta. Oftentimes the restaurant owners will come by to introduce themselves which I really like. Costa Sorrento has my stamp of approval :)
Roman Vasilenko
October 2020
I have eaten here four or five times now in the past year, and I infrequently eat Italian cuisine. However the calamari and truffle pizza here are something else. Really as authentic as I've tasted. I love everything I eat here. The calamari is garnished, the breading is perfect and comes with a lemon to squeeze on top. A little bit of sauce on the side to add to the flavour however I prefer eating it without it. Waiters and waitresses are well trained, and courteous. Will recommend an alcoholic drink to pair with your meal if you ask. Ambience is relaxed, and you are not rushed to leave after finishing eating.
Giorgio Pegra
October 2020
Yum Yum Yum! Awesome food and great service. Showed up as a party of four, were seated right away, and all eight dishes we'd ordered were exceptional. Pizza, calamari, pasta, steak, you name it. Lengthy drink menu as well. They followed all the government guidelines, masks and sanitation etc. Fair prices. Overall a great experience given the circumstances and I will be sure to return in the coming months. Check out this unique pizza we got to try.
Roger Eberhard
September 2020
Super underrated Italian joint. Not nearly as popular as it should be (which is kind of a good thing in my opinion). The pizza comes out looking just as good as it does in the promotional pictures and is served hot & fresh. The sauce to cheese ratio is exactly where it needs to be. Overall the service is quick which makes it convenient if youre visiting on lunch hours. You wont be waiting around too long for the food to come to the table. I also recommend the calamari - breaded so well. Squeeze a lemon on it and youre in for a delicious meal. Our waiter was able to match our menu choices with a wine that paired well. I will definitely come back again.
Costa Sorrento has been mentioned inside these other vendor profiles:
Company Overview
Company Overview
Venue Features
Wheelchair Access
Free Parking
Audio/Visual
Wi-Fi
Outdoor Facilities
Catering Information
On-Site Catering
Off-Premise Catering
Kosher Food
Map
179 Enterprise Blvd, Markham, ON L6G 0E7