Reviews
Natasha Gadkari
January 2020
Romantic place with really good wines and interesting food. Really nice for a date night. They also have a vegan characuterie board which is very unique .
Victoria Gesell
December 2019
It seemed like everyone here was on a date in some fashion or another which makes sense with all the candle lit tables. However, the place was blasting bad techno/pop music so loudly that it must have made it impossible to hear each other. Everyone then is trying to talk over the music which snowballs into this screaming scene which ruins the atmosphere. Their signature cocktail list was very lackluster. My partner and I left shortly after arriving.
Recently partially rented out a portion of Melrose for a small event and could not recommend it enough. From beginning to end the planning was easy, the staff were unreal and helpful , the food was exactly what we were looking for and of course the drinks were perfect. We had some odd requests while creating our menu and they went above and beyond and were super accommodating. We'll be back!
Surprisingly charming environment! The staff were very friendly. They have a great drink menu, but a limited food menu. Which is fine because the drinks are so great.
Chris Snyder
October 2019
A hidden gem in the entertainment district which serves fun cocktails and tasty appetizers in a cozy atmosphere. Happy hour every day between 4-7pm with drink and food specials. Plus, frequent daily specials. A great place for friends or couples to chat.
Melrose on Adelaide has been mentioned inside these other vendor profiles:
Company Overview
Company Overview
Deals & Packages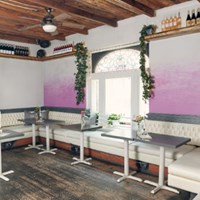 Melrose event package
Price $35 /person
---
---
What services are included with this Package:
---
Here's the Fine Print:
This package is exclusive to EventSource.ca visitors. To redeem, you must mention you found this package on EventSource.ca.
Map
270 Adelaide St W, Toronto, ON M5V 2E2