Reviews
My sisters wedding was catered by Mitzuyan. It was amazing. I have never experienced kosher banquet wedding food so delicious. Everyone was blown away. The presentation and service made the evening perfect. I will be using them for my wedding in 2020. I just had to praise their work. Thank you from all our family.
Great experience with kosher catering service provided at our recent event. The food was delicious and presented beautifully. Reasonable pricing for the food menu chosen. Highly recommend. The staff is very professional and accommodating.
I work for a fitness company and I needed to plan a healthy kosher lunch for 20 women. Mitzuyan came to the rescue. They provided a delicious vegetarian/vegan kosher lunch. The big hit was the stuffed vegetarian red peppers and the plantain/mango salad. The ladies demolished all the food. There was nothing left. They are wonderful people to deal with. You could not believe that kosher could taste so good. Very pleased with my choice and will definitely call Mitzuyan again for kosher food.
Great event designed by Norman from Mitzuyan Kosher Catering.
All his creative ideas came through as planned and discussed,
The food was delicious and presented beautifully.
Pleasure to work with Norman. He is very accommodating and goes the extra mile to make sure that you are pleased.
Highly recommend,
Brian Hobersmith
December 2016
I was put in charge of our holiday party and knew nothing about kosher catering. The owners of my company are kosher and the party had to be kosher. No kosher caterer was willing to take the time to explain to me the requirements required for an event to be kosher. I was very fortunate that Norman Kay was willing to take the time to meet with me and explain all the rules and regulations. He was very patient with me and guided me through the process. He helped me find a venue, plan the meal. The event was a success. I would recommend Norman to anyone who needs kosher catering. He is amazing.
Mitzuyan Kosher Catering has been mentioned inside these other vendor profiles:
Company Overview
Company Overview
Deals & Packages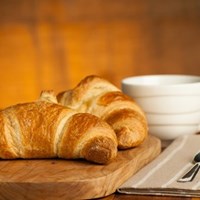 Off site kosher catering promo
Price $55 /person
---
---
What services are included with this Package:
3 course dinner with chicken or fish for offsite catering
---
Here's the Fine Print:
Does not include kosher dish rentals
Does not include kosher equipment rental
Does not include venue rental or landmark fee
Does not include wait staff or culinary staff
Does not include alcohol on non alcoholic beverages
Does not include mashgiach fees
This package is exclusive to EventSource.ca visitors. To redeem, you must mention you found this package on EventSource.ca.
Map
173 Dolomite Dr, North York, ON