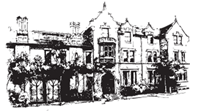 The Toronto Metropolitan Student Centre/Oakham House has many rooms available of varying sizes that are able to accommodate groups between 12 and 170 persons. Whether you are set to host an academic conference, a small business meeting, a team building training session or an elaborate celebration, Oakham house is simply ideal. Our outstanding facility brings together new and old in an innovative and inviting way, allowing you to offer your guests an incredible event. Our professional staff strive to catch every detail, to put your mind at ease, and to make the task of organizing any and every event, simple, straightforward, and easy. The TMUSC/Oakham House offers fully equipped rooms, flexible and outstanding menu options, and an easy to reach location in the heart of one of Toronto's most energetic and inspiring campuses.

Tasha & Jacob Hyde
January 2014
Thank you so very much for providing such a wonderful venue for our wedding. It was a pleasure working with Michelle, Joe, Akash and all your other staff. We had many, many compliments from our friends and family about the wonderful service and atmosphere. We'd be happy to act as a reference for you anytime! Our wedding day was everything we dreamed it would be. It would not have been as great at another venue. Thanks again for helping us create many happy memories to last a lifetime!
Cathy Carnevali - Ryerson University
January 2014
Samantha Fazio and her team were most accommodating. We had two events back to back and they were facilitated in a seamless and effective manner. Keep up the great work. It's a pleasure working with you!
Denise Booth, Native Women's Resource Centre
January 2014
The staff were great! Super helpful and supportive. I am so glad that I choose to host my event at Oakham House!!! Thank you for all your support!! Great event! Great night!
Nancy Manthei, Ministry of Government Services
January 2014
Staff loved the new design of the Layton Room, nice and bright. The staff bringing our food in and out during the day were great!! Very professional, well dressed and quiet when coming in the room and going out. Loved the food - very tasty!!! And lots of portions.
Pamela Baillie, Procter & Gamble Inc.
January 2014
Thank you. Everyone loved the space. Sam was outstanding. She is a great asset.
Oakham House has been mentioned inside these other vendor profiles:
Company Overview
Contact Information
Title:Conference Coordinator Ext 552352
Venue Features
On-Site Ceremonies
Wheelchair Access
Audio/Visual
Wi-Fi
Outdoor Facilities
Catering Information
On-Site Catering
Off-Premise Catering
Kosher Food
Capacity Information
The Courtyard Lounge (only bookable in conjunction with Tecumseh Auditorium)
Map
63 Gould St, Toronto, ON M5B 1E9