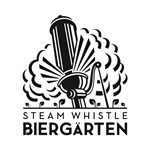 The perfect space for a unique dining experience
Steam Whistle's Biergärten, located in downtown Toronto, lends inspiration from some of Munich's most reputable Biergärtens and Bierhalls. Steam Whistle employees are treated to a five-year service award trip to Munich, Germany to experience the culture and beer traditions of the Motherland. Memories and experiences had by our staff have come together to bring to you a traditional Biergärten experience that is recognizably Canadian.
Toronto's Food Dudes Chef Tyson Porcellato will head up the kitchen operation, serving a recognizably Canadian take on traditional German style foods. Using fresh, local ingredients while building memorable culinary experiences, the talented Tyson Porcellato has put together a menu that includes traditional German fare like pretzels, schnitzel and roast pork hock, with modern features like vegetarian and vegan dishes to suit all dietary needs.
Patio is nice, calm, and not crowded which is good. Food Menu is limited for now unfortunately so dont except much. I felt safe with the sanitizers at every table.
Camila Herculano
July 2020
I loved the food there! I was surprised by the quality! Please order the fries, it's the best! I also loved the Beerguerite, the best option for the summer time!
Alexandria Renoir
July 2020
Lovely spacious patio with great service and friendly staff. Food and drinks came out quickly as the staff really worked well together as a team.
Christopher Danciu
July 2020
Just had an amazing Canada Day lunch! Hostess was taking names for reservations for later times but was seated instantly by Josh because me and the wife just wanted some cold beer and a snack......well the beer is ice cold and delicious (steam whistle pint) and the food was amazing (German fries and bratwurst sausage)!!!Thank you for your great hospitality,great customer service and delicious lunch!Definitely recommend coming here and will be back for sure!!
Came to Steam Whistle for an office Christmas lunch. Decent food, at a reasonable cost. The menu was quite limited, however, the service was prompt and the staff were quite hospitable. The surroundings of this establishment are absolutely beautiful. Would highly recommend.
Steam Whistle Biergärten has been mentioned inside these other vendor profiles:
Company Overview
Company Overview
Venue Features
Wheelchair Access
Audio/Visual
Wi-Fi
Outdoor Facilities
Close to Airport
Catering Information
On-Site Catering
Off-Premise Catering
Kosher Food
Map
Steam Whistle Brewing, 255 Bremner Blvd., Toronto, ON M5V 3Z1