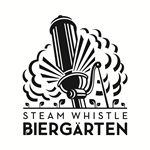 The perfect space for a unique dining experience
Steam Whistle's Biergärten, located in downtown Toronto, lends inspiration from some of Munich's most reputable Biergärtens and Bierhalls. Steam Whistle employees are treated to a five-year service award trip to Munich, Germany to experience the culture and beer traditions of the Motherland. Memories and experiences had by our staff have come together to bring to you a traditional Biergärten experience that is recognizably Canadian.
Toronto's Food Dudes Chef Tyson Porcellato will head up the kitchen operation, serving a recognizably Canadian take on traditional German style foods. Using fresh, local ingredients while building memorable culinary experiences, the talented Tyson Porcellato has put together a menu that includes traditional German fare like pretzels, schnitzel and roast pork hock, with modern features like vegetarian and vegan dishes to suit all dietary needs.
Felipe Lordello
October 2020
Great experience dining out in the patio, I'll certainly be back more times.The service is outstanding, the beers are incredibly good and there's lots of good deals and a special menu in October.We ordered a stein and we could keep it. If you want a good time with your fellows in downtown, that's definitely the place you want to go!
Ronnie D'Rozario
August 2020
Awful service. Servers do not make guests their priority. The restaurant wasn't even busy, but the servers seemed to be running around for nothing. We had a reservation and ordered an appetizer and 2 drinks. We got served and were planning to order the main course. It then started to rain slowly as we were trying to call a server to assist us to open an umbrella. After trying to get the attention of a server we were informed that it would be a few minutes before anyone would attend to us. Since no one came we had to open the umbrella ourselves. Finally we got a server whom we could ask what we should to if we want to be seated inside as the started to rain more now. She informed us to take our drinks, utensils and side plates ourselves and go to a big hall area inside. Once we entered this area there was no one there except for a another couple and 2 picnic table. The rest of the area was completely empty. After waiting in this area for about 10 minutes we had a server come and tell us that we need to pay our check. The server did not even ask us if we need any assistance, if we need to order more food, drinks, etc. or if we wanted to sit in the other area where the kitchen is with several tables. We paid our check and left right way thinking that it was a huge mistake to come to such a restaurant. We will be sure to tell our friends and relatives about this experience. I understand that we are in a pandemic now, but if you can't service your guests and provide them with proper information or communication, you shouldn't have re-opened your establishment. The place seemed to be very unorganized as there was no direction given to the staff what to do with the guests in the event if it starts raining. The staff need thorough training and need to attend a customer service course which will teach them how to deal with guests.
Great place to visit if I the area. Steam whistle brewery itself has an awesome tap room and if you get a chance do the tour.There newest addition of the Biergarten offers a nice selection of beer and excellent food.
We were in Toronto for the weekend and stumbled upon this little brewery. We got got the tour with Will (formerly of Winnipeg). I have never liked beer ever! Until I was taught, yes TAUGHT how to properly drink beer to enjoy it's flavor and essence. A pure beer made with only 4 natural ingredients. The history of this little brewery is equally interesting. It's their 20th anniversary this year of the little brewery that could
Christopher Danciu
July 2020
Just had an amazing Canada Day lunch!Hostess was taking names for reservations for later times but was seated instantly by Josh because me and the wife just wanted some cold beer and a snack......well the beer is ice cold and delicious (steam whistle pint) and the food was amazing (German fries and bratwurst sausage)!!!Thank you for your great hospitality,great customer service and delicious lunch!Definitely recommend coming here and will be back for sure!!
Steam Whistle Biergärten has been mentioned inside these other vendor profiles:
Company Overview
Company Overview
Venue Features
Wheelchair Access
Audio/Visual
Wi-Fi
Outdoor Facilities
Close to Airport
Catering Information
On-Site Catering
Off-Premise Catering
Kosher Food
Map
Steam Whistle Brewing, 255 Bremner Blvd., Toronto, ON M5V 3Z1