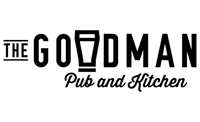 The Goodman Pub & Kitchen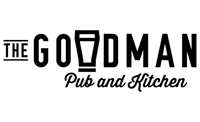 Welcome to The Goodman Pub & Kitchen!
Located just off of the iconic Martin Goodman Trail on the picturesque Toronto waterfront, The Goodman Pub & Kitchen is the perfect venue to take your event to the next level. Wow your guests with our wide selection of both alcoholic and non-alcoholic beverages, delicious pub fare and even arcade games and a shuffle board - all while taking in the breathtaking views of Lake Ontario and The Toronto Islands! Whether you're looking to host an intimate gathering or a much larger affair, The Goodman Pub & Kitchen can accommodate anywhere from 20-300 guests.
Reach out to one of our talented Events Coordinators and get started today!
This content requires HTML5/CSS3, WebGL, or Adobe Flash Player Version 9 or higher.
My company was planning to host an event at Goodman's, but soon after the global pandemic crushed our plans and we needed to cancel. The staff at Goodman's were so accommodating and understanding. We will certainly book with them again, when it is safe to do so.
Jamal Ginsberg
March 2020
Great spot to grab a drink. The location is fantastic right on the water. Good spot to grab a drink during a walk. We went for brunch during the February. They had $5 make your own Caesars! Great selection of condiments for Caesars, even had Jalapeno juice! The chef was helping us out and poured us a healthy amount of Vodka! Will definitely return in the summer for a drink.
We visited Goodman's on a not so busy evening and took a seat in a large horseshoe booth near the front. The fish and chips were the special so it was a great price and a surprising portion. The Beyond Meat burger was very good and it was refreshing to have fries that were not completely over-salted like almost all other places.The chicken pot pie was fantastic and freshly made. Pastry was perfect and the was plenty of chunks of chicken.. no skimping here!Their Guinness was a little rushed with a scant head, but still a reasonable pour. The second one (pictured) came out better.
We hosted our annual corporate event at Goodman Pub in Sept and I must say it was AMAZING! Not only was the dockside room beautiful, the food was DELICIOUS....on top of all that the staff are the BEST part. They all go above and beyond to ensure all of your guests are having the best time. Caroline is an absolute pleasure to work with on planning our events. We will be planning our next event with Caroline for this Dec.
Gary Holmyard
August 2019
Lovely harbour fronted eatery, really good choice of soft drinks / mocktails as well as food dishes. Good for breakfast through to dinner with everything-between, does get busy in peak times so be prepared to wait or get there early! Swift, efficient and friendly service makes this the place to head for when in the area.
The Goodman Pub & Kitchen has been mentioned inside these other vendor profiles:
Company Overview
Company Overview
Contact Information
Title:Director of Sales & Events
Venue Features
On-Site Ceremonies
Wheelchair Access
Wi-Fi
Outdoor Facilities
Close to Airport
Catering Information
On-Site Catering
Off-Premise Catering
Kosher Food
Capacity Information
Dockside Patio (North & South)
Map
207 Queens Quay W, Toronto, ON