Reviews
The staff and services are great! But the library stinks. Dear Management, Tables and keyboards are sticky, bathrooms are always dirty, and the whole library smells. Thank you.
Jessica Godin
September 2019
Beautiful library. Great for studying or reading. There are lots of interesting events and conventions that go on here. You can even rent out the convention room for weddings! (In fact I got married here! :D)There are some books on the first floor that are for check out but otherwise its mostly a reference library which means you cant check the books out. There is a used bookstore tucked away in the back of the main floor as well, behind the art exhibit. The gift shop Pages and Panels is also incredibly cute and has a lot of great stuff for gifts.This is my favourite library in the city and Ive been to a bunch.
The library is spacious, beautiful and modern. There are so many seats for people to read. It also has washrooms. One of my favorite libraries. Highly recommend
Beautiful Modern Information SpaceSpacious and modern, this branch has various equipment and rooms to provide information: from computers with Internet and printing, digital hub for 3d design and print, green screen and video recording and editing room, self published printing of books, televisions, and private spaces for group study and meetings. Toronto has hundreds of branches and this is one of the best. Library cards are free with proof of address including usage of all the above. Upstairs are shelves of books and more study and reading spaces. There are also various events and talks hosted in this branch that are free to attend and participate in.
Justin van Lieshout
April 2019
I LOVE the reference library. Its huge, full of work spaces and makes for an awesome office (for the day). Only downside is that the bathrooms arent always the cleanest - but you can easily go to one of the higher floors where theres less traffic. Overall - stunning space, right downtown, with all the books and plugs (for laptops) you could ever need!
Toronto Reference Library has been mentioned inside these other vendor profiles:
Company Overview
Company Overview
Deals & Packages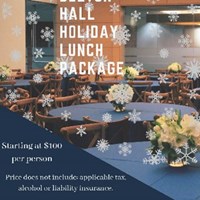 Holiday lunch package
Price $100 /person
---
---
What services are included with this Package:
Our holiday lunch package offers you and your team a chance to connect over the holiday season at an affordable price! Our package includes a holiday themed lunch buffet with coffee tea and soft beverage service, venue rental fee (tables, linen, dinning chairs included) event security and porter to maintain washrooms. Sound equipment for background music, podium with microphone and sound technician is also included
---
Here's the Fine Print:
This package is exclusive to EventSource.ca visitors. To redeem, you must mention you found this package on EventSource.ca.
Map
789 Yonge St, Toronto, ON