Gallery
This content requires HTML5/CSS3, WebGL, or Adobe Flash Player Version 9 or higher.
Reviews
ruslaan haider
November 2019
By far the best Italian restaurant I've experienced in Toronto. I've been to other Italian restaurants and paid double for the food that doesn't come close to Toula. Everything is as authentic Italian as it gets. Our server KD was really nice and knows a lot about Italian wine and food than anyone I've met. We ended up here by luck and will be our new go-to Italian restaurant. Bravo !!
Daniel Srikhanthan
November 2019
The view was amazing and the customer service was on point. Was there last night for a birthday party and with a huge group. Food was good. We all had an amazing time and memorable one.
Angelina Bras
October 2019
I recently went to Toula Restaurant and I had an amazing experience. The view was absolutely beautiful, the food was delicious. The service and staff were fantastic! Especially our waitress Jessica who was very attentive, polite and professional. I would definitely recommend anyone who wants to get out for a great meal and an outstanding view. Thank you Toula for a phenomenal night.
My family and I just had Thanksgiving Brunch at Toula today. The music and ambience was lovely. However, the buffet was a disappointment. This was due to the lack of variety, in brunch and dessert. We constantly had to wait for food (especially turkey) and what food was available was cold. Service was less than satisfactory, and there were no accommodations for those of us with dietary restrictions. I would not recommend Toula as a place to dine. The price only covers the view and music.
Fabio Ruiz
September 2019
I had my wedding at this restaurant. Everything was perfect, the owner Ronny was very nice and helpful. Jessica was our server and she did an excellent job. I had a wonderful steak medium rare and did it perfectly. I would not recommend this place more. Do not trust the other reviews and try it for yourself. You can also take nice pics of Toronto and the lake.
Toulà Restaurant & Bar has been mentioned inside these other vendor profiles:
Company Overview
Company Overview
Deals & Packages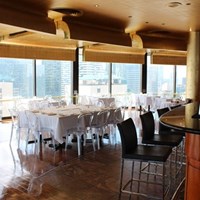 Events package 2019
Price $49 /person
---
---
What services are included with this Package:
Pre-fix menus for special occasion events! price varies
---
Here's the Fine Print:
This package is exclusive to EventSource.ca visitors. To redeem, you must mention you found this package on EventSource.ca.
Map
1 Harbour Square, 38th floor, Toronto, ON M5J 1A6