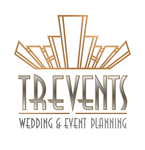 Trevents: Wedding & Event Planning
Profile information for "Trevents: Wedding & Event Planning" could not be found. Limited Information for "Trevents: Wedding & Event Planning" is being displayed.
Vendors Similar to Trevents: Wedding & Event Planning
I hired Trevor for wedding planning because on first impression he seemed well organized, showed us all these timetables and notes along with his emergency kit. I would give him 0 stars (if possible) because the below was written in our contract which he failed: - Support unlimited via telephone, email and text to be returned within 48 hours or sooner (FALSE- he was not responsive within 48 hours) - 2 Vendor recommendations per category (FALSE, he only pushed one and then if you push for another to compare he would give you someone who does not meet your criteria) - Assisting with choosing the right vendors for you and your budget (False- he knows limited vendors and recommended Vista Print for my invitations when we were more of a high end wedding not DIY) - Act as liaison between your vendors and you (TRUE if you don't mind an unprofessional individual representing you). Trevor was rude to a highly reputable make-up artist studio in Toronto that I asked to get quoted. He became frustrated with their receptionist and hung up on her. They advised me of his behavior. Trevor also advised me that things such as make-up was not a "rush" to book for the wedding and then when the vendors of my choice were booked up, he got frustrated and took it out on the vendor. Trevor in my opinion lacks professionalism, customer service, organization and above all experience. When I communicated my disappointment his response was "I agree that this is the best course of action. Good luck with your wedding! " ....point proven that he lacks customer service. True customer service means making your client happy and making it right even though you may not always agree. I truly felt disappointed with Trevor. He ended up costing us not only money but time.
Lauren white
January 2018
I met Trevor one year out from our wedding. My then fiancé (now husband) had met him and said he had found us a Wedding planner perfect for us. When Trevor came over to our house I knew right away he was it! We hired him on the spot and from that day forward it was smooth sailing. We cannot begin to say how fun and enjoyable it was to plan our wedding and that was a big part thanks to trevor. He was so well organized, took initiative and was always 5 steps ahead of me. Not an easy task with me being Type A. He always listened to our ideas and with his guidance helped us plan a wedding way beyond what we could have ever imagined. Our wedding day was the best day of our lives. Everything ran perfectly and we could not have done it without Trevor. We got so many compliments from our guests on how helpful he was and how everything was perfection. All the vendors he recommended were also incredible. They are truly the best in the business and care so much about making your wedding the best it can be.
Trevor holds such a special place to both my husband and I. We have so much gratitude for all his support and dedication.
Trevor we love you!
Lauren and Jason White.
Angela De Buono
January 2018
I had the pleasure of working with Trevor on a Wedding recently and found that his professionalism and attention to detail is second to none. He is friendly, always available to assist and is passionate about making sure the event is a success by covering every single detail.
Courtney Sherman
November 2017
What can I say about Trevor? We were truly LUCKY to have found him! We met Trevor by chance at another wedding and after our initial consultation both my (now) husband and I thought he was fantastic. We got the month-of planning package and I more than appreciated how available he was, by text, phone, or e-mail. Anytime I had a question about anything, he made sure to answer my questions and never made me feel stupid for asking any of them! He understood what we wanted and revised our day-of itinerary until we got it just right. You can tell that he loves what he does and the passion he brings to his work shows- he is attentive and ensures that no detail is overlooked. He handled everything professionally but not impersonally, which is something unique in this industry. He makes you feel like more than a customer because he really takes the time to listen to your vision and make sure that you have the best day of your life! Thanks to Trevor I can honestly say that my wedding day was a relaxing day, which is something that I NEVER thought I would say! Trevor is truly a gem in this industry and we would hire him again in a heartbeat!
Trevor Frankfort was an amazing wedding coordinator . He truly took away the stress from the whole wedding planning. We had him for one month and we truly took advantage of his service. He made sure to contact all of the vendors and informed them about their roles and exact time they needed to be at my wedding. He took care of the program and worked along side with my sister. He was very attentive to every details regarding the wedding. I was constantly contacting him throughout the month via email and text messages and replied right away. Alot of people commented how my husband and I were the most relaxed and stress free couple regarding the wedding, well that was all thanks to Trevor Frankfort. On the day of our wedding my husband and I were truly able to enjoy our day and celebrate with family and friends. He updated us if there were any issues or concerns and if there were he made sure he took care of it such as guest count and not having a weddinf cake cutter.I would truly recommend Trevor as a wedding coordinator he was so worth it. Thanks for everything trevor .
Trevents: Wedding & Event Planning has been mentioned inside these other vendor profiles:
Trevents: Wedding & Event Planning Endorses the following vendors