Trident Banquet Hall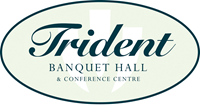 Trident Banquet Hall is a fully customizable venue that works perfectly for any event. Fresh decor, variety of room sizes, free parking and WiFi, plus a full commercial kitchen, our staff can make anything happen. Enjoy our traditional Ukrainian cusine, order from a choice of partners caterers, or bring in your own, Trident Banquet Hall works with you to make your dreams become a reality.
www.tridentbanquethall.com
This vendor does not yet have any EventSource reviews. Be the first to leave one!
Thaddeus Maharaj
December 2020
Great banquet hall and friendly, helpful staff!
We got married here in June 2020 and had the most wonderful experience. The staff and the food was amazing. Everything ran smoothly and the management was lovely to work with. We didn't have one issue.Everyone from our wedding said it was one of the best weddings they've ever been to. We can't thank the staff, management, and catering enough for making our day so special.The venue has tons of parking, is wheelchair accessible, has a lockable bridal suite, has an adjustable dance floor, a very large separate cocktail hour area connected to the reception space, and serves delicious food from an industrial sized kitchen next to the reception space. It is an ideal location for a wedding. It's a hidden gem.
Stephania Makarenko
February 2020
We had our wedding back in June. The hall was set up beautifully, has a great lay out and ample parking. Unfortunately the planning process was less than ideal with their staff. If you have an important event, be sure to bring your own event planner and caterers. Communication was made from my end over 16-months requesting a contract and payment plan but nothing happened from their end until 3 months before our wedding day. They tried to tack on additional costs at this time also, a year after initial conversation. Frustrating when youre set in a budget and too close to make adjustments. Requested a meal tasting to avoid any surprises and was told they dont offer that, and sadly ended up with terrible food and service on our day. Our poor guests were asked what they ordered to eat like they were sitting in some school cafeteria, and the food was embarrassing. Decisions were made by Andrianna outside of what was planned, and not in our best interest. Many of our reception details were spoiled which has caused a lot of heartache and disappointment for myself and my family. Received the same level of respect from the board, that also took their time (3 months!) in getting back to me with the conclusion that they agree with the long list of wrongdoing by their staff. Awful customer service on both levels.
Ron Radewych
January 2020
We attended a Ukrainian New Years' dance/celebration (Malanka)-Evening: Sat.Jan.25, 2020. We've attended annually the last 5 or so years. This past event was by far the BEST and the Trident Evans Banquet Hall was the most superior location to have this. Yes...one of the best malanka's.....well-balanced meal, premium liquor selection, great and appropriate repertoire of music for the demographic, perfect snack area in lobby with right amount of variety, great guests to share with........all around great time. I highly recommend this venue for both location/hospitality/quality of facilities/parking excellent/management superb. Thank You....hope to attend again numerous times!
jonathan pimentel
October 2019
Had a blast at my friends wedding! Place was very very clean and the staff were so so nice. I would comeback for sure and of course wish my friends the best of luck in their future!
Trident Banquet Hall has been mentioned inside these other vendor profiles:
Vinci Catering & Event Planning
Company Overview
Company Overview
Venue Features
On-Site Ceremonies
Wheelchair Access
Free Parking
Audio/Visual
Wi-Fi
Catering Information
On-Site Catering
Off-Premise Catering
Kosher Food
Map
145 Evans Ave, Etobicoke, ON M8Z 5X8