There's something quite amazing about live music at an event – the interaction with crowd, the warmth of a live vocal performance, the way you simply just get drawn to the dance floor by a great cover song from your high school days.
For some, the idea of a wedding or corporate event band conjures up thoughts of mullets and cheesy love ballads from yesteryear. Definitely not the case anymore – today's live music bands know how to put on a show! Whether your musical taste includes the classics, a little bit of groove, or your fave top 40 hits, there's a little something for everyone. A good live band is sure to have guests dancing well past their regular 11pm bedtime!
If you're in the market for a live band for your next event, we've rounded up some of Toronto's most acclaimed live bands below. Have a glance through and discover which band tickles your fancy. For the most updated version of this article, click here.
---
Electric Blonde
Who is Electric Blonde? "We're fun. We play good music. And we wear bowties that match your event. What more could you ask for?" Fronted by the ultra-talented Lynzie Kent, who has been nominated as one of Toronto's top female vocalists AND has had over 12 million views on YouTube (yes, you read that right!), this band is high on energy and talent! One look at their song list and you know that this group is here to rock your party. But fear not, if you don't see that one special song – the band just might add it to their arsenal.
Pricing: Starts at $4,500
---
Shugga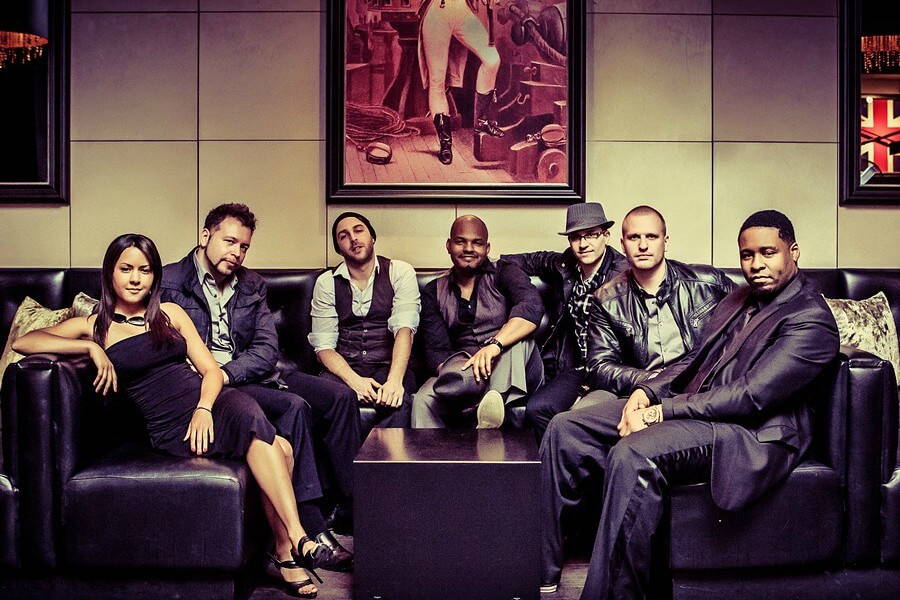 Photo Courtesy of Jamieson Dean
Shugga is fronted by dynamic front man Mike Ferfolia, whose ability to capture the spirit of the original recording artist is uncanny! The band ranges in size from five to eight pieces and can include a female singer and horn section. Members of this band have played with international recording artists and have a decade long weekly residency at Toronto's Joe Mamma's. Through all of this they have amassed an expansive repertoire and continue to add new material to their long list of hit songs. This is a band that can win over any audience!
Pricing: Starts at $4,500
Vendors Featured in this Article
---
The Marc Joseph Band
As full-time musicians, The Marc Joseph Band have been performing together with the same members for 9 years. Proud of this, they claim it to be a testament to their commitment to their clients, to their music, and to each other. Worthy of their 5 star ratings on EventSource.ca, they've been described as highly energetic, fun, friendly, charismatic, easy to work with and very professional. Their show is sure to get everyone dancing, interacting and talking about the event for months to follow!
Pricing: Starts at $4,500
---
Soular
Inspired by the classic sounds of Motown, Soul, R&B, Pop, Rock, Dance Music and Top 40, Soular performs all your favourite songs with a passion and energy that moves people to hit the dance floor and "dance to the music"! With over 10 years under their collective belt, Soular works with every Client to ensure an individualized experience that exceeds your expectations.
Pricing: Starts at $6,500
---
Stereoflavour Entertainment
Stereoflavour Entertainment are a group of best friends first, and a full-service live entertainment company second! The core of the band came together while studying music in Toronto and are now among the most in-demand professionals in the GTA, having shared the stage with the likes of Ed Sheeran, Jully Black, Sloan, The Jonas Brothers, Lady Antebellum, Demi Lovato, The Arkells and Tim Hicks. The band offers everything from ceremony strings to an infectious 12-piece dance band (including a killer horn section!). Stereoflavour also has a repertoire that ranges from Top-40 to Jazz, Classic Rock to Motown, Country to Classical and everything in between. The chemistry that they share on stage from years of performing together will extend out to the dance floor and is guaranteed to get your guests up and moving all night!
Pricing: Starts at $4,000
---
The Sound Parade
The Sound Parade is well known to be one of the most professional and entertaining bands to come out of Toronto! This band provides a wide range of live music services for weddings including, ceremony musicians, jazz bands and  a 5-9 piece dance band. If your planning a corporate event, they also offer a 7-9 piece Latin band as well as a one of kind, fully interactive live video karaoke band – so cool! From start to finish, Sound Parade Entertainment will help make your wedding or special event a night to remember!
Pricing: Starts at $2,900
---
The Digs
The Digs are a super group of some of Toronto's finest musicians! While their specialty is Pop, Funk, Soul and R&B party music in a large ensemble format, The Digs are willing and able to perform almost any type music imaginable in a configuration that meets your vision and your budget.
Pricing: Starts at $2,650
---
The St. Royals
St. Royal Entertainment are always ready to get funky! This super popular group of entertainers take the audience on a soulful journey with the best Funk, Soul, Motown and R&B music. With ensembles ranging from seven to nine pieces all the way to the St. Royal's "super band" (which features 17 pieces: four vocalists, six horns and a seven piece rhythm section), their production team will work with you to provide the best band for your venue and budget.
Pricing: Starts at $7,800
---
Fusion Events Orchestra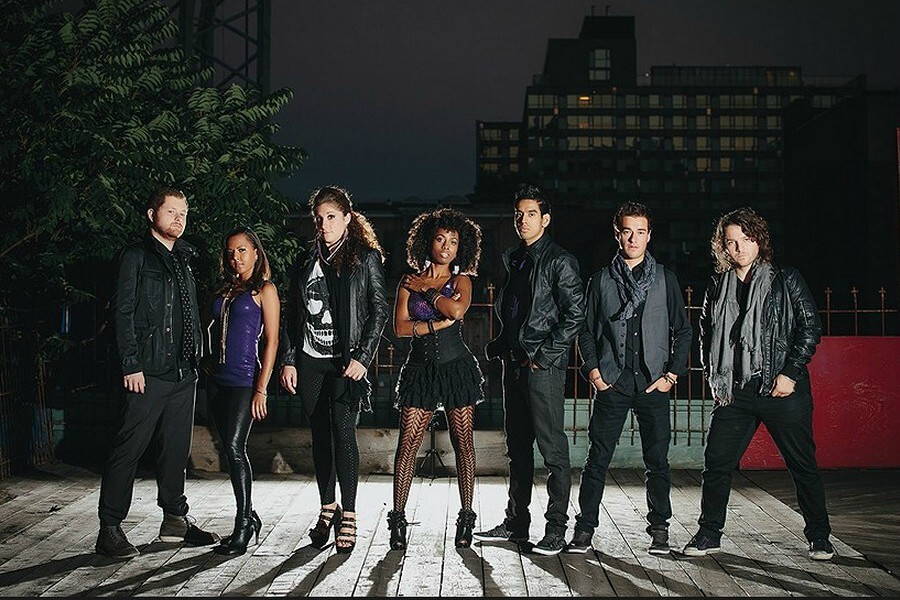 Photo Courtesy of Jamieson Dean
Fusion Events Orchestra is the brainchild of Toronto event planner Arthur K of Fusion Events. With a vision to create a band appealing to young Millennial couples, FEO was born. Featuring three incredible vocalists, the group provides a high energy show steering away from the "typical" wedding band repertoire. With an emphasis on the top 40 hits that millennials have grown up with, you can expect to hear Brittany Spears, Backstreet Boys, NEXT, Usher, Sean Paul, JayZ  and more!
Pricing: Starts at $4,000
---
Main Event Music
Relatively new to the scene, Universal Boogie Band consists of Toronto's finest and most experienced vocalists, an air tight rhythm section, a totally hip horn section, a sleek string section, and heart pounding Drums. Their high energy live music and stage performance is finely designed to insure the best musical entertainment for your special event. The Toronto Orchestra performs from an eclectic repertoire of hundreds of popular and legendary songs, including the most current chart toppers, Funk, Motown and Rock — all with their own twist, full style, and show stopping energy!
Pricing: Starts at $1,000
---
God Made Me Funky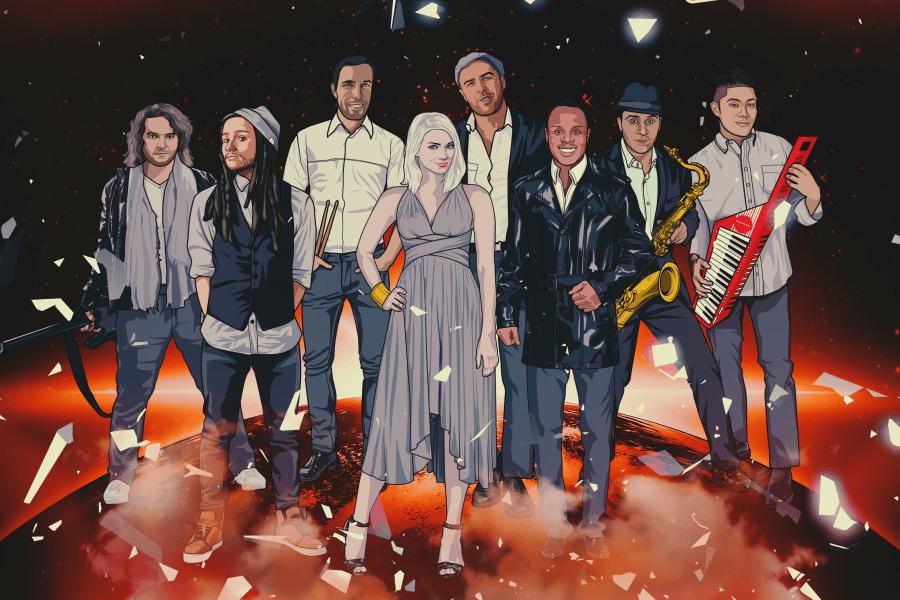 Photo Courtesy of Arthur Mola
Starting out as a cover band and making the leap to recording artists, God Made Me Funky is known for their high energy performances. With five original studio albums, a Juno nomination, Canadian tours which have included headlining major jazz festivals, playing at the 2010 Olympics and opening for INXS, this band knows how to get a crowd on its feet! Their music styles range from Jazz standards to Motown, Soul, Funk, R&B, and lots of top 40 hits…all with a God Made Me Funky twist!
Pricing: Starts at $5,500
---
ONQ Big Band
With most of its members professionally trained and graduated from the Humber Jazz Program, ONQ Big Band (ONQ Live Entertainment) delivers versatile performances which cover a wide range of styles and genres. From low-key cocktail and dinner atmospheres to electrifying party/dance selections, ONQ creates and shapes the energy of your event culminating to a grand finale sure to get everyone moving on the dance floor.
Pricing: Varies. Contact for details
---
Saturday Night Superstars
Saturday Night Superstars' track list ranges from the greatest songs ever written in the '60s up to today's hottest tracks. Songs that cut across generations and resonate because they evoke an amazing feeling or remind you of a perfect time in your life. Gone are the days of bands playing a standard playlist; Saturday Night Superstars will customize their shows to compliment your event. These guys'll everything they can to make your event sparkle and shine, and keep your guests on the dance floor all night long!
Pricing: Starts at $3,800
---
The Intentions!
Band leader, Jonathan Ophek, was inspired to form The Intentions! in 2010 while planning his own wedding! Today, the band utilizes its vast catalog of crowd-pleasers and dance floor shakers to energize and inspire their audience. The band boasts an 11-piece powerhouse lineup that can also provide a vocal ensemble with piano during ceremonies, and a jazz quartet for cocktail hour. Rounding out their offerings, The Intentions! also provide DJ and sound production services to meet all their clients' needs.
Pricing: Starts at $5,500
Like this? Check out our article on how to hire a hire a wedding band.
Did we miss your favourite band? Let us know in the comments below.